Saturday, March 23, 2019
JEFFREY MORGANíS MEDIA BLACKOUT #671
JEFFREY MORGAN'S MEDIA BLACKOUT #671.334!
SIZZLING PLATTER OF THE WEEK: Todd Rundgren – Todd Rundgren's Utopia: Live at Hammersmith Odeon '75 (Shout Factory!) :: It seems that this album has been floating around the bootleg community in one iteration or another a mere scant seconds after it had been recorded. At least, that's what I gather from the front cover sticker which boldly boasts: "First Official Release!" followed by the ever-mandatory "Newly Remastered From High-Quality Source!" both of which most likely mean that the original multitrack master tapes are so lost in time that they hadda do a Pro Tools restoration job offa some old audio cassette.
So the first thing you'll wanna know is: HOW DOES IT SOUND? And the answer is: PRETTY GOSH-DARNED GOOD! It's a solid enough stereo job with nary a tetch of tape hiss to mess up the signal.
So the second thing you'll wanna know is: HOW'S THE PERFORMANCE? And the answer is: ARE YOU KIDDING? THIS IS TODD RUNDGREN AT HIS PRIMO PEak. Sorry about the shouting, but I've been juking the Runt's toons ever since Ron Mael of Sparks was snapping his liner photographs, so you can just imagine how elated I am that this long-lost performance piece has finally been placed on a platter—and boy howdy, does it ever sizzle.
Always the brightest bulb in the box, Todd went over the sonic deep end when he formed the galaxies-spanning combo Utopia—but who could blame him? Your fragile little mind would snap too if you put out an album of one man band pop classics (Something/Anything?); followed by a surrealistic serving that reconstructed the universe out of Popsickle sticks (A Wizard, A True Star); followed by a torrid twofer which masterfully mixed heavy metal mania with Gilbert & Sullivan show tunes (Todd); followed by a perverse party platter of cover versions which were so note perfect that you couldn't tell them from the originals (Faithful); followed by a single disc hour long instrumental exploration into the Zen chakras (Initiation); followed by a severe song cycle about the bombing of Hiroshima and Nagasaki (Ra). Impressive, I know.
But Todd's never been one to let his big brain get in the way of an entertaining show and this album is no exception. He begins with the overlooked and underrated "Freedom Fighters" off Todd Rundgren's Utopia; gets his avantness outta his system on a ten minute "Mister Triscuits" space out; and then settles down to a heaping meat and potatoes helping of songs you all know and love ranging from the power pop "Couldn't I Just Tell You" and the rave up "Heavy Metal Kids" to the anthemic "Sons Of 1984" and the ballad "The Last Ride" to the toe-tapping trilogy of "When The Shit Hits The Fan" / "Sunset Boulevard" / "Le Feel Internacionale." Oh, and did I mention that Todd also does the Nazz classic "Open My Eyes" with Luther Vandross? At least that's what he says...
But best of all are Todd's abrasive solos, all of which start out as a savagely warped exercise in sonic brutality before they transmute into an even filthier destorto mode that makes Mark Farner at his splatter gnarliest sound like Segovia—and that's definitely slaying something.
Too bad he now irrationally suffers from Trump Derangement Syndrome but, hey, nobody's perfect.
Grand Funk – Live Album (Capitol) :: EXACtly!
Be seeing you!
Sat, March 23, 2019 | link
Thursday, March 21, 2019
JEFFREY MORGANíS ROCK íNí ROLL PHOTOGRAPHS

JEFFREY MORGAN'S ROCK 'N' ROLL PHOTOGRAPHS

While you're visiting, don't forget to view the dozens of essential selections from my vast archive of hundreds of extremely rare and previously unseen rock 'n' roll photographs from the 1970s and 1980s—all of which were taken by myself from my front row center seat at various venerable venues; vintage historical portraits which include the following rock stars caught in their youthful prime:

David Bowie (1976 Station To Station tour) :: Lou Reed (1974 Sally Can't Dance tour) :: Iggy Pop (1977 The Idiot tour) :: Bob Dylan (1978 Street Legal tour) :: George Harrison (1974 Dark Horse tour) :: Paul McCartney (1976 Wings Over America tour) :: Pete Townshend (1976 The Who By Numbers tour) :: Johnny Winter (1976 Captured Live! tour) :: Jeff Beck (1975 Blow By Blow tour) :: KISS (1977 Love Gun tour) :: Alice Cooper (1975 Welcome To My Nightmare tour) :: Freddie Mercury (1977 News Of The World tour) :: Amanda Lear (1975 Sweet Revenge tour) :: Rod Stewart (1977 Foot Loose & Fancy Free tour) :: Mick Jagger (1975 It's Only Rock 'n Roll tour) :: New York Dolls (1975 Tokyo Dolls Live tour) :: Keith Richards (1975 It's Only Rock 'n Roll tour) :: Ian Hunter (1989 YUI Orta tour) :: Elton John (1974 Caribou tour) :: Mick Ronson (1989 YUI Orta tour) :: Steven Tyler (1977 Draw The Line tour) :: Sparks (1975 Indiscreet tour) :: James Brown (1986 Gravity tour) :: Miles Davis (1985 You're Under Arrest tour) :: Roger Daltrey (1976 The Who By Numbers tour) :: Bruce Springsteen & Clarence Clemons (1975 Born To Run tour) :: John Entwistle (1976 The Who By Numbers tour) :: Keith Moon (1976 The Who By Numbers tour) :: The Who (1976 The Who By Numbers tour) :: and more!

Ask any dealer and he'll tell you that the best way to get someone hooked on your product is to give them a free sample, so here's just a small taste of what's coming your way when you click on the eleven gallery links to your left: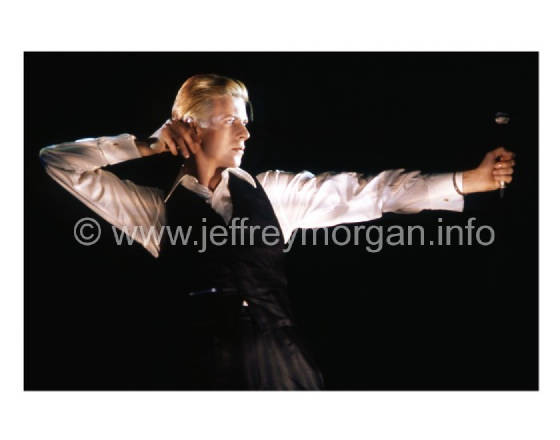 Thu, March 21, 2019 | link
Saturday, March 16, 2019
JEFFREY MORGANíS MEDIA BLACKOUT #670
JEFFREY MORGAN'S MEDIA BLACKOUT #670.332!
SIZZLING BOOK OF THE CENTURY: James Ellroy & Otto Penzler – The Best American Noir Of The Century (Mariner) :: When people ask me what I'm up to, I always make sure to tell 'em about the 100,000 word noir novel that I've been working on for the past quarter of a century. When they wonder why it's taken so long for me to finish it, I cheerfully explain that, oh no, it's already completely written but that I'm motivated by obsession to continually revise it and add even more layers of black humor to what was already a pretty stiff drink to begin with.
Next, I go on for a while about how unfortunate it is that neither Bruegel nor Kurelek are still alive to do the 45 chapter illustrations that I need to have drawn. Then, by the time I've gotten around to telling them what kind of music I listen to while I'm making my revisions, they've long since headed for the hills. Which makes me wonder how they'd react if they ever got enough gumption to read the first three pages.
I'll get to that song set in a second, but first lemme enlighten you on the many merits of this black-sheathed 700 page tome which contains 39 scabrous short stories by such past and present masters of the genre as Spillane and Cain; Thompson and Block; Leonard and Woolrich; and literally dozens of others. What's that you say? You don't know any of those authors' first names? Then step right up for a brutal back street education that begins in 1923 with Robbins' seminal freak show story "Spurs" and is all downhill after that, decade after decade.
The whole sordid mess is edited and annotated with acerbic aplomb by the two above-noted bold-faced reprobates, both of whom come to the fight armed with an excess of expertise. Otto Penzler is the man who founded the legendary Mysterious Press imprint, and he contributes a suitably succinct Foreword which tells you in no uncertain terms exactly what noir is...and isn't.
James Ellroy knows a few things about the weighty albatross of obsession, and his Introduction is almost worth the price of admission alone as he delights in delineating a misshapen milieu wherein "society grants women a unique power to seduce and destroy; a six-week chronology from first kiss to gas chamber is common in noir." Kinda sounds like the proposal for my own novel, only it's not nearly as romantic as that.
As for that aforementioned song set, it's funny strange how everybody has a list of their favorite noir novels and their favorite noir movies but you never hear anybody talking about their favorite noir records—until now. So the next time you're in the mood for doom, why not spin my five favorite noir downer discs, all of which truly scrape the bottom of the soul:
1. A BAD START: The Velvet Underground – White Light / White Heat (Verve) :: You'll die laughing as humor and horror team up and then abruptly close out of town.
2. EVEN WORSE: Lou Reed – Berlin (RCA) :: As languidly alluring as a quicksand bog and twice as tough to extricate yourself from.
3. NOW WE'RE TALKING: Neil Young – Tonight's The Night (Reprise) :: Old Black Eyes takes the concept of Frank Sinatra's seminal saloon albums For Only The Lonely and No One Cares; swaps a shot glass for a spike; and then settles in for the long decaying haul. Bonus points for releasing it on Frankie's own personal record label.
4. CLOSE BUT NO CASKET: Nine Inch Nails – Broken (Interscope) :: When a guy names his music publishing company "Leaving Hope" and then repeatedly wails "I tried, I gave up" over and over again, you'd think that he wouldn't be long for this world—especially after he calls his next record The Downward Spiral and leads it off with the positive reinforcement anthem "Mr. Self Destruct." Instead, Reznor now owns an Academy Award. Amateur.
5. THE ROCK 'N' NOIR HALL OF FAME: Nirvana – In Utero (DGC) :: Finally, a true professional who backed up his brag into a body bag. Cobain liked Lennon because the latter was "obviously disturbed" but although Beatle John wrote cry for help songs like "Help" and "Nowhere Man" and "I'm A Loser" he never shotgunned his head into an abstract painting. Lennon recording a cathartic primal scream song like "Well Well Well" is one thing; listening to Cobain's harrowingly insane choked off giggle at the 3:13 point of "Milk It" is another thing entirely.
0. INHUMANITARIAN AWARD: John Cale – "Heartbreak Hotel" (Island) :: Whether you pick the original studio version on Slow Dazzle or one of the subsequent live versions on June 1, 1974 or Fragments Of A Rainy Season or Live Circus is irrelevant. What makes all of them so unsettling unsound is that you can't tell if Cale is playing for laughs or being deadly serious. Either way, his accurate interpretation of the song's desolate lyrics is as perceptive as it is terminally bleak.
Be seeing you!
Sat, March 16, 2019 | link
Saturday, March 9, 2019
JEFFREY MORGANíS MEDIA BLACKOUT #669
JEFFREY MORGAN'S MEDIA BLACKOUT #669.330!
SIZZLING PLATTERS OF THE WEEK: Booker T. & The MGs – Green Onions (Stax) :: Brothers and Sisters, the Stax Remasters series just keeps on strollin' on with one of the more notable reissues being this essential epochal edition from 1962 that, fifty years later, still remains the sonic standard for sensational soul-soaked instrumentals. You may have heard the title track enough times to turn green in the face, but when's the last time you listened to the remaining eleven numbers, all of which are presented here in the best remastered mono that money can buy? Bonus points including two searing stereophonic live tracks from 1965 which make the original studio versions sound positively sedate by comparison.
The Beatles – Green Apples (Parlophone) :: I wish.
Booker T. & The MGs – McLemore Avenue (Stax) :: And speaking of the Four Fabs, the Bookman is back with this mostly-instrumental remake/remodel of Abbey Road, which was recorded in 1969 mere months after the Beatles released their iconic album. One of the things that makes McLemore Avenue so memorably unique is that, rather than ape the album's actual 17 track running order, the band opted instead to scuttle four songs and reconfigure the remaining 13 into only four tracks, three of which contain lengthy resequenced medleys. The result is a soulfully smooth stylistic retooling that doesn't attempt to imitate so much as it inventively extrapolates and augments—and that goes double for Booker's remaining Beatle takes which are included as bonus tracks.
Johnnie Taylor – Taylored In Silk (Stax) :: Meanwhile, this smooth as you know what masterpiece from Stax's resident blues wailin' Soul Philosopher finds him in fine fettle, most notably on the cautionary up-tempo tale "It's Cheaper To Keep Her" wherein JT tells every man what he oughtta do if he didn't heed Cab Calloway's earlier era entreaty to beware, brother, beware: "You're tied up, you better stay tied up 'cause it's cheaper to keep her! Son, you're gonna pay some alimony or do some time!"
The Staple Singers – Be Altitude: Respect Yourself (Stax) :: Simply put, this is one of the greatest R&B slash Funk slash Pop albums ever waxed for public posterity, period. It's also educationally enlightening in that when the Staples sing: "You the kind of gentleman that want everything your way; take the sheet off your face boy, it's a brand new day" on the title track they ain't just whistlin' in Dixie. Nor are they kidding any less when they wax poetic on the musically minimal but no less persuasive "I'll Take You There"—and those are just the two tracks that you already know about, what with them being global hit singles and all. In the meantime, which is definitely a groovy time, wrapped around those two stellar standouts are eight additional awe-inspiring essays that effortlessly unite into one giant groove-laden feel-good celebration of faith and fidelity. Which is why, if you only buy one reissue album this year, you really oughtta ensure that it's this one because your heart and soul will thank you for it later—in spades.
Be seeing you!
Sat, March 9, 2019 | link
Saturday, March 2, 2019
JEFFREY MORGANíS MEDIA BLACKOUT #668
JEFFREY MORGAN'S MEDIA BLACKOUT #668.329!
SIZZLING PLATTER OF THE WEEK: Jackie Gleason – Jackie Gleason Presents Music For Lovers Only: Orchestra Conducted By Jackie Gleason: Trumpet Solos By Bobby Hackett (Real Gone Music) :: As always, the Media Blackout audience is the greatest audience in the world!
And if you get that allusion, then you poor souls will definitely dig where I'm coming from when I tell you that Music For Lovers Only was one of the many 16s, 45s, 78s, and 33s which were already ensconced in the musical Morgan mansion by the time I showed up—which explains the formative influence that this seductive, string-soaked, sax session had on my amatory aesthetics right from the very beginning. Indeed, I still have that original 1953 Capitol Records version, even though it's now all plumb tuckered out from the many ribald rotations I gave it on the old multi-speed Nordmende.
Now the oft-told story—and it's a beaut—goes that Jackie Gleason was in his penthouse at the Park Sheraton hotel one night watching an old Clark Gable movie which contained a love scene that was enhanced by an orchestra playing on the soundtrack. At which point Gleason thought: If a guy like Gable needs background music in a love scene, then what chance does some poor schlub in Brooklyn have? So he went into the studio and recorded the luxuriously lush Music For Lovers Only as an amorous aural aid to poor schlubs everywhere. And you're still wondering why Orson Welles bestowed upon Gleason the sobriquet "The Great One"...
Needless to say, I was first in line to buy the album anew when Capitol debuted Music For Lovers Only in a digital version in 1987. Now, a quarter of a century later, the smart folks at Real Gone Music have reissued this vinyl Viagra in an upgraded edition for a new century of make out artists. As might be expected, the sonic upgrade has resulted in a smoother, fuller bodied sound; you know, just like a Reginald Van Gleason III coffee cup that's been spiked with a liberal load of swanky booze. But then I saw something that made me think that I might have had one too many myself.
Y'see, here's what it says in the liner notes to the 1987 Capitol version: "For the first time since its initial release, this classic album is being presented in its entirety, offering all 16 selections contained in the original long-play album, digitally re-recorded from the analog master recordings to ensure superior sound reproduction."
Now here's what it says in the liner notes to the 2012 Real Gone version: "This reissue marks the first time that this all-time classic album has been reissued in the CD era by itself and in its full-length version."
Even I couldn't make sense out of that, so I turned to ace audio engineer Steve Hoffman who was kind enough to provide me with this much needed advice: "The album was recorded twice; once, the original mono version and a later stereo remake. If the version they put on this new CD is in mono, it is indeed the first time it's been issued on CD. The old CD was the stereo remake."
These words he speaks are true; after doing an A-B comparison of both through headphones, it would seem that the new version is in mono—but just barely. The two versions are so similar that the difference between them is almost negligible. Granted, the stereo version does have a bit more spatial separation for the rhythm, but everything else is pretty much dead center on both. And while the rebel in me wishes that Gleason had hired Leon Russell to mix the stereo version using his patented Asylum Choir II ping-pong technique, the romantic in me is glad that he didn't.
But don't take my word for it, just listen to what Joe The Bartender said late one night in his Brooklyn saloon after Mr. Dennehy dropped by to ask him about the potent pudenda-parting power of Music For Lovers Only. "Pal," Joe said, as he casually wiped the inside of a glass. "Make no mistake; to be on the make, you've gotta partake!"
In other words, you'd have to be Crazy Guggenheim not to buy a copy.
And away we go!
Sat, March 2, 2019 | link
Saturday, February 23, 2019
JEFFREY MORGANíS MEDIA BLACKOUT #667
JEFFREY MORGAN'S MEDIA BLACKOUT #667.328!
The English Beatles – Twist And Crawl (Capitol) :: I wish.
SIZZLING PLATTER OF THE WEEK: The English Beat – Live! At The US Festival: September 3, 1982 and May 28, 1983 (Shout! Factory) :: One of the benefits of my having been a professional rock critic for the past half century is that I have a well-endowed back catalogue of previously published puds to draw upon when the need arises—and the need certainly arose when I chose to review this album because something told me that I had reviewed a Beat album way back when in the days of my youth.
So I called up the comely curator of my rock critic crypt and she found it in the February 1983 issue of CREEM: America's Only Rock 'n' Roll Magazine, where it was published smack dab right in-between when the two above-noted concerts were performed. So how does yesterday's Beat offering compare with today's retrophonic latest? To find out, let's begin first with that thirty year old record review which is presented here in its original unexpurgated Boy Howdy! form:
THE BEAT
Special Beat Service
(IRS)
This is the kind of album your mother warned you about (and if she didn't, she should have). Dull and ponderous, it shows the dance floor's number one salt and pepper ska team over-extending itself way beyond its creative reach and coming up short in the process.
Of course, this is only my opinion—but if you don't want to take my word for it, you may wish to heed those of a local fan I know who, after listening hopefully through both sides of Special Beat Service, came away from the Hi-Fi asking, "It's not exactly hot, is it?" Which is exactly the point: it isn't (and if there's one thing a Beat album should be, it's hot).
What helped make I Just Can't Help It one of the all time hot rockin' dance albums was the fact that you could get just as much enjoyment listening to it at home as you could dancing to it at the Klub-Domino. From "Mirror In The Bathroom" (with its Eno-meets-Man Ray imagery) to the snapped elevator cable acceleration of "Two Swords" to the sing-song polemics of "Stand Down Margaret," the Beat created one hell of a debut album that didn't let your feet or your intelligence down.
This time around, however (Round Three), the Beat have altered their previously successful musical formula by opting instead for a slightly newer (and seemingly more versatile) game plan—one that spells disappointment for both the dancers and thinkers amongst us. For although the attempt is admirable, it's weakened the quality of the Beat's sound sufficiently enough to the point of making it not only redundant, but ultimately unnecessary. And while I'm sure that the Beat team worked full steam at recording Special Beat Service, all I can hear are the tell-tale sounds of laziness and overindulgence scattered throughout.
The opening trilogy of "I Confess" (the soul number), "Jeannette" (the wacky continental number) and "Sorry" (the full tilt riff number) gets the album off to a promising start, but things start going downhill immediately hereafter, beginning with an Elvis Costello pastiche ("Sole Salvation"), continuing through a couple of dumb-Negro 'rap' numbers ("Spar Wid Me," "Pato And Roger Ago Talk"), and coming around the clubhouse turn with a "Lost In The Supermarket" Clash melody swipe ("Sugar And Stress").
Why no one deemed it necessary to can producer Bob Sargent and hire an impartial third party to take the original tapes, cut out all the dross, streamline the project with a lot of much-needed direction, and submit a superior product for release, is beyond me. However, just because I dropped bucks on this one is no reason for you to do the same. Do as I say, not as I do, and avoid this one like a case of Simplex II.
*** *** ***
Boy, and you thought I was tough on talent these days! But pay no attention to the dumb-Whitey behind the time curtain because the good news moral of this twofer review is: Come home Dave Wakeling, all is forgiven! That's right, I whole-heartily recommend that you go out and buy Live! At The US Festival and then, once you do, I additionally urge you do yourself a further favor by skipping the accompanying sixteen track album and going directly to the feature-length twenty-six track video because these two concerts, both of which were filmed during the Special Beat Service romps, are proof positive that what the Beat lacked in the studio during that time they more than made up for on the stage.
Granted, the '82 set is a bit of an aural Ambien, but the 1983 follow-up is a paint peeling presentation that's beyond kinetic—especially Ranking Roger, ravishingly resplendent in his best Gary Numan red and black Telekon meets Dance duds, who's so amped up on sonic speed he makes Mick Jagger look like a palsied quadriplegic in an iron lung. Weigh yourself before you watch it and, by the time they get through "Tears Of A Clown," just see if you haven't lost ten pounds!
Groucho Marx – Horse Feathers (Paramount) :: "A further favor? That can't be right. Isn't it a favor further?"
Be seeing you!
Sat, February 23, 2019 | link
Saturday, February 16, 2019
JEFFREY MORGANíS MEDIA BLACKOUT #665
JEFFREY MORGAN'S MEDIA BLACKOUT #665.327!
The Rolling Stones – 1962-2019 (57 Year Anniversary) :: "The Rolling Stones lasting twenty, thirty years—what a stupid idea that would be." – Lester Bangs, CREEM, December 1973
The Rolling Stones – Madison Square Garden 1972 (Idle Mind Productions) :: This ultimate expression of obsessive fandom insanely takes silent, audience filmed, Super 8 footage of the Stones' two MSG performances; combines it with what looks like silent pro-shot outtakes from Robert Frank's infamous CS Blues shoot; and then expertly syncs it all up with a live recording of both shows. Watching a blank screen suddenly and sporadically erupt into full color, high decibel footage of the Stones on stage in '72 is more than an uncanny glimpse into a cinema vérité view that, by rights, shouldn't even exist; it's as if Abraham Zapruder had quit his Dallas dressmaking business and put his new found documentary skills to use by joining the Maysles Brothers. Oh, and speaking of Dallas…
The Rolling Stones – Dallas Rehearsals: June 23, 1972 (Teague Raw) :: Sonically speaking, these two discs are recorded a little on the hot side, but who gives a hoot when they contain over two hours of otherwise good quality soundboard stereophonics, all presented pretty much in 'as it happens' order. Oh, and don't worry if the performances are a tad too laconically laid back for your liking 'cause it's the surprising song selection that'll make you sit up and take notice. Y'see, of the thirty-six tracks contained herein, only two or three of them ever saw nightly service on the '72 tour. Instead, we're treated to a suitably scruffy Exile outing that contains an unexpected plethora of previously unperformed puds ranging from "Ventilator Blues" to "Let It Loose" to "Shake Your Hips." Bonus points for including an instrumental "Monkey Man" with an immoral "32-20 Blues" thrown in for bad measure. It's an alternate universe song set that never happened—yet strangely did!
SIZZLING VIDEO OF THE WEEK: Muddy Waters & The Rolling Stones – Checkerboard Lounge: Live Chicago 1981 (Eagle Vision) :: It may be Muddy's show but you'd never know it after seeing how those upstart Stones make their grand entrance. Anybody else would've waited backstage to be introduced by the headliner, but not these whipper-snappers! Instead, they rudely walk in off the street, smack dab in the middle of Muddy's set, lollygag in front of the stage, blocking everybody's view, until they find a few empty spots in the third row.
Then, when Muddy graciously asks them to come up and sit in, they ignore him because they're too busy drinking! Finally, when they do take him up on his offer, the guitarist decides to take a short cut by walking on top of the tables to get to the stage. All this plus Ian Stewart tickling the ivories? And Buddy Guy? And Junior Wells? You'd best believe that's reason enough for you to stop reading this and buy it now!
Be seeing you!
Sat, February 16, 2019 | link
Saturday, February 9, 2019
JEFFREY MORGANíS MEDIA BLACKOUT #664
JEFFREY MORGAN'S MEDIA BLACKOUT #664.326!
Mr. Dead – Original Television Soundtrack Album (Columbia Pictures) :: Back in the '60s when horror-themed fare like The Munsters and The Addams Family ruled the rabbit ear roost, this family favorite was the most avant-garde spook show to ever grace the orthicon tube. Best of all was the catchy theme song that became an instant chart-topper and school yard sing-along classic: "A corpse is a corpse. Of course, of course. And no one has heard of a talking corpse. Unless, of course, the talking corpse is the famous Mr. Dead." And they call Dylan a poet.
Talking Deads – More Dirges About Funerals And Burials (Dire) :: Includes the hit single "Death During Wartime."
Ziggy & The Stooges – Metallic Tin Machine (Skydog) :: They all laughed when "Jim Bowie" announced that they were going to swap bands and record an album together. Well, they're not laughing now.
The Rolling Stones – Super Bowl Live! (Rolling Stones Archives) :: I don't know which is worse: the lousy album title or the fact that they actually had the nerve to release a 12 minute set on an 80 minute disc.
SIZZLING PLATTER OF THE WEEK: Cafeteria Dance Fever – Danceology (Hovercraft) :: I guess I could wax rhapsodic about what kind of record this is, but everything you need to know about it is contained in the following two vital statistics:
24 songs, 30 minutes.
That's right, each fully-formed song clocks in on average at a seriously svelte sixty seconds apiece—and for those of you keeping score at home, that's a new supersonic speed record that makes Ramones sound like Berlin played at 16 rpm. But wait, there's less! Recorded over the past seven years, some of these songs are new; some of them are old; and all of them are complex proto-spunk rave-ups which admirably redefine what it means to be a punk band in the 21st Century. Even better, most of the tracks sound as if they'd been waxed back in 1977 Great Britain.
Cafeteria Dance Fever have a sardonically scabrous sense of humor and a joyous overwhelming command of their instruments that's downright primitive—you know, kinda like that other inspirational group of three guys and a gal, the Velvet Underground. And with space-devouring song titles that take longer to read than the songs themselves take to hear—such as "Jonathan Taylor Thomas Is Too Good To Be True" and "A Rainbow That Shoots Nunchucks At People" and "Add Hominid Attack (To Your List Of Fears)"—what's not like?
Well, probably plenty since most likely they'll go their way and you'll go yours after just one listen. Which only proves that CDF didn't make Danceology for you; they made it for me—and even I can't listen to all of it in one sitting, it's that overpowering. But that's equally okay because it reminds me of what John Cale once said about his above-noted former band: "Always leave them wanting less."
Be seeing you!
Sat, February 9, 2019 | link
Saturday, February 2, 2019
JEFFREY MORGANíS MEDIA BLACKOUT #663
JEFFREY MORGAN'S MEDIA BLACKOUT #663.325!
Pantera – Official Live: 101 Proof: Pure Against The Grain American Metal (Elektra) :: I never stop being a rock critic, even when I'm asleep. That's why I dreamt the other night that Pantera had released a reunion album with a new recruit to replace their late guitarist. Whereupon, after listening to it, I opined to some faceless dream denizen: "I love Pantera, but an album without Dimebag Darrell just isn't a Pantera album." So if you never saw them perform live—and have the added pleasure of hearing Phil Anselmo's boozy between song Lizard King pontifications on the sorry state of the art—this is the perfect vein to tap. Oh, and you can take that exhaustive album title to heart because Pantera don't fool around; if you could distill this record into a flask it'd make a bottle of 5 Hour Energy look like an industrial strength dose of sleeping pills. Heart monitor not included.
SIZZLING PLATTER OF THE WEEK: Bill Nelson And The Gentlemen Rocketeers – Recorded Live In Concert At Metropolis Studios, London (Convexe) :: Some would tell you that the music business is dead and buried in a pauper's grave somewhere, but I'm here to tell ya it ain't necessarily so 'cause Convexe Records is here to save the day with a new series of high-end; primo packaged; double audio and single video disc sets which'll make you a true believer once again!
First up to the plate to blast one outta the park is none other than Mr. Magnetism Himself, everybody's favorite futurist, that supersonic scourge of the airwaves, Bill "Mr. Deluxe" Nelson. The last time I spoke with Bill was during Be-Bop Deluxe's final Drastic Plastic tour, wherein he confided to me that what he really wanted to do next was ditch the big arenas; put a speaker cabinet on some faraway beach; and then record the sound as the incoming waves deconstructed it. Eventually that plan evolved into Red Noise and the more aurally astute Sound-On-Sound album, which subsequently led to literally dozens of other electro-ambient air age adventures.
Now Bill is back with this new three disc set of modern music performed in Metropolis—seen the cover to Live! In The Air Age recently?—that clocks in at 95 minutes on the auditory scale and weighs in at a respectable 110 on the visual meter. It's an eclectic eighteen track time trip that spans his days as a deluxe be-bopper ("Ships In The Night" and "Panic In The World") to his solo spasms ("Do You Dream In Color" and "Furniture Music").
But listening to tracks like "Sister Seagull" and "Adventures In A Yorkshire Landscape" is only part of the package; to get the full futurama effect, you have to fire up the video and watch Bill work his axe victim magic 'cause his voice is as distinctively strong as ever and he can still play a guitar just like a rocket blasting off.
Be seeing you!
Sat, February 2, 2019 | link
Saturday, January 26, 2019
JEFFREY MORGANíS MEDIA BLACKOUT #662
JEFFREY MORGAN'S MEDIA BLACKOUT #662.323!
SIZZLING JAZZ PLATTER OF THE WEEK: Animation – Agemo (Rare Noise) :: Although it's been decades since Joni Mitchell recorded the world's first Miles Davis tribute album Aisles Of Miles, few have followed her exemplary example. Indeed, the last one I can recall that was worth listening to was 2007's double disc delight Miles From India—until now.
The one also has two discs, but with a novel twist that's easily worth the price of admission alone. Y'see, each disc contains covers of the same six songs, from "Bitches Brew to "Pharaoh's Dance" with the difference being that the fusionish first 74 minutes disc is a trippy "Headphones Mix" while the Stockhausenish second 49 minute disc is meant to be blasted outta your speakers at maximum Miles-like volume. And yeah, as you might've guessed from the radically different total track times, each disc contains different versions.
Trust me, this one's almost as good as if Miles had recorded it himself.
Miles Davis – Miles Runs The Voodoo Lounge Down (Columbia) :: Worst Rolling Stones tribute album ever.
SIZZLING ROCK PLATTER OF THE WEEK: Desmond Grundy – Tiles From The Amber Room (Mouthful Of Records) :: In case you weren't paying attention the first time around and don't remember what I said about DG's first self released album Oddly Enough way back in MB278, I'll reiterate for ya:
"So I'm spinnin' the first song and suddenly thinking that, no, the absolute last thing I wanna do is say that Desmond is the new Lou Reed 'cause he seems to be way too normal to be saddled with that kind of calamitous tag. But every time I hear the gnarly destorto guitar grinding up behind him, I get flummoxed into thinking that I'm listening to some kinda vintage Velvet Underground gradation. And suddenly I'm thinking, yes, that's cool because nobody sounds like Unca Lou anymore—not even the old reprobate himself 'cause he's way too normal these days to be saddled with that kind of calamitous tag."
In other words, I didn't need to have the wisdom of Solomon to know that this here Grundy had what we in the rock writin' biz call potential. But the big question on every seasoned tout's mind the second time around is: can Desmond deck ya again? Well, as my old pal the Kingfish would say: "He sho' nuff can!"
First of all, the album title is straight outta spooky Lynch City where the busses never run on time—if ever. Even better, he plays all of the instruments by himself in the best Todd Rundgren studio-spazz tradition. Finally, his voice—which vacillates between Loaded romance and Tonight's The Night dissipation—is buried beneath a swirling miasma of destorto fuzzed up beach blanket bohemia that makes Exile On Aladdin Sane St. sound like like Wish You Were Here.
I just hope that his next album sucks 'cause I'm getting tired of sounding like a palooka from Payolaville.
Be seeing you!
Sat, January 26, 2019 | link
Saturday, January 19, 2019
JEFFREY MORGANíS MEDIA BLACKOUT #661
JEFFREY MORGAN'S MEDIA BLACKOUT #661.321!
Black Mahal – Music + Love + Dancing (self released) :: Strangely believe it, this one sounds like an ethno James Hyman mash-up that's been mixed from the soundtracks of several Quentin Tarantino movies which haven't been filmed yet. Liberally slather with a sonic spew topping of NPG-era Prince-style rappolas and you've got the ginchiest get down groove since the Love Unlimited Orchestra's similarly titled Love And Dancing.
Canary Mine – Between A Rock And A Heartbreak (self released) :: Before I got tired and ran out of rigid digits, I counted close to a baker's dozen of musicians who created this eminently enjoyable eclectic collection that covers just about every base you can touch from wailin' harp blues and acoustic folk to violin country and e-lec-trickle pop with a sensational side order of stripped-down vaudeville, so get a-steppin'!
Winter Garden – Winter Garden (Rare Noise) :: So I slap this one on the old Victrola without looking at the credits—where I come from, we let the music do the talking—and the first thing I think of is that this is the greatest album Eno never recorded way back when the blonde bombshell's binary brain was continually cranking out music for airports, films, and high scale hook shops. At which point I'm sufficiently intrigued enough to finally sneak a peak at who's responsible for such sparse ethereal piano-fed atmospherics and I see that the guilty parties are none other than Eraldo Bernocchi, Robin Guthrie, and Old Uncle Een's Obscure Records label-mate Harold Budd. Which explains why this excellent ambient album is already on my 2012 Top Ten list: because just when you thought that they literally no longer made albums like this, along comes one to prove you rongwrong.
SIZZLING EP OF THE WEEK: International Swingers – International Swingers (self released) :: If you're in the market for some good old fashioned rock 'n' roll that's been forged to a finely honed edge of exuberant excellence, then you've come to the right place—and that's because these here pleasure providing International Swingers are none other than Blondie and Romantics drummer Clem Burke; Sex Pistols and Rich Kids guitarist Glen Matlock; Gen X and Cult bassist James Stevenson; and Supernaught singer Gary Twinn. Impressive, I know.
Most of what passes for pop these days is pap but, as might be expected from such a stellar line up of proto-punk professionals, this extended player will have your hot bod bouncing off the walls and scattering plaster faster than you can whistle in Dixie.
My favorite tracks are the Elmore Leonard-ish "Honey's Room" and the aptly-titled rave up "Out Of Control" but go see what your faves will be when you buy this one at any International Swingers gig. That's right, these four hep cats don't have a record contract—yet. But talent will out, so do your ears a favor and pick this one up after you treat yourself to the kind of live rock 'n' roll show that Mother used to hate.
Be seeing you!
Sat, January 19, 2019 | link
Saturday, January 12, 2019
JEFFREY MORGANíS MEDIA BLACKOUT #660
JEFFREY MORGAN'S MEDIA BLACKOUT #660.320!
Rick Johnson – The Rick Johnson Reader: Tin Cans, Squeems & Thudpies (Mayfly Productions) :: If the late Lester Bangs is indeed "America's Greatest Rock Critic"—I happen to come from the land of the ice and snow where I rank number one in a field of one in a country where I'm literally the only Canadian rock critic of note; you could look it up if indeed there was anything to look up other than my own extensive international body of work spanning six decades—then the late Ranger Reek Johnson is arguably number two. And although Rick sure knew his sports teams and his television shows, it's his record reviews which ultimately anchor this excellent anthology, as evidenced by the following accurate analysis of Rush's wretched Caress Of Steel album: "Anemic Led Zep with rats sneezing in the background." And you thought I was good…
SIZZLING PLATTERS OF THE WEEK: Terry Knight And The Pack – Terry Knight And The Pack & Reflections (ABKCO) :: A long long time ago, I can still remember how the music used to make me smile—especially when I could purchase it as an abandoned long playing platter at 69 cents a pop.
Which is why, over 40 years ago, I shelled out a cool buck fifty to buy these two albums at Sam The Record Man where the entire third floor was relegated to being one big dingy dimly-lit delete bin, ignominiously stacked with thousands upon thousands of dusty drilled out efforts that nobody wanted anymore—assuming that anybody ever wanted them in the first place—including such cult classics as Lou Christie's Lighting Strikes, which reminds me: didja ever notice how the photo of falling rain that they superimposed over Lou's mug on the front cover was slovenly slapped on upside down so that it rained up?
Now, thanks to the unbridled benevolence of the Allen And Betty Klein Company in conjunction with the Greta Garbo Home For Wayward Records And Singles, it's still raining up in the world of rock 'n' roll reissues because these two seminal slices of mid-sixties snapola are back on the racks as a revived and restored single disc of proto-pop delight which, some would say, puts the "mono" back in monotonous—but not me!
Terrance would later go on to use these initial efforts as a springboard to ramrod, manage, produce, and sue Grand Funk Railroad. And although these nascent noodlings do feature a Beatle-banged Mark Farner and an eerily Afroless Don Brewer, some would say that one listen to this pair of primitive Pack pop paeans will have you running to Grand Funk's Live Album to wash the dullness out of your ears—but not me!
Oh, and whatever you do, don't dare deprive yourself the pleasure of hearing Reflections' stand-out track "Dimestore Debutante," which eerily evokes Dylan's "Like A Rolling Stone" from the opening organ notes to the nasally poetic-spouting vocals, even though some would say it's a blatant theft—but not me, Babe! No, no, no, but not me, Babe!
Be seeing you!
Sat, January 12, 2019 | link
Saturday, January 5, 2019
JEFFREY MORGANíS MEDIA BLACKOUT #659
JEFFREY MORGAN'S MEDIA BLACKOUT #659.319!
The Steepwater Band – Dharmakaya (Funzalo) :: Sometimes ya just don't wanna think. Sometimes ya just wanna run on feral instinct alone and drain that keg, roll that doob, snout that line, crank that spike, and then howl rabidly like a speared boar for more more more how d'ya like it how d'ya like it more more more.
So if wretched excess is the religion you worship daily, then Steepwater's Dharmakaya is the sordid soundtrack to your devout dissipation. Weaned on a steady diet of the Allman Brothers Band, not only do these four longhairs know their Johnny Winter and their Johnny Walker, they sure as shootin' dish it all out in a nuclear hoedown of dirty fuzztone lead and slide guitar riffs.
The vocals are a gruntin' outhouse mass o'southern refried moonshine that mashes up everyone from Paul Rodgers to Robert Plant with an added dose of nasty blues-steeped harp. Slap this record on auto-repeat startin' at four on a Friday afternoon and by the followin' Sunday morning you won't know where you are, who you are, or what you used to be.
But first go take that beer bottle outta the freezer before it explodes, ya dumb spud.
SIZZLING PLATTER OF THE WEEK: Jawbone – Dang Blues (Jawbone) :: I was sitting in the lounge of the Empire Hotel. I was watching as the Maple Leafs and Red Wings slugged it out. A little woozy floozy staggered over to see. "Wussa score, Honey?" she slurred at me.
I tried to tell that woman that the game was tied late in the third. Instead she leaned over and squinted at me like she hadn't heard a word. She jabbed a finger at me and looked like she was gonna scream. "Ainchoo that guy who wrote them mean things in that rag called CREEM? I saw your reviews, they're all so full of misery."
I said, "You're thinking of Rick Johnson, so why don't you leave me alone?" I told her 'bout a classic Motor City record I liked by Jawbone. "This guy's a crazy one-man blues band, he plays a psycho harp. His slide guitar style's really raw, it isn't razor sharp. This kid rocks because he wasn't raised on snobbery."
She said, "I know about this Jawbone, the sidewalk's where I heard this guy. He plays at all the music festivals although he never gets inside."
I said, "Don't worry, he will one day: Dang Blues cannot be beat. It's filed in my collection next to Exile On Main St. His passion for music's on display for all to see."
I drained my drink and grabbed my jacket; I felt that it was time to leave. As I stood up she lurched against me, balancing herself on my sleeve. "Come on, let's hear this Jawbone record," she said with gin-soaked breath.
Just then the Leafs potted the winning goal in sudden death. The Michigan papers called it highway robbery.
Be seeing you!
Sat, January 5, 2019 | link
Saturday, December 29, 2018
JEFFREY MORGANíS MEDIA BLACKOUT #658
JEFFREY MORGAN'S MEDIA BLACKOUT #658!
Presented for your needle-droppin' groove approval, in semi-strict ethno-alpha-numerical order so as not to show any undue kickback payola favoritism, is Jeffrey Morgan's 2018 Top Ten List Of Records as they appear on my official ballot for this year's Village Voice rock critics poll, which I've been voting in annually ever since Robert Christgau was kind enough to give me the nod some five decades or so ago. In other words, and I've got a million of 'em, these are my Sizzling Platters Of The Year, all of which deserve repeated spins on your old grand-dad's Victrola. Don't ask why! Just buy them!
Ace Frehley – Spaceman (Entertainment One) ● Lesya Rayman – Going Up (self released) ● Ted Nugent – The Music Made Me Do It (Round Hill) ● Electronica Pineapple Boys – Hello! EPB (self released) ● Kid Rock – Sweet Southern Sugar (BGM) ● The Kiddiwinks – Wicked Leisure (self released) ● The Dark Light – Keep Off The Grass (Unknown Pleasures) ● Edward Sayer – Underdog / Overlord (self released) ● Brothers In Arms – Trump For America (self released) ● Various Artists – 23 Classic Blues Songs From The 1920s Volume 16 (Blues Images)
Be seeing you!
Sat, December 29, 2018 | link
Saturday, December 22, 2018
JEFFREY MORGANíS MEDIA BLACKOUT #657
JEFFREY MORGAN'S MEDIA BLACKOUT #657.295.347.399.554!
This is Bob "Media Blackout" Hope coming to you live from the Big Room upstairs where I'm filling in for Jeffrey Morgan, who's away this week celebrating Christmas by listening to some of the latest rice-paddy platters in Da Nang Trong province. You know what 'Da Nang Trong' means, don't you? That's Vietnamese for "Exit strategy? We don't need no stinking exit strategy."
No, but I'm really thrilled to be here on the road to ruin, as my good friend Joey Ramone would say. In fact, all of the Ramones are up here, although it took them a while to clear customs. They were forty pounds overweight, and that was just their hair. Yeah, and I hear Joey's going to record a new Christmas song with Bing Crosby as soon as the old groaner recovers from that "Little Drummer Boy" duet he did with new arrival David Bowie 41 years ago. Just wait until he finds out that Joey's been taking sarong lessons from Dorothy Lamour. Isn't that wild?
Hey, how about a few reviews!
John Lennon – "Happy Xmas (War Is Over)" (Apple) :: Hippie.
Various Artists – We Wish You A Metal Xmas And A Headbanging New Year (Armory) :: Look, even I can only take so much of Bing singing "White Christmas" before I get a hardcore hankerin' to dreck the halls with gobs of metal. That's why I've been listening nonstop to this twelve track compilation of carols, which features everyone from Lemmy to Alice to Dio. I'll be deaf for Christmas, if only in my screams.
Christina – "Things Fall Apart" (ZE) :: I thought Britney Smears was a basket case until I heard this record. It originally escaped back in 1981 on A Christmas Record and it's still the most mentally disturbed Noël number ever released. And that includes Jerry Colonna's rendition of Johnny Bower's "Honky The Christmas Goose."
Rhonda Silver – "Chri$tma$ On Credit" (Silver Shadow) :: You can forget all about Eartha Kitt mewing out the high-priced "Santa Baby" for the umpteenth year in a row because this is the new torch song for today's troubled times. You'll sign up for a government bailout when you hear sultry songstress Silver croon: "You know that Santa's got the blues 'cause he ain't got no green. Looks like Mrs. Claus has picked his pockets clean!" In other words: Cash is king.
Johnny Cash – The Johnny Cash Christmas Specials: 1976-1979 (Shout! Factory) :: Hey, and what better way to celebrate the season than by watching this four disc box set containing the Man In Black's holiday television specials. Cash doing Christmas would be reason enough to watch at any time, but what really makes this a seasonal must see is the truly eclectic line up of guest stars, including everyone from longtime stage stalwarts June Carter and Carl Perkins to country legends Merle Travis and Roy Clark to seminal Sun rockers Roy Orbison and Jerry Lee Lewis.
The Beatles – Christmas Time Is Here Again! (Fan Club Flexi-Disc) :: Hippies.
SIZZLING PLATTER OF THE WEEK: Mr. T – "I Told You Hannibal: I Ain't Gettin' On No Sleigh!" b/w "Shut Up, You Crazy Yule!" (T-Neck) :: Boy, I wanna tell ya, ain't that something?
Be seeing you!
Sat, December 22, 2018 | link
Saturday, December 15, 2018
JEFFREY MORGANíS MEDIA BLACKOUT #656
JEFFREY MORGAN'S MEDIA BLACKOUT #656.318!
Jersey – Generation Genocide (Republic) :: Joe Strummer liked the Clash, too. But he didn't make a career out of copying them for the rest of his life.
The Cooper Temple Clause – Kick Up The Fire And Let The Flames Break Loose (RCA) :: More proof that you should never let kids play with matches.
SIZZLING PLATTER OF THE WEEK: Sheesham & Lotus & 'Son – 1929: The New Kings Of Old Time (Sepiaphone) :: The problem with the past is that it ain't present no more—but if you're half the shellac supporter that I think you are, then there's reason to tip your battered fedora and hoist a bootleg bottle of hooch 'cause Sheesham Crow (fiddle - harp - kazoo), Lotus Wight (banjo - kazoo), and 'SonSanderson (sousaphone) are here to transform your day from dreary to cheery with the hottest and heppest halcyon happening since R. Crumb's pioneering Cheap Suit Serenaders musically paved a path to the past back in the '70s.
And for those of you not in the know, it behoves me to point out that Robert Crumb is nothing less than the 20th Century's greatest and most influentially cogent comix creator that the world has ever seen; a modern man cursed with a perverted poet's soul who, incongruously trapped in a world he never made, perpetually pines away for a simpler day in a barely electrical era.
Well, what with it being recorded by one measly old two bit dime store microphone and all, 1929 is the kind of bracing monophonic tonic that'd make even an old curmudgeon like Crumb sit up and smile. For not only does this twelve track treasure take you back to those bygone bucolic days of yesteryear, it'll jostle your overloaded brainpan into fondly remembering how much better yesterday's music was compared to today's complex caterwauling.
But don't you go thinking that 1929 is some kinda misplaced nostalgia act like Tiny Tim warbling "Tiptoe Through The Tulips" or the New Vaudeville Orchestra doing the megaphone bit on "Winchester Cathedral" 'cause it's as vibrant and vital as a headline torn from last night's All Star Final or this morning's Bulldog Edition—and if you don't believe me, just give a listen to such timeless cautionary tales as the double-dealin' wife-cheatin' original composition "Drunken Nights" or the Jaybird Coleman classic of lust on the loose "Giving It Away" with its cautionary lyric: "Well a nickel is a nickel and a dime's a dime. I got a house fulla children; ain't none of 'em mine!"
Bonus points for having a retrographic album cover design that peerlessly promotes the era in question and has a label design that's suitable for framing and worth the price of admission alone. On second thought, mebbe you'd best buy two copies: one for your doll's wall and one for y'all the next time you're having a rent party.
R. Crumb And His Cheap Suite Serenaders – R. Crumb And His Cheap Suite Serenaders (Blue Goose) :: Exactly!
Be seeing you!
Sat, December 15, 2018 | link
Saturday, December 8, 2018
JEFFREY MORGANíS MEDIA BLACKOUT #655
JEFFREY MORGAN'S MEDIA BLACKOUT #655.317!
Tommy Lee Jones & Will Smith – Men In Black (Columbia Pictures 2012) :: That call this going "Back In Time"? Why, even a stooge wouldn't believe that.
Moe Howard & Larry Fine & Curly Howard – Men In Black (Columbia Pictures 1934) :: Exactly!
Huey Lewis And The News – "Back In Time" (Chrysalis) :: Exactly!
SIZZLING PLATTER OF THE WEEK: King Mob – Force 9 (SPV) :: If I had a dime for every superhype front cover promo sticker that's left me less than underwhelmed, I'd come back and buy this town and give it all, give it all to you. But here's one superhype front cover promo sticker that's worth its weight in solid gold easy action:
"KING MOB are: CHRIS SPEDDING – Guitar! GLEN MATLOCK – Bass! MARTIN CHAMBERS – Drums! STEPHEN W PARSONS aka SNIPS – Vocals! SIXTEEN – Guitar!"
Okay, so mebbe the exclamation points are mine, but that don't matter none, no how, no way 'cause where I come from, we call that a rock 'n' roll supergroup—and this is one rock 'n' roll supergroup that'll have your sorry sluggish flatlinin' carcass up 'n' at 'em at the crack of Dawn in no time flat, boy howdy!
Robert Downey Jr. & Chris Evans & Mark Ruffalo & Chris Hemsworth & Scarlett Johansson & Jeremy Remer & Tom Hiddleston – The Avengers (Paramount) :: They're okay, but they're no John Steed and Emma Peel—and Samuel L. Jackson's no David Hasselhoff.
Patrick Macnee & Diana Rigg – The Avengers (ITV) :: Exactly!
David Hasselhoff – Nick Fury: Agent Of S.H.I.E.L.D. (ABC Movie Of The Week) :: Exactly!
FROZEN PLATTERS OF THE WEEK: Thor & Mick Hoffman – Beastwomen From The Center Of The Earth (ThorToen/Antimatter) & Thor – Thor Against The World (Smog Veil) :: He comes from the land of the ice and snow and he's been rockin' Asgard down ever since he first appeared on the Canadian permafrost many an eon ago! So bow down and offer up your nubiles in pudenda parting penance because Jon Mikl Thor is back!

Thor's first testament is a behemoth "rock odyssey" recorded in tandem with ace axemeister Mick Hoffman! Beastwomen From The Center Of The Earth is a truly terrifying tundra tale torn from another time that finds the Rock Warrior trapped in a world he never made! Hear him rail! "When the hammer falls you can hear the dogs howling for blood!" His titanic triumph over the tenacious tendrils of tyranny is nothing less than a senses-shattering sonic shock to the system!
But it's on Thor Against The World that the Thunder God unleashes his mightiest bolts of molten metal yet down upon a world both unsuspecting and undeserving! Hear him roar! "I am the future! The coming of Thor!" So be it!

By Odin's beard, verily I doth tell you that the time hath come for a Thor revival! And let it be writ by mighty Mjolnir that there shall be nothing Loki about it!
Be seeing you!
Sat, December 8, 2018 | link
Saturday, December 1, 2018
JEFFREY MORGANíS MEDIA BLACKOUT #654
JEFFREY MORGAN'S MEDIA BLACKOUT #654.315!
Wolf Eyes – Burned Mind (Sub Pop) :: Here's this Ann Arbor band's recipe for disaster: Take a copy of Metal Machine Music. Play at maximum volume. Scream on top of it. Slice into nine tracks. Garnish with names like "Stabbed In The Face" and "Urine Burn." Serve cold.
SIZZLING PLATTERS OF THE WEEK: Black Merda – The Folks From Mother's Mixer (Funky Delicacies) & Various Artists – Funky Funky New Orleans Volume 4 (Funky Delicacies) :: Boy, do I ever miss the '70s. Forget about the '60s which was nothing but a buncha hippies and leftover beatnik coffee shops that charged an extortionist sixty cents for a plain black cuppa Joe—yeah, they sure saw the future coming—because the '70s had the glitter glam crowd posing next to the punks pogoing next to the zoot suited Afro preeners pimping their ladies in one giant cross-cultural stylegasm.

Indeed, I remember sitting in a jazz club and watching as a partially paralyzed Rahsaan Roland Kirk limped off stage half an hour after his set began because the pimps doing business at the bar thirty feet away were making too much noise. Shortly thereafter, this venerable institution became an upscale new wave club. Then all the downtown lavender joints had a methbed conversion and went from pansy to punk literally overnight when they smelled fresh influxes of cash from all the young rubes—which led to such surreal spectacles as hardcore punk bands playing next to giant statues of Michelangelo's fig-leafed David. Ah, those were the days my friend and, no, we didn't think they'd ever end. Then the '80s quietly crept up and sapped us on the back of the noggin while we weren't looking and that was the name of that tune.
Speaking of which, The Folks From Mother's Mixer is a compilation of Black Merda's first two albums of seminal Detroit wah wah guitar-driven psychedelic funk: their self-titled debut album from 1970; and 1972's freakified follow-up Long Burn The Fuse. Whether your agenda is to bear arms or spread legs, this album contains enough amped-up ammo to perforate either way you play.

Meanwhile, Funky Funky New Orleans Volume 4 offers up sexteen solid sets of salacious sounds from 1969 to 1973. The lubricious song titles tell the whole story from "Jungle Weed" and "Turn Me On" to "Sooky Feeling" and "C'mon And Make Me." And if you're up for the down stroke but the down stroke keeps eluding you, I guarantee that one long hit of "How To Make Love" will put you in the proper pudenda pounding groove.

So if you're dead set against maintaining the status bro and you subscribe to the Pimp My Pimp movement that would have today's Soledrab brothas ditch the baggy rags and dress more like Michael D. "Rooster" Roberts did on Baretta or Antonio "Huggy Bear" Vargas did on Starsky & Hutch, then these two albums are made for you, jive turkey.
Be seeing you!
Sat, December 1, 2018 | link
Saturday, November 24, 2018
JEFFREY MORGANíS MEDIA BLACKOUT #653
JEFFREY MORGAN'S MEDIA BLACKOUT #653.313!
Styx – The Grand Illusion / Pieces Of Eight: Live (Eagle) :: Wherein two compact discs; one video disc; and two classic progressive rock albums performed live in their entirety add up to one enjoyable exercise in endless nostalgia, all expertly played with peerless note perfect precision, as befitting these master progrocksticators!
SIZZLING VIDEO OF THE WEEK: Queen – Days Of Our Lives: The Definitive Documentary Of The World's Greatest Rock Band (Eagle) :: Like sand through the hourglass, so are the number of music videos that I have to watch each week about beat combos that are supposedly "The World's Greatest Rock Band." Well, as it so happens, I've seen The World's Greatest Rock Band perform live in concert and these guys ain't it; they're The World's Second Greatest Rock Band and they prove it all night in spades on this exhaustively titled officially authorized and sonically sanctioned audio-visual documentary that's, well, about as nigh-on definitive as you're likely to get.
It don't matter none whether you go ga ga for clean shaven long haired Freddie or go goo goo for mustachioed short haired Freddie 'cause no matter which way you swing you'll wind up on the receiving end of a bevy of dynamic live footage; an ace accounting of archival interviews; a cool cadre of contemporary interviews; and more bonus Queen rock videos than you can shake a stick at—and if that's your idea of a good time, then bring your dog along and I'll give him a bonus too.
SIZZLING PLATTER OF THE WEEK: Lords Of Acid – Deep Chills (Metropolis) :: What Rob Zombie's White Zombie are to satirical B movie horror movies and what Sascha Konietzko's KMFDM are to satirical socio-political agendas, Pragha Khan's Lords Of Acid are to satirical suburban sex-soaked soirées—and with sinsational song titles like "The Crab Louse" and "Young Boys" and "Drink My Honey" and the ever-popular "I Must Increase My Bust," you'd best believe that Lords know whereof they shriek, all backed by a percolating cauldron of techno-syntho beats that's so pulchritudinously persuasive it can pop a primed pudenda at thirty feet.
Now, after a self-imposed hiatus of 12—count 'em—12 long years spent brain tripping in parts unknown, the carnal cult responsible for such semenal (sic) sexamples of forbidden sexcess as 1994's VooDoo U and 2000's Farstucker (really sic) is back in the stirrups again with this brand new spread-eagled sextravaganza that'll teach you more then a couple of new tricks about what's still habitually going on hot 'n' heavy behind every green door.
Aided and ably abetted by a lush new lineup of rockin' reprobaters that includes new femme fatale vocalist DJ Mea, this one sounds like a kooky retrophonic cross between a Casio keyboard orgy gone feral and a technophonic USB meltdown. Even better, "The Love Bus" sounds like Lee Hazlewood come back from the Great Beyond to have one final fling with Nancy Sinatra. Bonus points for sheathing this throbbing monster in a Charles Addams meets R. Crumb raincoat.
Big Brother & The Holding Company – Cheap Thrills (Columbia) :: Exactly!
Be seeing you!
Sat, November 24, 2018 | link
Saturday, November 17, 2018
JEFFREY MORGANíS MEDIA BLACKOUT #652
JEFFREY MORGAN'S MEDIA BLACKOUT #652.312!
The Never – Never (Mo-Risen) :: Arrangements straight outta Queen via Sha Na Na? Chipmunk vocals á la Russell Mael? A music publishing company called "Watch Out For Cancer"? Pretentious band names like Ari-Vox, Noah-Vox, Jonny-Vox, and Joah-Vox? Liner notes containing a heartfelt Earth Day plea to respect the environment by recycling? Alright, if you insist: hello garbage can!
Communiqué – Poison Arrows (Lookout) :: These breathless boys want to be the new effete darlings of glam so badly that they'll do anything to make it—and that includes starting off one of 'their' songs with a note for note copy of Bowie's "Ashes To Ashes." Where I come from, we don't call that a quote. We call that a theft.
The Thermals – F#!%ing A (Sub Pop) :: They aspire to be thermonuclear but only manage to deliver a lukewarm thermos payload. Despite worshipping at the shrine of St. Johnny, singer-lyricist Hutch Harris doesn't realize that Rotten actually sang his lyrics instead of merely reciting them in a flat monotonic monologue. Influence is one thing, kid. Inflection is another thing entirely.
Demolition Doll Rods – On (Swami) :: I was gonna give this one a marginally passing grade for cheap sleazy enthusiasm until I found out that this slapdash hash, which sounds as if it had been recorded in a concrete bunker during a keg party, was actually their third album instead of the debut disc I initially deemed it to be—and as The Stooges and New York Dolls will tell you, that's one outing too many because two kicks at the can are all you really need to make the grade.
The Je Ne Sais Quoi – Secret Language (Coalition) :: New York, London, Paris, Munich. Here at jeffreymorgan.info world headquarters we receive all manner of media from all over the world, like this lump of rump. Now with a name like "The Je Ne Sais Quoi" you'd never expect these guys to hail from Sweden, the land best known for Ingmar Bergman movies and an old Stranglers song, but they do. And although it only lasts but a mere sixteen minutes, this extended player is proof positive that Swedish rock bands can be just as excruciatingly dull as the bands in your home town are. Everybody talkin' 'bout schlock musik.
SIZZLING PLATTER OF THE WEEK: Mixel Pixel – Contact Kid (Kanine) :: Just as Eno was sonically scalded by the Velvet Underground, Mixel Pixel has been equally Enossified, right down to starting off "Mantis Rock" with the same cricket menace that Eno ended Tiger Mountain's "The Great Pretender" with—but they're not just out to up the Eno ante exponentially. "Out Of My Mind" is the Beatles at their most LSD chromosome damaged; "The Drag City Starlet" is Bowie's "Lady Grinning Soul" turned inside out and eviscerated; "Gas House Gables" is a Satanic Majesties overdose; and "I Am The Contact Kid" is Alice Cooper doing "Blue Jay Way." Contact High School is more like it.
Be seeing you!
Sat, November 17, 2018 | link