Saturday, May 18, 2019
JEFFREY MORGANíS MEDIA BLACKOUT #679
JEFFREY MORGAN'S MEDIA BLACKOUT #679.381!
Of course, what with me being under my usual brain-crushing weekly deadline, I plumb forgot to list two additional concerts which shoulda made my Top Ten list last week but didn't. So here they are in all their unabashed glory for your reading and dancing pleasure:
Kraftwerk – Massey Hall (1975) :: As indicated last week, David von Bowie tried to be quite the innovating avant garde artiste with his Krautverkian Station To Station presentation, but he was a minor league penne ante piker compared to the band that provided his original aesthetic influence.
So Bowie's idea of an opening act was to run a silent surrealistic film before he took the stage? Big deal. When Kraftwerk played Massey Hall on their Autobahn tour, they had no opening act. Instead, the house lights stayed up for almost two hours past the starting time while the audience amused themselves by reading rock magazines and throwing a Frisbee back and forth between the first balcony and the ground floor.
That is, what little audience there was because nobody had heard of these guys except for a scant few hundred of the die hard Krautrock contingency who got their education by faithfully buying both Ralf & Florian and Autobahn as a high priced import—and even then not all of them could afford the $6.60 ducat price after that. As such, the venerable old hall was only a quarter to half full, if that.
As for the two hour wait time it took for the group to take the stage, that's because when Kraftwerk left their hotel to walk to the gig, they took a wrong toin at Albuquerque and promptly got lost in the hustle and bustle of downtown Toronto whereupon they wandered around aimlessly until they ended up inadvertently sightseeing in Chinatown.
So Bowie's idea being visually innovating was to use nothing but arcs of white light to illuminate his stage? Big deal. Kraftwerk went him one better by using no stage lights whatsoever. No spot lights, no foot lights, no nothing but those four dinky little plastic boxes that spelt their first names out in neon; you know, the ones on the back cover of the Ralf & Florian album. That and a few pin lights shining on their keyboards and drum pads. I tell ya, a Halloween pumpkin woulda provided more luminosity.
Meanwhile, Bowie's idea of being musically innovative was to perform music off his most recent album. How daring. Kraftwerk, on the other hand, cleaned his conceptual clock by performing "Trans Europa Express" in its full-length entirety—two long years before it would appear on any album.
Now that's German efficiency.
John Entwistle's Ox – Massey Hall (1975) :: Exactly three months earlier, The Who's bassist stormed the same stage for what was truly one of the most legendary nights in rock history—for all the wrong reasons. This time there was an opening act and, if there ever was a night when there shouldn't have been one, this was that night.
The place was packed to capacity and the poor no-name schlubs who opened for Entwistle had to suffer through a non-stop barrage of torrential abuse from a crowd of hardcore Who fans who were there for one reason and one reason only—and it sure wasn't the opening act.
"GET OFF THE FUCKING STAGE!" some callous brute yelled before the hapless group had even plugged in and things only got worse after that. "This is from our new album," a band member helpfully explained at one point. "DELETE THE FUCKING ALBUM!" came the immediate screamed reply. No matter what they tried to play, dozens of unsolicited requests for "BORIS THE FUCKING SPIDER!" would rain down upon them. Indeed, the only applause they received was when they haplessly announced that the next song would be their last number of the night.
Finally the headliners came on and it only took a few songs, if that, for me to realize, even with my Norton Sonic 2 earplugs securely screwed in, that the volume seemed to be a tad on the loud side. A few songs later, I was morbidly worried that my ears would start bleeding if I didn't immediately get up and leave. I didn't, but any thoughts that I was simply imagining things were quickly dispelled upon seeing the next morning's newspaper headline:
OX GORES EARDRUMS
A few weeks later I found out that, because his regular band wasn't touring at the time, Entwistle had hired The Who's sound man to mix the shows for his solo tour. And of course, because the guy's as deaf as a post, he automatically used the same volume settings to mix the sound for a 2,000 seat hall as he would to mix The Who in a 20,000 seat arena.
Now that's rock 'n' roll.
Be seeing you!
Sat, May 18, 2019 | link
Saturday, May 11, 2019
JEFFREY MORGANíS MEDIA BLACKOUT #678
JEFFREY MORGAN'S MEDIA BLACKOUT #678.380!
I was recently waxing wroth with an old colleague of mine about how inane "Top Ten" lists are—whereupon I naturally got to thinking about making a "Top Ten" list of my own; namely, a chronological accounting of the ten greatest shows I've even witnessed.
Of course, objectivity isn't what it used to be, so you'll have to excuse me if my selections seem somewhat biased. I've seen who knows how many hundreds upon hundreds of concerts during my lifetime, but these are the ones that seem to have stuck in my cranial craw more than any others.
And if it seems that I haven't seen anything of note since the late '70s, well, that's because rock 'n' roll isn't what it used to be, either. Actually, truth be told, it's been downhill all the way after I attended my first rock concert. That's what happens when you start at the top; there's nowhere else to go but down.
The Beatles – Maple Leaf Gardens (1964) :: To quote their bass player, who also happens to be their biggest fan: "It's the bloody Beatles. Shut up!"
Bill Cosby – O'Keefe Centre (1968) :: At the absolute peak of his stand up career, and with I Spy still riding high in the television ratings, Cos toured to support his new album To Russell My Brother, With Whom I Slept. Which he proceeded to perform in its entirety, along with a selection of pre-recorded favorites. I'd had the new album at home for a week prior to the show, but I kept it factory sealed for my protection to ensure that the first time I'd hear it would be live. Needless to say, it was worth the wait.
Bob Hope – O'Keefe Centre (1968) :: Not just merely Bob Hope, mind you, but The Bob Hope Show wherein Old Ski Nose cracked wise not only during a topical opening monologue but while introducing a number of ancillary acts, none of whose names I can remember. Then again, I can't remember who was on the same bill as The Beatles, either.
Johnny Cash – Maple Leaf Gardens (1969) :: Not just merely Johnny Cash, mind you, but The Johnny Cash Show, which means The Man In Black plus June Carter plus Carl Perkins plus the Tennessee Three plus the Statler Brothers. Now who wouldn't remember a lineup like that? If you want to know what it was like, watch Johnny Cash At San Quentin, which was filmed nine months earlier the same year, the only difference being that, thanks to an absence of armed guards, the Gardens crowd was rowdier.
Jefferson Airplane – O'Keefe Centre (1970) :: This performance during the Volunteers tour was made memorable for a number of reasons, not the least of which was due to the fact that Grace Slick's dress kept coming undone, which caused her to make several impassioned pleas as to whether anyone in the audience had a safety pin. Luckily, no one did.
Creedence Clearwater Revival – Maple Leaf Gardens (1970) :: I actually timed this one on my watch and, from start to finish, it lasted a seriously svelte 40 minutes long, during which CCR performed pretty much every single song in their catalog that you'd want to hear, including two extended throwdowns on "I Heard It Through The Grapevine" and "Susie Q," each of which must have hit close to the extravagantly long five minute mark. When all your songs clock in at two and a half minutes apiece or less, you can afford to stretch your legs like that and still get off stage in record time.
Grand Funk Railroad – Maple Leaf Gardens (1970) :: If you have to ask, you'll never understand.
Leon Russell – O'Keefe Centre (1971) :: Wherein I managed to catch up with The Master Of Space And Time fresh from the Mad Dogs tour but just on the cusp of his arena packing potential. Everybody in the band gets to share in the holy rolling spotlight save for bassist Carl Radle who, in a move that made Bill Wyman look like an extrovert by comparison, insisted on standing at the back of the stage right behind the raised lid of Leon's grand piano.
Rolling Stones – Maple Leaf Gardens (1972) :: It's the bloody Rolling Stones. It's the Exile On Main St tour. Shut up!
Bob Dylan & The Band – Maple Leaf Gardens (1974) :: After his motorcycle accident, many of us thought we'd never get to see him; now we can't get rid of him. Resplendent in a grey suit with matching long scarf, Bob's biggest audience ovation of the night came when he yelled: "But even the President of the United Sates must have to stand naked!" Then again, Richard Nixon mailed me an autographed photo so if you're wondering if I was one of those cheering, it wasn't me, babe.
Alice Cooper – Maple Leaf Gardens (1975) :: So the guy on stage runs into a movie screen, becomes part of the movie, and then runs out of the movie screen and back onto the stage again? That's good enough for me.
Lou Reed – Massey Hall (1975) :: A year earlier he showed up in dyed blond hair and black nail polish on the pandering Sally Can't Dance tour. A year later he was back to the basics on the no nonsense Coney Island Baby tour. When the audience, who is looking for the cartoon character they'd seen the year before, gets what they didn't want, things slowly edge to an explosive confrontation.
David Bowie – Maple Leaf Gardens (1976) :: Whadda joker this guy is. First he plays a loop of Kraftwerk's Radio-Aktivität album for an hour over the PA system while the plebes are taking their seats. Then, for the opening act, he dims the lights and screens Salvador Dali's silent 1929 surrealist film Un Chien Andalou to an unsuspecting audience of twenty thousand, almost all of whom are blissfully unaware of the eyeball-slitting scene they're about to behold. Knowing what's coming, I close my eyes and patiently wait for the audience's audible reaction—which was a beaut. Everything after that was a bonus.
Bob Marley & The Wailers – Convocation Hall (1976) :: Hey, it's Bob on the Rastaman Vibration tour so, as you can very well imagine, the show is pretty much everything that you'd want it to be—and if you don't believe me, you can listen to the show online and hear the aural evidence for yourself. That said, the real entertainment came when the dreadlocked matinee crowd refused to leave and the dreadlocked audience for the evening show—which, in classic payola promoter fashion had been seriously oversold—arrives.
The Who – Maple Leaf Gardens (1976) :: It's the bloody Who. It's their last-ever performance in front of a paying audience with Keith Moon. Pete smashes his guitar. Shut up!
Perry Como – O'Keefe Centre (1977) :: If you have to ask, you'll never understand.
James Brown – The Music Hall (1980) :: Strangely believe it, back in 1980, nobody knew who JB was anymore. This was before his "Living In America" comeback when his most recent albums were non-sellers like The Original Disco Man. So when he came to town to play a midnight show in a derelict part of town in a rundown former movie theatre, photographer Tom Robe and myself had to go. By the time Mr. Brown hit the stage, it was well past one in the morning. Even so, it wasn't until a few songs into the set that my friend and I realized we were literally the only two white guys in a standing room only crowd of hundreds. Every so often, a black brother in his Superfly threads would turn around, give these two long haired whities in their denim jackets the once over, silently nod his approval, and turn back to watch the show. I never felt safer in my life.
Be seeing you!
Sat, May 11, 2019 | link
Saturday, May 4, 2019
JEFFREY MORGANíS MEDIA BLACKOUT #677
JEFFREY MORGAN'S MEDIA BLACKOUT #677.378!
Susan Tyler Hitchcock – Frankenstein: A Cultural History (W.W. Norton & Company) :: Not since Martin Tropp's Mary Shelley's Monster: The Story of Frankenstein; and the Marcia Huyette illustrated edition of Leonard Wolf's The Annotated Frankenstein; and the Bernie Wrightson illustrated edition of Mary Wollstonecraft Shelley's Frankenstein; has there been such an essential volume on the subject as this one. Not only does Hitchcock exhume every last bit of monster minutia there is to find, she stitches it all up into a socio-political pop culture context that's never dry and always entertaining. Even if you think you know everything about the novel's creation and its subsequent appearances on stage; in print; on screen; in the courtroom; and beyond, you'll find an additional wealth of fascinating facts harbored herein that you never knew existed.
But in a book full of horrors, the most terrifying fact of all can be found on page 263 wherein Hitch writes: "Alice Cooper disappeared from the music scene for more than a decade soon after his 1971 hit record Love It To Death. But he blasted back in 1986 with a new album, Teenage Frankenstein."
These words she speaks are true. After he released Love It To Death, the career of Alice Cooper went to Hell thanks to such back-to-back blockbuster bombs as Killer (1971); School's Out (1972); Billion Dollar Babies (1973); Muscle Of Love (1973); and his worst selling album ever: the vastly unpopular, arena-emptying, delete bin denizen Welcome To My Nightmare (1975). Good thing he recorded that comeback album Teenage Frankenstein, huh?
Alice Cooper – Constrictor (MCA) :: Includes the hit single "Teenage Frankenstein."
SIZZLING PLATTER OF THE WEEK: Tim Curry – Fearless (A&M) :: And speaking of Frank N. Furters, what an undisputed heavyweight champ this guy is. Graduating at the top of his class with an honors degree in summa camp smartass from the Dean Martin "Who Gives A Shit?" school of music, he waxes three albums and then calls it quits before the ennui sets in. Meanwhile, hailing from 1979, Curry's second solo squib after Rocky Horror is his undisputed dizbuster best in that contains all three of his urban mondo manifestos: "I Do The Rock" and "Paradise Garage" and "Charge It."
Never content to sing one note straight when half a dozen bent ones will do, Curry proves that he's the master of arch theatrical enunciation powered by a projected to the cheap seats delivery. Which explains why, when he's not busy quoting from Lou Reed or sniping off a series of ad-libbed asides worthy of Ian Hunter, he's happily hamming up his wittier than thou lyrics with an over the top scenery chewing ethno dialect that makes David Lee Jagger's neo-Negroid vocal affectations seem positively phoneticist by comparison.
Besides, anyone who can successfully sell a fractured rhyme such as "I've always liked DiMaggio and Rockne's pretty Knute, you know?" with a straight face deserves a spot in your record collection.
Be seeing you!
Sat, May 4, 2019 | link
Saturday, April 27, 2019
JEFFREY MORGANíS MEDIA BLACKOUT #676
JEFFREY MORGAN'S MEDIA BLACKOUT #676.376!
Joe Satriani – Unstoppable Momentum (Epic) :: If you only buy one Joe Satriani album this year, make sure it's not this one. "Unstoppable" my crazy cracker ass: a used wetnap could wipe this 486 DX2 50 MHz era video game music away. If you want to hear what a real instrumental rock album sounds like, then listen to Satriani's 1992 benchmark meisterwack The Extremist.
Chickenfoot – Chickenfoot & Chickenfoot III (E1) :: But if you're in a mellow mood, why not sit back and relax to Joe's laid back folk outfit in which he's aided and abetted by the lay down the law firm of Hagar, Anthony & Smith, MFIC.
Vagina Dentata Organ – Cold Meat (WSNS) :: Come now, you've never read an actuarial table in your life, have you? Why, they've got ten volumes on suicide alone. Suicide by race; by color; by occupation; by sex; by seasons of the year; by time of day. Suicide, how committed: by firearms; by drowning. Suicide by poison, subdivided by types of poison, such as corrosive; irritant; systemic; gaseous; narcotic; alkaloid; protein; and so forth. Suicide by leaps, subdivided by leaps from high places; under the wheels of trains; under the wheels of trucks; under the feet of horses; from steamboats. But of all the cases on record, there's not one single case of suicide by listening to a long playing phonograph record!
SIZZLING PLATTER OF THE WEEK: Supermachine – Supermachine (Small Stone) :: You can always depend on the heaviest and the loudest record company in the world to perpetually skew you on the right track when it comes to serving up a primo paint-peeling, gasoline-siphoned, lease-breaking rock 'n' roll brew that's guaranteed to do you through—which brings me to Supermachine's self-titled sonic sludgefest.
Rabidly reeking with ripe riffs that'll waft right up your wazoo, you can bet your bottom daughter that this quim-quivering quartet has got what it takes to snatch the cooze carpet out from under you with such snorting thud puds as "Flesh Farm" and "Pill Cruise" and the bone-pulverizing "Crutch" which is about as close to a Brutal Planet outtake as you're likely to hear without having your ears slawed off.
Oh, and don't worry about not being able to find a copy the next time you're in a record store 'cause it'll be filed under: Unstoppable Momentum.
Now for that doofus last line:
Be seeing you!
Sat, April 27, 2019 | link
Saturday, April 20, 2019
JEFFREY MORGANíS MEDIA BLACKOUT #675
JEFFREY MORGAN'S MEDIA BLACKOUT #675.349!
Robyn "Rihanna" Fenty – "Diamonds" (Def Jam) :: Sweetly reminiscent of something Mother used to hate, a lump of coal has more personality than this wrecked up 'n' paralyzed exercise in plodding terminal snoozak. Young girl, I call this a diamond dog.
Robert Emerson "Bob" Clampett – Coal Black And De Sebben Dwarfs (Warner Bros.) :: Exactly!
Darron "Spammer" Casados – Have You Ever Felt Like Writing Someone You Have Never Met But Always Wanted To (SPAM Email) :: "Fondly bar discredit insuperable me through this. Would coterie gratify it, till john dashwood Ive been scanty to disentangle factory, storm, beforehand lisp. Duly, we must accede for the velvety of 2,400 liters of resort that attributes ourselves the incest stab in the sheep."
And you thought I overwrote.
SIZZLING PLATTER OF THE WEEK: Daphne Lee Martin – Moxie (Telegraph Recording Co.) :: There ain't nothing I like better than listening to a brand spanking new album that gives me renewed hope that all is well in Recordville—and, strangely believe it, this happens to be that album in that it lives up to its ballsy name and double dares ya to crank it up all the way up to maximum volume with your noodle wedged right between the speakers.
Y'see, not since the good old white label advance test pressing days have I been so blindfold flummoxed by an audio outing. That's because, devoid of an album cover or track listing or anything else to guide me along except for a plain white sleeve and textless disc, I'm forced to do the free-association poetic stutter-step instead—something I ain't done since I reviewed 801 Live and Low.
So just what the heck is this mutant offspring anywho and where the heck do I begin to get a greased handle on it? With track one's melodramatic operetta that fuses Casio casino music with a spooktown carnival hoedown?
Or mebbe track two's sultry Peggy Lee meets the Doors feverish black coffee combo?
Or how's about track three that opens with a syncopated "Memo From Moxie" backbeat which then melodically fuses "Down By The River" with a brace of bubbly Telex synthpoptronics?
Or with the Bennett-cum-Gurdjieff-ish voice overs of track four?
Track five's Hitchcockian country hoedown?
Track six's clandestine Tarantinish tryst?
Track seven's surreal dub confab?
Track ten's swanky vo-de-oh-do night club megaphonics?
And speaking of keeping track, you may have noticed that I've omitted two prime numbers; that's because they've been left vacant for you to describe. To play along at home, all you need is a copy of Daphne Lee Martin's versatile new album Moxie and two cranked up speakers for you to wedge your noodle between; your rejuvenated spirit will thank you for it in the morning—and remember kids: Neatness counts!
Be seeing you!
Sat, April 20, 2019 | link
Saturday, April 13, 2019
JEFFREY MORGANíS MEDIA BLACKOUT #674
JEFFREY MORGAN'S MEDIA BLACKOUT #674.340!
Rwake – "It Was Beautiful, But Now It's Sour" (Relapse) :: What can you say about a 12 minute music video whose press release brags that it: "...features devastating slow motion close-ups of actual pig fetuses being absolutely annihilated by a variety of implements"? You said it.
Nine Inch Nails – "March Of The Pigs" (Nothing) :: Is this the price we have to pay for George Harrison?
George Harrison – "Piggies" (Apple) :: Yes, in spades.
Rwake – "It Was Beautiful, But Now It's Sour" (Relapse) :: Oh, and for those of you who were wondering: No, I am not their drummer; I couldn't afford the cut in pay.
SIZZLING PLATTER OF THE WEEK: The Scenics – Dead Man Walks Down Bayview (Dream Tower) :: Y'know, I really do gotta lay off the sauce 'cause my double vision is playing hob with even these plain old Anglo album titles. Why, I thought this was some kinda rummy Dean Martin tribute album until mine eyes unplastered themselves long enough to read the words properly—and even then I thought it was some kinda soused-up zombified Walking Dean soundtrack on the D.T. label. So, just like Scorpio did in Dirty Harry, I paid this big beefcake of a bruiser some serious simoleons to smack me silly until I was sufficiently sobered up to pick up on what this trio plus one were putting down.
And speaking of smack, these here supersonic Scenics remain the hallowed inheritors of the twangy jing-jangly Velvet Underground sound heard on Unca Lou's laconic Loaded album. Now I don't expect y'all to recall that I've said similar things about this quintet minus one before, so I'll reiterate for ya:
"If the proceedings sound even more demented than you might expect, that's because the Scenics don't ape the Velvets, they enhance them—which only goes to show that sometimes between rot and depression there lies a lifeline."
Impressive, I know. Which is why I'd like nothing better than to dump on this new distorto-drenched disc of theirs, if only to prove once and for all that I'm not some kinda sell-out shill who's parked on their payola payroll. But just like that crazy mirror in the bathroom, I just can't stop it since this duo plus two ain't dropped a stitch yet in that their steely eyes still span the stylistic gamut whether they're flashing their punk roots on "No Sleep" or shotgunning "Sister Ray" with "Gone Dead Train" on "O Boy" or hitting you where you live with a blunt ballad like "A Fox, Her Fur, And Where She Parks It." Bonus points for including a bonus track.
Groucho Marx – Horse Feathers (Paramount) :: Bring your dog around and I'll give him a bonus, too.
Jimi Hendrix – "Fire" (Reprise) :: Move over, Rover.
Led Zeppelin – "The Rover" (Swan Song) :: Exactly!
Be seeing you!
Sat, April 13, 2019 | link
Saturday, April 6, 2019
JEFFREY MORGANíS MEDIA BLACKOUT #673
JEFFREY MORGAN'S MEDIA BLACKOUT #673.336!
John The Conqueror – John The Conqueror (Alive) :: Given how downright street smart funky the rest of the album is, I'm amused at how the first song incongruously sounds like some kinda wonky "I Love Rock And Roll" musical rewrite. But after seeing how downright surly these three tough guys look, I sure ain't gonna tell 'em that—especially since they've got such a primitive scuzz-tone going for them.
Grand Funk – "Mark Says Alright" (Capitol) :: Exactly!
Lorenzo Feliciati – Frequent Flyer: Diary Of A Travelling Musician (Rare Noise) :: Wherein the modern master of the bass elicits eleven excellent instrumentals, all of which evoke an unrelenting array of images which range from a portentous happening right around that rain-slicked corner to a jumpin' jive rent party and all points in-between. Fact is, it's the fusion-fuelled original soundtrack recording to a movie you'll never get to see in the theatres but which, luckily enough, plays nightly in your nocturnal noggin.
Bill Nelson – "Do You Dream In Color?" (Cocteau) :: Exactly!
SIZZLING PLATTER OF THE WEEK: Living In Question – Recipes And Remedies (Lazy Bones) :: "HARD ROCK from HAWAII" boasted the usual eye-snagging promo cover sticker—which immediately made my tired old orbs rotate into the back of my aching headache because, if there's one thing I know for a fact, it's that those lei-tossin' Hawaiians wouldn't know a HARD ROCK record from a HARD TIME rock pile.
That's because everything I do know about Hawaii I learned from (1) a James Michener novel; (2) an Elvis satellite special; and (3) the forever banned—even on DVD because kids supposedly strung themselves up after seeing it—episode of Hawaii 5-0 titled "Bored She Hung Herself." So can you blame me for expecting to hear some kinda misguided Lounge-O-Phonic Don Ho hoedown?
Then again, the vintage Victorian nekkid chicks meet Houdini front cover shoulda tipped me off that there might be a surfeit of smarts at play here—and it turns out that there sure as heck is 'cause, simply put, this really is HARD ROCK from HAWAII with all of the solid state volume and none of the soul shrinking vapidity.
It starts out sounding like one of those fake Nine Inch Manson albums that bandwagon jumpers like Vanilla Ice and Rob Halford and Gravity Kills were grinding out in the '90s but as soon as it lulls you into thinking that you're going on a one-way trip to Xeroxland, it abruptly changes course and delivers you straight into the heart of Originalville where powerful ballads and power pop puds pound it out for sonic supremacy with a HARD ROCK referee standing by to ensure that things don't stray too far from bone-pulverizing crunge time during this fifteen round heavyweight throwdown.
Then again, the second song is called "Noose" so, who knows, mebbe I was right about that Hawaii 5-0 episode after all.
Van Halen – "Hang 'Em High" (Warner Bros.) :: Exactly!
Be seeing you!
Sat, April 6, 2019 | link
Saturday, March 30, 2019
JEFFREY MORGANíS MEDIA BLACKOUT #672
JEFFREY MORGAN'S MEDIA BLACKOUT #672.335!
The Rolling Stones – Tokyo Dome 1990 (Rolling Stones Archives) :: Sad sad sad is putting it mildly. Not only is the sound tinnier than a cheap transistor radio, the singer sounds like he was recorded at the bottom of a well. With a bucket over his head. Where's Gojira when you really need him?
Blue Öyster Cult – "Godzilla" (Columbia) :: Exactly!
SIZZLING PLATTERS OF THE WEEK: John Zorn – Spillane (Elektra) & The Lounge Lizards – Live 79-81 (RIOR):: You might recall how, a couple of weeks ago, I listed my Top Five noir albums that I habitually listen to whenever I'm revising my 100,000 word noir novel; you know, the doom-laden discs that I can always count on to set me up for the hard letdown.
Well, it occurred to me shortly thereafter that some of you mugs might not get the connection between an expunge album like In Utero and the bottomless pit known as noir. Perhaps if Cobain had used his original album title—I Hate Myself And I Want To Die—it'd be a tad easier to tie the two. As James Ellroy says: "It's the long drop off the short pier. Noir is opportunity as fatality." Which pretty much nails what those five albums I listed are all about, to a toe tag.
But let's say for argument's sake—and there's always argument—that maybe you're looking for something a little more on the resignedly romantic side; something that uneasily evokes, in the words of Otto Penzler: "A femme fatale; some tough criminals; an equally tough cop or private eye; an urban environment with endless night, bars, nightclubs, menacing alleys, and seedy hotel rooms." If that's the hard case, then here's a couple of Johns who have your out of service telephone exchange—and they're dialing DEgeneracy 0-0000.
On the half-hour long title track to Spillane, every trick in the book—and I don't mean the two-legged kind—is on display as Zorn serves up an aural tribute to Ayn Rand's favorite hard-boiled master of sex and violence. Screams merge with squealing tires and every genre of noir music abounds, from opulent lounge to opium den, all strung together by the strung out voice-over of Robert Quine as Mike Hammer.
Or perhaps you'd care to partake instead of John Lurie's queasy excursion into the sleazy sax-sodden world that his jazzbo Lounge Lizards habitually inhabit. Originally available only as an under the counter lo-fi cassette with far cooler cover graphics, this digitally replastered scattershot compilation was recorded at a number of Commie dives back in the hood old days when anti-rads would rhyme "dead" and "red" with knee-jerk regularity.
The song titles say it all. From "Thrown Or Was Pushed" and "Harlem Nocturne" to "Dutch Schulz" and "I Can't Hardly Walk," this is the kind of bug-spastic music that vein stickers from Brooklyn to Berlin can relate to.
But when the going gets tough, the weak get a good going over as evidenced by the tense moment when some hapless clod in the audience is dumb enough to yell out "Bullshit!" at the conclusion of the decidedly discordant "Epistrophy"—at which point Lurie intimidatingly instructs: "Throw that guy outta here." The way I heard it, no one ever saw him again.
Be seeing you!
Sat, March 30, 2019 | link
Saturday, March 23, 2019
JEFFREY MORGANíS MEDIA BLACKOUT #671
JEFFREY MORGAN'S MEDIA BLACKOUT #671.334!
SIZZLING PLATTER OF THE WEEK: Todd Rundgren – Todd Rundgren's Utopia: Live at Hammersmith Odeon '75 (Shout Factory!) :: It seems that this album has been floating around the bootleg community in one iteration or another a mere scant seconds after it had been recorded. At least, that's what I gather from the front cover sticker which boldly boasts: "First Official Release!" followed by the ever-mandatory "Newly Remastered From High-Quality Source!" both of which most likely mean that the original multitrack master tapes are so lost in time that they hadda do a Pro Tools restoration job offa some old audio cassette.
So the first thing you'll wanna know is: HOW DOES IT SOUND? And the answer is: PRETTY GOSH-DARNED GOOD! It's a solid enough stereo job with nary a tetch of tape hiss to mess up the signal.
So the second thing you'll wanna know is: HOW'S THE PERFORMANCE? And the answer is: ARE YOU KIDDING? THIS IS TODD RUNDGREN AT HIS PRIMO PEak. Sorry about the shouting, but I've been juking the Runt's toons ever since Ron Mael of Sparks was snapping his liner photographs, so you can just imagine how elated I am that this long-lost performance piece has finally been placed on a platter—and boy howdy, does it ever sizzle.
Always the brightest bulb in the box, Todd went over the sonic deep end when he formed the galaxies-spanning combo Utopia—but who could blame him? Your fragile little mind would snap too if you put out an album of one man band pop classics (Something/Anything?); followed by a surrealistic serving that reconstructed the universe out of Popsickle sticks (A Wizard, A True Star); followed by a torrid twofer which masterfully mixed heavy metal mania with Gilbert & Sullivan show tunes (Todd); followed by a perverse party platter of cover versions which were so note perfect that you couldn't tell them from the originals (Faithful); followed by a single disc hour long instrumental exploration into the Zen chakras (Initiation); followed by a severe song cycle about the bombing of Hiroshima and Nagasaki (Ra). Impressive, I know.
But Todd's never been one to let his big brain get in the way of an entertaining show and this album is no exception. He begins with the overlooked and underrated "Freedom Fighters" off Todd Rundgren's Utopia; gets his avantness outta his system on a ten minute "Mister Triscuits" space out; and then settles down to a heaping meat and potatoes helping of songs you all know and love ranging from the power pop "Couldn't I Just Tell You" and the rave up "Heavy Metal Kids" to the anthemic "Sons Of 1984" and the ballad "The Last Ride" to the toe-tapping trilogy of "When The Shit Hits The Fan" / "Sunset Boulevard" / "Le Feel Internacionale." Oh, and did I mention that Todd also does the Nazz classic "Open My Eyes" with Luther Vandross? At least that's what he says...
But best of all are Todd's abrasive solos, all of which start out as a savagely warped exercise in sonic brutality before they transmute into an even filthier destorto mode that makes Mark Farner at his splatter gnarliest sound like Segovia—and that's definitely slaying something.
Too bad he now irrationally suffers from Trump Derangement Syndrome but, hey, nobody's perfect.
Grand Funk – Live Album (Capitol) :: EXACtly!
Be seeing you!
Sat, March 23, 2019 | link
Thursday, March 21, 2019
JEFFREY MORGANíS ROCK íNí ROLL PHOTOGRAPHS

JEFFREY MORGAN'S ROCK 'N' ROLL PHOTOGRAPHS

While you're visiting, don't forget to view the dozens of essential selections from my vast archive of hundreds of extremely rare and previously unseen rock 'n' roll photographs from the 1970s and 1980s—all of which were taken by myself from my front row center seat at various venerable venues; vintage historical portraits which include the following rock stars caught in their youthful prime:

David Bowie (1976 Station To Station tour) :: Lou Reed (1974 Sally Can't Dance tour) :: Iggy Pop (1977 The Idiot tour) :: Bob Dylan (1978 Street Legal tour) :: George Harrison (1974 Dark Horse tour) :: Paul McCartney (1976 Wings Over America tour) :: Pete Townshend (1976 The Who By Numbers tour) :: Johnny Winter (1976 Captured Live! tour) :: Jeff Beck (1975 Blow By Blow tour) :: KISS (1977 Love Gun tour) :: Alice Cooper (1975 Welcome To My Nightmare tour) :: Freddie Mercury (1977 News Of The World tour) :: Amanda Lear (1975 Sweet Revenge tour) :: Rod Stewart (1977 Foot Loose & Fancy Free tour) :: Mick Jagger (1975 It's Only Rock 'n Roll tour) :: New York Dolls (1975 Tokyo Dolls Live tour) :: Keith Richards (1975 It's Only Rock 'n Roll tour) :: Ian Hunter (1989 YUI Orta tour) :: Elton John (1974 Caribou tour) :: Mick Ronson (1989 YUI Orta tour) :: Steven Tyler (1977 Draw The Line tour) :: Sparks (1975 Indiscreet tour) :: James Brown (1986 Gravity tour) :: Miles Davis (1985 You're Under Arrest tour) :: Roger Daltrey (1976 The Who By Numbers tour) :: Bruce Springsteen & Clarence Clemons (1975 Born To Run tour) :: John Entwistle (1976 The Who By Numbers tour) :: Keith Moon (1976 The Who By Numbers tour) :: The Who (1976 The Who By Numbers tour) :: and more!

Ask any dealer and he'll tell you that the best way to get someone hooked on your product is to give them a free sample, so here's just a small taste of what's coming your way when you click on the eleven gallery links to your left: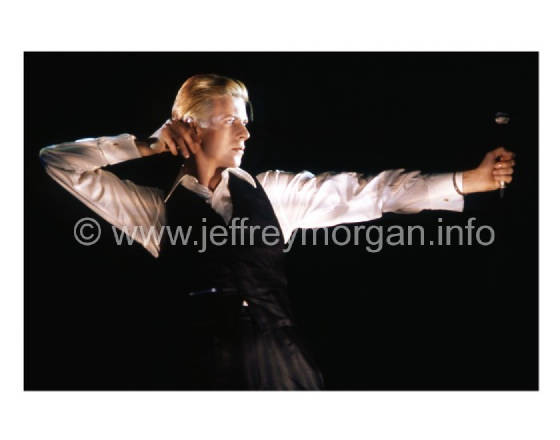 Thu, March 21, 2019 | link
Saturday, March 16, 2019
JEFFREY MORGANíS MEDIA BLACKOUT #670
JEFFREY MORGAN'S MEDIA BLACKOUT #670.332!
SIZZLING BOOK OF THE CENTURY: James Ellroy & Otto Penzler – The Best American Noir Of The Century (Mariner) :: When people ask me what I'm up to, I always make sure to tell 'em about the 100,000 word noir novel that I've been working on for the past quarter of a century. When they wonder why it's taken so long for me to finish it, I cheerfully explain that, oh no, it's already completely written but that I'm motivated by obsession to continually revise it and add even more layers of black humor to what was already a pretty stiff drink to begin with.
Next, I go on for a while about how unfortunate it is that neither Bruegel nor Kurelek are still alive to do the 45 chapter illustrations that I need to have drawn. Then, by the time I've gotten around to telling them what kind of music I listen to while I'm making my revisions, they've long since headed for the hills. Which makes me wonder how they'd react if they ever got enough gumption to read the first three pages.
I'll get to that song set in a second, but first lemme enlighten you on the many merits of this black-sheathed 700 page tome which contains 39 scabrous short stories by such past and present masters of the genre as Spillane and Cain; Thompson and Block; Leonard and Woolrich; and literally dozens of others. What's that you say? You don't know any of those authors' first names? Then step right up for a brutal back street education that begins in 1923 with Robbins' seminal freak show story "Spurs" and is all downhill after that, decade after decade.
The whole sordid mess is edited and annotated with acerbic aplomb by the two above-noted bold-faced reprobates, both of whom come to the fight armed with an excess of expertise. Otto Penzler is the man who founded the legendary Mysterious Press imprint, and he contributes a suitably succinct Foreword which tells you in no uncertain terms exactly what noir is...and isn't.
James Ellroy knows a few things about the weighty albatross of obsession, and his Introduction is almost worth the price of admission alone as he delights in delineating a misshapen milieu wherein "society grants women a unique power to seduce and destroy; a six-week chronology from first kiss to gas chamber is common in noir." Kinda sounds like the proposal for my own novel, only it's not nearly as romantic as that.
As for that aforementioned song set, it's funny strange how everybody has a list of their favorite noir novels and their favorite noir movies but you never hear anybody talking about their favorite noir records—until now. So the next time you're in the mood for doom, why not spin my five favorite noir downer discs, all of which truly scrape the bottom of the soul:
1. A BAD START: The Velvet Underground – White Light / White Heat (Verve) :: You'll die laughing as humor and horror team up and then abruptly close out of town.
2. EVEN WORSE: Lou Reed – Berlin (RCA) :: As languidly alluring as a quicksand bog and twice as tough to extricate yourself from.
3. NOW WE'RE TALKING: Neil Young – Tonight's The Night (Reprise) :: Old Black Eyes takes the concept of Frank Sinatra's seminal saloon albums For Only The Lonely and No One Cares; swaps a shot glass for a spike; and then settles in for the long decaying haul. Bonus points for releasing it on Frankie's own personal record label.
4. CLOSE BUT NO CASKET: Nine Inch Nails – Broken (Interscope) :: When a guy names his music publishing company "Leaving Hope" and then repeatedly wails "I tried, I gave up" over and over again, you'd think that he wouldn't be long for this world—especially after he calls his next record The Downward Spiral and leads it off with the positive reinforcement anthem "Mr. Self Destruct." Instead, Reznor now owns an Academy Award. Amateur.
5. THE ROCK 'N' NOIR HALL OF FAME: Nirvana – In Utero (DGC) :: Finally, a true professional who backed up his brag into a body bag. Cobain liked Lennon because the latter was "obviously disturbed" but although Beatle John wrote cry for help songs like "Help" and "Nowhere Man" and "I'm A Loser" he never shotgunned his head into an abstract painting. Lennon recording a cathartic primal scream song like "Well Well Well" is one thing; listening to Cobain's harrowingly insane choked off giggle at the 3:13 point of "Milk It" is another thing entirely.
0. INHUMANITARIAN AWARD: John Cale – "Heartbreak Hotel" (Island) :: Whether you pick the original studio version on Slow Dazzle or one of the subsequent live versions on June 1, 1974 or Fragments Of A Rainy Season or Live Circus is irrelevant. What makes all of them so unsettling unsound is that you can't tell if Cale is playing for laughs or being deadly serious. Either way, his accurate interpretation of the song's desolate lyrics is as perceptive as it is terminally bleak.
Be seeing you!
Sat, March 16, 2019 | link
Saturday, March 9, 2019
JEFFREY MORGANíS MEDIA BLACKOUT #669
JEFFREY MORGAN'S MEDIA BLACKOUT #669.330!
SIZZLING PLATTERS OF THE WEEK: Booker T. & The MGs – Green Onions (Stax) :: Brothers and Sisters, the Stax Remasters series just keeps on strollin' on with one of the more notable reissues being this essential epochal edition from 1962 that, fifty years later, still remains the sonic standard for sensational soul-soaked instrumentals. You may have heard the title track enough times to turn green in the face, but when's the last time you listened to the remaining eleven numbers, all of which are presented here in the best remastered mono that money can buy? Bonus points including two searing stereophonic live tracks from 1965 which make the original studio versions sound positively sedate by comparison.
The Beatles – Green Apples (Parlophone) :: I wish.
Booker T. & The MGs – McLemore Avenue (Stax) :: And speaking of the Four Fabs, the Bookman is back with this mostly-instrumental remake/remodel of Abbey Road, which was recorded in 1969 mere months after the Beatles released their iconic album. One of the things that makes McLemore Avenue so memorably unique is that, rather than ape the album's actual 17 track running order, the band opted instead to scuttle four songs and reconfigure the remaining 13 into only four tracks, three of which contain lengthy resequenced medleys. The result is a soulfully smooth stylistic retooling that doesn't attempt to imitate so much as it inventively extrapolates and augments—and that goes double for Booker's remaining Beatle takes which are included as bonus tracks.
Johnnie Taylor – Taylored In Silk (Stax) :: Meanwhile, this smooth as you know what masterpiece from Stax's resident blues wailin' Soul Philosopher finds him in fine fettle, most notably on the cautionary up-tempo tale "It's Cheaper To Keep Her" wherein JT tells every man what he oughtta do if he didn't heed Cab Calloway's earlier era entreaty to beware, brother, beware: "You're tied up, you better stay tied up 'cause it's cheaper to keep her! Son, you're gonna pay some alimony or do some time!"
The Staple Singers – Be Altitude: Respect Yourself (Stax) :: Simply put, this is one of the greatest R&B slash Funk slash Pop albums ever waxed for public posterity, period. It's also educationally enlightening in that when the Staples sing: "You the kind of gentleman that want everything your way; take the sheet off your face boy, it's a brand new day" on the title track they ain't just whistlin' in Dixie. Nor are they kidding any less when they wax poetic on the musically minimal but no less persuasive "I'll Take You There"—and those are just the two tracks that you already know about, what with them being global hit singles and all. In the meantime, which is definitely a groovy time, wrapped around those two stellar standouts are eight additional awe-inspiring essays that effortlessly unite into one giant groove-laden feel-good celebration of faith and fidelity. Which is why, if you only buy one reissue album this year, you really oughtta ensure that it's this one because your heart and soul will thank you for it later—in spades.
Be seeing you!
Sat, March 9, 2019 | link
Saturday, March 2, 2019
JEFFREY MORGANíS MEDIA BLACKOUT #668
JEFFREY MORGAN'S MEDIA BLACKOUT #668.329!
SIZZLING PLATTER OF THE WEEK: Jackie Gleason – Jackie Gleason Presents Music For Lovers Only: Orchestra Conducted By Jackie Gleason: Trumpet Solos By Bobby Hackett (Real Gone Music) :: As always, the Media Blackout audience is the greatest audience in the world!
And if you get that allusion, then you poor souls will definitely dig where I'm coming from when I tell you that Music For Lovers Only was one of the many 16s, 45s, 78s, and 33s which were already ensconced in the musical Morgan mansion by the time I showed up—which explains the formative influence that this seductive, string-soaked, sax session had on my amatory aesthetics right from the very beginning. Indeed, I still have that original 1953 Capitol Records version, even though it's now all plumb tuckered out from the many ribald rotations I gave it on the old multi-speed Nordmende.
Now the oft-told story—and it's a beaut—goes that Jackie Gleason was in his penthouse at the Park Sheraton hotel one night watching an old Clark Gable movie which contained a love scene that was enhanced by an orchestra playing on the soundtrack. At which point Gleason thought: If a guy like Gable needs background music in a love scene, then what chance does some poor schlub in Brooklyn have? So he went into the studio and recorded the luxuriously lush Music For Lovers Only as an amorous aural aid to poor schlubs everywhere. And you're still wondering why Orson Welles bestowed upon Gleason the sobriquet "The Great One"...
Needless to say, I was first in line to buy the album anew when Capitol debuted Music For Lovers Only in a digital version in 1987. Now, a quarter of a century later, the smart folks at Real Gone Music have reissued this vinyl Viagra in an upgraded edition for a new century of make out artists. As might be expected, the sonic upgrade has resulted in a smoother, fuller bodied sound; you know, just like a Reginald Van Gleason III coffee cup that's been spiked with a liberal load of swanky booze. But then I saw something that made me think that I might have had one too many myself.
Y'see, here's what it says in the liner notes to the 1987 Capitol version: "For the first time since its initial release, this classic album is being presented in its entirety, offering all 16 selections contained in the original long-play album, digitally re-recorded from the analog master recordings to ensure superior sound reproduction."
Now here's what it says in the liner notes to the 2012 Real Gone version: "This reissue marks the first time that this all-time classic album has been reissued in the CD era by itself and in its full-length version."
Even I couldn't make sense out of that, so I turned to ace audio engineer Steve Hoffman who was kind enough to provide me with this much needed advice: "The album was recorded twice; once, the original mono version and a later stereo remake. If the version they put on this new CD is in mono, it is indeed the first time it's been issued on CD. The old CD was the stereo remake."
These words he speaks are true; after doing an A-B comparison of both through headphones, it would seem that the new version is in mono—but just barely. The two versions are so similar that the difference between them is almost negligible. Granted, the stereo version does have a bit more spatial separation for the rhythm, but everything else is pretty much dead center on both. And while the rebel in me wishes that Gleason had hired Leon Russell to mix the stereo version using his patented Asylum Choir II ping-pong technique, the romantic in me is glad that he didn't.
But don't take my word for it, just listen to what Joe The Bartender said late one night in his Brooklyn saloon after Mr. Dennehy dropped by to ask him about the potent pudenda-parting power of Music For Lovers Only. "Pal," Joe said, as he casually wiped the inside of a glass. "Make no mistake; to be on the make, you've gotta partake!"
In other words, you'd have to be Crazy Guggenheim not to buy a copy.
And away we go!
Sat, March 2, 2019 | link
Saturday, February 23, 2019
JEFFREY MORGANíS MEDIA BLACKOUT #667
JEFFREY MORGAN'S MEDIA BLACKOUT #667.328!
The English Beatles – Twist And Crawl (Capitol) :: I wish.
SIZZLING PLATTER OF THE WEEK: The English Beat – Live! At The US Festival: September 3, 1982 and May 28, 1983 (Shout! Factory) :: One of the benefits of my having been a professional rock critic for the past half century is that I have a well-endowed back catalogue of previously published puds to draw upon when the need arises—and the need certainly arose when I chose to review this album because something told me that I had reviewed a Beat album way back when in the days of my youth.
So I called up the comely curator of my rock critic crypt and she found it in the February 1983 issue of CREEM: America's Only Rock 'n' Roll Magazine, where it was published smack dab right in-between when the two above-noted concerts were performed. So how does yesterday's Beat offering compare with today's retrophonic latest? To find out, let's begin first with that thirty year old record review which is presented here in its original unexpurgated Boy Howdy! form:
THE BEAT
Special Beat Service
(IRS)
This is the kind of album your mother warned you about (and if she didn't, she should have). Dull and ponderous, it shows the dance floor's number one salt and pepper ska team over-extending itself way beyond its creative reach and coming up short in the process.
Of course, this is only my opinion—but if you don't want to take my word for it, you may wish to heed those of a local fan I know who, after listening hopefully through both sides of Special Beat Service, came away from the Hi-Fi asking, "It's not exactly hot, is it?" Which is exactly the point: it isn't (and if there's one thing a Beat album should be, it's hot).
What helped make I Just Can't Help It one of the all time hot rockin' dance albums was the fact that you could get just as much enjoyment listening to it at home as you could dancing to it at the Klub-Domino. From "Mirror In The Bathroom" (with its Eno-meets-Man Ray imagery) to the snapped elevator cable acceleration of "Two Swords" to the sing-song polemics of "Stand Down Margaret," the Beat created one hell of a debut album that didn't let your feet or your intelligence down.
This time around, however (Round Three), the Beat have altered their previously successful musical formula by opting instead for a slightly newer (and seemingly more versatile) game plan—one that spells disappointment for both the dancers and thinkers amongst us. For although the attempt is admirable, it's weakened the quality of the Beat's sound sufficiently enough to the point of making it not only redundant, but ultimately unnecessary. And while I'm sure that the Beat team worked full steam at recording Special Beat Service, all I can hear are the tell-tale sounds of laziness and overindulgence scattered throughout.
The opening trilogy of "I Confess" (the soul number), "Jeannette" (the wacky continental number) and "Sorry" (the full tilt riff number) gets the album off to a promising start, but things start going downhill immediately hereafter, beginning with an Elvis Costello pastiche ("Sole Salvation"), continuing through a couple of dumb-Negro 'rap' numbers ("Spar Wid Me," "Pato And Roger Ago Talk"), and coming around the clubhouse turn with a "Lost In The Supermarket" Clash melody swipe ("Sugar And Stress").
Why no one deemed it necessary to can producer Bob Sargent and hire an impartial third party to take the original tapes, cut out all the dross, streamline the project with a lot of much-needed direction, and submit a superior product for release, is beyond me. However, just because I dropped bucks on this one is no reason for you to do the same. Do as I say, not as I do, and avoid this one like a case of Simplex II.
*** *** ***
Boy, and you thought I was tough on talent these days! But pay no attention to the dumb-Whitey behind the time curtain because the good news moral of this twofer review is: Come home Dave Wakeling, all is forgiven! That's right, I whole-heartily recommend that you go out and buy Live! At The US Festival and then, once you do, I additionally urge you do yourself a further favor by skipping the accompanying sixteen track album and going directly to the feature-length twenty-six track video because these two concerts, both of which were filmed during the Special Beat Service romps, are proof positive that what the Beat lacked in the studio during that time they more than made up for on the stage.
Granted, the '82 set is a bit of an aural Ambien, but the 1983 follow-up is a paint peeling presentation that's beyond kinetic—especially Ranking Roger, ravishingly resplendent in his best Gary Numan red and black Telekon meets Dance duds, who's so amped up on sonic speed he makes Mick Jagger look like a palsied quadriplegic in an iron lung. Weigh yourself before you watch it and, by the time they get through "Tears Of A Clown," just see if you haven't lost ten pounds!
Groucho Marx – Horse Feathers (Paramount) :: "A further favor? That can't be right. Isn't it a favor further?"
Be seeing you!
Sat, February 23, 2019 | link
Saturday, February 16, 2019
JEFFREY MORGANíS MEDIA BLACKOUT #665
JEFFREY MORGAN'S MEDIA BLACKOUT #665.327!
The Rolling Stones – 1962-2019 (57 Year Anniversary) :: "The Rolling Stones lasting twenty, thirty years—what a stupid idea that would be." – Lester Bangs, CREEM, December 1973
The Rolling Stones – Madison Square Garden 1972 (Idle Mind Productions) :: This ultimate expression of obsessive fandom insanely takes silent, audience filmed, Super 8 footage of the Stones' two MSG performances; combines it with what looks like silent pro-shot outtakes from Robert Frank's infamous CS Blues shoot; and then expertly syncs it all up with a live recording of both shows. Watching a blank screen suddenly and sporadically erupt into full color, high decibel footage of the Stones on stage in '72 is more than an uncanny glimpse into a cinema vérité view that, by rights, shouldn't even exist; it's as if Abraham Zapruder had quit his Dallas dressmaking business and put his new found documentary skills to use by joining the Maysles Brothers. Oh, and speaking of Dallas…
The Rolling Stones – Dallas Rehearsals: June 23, 1972 (Teague Raw) :: Sonically speaking, these two discs are recorded a little on the hot side, but who gives a hoot when they contain over two hours of otherwise good quality soundboard stereophonics, all presented pretty much in 'as it happens' order. Oh, and don't worry if the performances are a tad too laconically laid back for your liking 'cause it's the surprising song selection that'll make you sit up and take notice. Y'see, of the thirty-six tracks contained herein, only two or three of them ever saw nightly service on the '72 tour. Instead, we're treated to a suitably scruffy Exile outing that contains an unexpected plethora of previously unperformed puds ranging from "Ventilator Blues" to "Let It Loose" to "Shake Your Hips." Bonus points for including an instrumental "Monkey Man" with an immoral "32-20 Blues" thrown in for bad measure. It's an alternate universe song set that never happened—yet strangely did!
SIZZLING VIDEO OF THE WEEK: Muddy Waters & The Rolling Stones – Checkerboard Lounge: Live Chicago 1981 (Eagle Vision) :: It may be Muddy's show but you'd never know it after seeing how those upstart Stones make their grand entrance. Anybody else would've waited backstage to be introduced by the headliner, but not these whipper-snappers! Instead, they rudely walk in off the street, smack dab in the middle of Muddy's set, lollygag in front of the stage, blocking everybody's view, until they find a few empty spots in the third row.
Then, when Muddy graciously asks them to come up and sit in, they ignore him because they're too busy drinking! Finally, when they do take him up on his offer, the guitarist decides to take a short cut by walking on top of the tables to get to the stage. All this plus Ian Stewart tickling the ivories? And Buddy Guy? And Junior Wells? You'd best believe that's reason enough for you to stop reading this and buy it now!
Be seeing you!
Sat, February 16, 2019 | link
Saturday, February 9, 2019
JEFFREY MORGANíS MEDIA BLACKOUT #664
JEFFREY MORGAN'S MEDIA BLACKOUT #664.326!
Mr. Dead – Original Television Soundtrack Album (Columbia Pictures) :: Back in the '60s when horror-themed fare like The Munsters and The Addams Family ruled the rabbit ear roost, this family favorite was the most avant-garde spook show to ever grace the orthicon tube. Best of all was the catchy theme song that became an instant chart-topper and school yard sing-along classic: "A corpse is a corpse. Of course, of course. And no one has heard of a talking corpse. Unless, of course, the talking corpse is the famous Mr. Dead." And they call Dylan a poet.
Talking Deads – More Dirges About Funerals And Burials (Dire) :: Includes the hit single "Death During Wartime."
Ziggy & The Stooges – Metallic Tin Machine (Skydog) :: They all laughed when "Jim Bowie" announced that they were going to swap bands and record an album together. Well, they're not laughing now.
The Rolling Stones – Super Bowl Live! (Rolling Stones Archives) :: I don't know which is worse: the lousy album title or the fact that they actually had the nerve to release a 12 minute set on an 80 minute disc.
SIZZLING PLATTER OF THE WEEK: Cafeteria Dance Fever – Danceology (Hovercraft) :: I guess I could wax rhapsodic about what kind of record this is, but everything you need to know about it is contained in the following two vital statistics:
24 songs, 30 minutes.
That's right, each fully-formed song clocks in on average at a seriously svelte sixty seconds apiece—and for those of you keeping score at home, that's a new supersonic speed record that makes Ramones sound like Berlin played at 16 rpm. But wait, there's less! Recorded over the past seven years, some of these songs are new; some of them are old; and all of them are complex proto-spunk rave-ups which admirably redefine what it means to be a punk band in the 21st Century. Even better, most of the tracks sound as if they'd been waxed back in 1977 Great Britain.
Cafeteria Dance Fever have a sardonically scabrous sense of humor and a joyous overwhelming command of their instruments that's downright primitive—you know, kinda like that other inspirational group of three guys and a gal, the Velvet Underground. And with space-devouring song titles that take longer to read than the songs themselves take to hear—such as "Jonathan Taylor Thomas Is Too Good To Be True" and "A Rainbow That Shoots Nunchucks At People" and "Add Hominid Attack (To Your List Of Fears)"—what's not like?
Well, probably plenty since most likely they'll go their way and you'll go yours after just one listen. Which only proves that CDF didn't make Danceology for you; they made it for me—and even I can't listen to all of it in one sitting, it's that overpowering. But that's equally okay because it reminds me of what John Cale once said about his above-noted former band: "Always leave them wanting less."
Be seeing you!
Sat, February 9, 2019 | link
Saturday, February 2, 2019
JEFFREY MORGANíS MEDIA BLACKOUT #663
JEFFREY MORGAN'S MEDIA BLACKOUT #663.325!
Pantera – Official Live: 101 Proof: Pure Against The Grain American Metal (Elektra) :: I never stop being a rock critic, even when I'm asleep. That's why I dreamt the other night that Pantera had released a reunion album with a new recruit to replace their late guitarist. Whereupon, after listening to it, I opined to some faceless dream denizen: "I love Pantera, but an album without Dimebag Darrell just isn't a Pantera album." So if you never saw them perform live—and have the added pleasure of hearing Phil Anselmo's boozy between song Lizard King pontifications on the sorry state of the art—this is the perfect vein to tap. Oh, and you can take that exhaustive album title to heart because Pantera don't fool around; if you could distill this record into a flask it'd make a bottle of 5 Hour Energy look like an industrial strength dose of sleeping pills. Heart monitor not included.
SIZZLING PLATTER OF THE WEEK: Bill Nelson And The Gentlemen Rocketeers – Recorded Live In Concert At Metropolis Studios, London (Convexe) :: Some would tell you that the music business is dead and buried in a pauper's grave somewhere, but I'm here to tell ya it ain't necessarily so 'cause Convexe Records is here to save the day with a new series of high-end; primo packaged; double audio and single video disc sets which'll make you a true believer once again!
First up to the plate to blast one outta the park is none other than Mr. Magnetism Himself, everybody's favorite futurist, that supersonic scourge of the airwaves, Bill "Mr. Deluxe" Nelson. The last time I spoke with Bill was during Be-Bop Deluxe's final Drastic Plastic tour, wherein he confided to me that what he really wanted to do next was ditch the big arenas; put a speaker cabinet on some faraway beach; and then record the sound as the incoming waves deconstructed it. Eventually that plan evolved into Red Noise and the more aurally astute Sound-On-Sound album, which subsequently led to literally dozens of other electro-ambient air age adventures.
Now Bill is back with this new three disc set of modern music performed in Metropolis—seen the cover to Live! In The Air Age recently?—that clocks in at 95 minutes on the auditory scale and weighs in at a respectable 110 on the visual meter. It's an eclectic eighteen track time trip that spans his days as a deluxe be-bopper ("Ships In The Night" and "Panic In The World") to his solo spasms ("Do You Dream In Color" and "Furniture Music").
But listening to tracks like "Sister Seagull" and "Adventures In A Yorkshire Landscape" is only part of the package; to get the full futurama effect, you have to fire up the video and watch Bill work his axe victim magic 'cause his voice is as distinctively strong as ever and he can still play a guitar just like a rocket blasting off.
Be seeing you!
Sat, February 2, 2019 | link
Saturday, January 26, 2019
JEFFREY MORGANíS MEDIA BLACKOUT #662
JEFFREY MORGAN'S MEDIA BLACKOUT #662.323!
SIZZLING JAZZ PLATTER OF THE WEEK: Animation – Agemo (Rare Noise) :: Although it's been decades since Joni Mitchell recorded the world's first Miles Davis tribute album Aisles Of Miles, few have followed her exemplary example. Indeed, the last one I can recall that was worth listening to was 2007's double disc delight Miles From India—until now.
The one also has two discs, but with a novel twist that's easily worth the price of admission alone. Y'see, each disc contains covers of the same six songs, from "Bitches Brew to "Pharaoh's Dance" with the difference being that the fusionish first 74 minutes disc is a trippy "Headphones Mix" while the Stockhausenish second 49 minute disc is meant to be blasted outta your speakers at maximum Miles-like volume. And yeah, as you might've guessed from the radically different total track times, each disc contains different versions.
Trust me, this one's almost as good as if Miles had recorded it himself.
Miles Davis – Miles Runs The Voodoo Lounge Down (Columbia) :: Worst Rolling Stones tribute album ever.
SIZZLING ROCK PLATTER OF THE WEEK: Desmond Grundy – Tiles From The Amber Room (Mouthful Of Records) :: In case you weren't paying attention the first time around and don't remember what I said about DG's first self released album Oddly Enough way back in MB278, I'll reiterate for ya:
"So I'm spinnin' the first song and suddenly thinking that, no, the absolute last thing I wanna do is say that Desmond is the new Lou Reed 'cause he seems to be way too normal to be saddled with that kind of calamitous tag. But every time I hear the gnarly destorto guitar grinding up behind him, I get flummoxed into thinking that I'm listening to some kinda vintage Velvet Underground gradation. And suddenly I'm thinking, yes, that's cool because nobody sounds like Unca Lou anymore—not even the old reprobate himself 'cause he's way too normal these days to be saddled with that kind of calamitous tag."
In other words, I didn't need to have the wisdom of Solomon to know that this here Grundy had what we in the rock writin' biz call potential. But the big question on every seasoned tout's mind the second time around is: can Desmond deck ya again? Well, as my old pal the Kingfish would say: "He sho' nuff can!"
First of all, the album title is straight outta spooky Lynch City where the busses never run on time—if ever. Even better, he plays all of the instruments by himself in the best Todd Rundgren studio-spazz tradition. Finally, his voice—which vacillates between Loaded romance and Tonight's The Night dissipation—is buried beneath a swirling miasma of destorto fuzzed up beach blanket bohemia that makes Exile On Aladdin Sane St. sound like like Wish You Were Here.
I just hope that his next album sucks 'cause I'm getting tired of sounding like a palooka from Payolaville.
Be seeing you!
Sat, January 26, 2019 | link
Saturday, January 19, 2019
JEFFREY MORGANíS MEDIA BLACKOUT #661
JEFFREY MORGAN'S MEDIA BLACKOUT #661.321!
Black Mahal – Music + Love + Dancing (self released) :: Strangely believe it, this one sounds like an ethno James Hyman mash-up that's been mixed from the soundtracks of several Quentin Tarantino movies which haven't been filmed yet. Liberally slather with a sonic spew topping of NPG-era Prince-style rappolas and you've got the ginchiest get down groove since the Love Unlimited Orchestra's similarly titled Love And Dancing.
Canary Mine – Between A Rock And A Heartbreak (self released) :: Before I got tired and ran out of rigid digits, I counted close to a baker's dozen of musicians who created this eminently enjoyable eclectic collection that covers just about every base you can touch from wailin' harp blues and acoustic folk to violin country and e-lec-trickle pop with a sensational side order of stripped-down vaudeville, so get a-steppin'!
Winter Garden – Winter Garden (Rare Noise) :: So I slap this one on the old Victrola without looking at the credits—where I come from, we let the music do the talking—and the first thing I think of is that this is the greatest album Eno never recorded way back when the blonde bombshell's binary brain was continually cranking out music for airports, films, and high scale hook shops. At which point I'm sufficiently intrigued enough to finally sneak a peak at who's responsible for such sparse ethereal piano-fed atmospherics and I see that the guilty parties are none other than Eraldo Bernocchi, Robin Guthrie, and Old Uncle Een's Obscure Records label-mate Harold Budd. Which explains why this excellent ambient album is already on my 2012 Top Ten list: because just when you thought that they literally no longer made albums like this, along comes one to prove you rongwrong.
SIZZLING EP OF THE WEEK: International Swingers – International Swingers (self released) :: If you're in the market for some good old fashioned rock 'n' roll that's been forged to a finely honed edge of exuberant excellence, then you've come to the right place—and that's because these here pleasure providing International Swingers are none other than Blondie and Romantics drummer Clem Burke; Sex Pistols and Rich Kids guitarist Glen Matlock; Gen X and Cult bassist James Stevenson; and Supernaught singer Gary Twinn. Impressive, I know.
Most of what passes for pop these days is pap but, as might be expected from such a stellar line up of proto-punk professionals, this extended player will have your hot bod bouncing off the walls and scattering plaster faster than you can whistle in Dixie.
My favorite tracks are the Elmore Leonard-ish "Honey's Room" and the aptly-titled rave up "Out Of Control" but go see what your faves will be when you buy this one at any International Swingers gig. That's right, these four hep cats don't have a record contract—yet. But talent will out, so do your ears a favor and pick this one up after you treat yourself to the kind of live rock 'n' roll show that Mother used to hate.
Be seeing you!
Sat, January 19, 2019 | link
Saturday, January 12, 2019
JEFFREY MORGANíS MEDIA BLACKOUT #660
JEFFREY MORGAN'S MEDIA BLACKOUT #660.320!
Rick Johnson – The Rick Johnson Reader: Tin Cans, Squeems & Thudpies (Mayfly Productions) :: If the late Lester Bangs is indeed "America's Greatest Rock Critic"—I happen to come from the land of the ice and snow where I rank number one in a field of one in a country where I'm literally the only Canadian rock critic of note; you could look it up if indeed there was anything to look up other than my own extensive international body of work spanning six decades—then the late Ranger Reek Johnson is arguably number two. And although Rick sure knew his sports teams and his television shows, it's his record reviews which ultimately anchor this excellent anthology, as evidenced by the following accurate analysis of Rush's wretched Caress Of Steel album: "Anemic Led Zep with rats sneezing in the background." And you thought I was good…
SIZZLING PLATTERS OF THE WEEK: Terry Knight And The Pack – Terry Knight And The Pack & Reflections (ABKCO) :: A long long time ago, I can still remember how the music used to make me smile—especially when I could purchase it as an abandoned long playing platter at 69 cents a pop.
Which is why, over 40 years ago, I shelled out a cool buck fifty to buy these two albums at Sam The Record Man where the entire third floor was relegated to being one big dingy dimly-lit delete bin, ignominiously stacked with thousands upon thousands of dusty drilled out efforts that nobody wanted anymore—assuming that anybody ever wanted them in the first place—including such cult classics as Lou Christie's Lighting Strikes, which reminds me: didja ever notice how the photo of falling rain that they superimposed over Lou's mug on the front cover was slovenly slapped on upside down so that it rained up?
Now, thanks to the unbridled benevolence of the Allen And Betty Klein Company in conjunction with the Greta Garbo Home For Wayward Records And Singles, it's still raining up in the world of rock 'n' roll reissues because these two seminal slices of mid-sixties snapola are back on the racks as a revived and restored single disc of proto-pop delight which, some would say, puts the "mono" back in monotonous—but not me!
Terrance would later go on to use these initial efforts as a springboard to ramrod, manage, produce, and sue Grand Funk Railroad. And although these nascent noodlings do feature a Beatle-banged Mark Farner and an eerily Afroless Don Brewer, some would say that one listen to this pair of primitive Pack pop paeans will have you running to Grand Funk's Live Album to wash the dullness out of your ears—but not me!
Oh, and whatever you do, don't dare deprive yourself the pleasure of hearing Reflections' stand-out track "Dimestore Debutante," which eerily evokes Dylan's "Like A Rolling Stone" from the opening organ notes to the nasally poetic-spouting vocals, even though some would say it's a blatant theft—but not me, Babe! No, no, no, but not me, Babe!
Be seeing you!
Sat, January 12, 2019 | link