Search Jeffrey Morgan's Media Blackout archive:
---
Sunday, June 23, 2013
JEFFREY MORGANíS MEDIA BLACKOUT #373

VS. JEFFREY MORGAN'S MEDIA BLACKOUT #373!

Chet Flippo – 1943-2013 (R.I.P.) :: I don't take a hankering to most rock books because they're usually dry as dust diatribes badly written by a buncha hacks out to make a fast buck. Me, I prefer to deal in rock anecdotes instead, so stop me the next time you see me and I'll tell you my favorite three about: (1) Jerry Lee Lewis vs. Chuck Berry; (2) Jimi Hendrix vs. Bill Graham; and (3) Little Richard vs. The Pedestrian. But wait! There's more! Act now and you'll receive, at absolutely no extra cost, the recently revealed yarn about Charlie Watts vs. Mick Jagger!

That's why I only happen to have less than a dozen rock books on file, if that, but one of them happens to be by Chet Flippo. Published in 1985 about the group's Toronto troubles in the late '70s, On The Road With The Rolling Stones: Twenty Years of Lipstick, Handcuffs, and Chemicals is the last great book about the band. Clocking in at a seriously svelte 178 pages, it's a fast rip-snortin' hoot 'n' a half to read so pick up a used copy and see for yourself why the world lost a great rock journalist this week.

SIZZLING PLATTER OF THE WEEK: David Francey – So Say We All (Laker Music) :: Although it doesn't happen as often these days as it used to, every once in a while a record will be released that's so exceptional and intelligent it actually defies criticism—and this album happens to be one of them.

From its admirably understated front cover photo of the artist walking away from us into the Light, to its last muted note, folk singer David Francey's thoughtful So Say We All is about as honest and authentic an offering as you're likely to hear; one that's imbued throughout with a surfeit of universal Truth.

Light. Truth. No ordinary words, for what they denote are no ordinary values. And, poet that he is, Mr. Francey profoundly understands the power of these words because he knows that they have no frame of reference within which to exist without their contrarian opposites of darkness and lies—and David Francey is intimately familiar with those words as well.

Yet, but because he is a poet, Mr. Francey is able to use his insightful lyrics and expressive voice to cathartically transcend the pensive past and look beyond today's frailties toward a more hopeful future for himself and, by extension, for us all. That's why So Say We All is nothing less than an enriching audio affirmation of life and the indomitable power of the human spirit to endure—but don't take my word for it when you can heed those of the artist himself:

"The songs on this album," Mr. Francey writes in the album's introduction, "seem to me to encompass what proved to be a very difficult year. From the heights of joy to the depths of grief, the lesson learned was to celebrate every day spend on this side of the soil and to keeps marching no matter what comes our way."

So when one or more of these fourteen heartfelt songs makes you laugh or cry or simply smile with a knowing nod of recognition—and one or more of them will—it's because they speak not just of who we were yesterday or who we are today, but of who we would like to be tomorrow. That's because they also encompass yet another extraordinary word: Faith. Faith, and a renewed belief in the future and what you can do to be a positive part of it.

It's easier than you think. David Francey's already done the hard work. All you have to do is listen.

Be seeing you!
Sun, June 23, 2013 | link
Saturday, June 22, 2013
JEFFREY MORGANíS ROCK íní ROLL PHOTOGRAPHS
JEFFREY MORGAN'S ROCK 'n' ROLL PHOTOGRAPHS

While you're visiting, don't forget to view the dozens of essential selections from my vast archive of
hundreds of extremely rare and previously unseen rock 'n' roll photographs from the 1970s and 1980s—all of which were taken by myself from my front row center seat at various venerable venues; vintage historical portraits which include the following rock stars caught in their youthful prime:


David Bowie
(1976 Station To Station tour) :: Lou Reed (1974 Sally Can't Dance tour) :: Iggy Pop (1977 The Idiot tour) :: Bob Dylan (1978 Street Legal tour) :: George Harrison (1974 Dark Horse tour) :: Paul McCartney (1976 Wings Over America tour) :: Pete Townshend (1976 The Who By Numbers tour) :: Johnny Winter (1976 Captured Live! tour) :: Jeff Beck (1975 Blow By Blow tour) :: KISS (1977 Love Gun tour) :: Alice Cooper (1975 Welcome To My Nightmare tour) :: Freddie Mercury (1977 News Of The World tour) :: Amanda Lear (1975 Sweet Revenge tour) :: Rod Stewart (1977 Foot Loose & Fancy Free tour) :: Mick Jagger (1975 It's Only Rock 'n Roll tour) :: New York Dolls (1975 Tokyo Dolls Live tour) :: Keith Richards (1975 It's Only Rock 'n Roll tour) :: Ian Hunter (1989 YUI Orta tour) :: Elton John (1974 Caribou tour) :: Mick Ronson (1989 YUI Orta tour) :: Steven Tyler (1977 Draw The Line tour) :: Sparks (1975 Indiscreet tour) :: James Brown (1986 Gravity tour) :: Miles Davis (1985 You're Under Arrest tour) :: Roger Daltrey (1976 The Who By Numbers tour) :: Bruce Springsteen & Clarence Clemons (1975 Born To Run tour) :: John Entwistle (1976 The Who By Numbers tour) :: Keith Moon (1976 The Who By Numbers tour) :: The Who (1976 The Who By Numbers tour) :: and more!

Ask any dealer and he'll tell you that the best way to get someone hooked on your product is to give them a free sample, so here's just a small taste of what's coming your way when you click on the eleven gallery links to your left: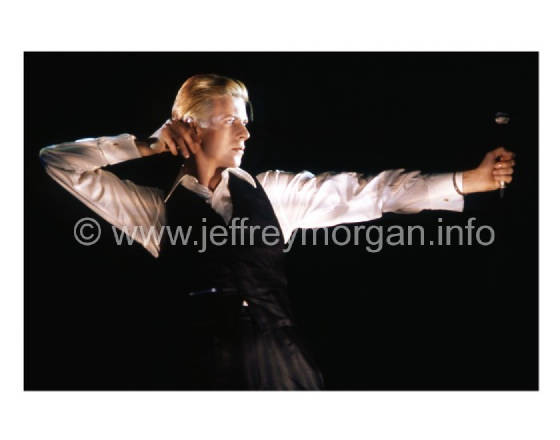 And you thought I was only a writer...
Sat, June 22, 2013 | link
Sunday, June 16, 2013
JEFFREY MORGANíS MEDIA BLACKOUT #372

FREEDOM'S JUST A WORD FOR JEFFREY MORGAN'S MEDIA BLACKOUT #372!

American President Richard M. Obama – The More Things CHANGE... (NSA Warrantless Wiretaps On Citizens) :: If you want to make a freedom omelet...

American President George W. Obama – ...The More They Stay The Same (NSA Warrantless Wiretaps On Citizens) :: ...you have to break a few civil liberty eggs.

Ted Nugent – Stormtroopin' (Epic) :: "They're lookin' in your window and listenin' to your phone..."

Turkish Prime Minister Recep Tayyip Erdoğan – Pave Paradise And Put Up A Shopping Mall (Taksim Gezi Park Protests) :: "Consider how small you are; compared to your scream, the human dream, doesn't mean shit to a tree."

Jefferson Airplane – "Eskimo Blue Day" (RCA) :: Exactly!

208 Talks Of Angels – "Nu Te Mira Privirea (Dracula Song)" (self released) :: Usually I won't have any truck or trade with digital downloads and streaming videos, but this week I'm breaking that inviolate rule to help out this trio of Russian musicians who are working desperately hard to liberate their voices from the aesthetic gulag they're laboring in. These cats need all the help they can get—which is where you come in, whether you're a musician; manager; publicist; record company employee; photographer; art director; or just a freedom-loving music fan.

Y'see, this is the part of the review where I would normally take the easy critical way out by comparing 208 Talks Of Angels to a band that you already know, but not this time. Instead, I'd be right obliged if you'd take the time to go here and listen to their music for yourself and see what you think—and after you're done, drop them a line and tell them what you think because they could probably use a few words of global encouragement right about now.

And make sure you watch their inventive video for the above-noted number which features an eerily animated Béla Lugosi on vocals; it's the "uncanny valley" incarnate!

SIZZLING VIDEO OF THE WEEK: Lee Savage & Milton Glaser – Mickey Mouse In Vietnam (1968) :: Wherein director Savage and renowned graphic designer Glaser take a static page from Ed Wheelan's Minute Movies and concoct an animated sixty second scenario in which The Mouse sees an Army recruiting poster; hops a chug boat to Vietnam; and promptly gets shot in the head the second he steps ashore.

This black and white short, which predates the activist comic book antics of the legendary Air Pirates, was lost in the jungle for forty years until it was recently discovered and posted online with nary a hint of foofarah. Points deducted for not naming it Steamboat Killie. Geddit?

SIZZLING COMICS OF THE WEEK: Dan O'Neill, Ted Richards, Gary Hallgren, 'n Li'l Bobby London – Mickey Mouse Meets The Air Pirates Funnies (HELL Comics) & Bobby London – Dirty Duck (Coconut Comix) :: And speaking of getting it, if Harvey Kurtzman and Will Elder's overground MAD was one of my seminal satirical influences in the early '60s, these underground books were my semenal satirical influences in the early '70s because they admirably expanded the boundaries of how far parody could be pushed to make a point.

Which is why, between the Disneyfried explicit bawdiness of The Air Pirates and the Herrimanesque surreal wittiness of Dirty Duck, I had all the tools needed to enthusiastically skewer my musical icons when CREEM came calling in 1974.

Bobby London – Mondo Popeye (St. Martin's Press) :: And while you're at it, you don't want to miss this Not A Dream! Not An Imaginary Story! collection that strangely believe it puts Elzie Segar's spinach-snortin' hero smack dab in the middle of a modern world that he never made. You haven't lived until you've seen Olive Oyl and Popeye discussing heavy metal music and witchcraft—and as for ironing board Olive's buxom cousin Sutra Oyl: Don't ask, just read it!

Be freeing you!
Sun, June 16, 2013 | link
---