Saturday, October 4, 2014
JEFFREY MORGANíS MEDIA BLACKOUT #440

JEFFREY MORGAN'S MEDIA BLACKOUT #440.43!

Buckwheat Zydeco – Jackpot! (Tomorrow) :: Purists may decry the primitive Bill Haley commerciality of songs like "Rock, Boogie, Shout" but Buck's turgid, son, which is why this just might be the biggest-selling record of his career.

Embrace – Out Of Nothing (Lava) :: Power balladry at its best, even if their enveloping anthems do sound a bit too U2 for my liking.

Situation Nowhere – One Of The Loudest Tragedies Ever Heard (Wedgie) :: Their wonky inflective singer sounds just like Pee-Wee Herman, but the playhouse pudknocker never had a butane-burning band like this rocking out behind him.

Icky Boyfriends – A Love Obscene (Menlo Park) :: Talent is an asset and these retards don't have it.

Flashlight Arcade – The Art Of Blacking Out (OTR) :: Yet another poky record from five slackids too lazy to spell-check their inane lyrics.

Scary Kids Scaring Kids – The City Sleeps In Flames (Immortal) :: The singer's vox sounds a little like John Foxx so why does he insist on screaming?

Kazzer – Broke (Linus) :: When a "marshal arts champion" makes a rap record, I expect to hear the aural equivalent of lean, mean Ken Shamrock, not gabby flabby Chris Tucker.

SIZZLING PLATTER OF THE WEEK: Chris Beard – Live Wire (Northern Blues) :: Now here's one Chris who ain't tuckered out, not by a long shot. Taped on stage in Michigan and Chicago and in the studio in New York, guitarist CB gets hot on the sizzlin' JB funkified sax 'n' organ good foot with an added dose of primo Prince percolation tossed in for bad bluesy measure.

Be seeing you!
Sat, October 4, 2014 | link
Friday, October 3, 2014
JEFFREY MORGANíS ROCK íNí ROLL PHOTOGRAPHS
JEFFREY MORGAN'S ROCK 'N' ROLL PHOTOGRAPHS

While you're visiting, don't forget to view the dozens of essential selections from my vast archive of
hundreds of extremely rare and previously unseen rock 'n' roll photographs from the 1970s and 1980s—all of which were taken by myself from my front row center seat at various venerable venues; vintage historical portraits which include the following rock stars caught in their youthful prime:


David Bowie
(1976 Station To Station tour) :: Lou Reed (1974 Sally Can't Dance tour) :: Iggy Pop (1977 The Idiot tour) :: Bob Dylan (1978 Street Legal tour) :: George Harrison (1974 Dark Horse tour) :: Paul McCartney (1976 Wings Over America tour) :: Pete Townshend (1976 The Who By Numbers tour) :: Johnny Winter (1976 Captured Live! tour) :: Jeff Beck (1975 Blow By Blow tour) :: KISS (1977 Love Gun tour) :: Alice Cooper (1975 Welcome To My Nightmare tour) :: Freddie Mercury (1977 News Of The World tour) :: Amanda Lear (1975 Sweet Revenge tour) :: Rod Stewart (1977 Foot Loose & Fancy Free tour) :: Mick Jagger (1975 It's Only Rock 'n Roll tour) :: New York Dolls (1975 Tokyo Dolls Live tour) :: Keith Richards (1975 It's Only Rock 'n Roll tour) :: Ian Hunter (1989 YUI Orta tour) :: Elton John (1974 Caribou tour) :: Mick Ronson (1989 YUI Orta tour) :: Steven Tyler (1977 Draw The Line tour) :: Sparks (1975 Indiscreet tour) :: James Brown (1986 Gravity tour) :: Miles Davis (1985 You're Under Arrest tour) :: Roger Daltrey (1976 The Who By Numbers tour) :: Bruce Springsteen & Clarence Clemons (1975 Born To Run tour) :: John Entwistle (1976 The Who By Numbers tour) :: Keith Moon (1976 The Who By Numbers tour) :: The Who (1976 The Who By Numbers tour) :: and more!

Ask any dealer and he'll tell you that the best way to get someone hooked on your product is to give them a free sample, so here's just a small taste of what's coming your way when you click on the eleven gallery links to your left: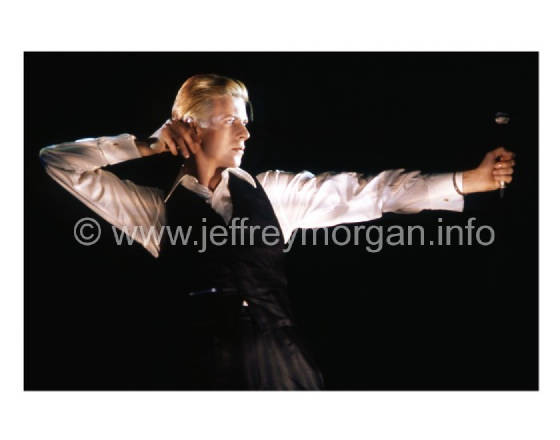 Fri, October 3, 2014 | link