Saturday, April 16, 2016
JEFFREY MORGANíS MEDIA BLACKOUT #518
JEFFREY MORGAN'S MEDIA BLACKOUT #518.146!
Testa Rosa – Testa Rosa (Latest Flame) :: If I could crank out thunder crunge like this FMM trio does on the way-too-brief "Hollow Arm," I'd lay off the wispy Melanie melodies and record an album full of similar sonic enlargers.
Melanie & The Dominoes – Brand New Key To The Highway (Polydor) :: Donovan used Led Zeppelin and the Jeff Beck Group as his backing band, so don't laugh.
Valerian – Guerilla Fighting Method (City Canyons) :: I'm not saying that someone should drop these camouflage-clad sissies into a real war zone and see how long they last, I'm typing it.
Oxbow – The Narcotic Story (Hydra Head) :: Just say blow.
Brothers Of A Feather Featuring Chris & Rich Robinson – Live At The Roxy (Eagle Rock) :: The Black Crowes sure do got their Blind Lemon Gumball voices down cold, they sho 'nuff do.
The Undesirables – Doghouse Dreams (self-released) :: Even better, spin this acoustic set from a group that—unlike the Robinsons—doesn't feel the need to imitate dead Delta bloozemen. Plus, they write better songs.
Zonaria – Infamy And The Breed (Pivotal) :: And in the deaf, as the last few eardrums lay bleeding in the slimy headphones, black mutant metal shrieked out from Screamo City, some more schlemiels. Swedes the size of rats sucked.
SIZZLING PLATTERS OF THE WEEK: Robyn Hitchcock – Storefront Hitchcock and Jewels For Sophia (Noble Rot) :: Don't miss these reissues from one of rock's most oddball auteurs. Storefront is a sparse live set that alternates Francis Bacon monologues with time travelogues like "1974" while Jewels is a full-band blast that features "Viva! Sea-Tac" with its immortal lines: "People flock like cattle to Seattle after Kurt Cobain. They got the best computers, coffee and smack."
Goot heave-nink!
Sat, April 16, 2016 | link
JEFFREY MORGANíS ROCK íNí ROLL PHOTOGRAPHS
JEFFREY MORGAN'S ROCK 'N' ROLL PHOTOGRAPHS

While you're visiting, don't forget to view the dozens of essential selections from my vast archive of
hundreds of extremely rare and previously unseen rock 'n' roll photographs from the 1970s and 1980s—all of which were taken by myself from my front row center seat at various venerable venues; vintage historical portraits which include the following rock stars caught in their youthful prime:


David Bowie
(1976 Station To Station tour) :: Lou Reed (1974 Sally Can't Dance tour) :: Iggy Pop (1977 The Idiot tour) :: Bob Dylan (1978 Street Legal tour) :: George Harrison (1974 Dark Horse tour) :: Paul McCartney (1976 Wings Over America tour) :: Pete Townshend (1976 The Who By Numbers tour) :: Johnny Winter (1976 Captured Live! tour) :: Jeff Beck (1975 Blow By Blow tour) :: KISS (1977 Love Gun tour) :: Alice Cooper (1975 Welcome To My Nightmare tour) :: Freddie Mercury (1977 News Of The World tour) :: Amanda Lear (1975 Sweet Revenge tour) :: Rod Stewart (1977 Foot Loose & Fancy Free tour) :: Mick Jagger (1975 It's Only Rock 'n Roll tour) :: New York Dolls (1975 Tokyo Dolls Live tour) :: Keith Richards (1975 It's Only Rock 'n Roll tour) :: Ian Hunter (1989 YUI Orta tour) :: Elton John (1974 Caribou tour) :: Mick Ronson (1989 YUI Orta tour) :: Steven Tyler (1977 Draw The Line tour) :: Sparks (1975 Indiscreet tour) :: James Brown (1986 Gravity tour) :: Miles Davis (1985 You're Under Arrest tour) :: Roger Daltrey (1976 The Who By Numbers tour) :: Bruce Springsteen & Clarence Clemons (1975 Born To Run tour) :: John Entwistle (1976 The Who By Numbers tour) :: Keith Moon (1976 The Who By Numbers tour) :: The Who (1976 The Who By Numbers tour) :: and more!

Ask any dealer and he'll tell you that the best way to get someone hooked on your product is to give them a free sample, so here's just a small taste of what's coming your way when you click on the eleven gallery links to your left: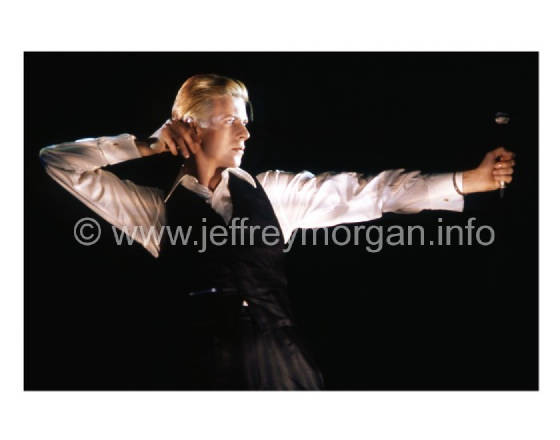 Sat, April 16, 2016 | link