Saturday, March 1, 2014
JEFFREY MORGANíS ROCK íNí ROLL PHOTOGRAPHS
JEFFREY MORGAN'S ROCK 'N' ROLL PHOTOGRAPHS

While you're visiting, don't forget to view the dozens of essential selections from my vast archive of
hundreds of extremely rare and previously unseen rock 'n' roll photographs from the 1970s and 1980s—all of which were taken by myself from my front row center seat at various venerable venues; vintage historical portraits which include the following rock stars caught in their youthful prime:


David Bowie
(1976 Station To Station tour) :: Lou Reed (1974 Sally Can't Dance tour) :: Iggy Pop (1977 The Idiot tour) :: Bob Dylan (1978 Street Legal tour) :: George Harrison (1974 Dark Horse tour) :: Paul McCartney (1976 Wings Over America tour) :: Pete Townshend (1976 The Who By Numbers tour) :: Johnny Winter (1976 Captured Live! tour) :: Jeff Beck (1975 Blow By Blow tour) :: KISS (1977 Love Gun tour) :: Alice Cooper (1975 Welcome To My Nightmare tour) :: Freddie Mercury (1977 News Of The World tour) :: Amanda Lear (1975 Sweet Revenge tour) :: Rod Stewart (1977 Foot Loose & Fancy Free tour) :: Mick Jagger (1975 It's Only Rock 'n Roll tour) :: New York Dolls (1975 Tokyo Dolls Live tour) :: Keith Richards (1975 It's Only Rock 'n Roll tour) :: Ian Hunter (1989 YUI Orta tour) :: Elton John (1974 Caribou tour) :: Mick Ronson (1989 YUI Orta tour) :: Steven Tyler (1977 Draw The Line tour) :: Sparks (1975 Indiscreet tour) :: James Brown (1986 Gravity tour) :: Miles Davis (1985 You're Under Arrest tour) :: Roger Daltrey (1976 The Who By Numbers tour) :: Bruce Springsteen & Clarence Clemons (1975 Born To Run tour) :: John Entwistle (1976 The Who By Numbers tour) :: Keith Moon (1976 The Who By Numbers tour) :: The Who (1976 The Who By Numbers tour) :: and more!

Ask any dealer and he'll tell you that the best way to get someone hooked on your product is to give them a free sample, so here's just a small taste of what's coming your way when you click on the eleven gallery links to your left: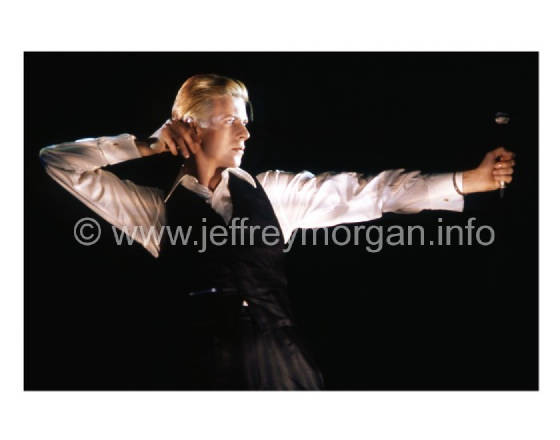 Sat, March 1, 2014 | link
Sunday, February 23, 2014
JEFFREY MORGANíS MEDIA BLACKOUT #408

JEFFREY MORGAN'S MEDIA BLACKOUT #408.9!

The Beatles – Turn Me On Dead Man (Vigotone) :: Before he died of cancer, not only did Abbey Road engineer John Barrett secretly make hours of pristine cassette dubs of unreleased Beatles songs direct from the original multitrack masters, he also actually remixed many familiar classics. So take this bootleg, brother, may it serve you well.

Tamara Bedricky – Through These Eyes (self-released) :: Poignant easy-listening pop ballads aren't usually my cup of tea, but I know a good voice when I hear one, and this Detroit songwriter has the pristine pipes to go the distance.

Project Oragnge – Megaphobe (BMG Canada) :: These mothercanuckers keep Canada united by recording their vapid songs in both official languages so the French can be just as bored as the English.

Yowie – Cryptooology (Skin Graft) :: Finally, a garage band that plays nothing but mental instrumentals that sound like the schizoid diagrams on the back of an Anthony Braxton album.

Paul Reddick – Villanelle (Northern Blues) :: Producer Colin Linden gives Reddick's exceptional new album the rough echoing distorto sound of a vintage field recording. Very uncanny and very good.

The Dollyrots – Eat My Heart Out (Panic Button) :: Sky-high production values, a streetwise attitude, the chirpiest female vocalist this side of Stiff Records and album art to die for. Literally.

Mike Kenally Band – Dog (Exowax) :: Imagine if Freddie Mercury had played killer guitar and formed both the Mothers Of Invention and the Mahavishnu Orchestra. Now go listen and treat yourself.

SIZZLING PLATTER OF THE WEEK: The John Butler Trio – What You Want (Lava) :: By mixing spiritually sublime orchestrations with heavy lowdown hoedowns, this sampler serves notice that guitarist Butler is a future force to be reckoned with.

Be seeing you!
Sun, February 23, 2014 | link