Sunday, June 29, 2014
JEFFREY MORGANíS MEDIA BLACKOUT #426

JEFFREY MORGAN'S MEDIA BLACKOUT #426.28!


Carl Stalling
– The Carl Stalling Project (Warner Bros.) :: Two, I say, two volumes of the greatest animated film music ever heard in the history of the human eardrum!


The Dan Band
– The Dan Band (Side One Dummy) :: Even Bowie at his cokehead best didn't dare cover "I Am Woman" on David Live. But if Dan's live romp is any indication, maybe he should've. Any of this gettin' through to ya, son?


Chuck Jones
– Chuck Amuck (Farrar Straus Giroux) :: This good-natured glimpse behind the scenes at Termite Terrace by one of the world's greatest directors is more fun than an Illudium Pew 36 Explosive Space Modulator. Pay attention, boy! I'm cuttin', but you ain't bleedin'!


A Change Of Pace
– An Offer You Can't Refuse (Immortal) :: No it's not, and yes I can. Nice boy, but he's built a little too low to the ground!


Over It
– Silverstrand (Lobster) :: Oh, so you three guys actually like having a bland singer without a shred of personality in his voice? Well, that explains everything. You've gotta keep your eye on the ball, son!


Rush
– Rush (Moon) :: Don't laugh. Xeroxed bands like the previous two could learn a lot from songs like "Finding My Way" and "In The Mood." Eye!


Full White Drag
– Everything Will Fall One Night (Inter-Flight) :: So could Canada's plodding answer to the Stranglers. Ball!


Mel Blanc
– That's Not All Folks! (Warner Books) :: This delightful memoir covers everything from Mel's "Cu...camonga" days on The Jack Benny Show to his heavyweight reign as Looney Tunes' voice man supreme. Eyeball!


SIZZLING CLAGHORN OF THE WEEK:
I almost has a column there, son! Joke, that is.


Uh-b'uh, uh-b'uh, uh-be seeing you!
Sun, June 29, 2014 | link
JEFFREY MORGANíS ROCK íNí ROLL PHOTOGRAPHS
JEFFREY MORGAN'S ROCK 'N' ROLL PHOTOGRAPHS

While you're visiting, don't forget to view the dozens of essential selections from my vast archive of
hundreds of extremely rare and previously unseen rock 'n' roll photographs from the 1970s and 1980s—all of which were taken by myself from my front row center seat at various venerable venues; vintage historical portraits which include the following rock stars caught in their youthful prime:


David Bowie
(1976 Station To Station tour) :: Lou Reed (1974 Sally Can't Dance tour) :: Iggy Pop (1977 The Idiot tour) :: Bob Dylan (1978 Street Legal tour) :: George Harrison (1974 Dark Horse tour) :: Paul McCartney (1976 Wings Over America tour) :: Pete Townshend (1976 The Who By Numbers tour) :: Johnny Winter (1976 Captured Live! tour) :: Jeff Beck (1975 Blow By Blow tour) :: KISS (1977 Love Gun tour) :: Alice Cooper (1975 Welcome To My Nightmare tour) :: Freddie Mercury (1977 News Of The World tour) :: Amanda Lear (1975 Sweet Revenge tour) :: Rod Stewart (1977 Foot Loose & Fancy Free tour) :: Mick Jagger (1975 It's Only Rock 'n Roll tour) :: New York Dolls (1975 Tokyo Dolls Live tour) :: Keith Richards (1975 It's Only Rock 'n Roll tour) :: Ian Hunter (1989 YUI Orta tour) :: Elton John (1974 Caribou tour) :: Mick Ronson (1989 YUI Orta tour) :: Steven Tyler (1977 Draw The Line tour) :: Sparks (1975 Indiscreet tour) :: James Brown (1986 Gravity tour) :: Miles Davis (1985 You're Under Arrest tour) :: Roger Daltrey (1976 The Who By Numbers tour) :: Bruce Springsteen & Clarence Clemons (1975 Born To Run tour) :: John Entwistle (1976 The Who By Numbers tour) :: Keith Moon (1976 The Who By Numbers tour) :: The Who (1976 The Who By Numbers tour) :: and more!

Ask any dealer and he'll tell you that the best way to get someone hooked on your product is to give them a free sample, so here's just a small taste of what's coming your way when you click on the eleven gallery links to your left: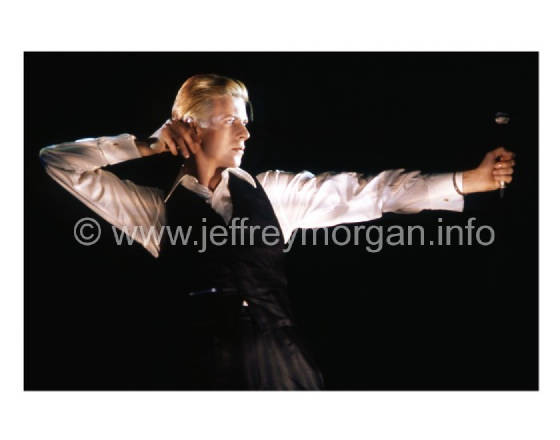 Sat, June 28, 2014 | link