Search Jeffrey Morgan's Media Blackout archive:
---
Sunday, October 27, 2013
JEFFREY MORGANíS MEDIA BLACKOUT #391

TWO FOR THE JEFFREY MORGAN'S MEDIA BLACKOUT #391!

SIZZLING CONCERT OF THE WEEK: Brian Wilson & Jeff Beck – Live At O'Keefe Center (October 25, 2013) :: That's right! Brian "Good Vibrations" Wilson and Jeff "Psycho Daises" Beck playing together! On the same stage! At the same time! In what would initially seem to be the most unlikely co-headlining tour of all time—until you realize that the conceptual ties which bind these two together are deeply rooted in the Kustom Kulture ethos of the '50s and '60s.

Unfortunately my Sunday deadline is too tight for me to tell you how truly great these two are together so you'll have to take my word for it when I tell you that they make the Indy 500 look like a Roman chariot race. But lest you forget why these two are such immortals, here's an unabashed appraisal of their most recent solo shows, as originally essayed in MB268 and MB286:

*** *** ***

Jeff Beck – Live At Massey Hall (October 18, 2011) :: Look, when it comes to rock 'n' roll record promotion, it's a proven scientific fact that most advertising copy ain't worth the pixels it's printed on. In fact, you can probably count on one rigid digit the number of times you've read a superhype saying that had even the slightest grain of truth to it—and I should know 'cause I used to write such foolish folderol myself for Columbia Records during my CREEM rock critic days.

But in 1975, no truer words were ever printed than those penned by another anonymous Columbia copywriter who was astute enough to slap these five words of wisdom on the full page magazine advertisement heralding Jeff Beck's first solo album Blow By Blow: RETURN OF THE AXE MANIAC. Sure it was an obvious ha ha turn of phrase, but it was also prescient beyond belief in that no guitar slinger has gotten louder and crazier and noisier and more technically adept as each decade does a lap than El Beckola.

Over the years I've seen Beck playing live in Beck, Bogart & Appice; at the start of his solo career; wailing away in tandem with Jan Hammer; and beyond, but I've never heard him sound as dexterously ferocious as he does now—and that's not hyperbole, that's a fact.

But don't take my word for it, just listen to Beck's hand-picked opening act, guitar prodigy Tyler Bryant, who takes perverse delight in warning the audience that Beck will "melt your face off whether you like it or not." That rock critic potential notwithstanding, what Tyler neglected to mention is that Beck's playing will also peel paint off a barn; sandblast brick; and bleach muslin at thirty feet. Now concert reviewing tradition dictates I that mandatorily mention how, musically, Beck rummages through most of his back catalog from "Rice Pudding" past "Rollin' And Tumblin'" and all points in between. But that's not the point because the real treat isn't listening to what Beck plays, it's paying attention to how he plays it.

Chuck Berry may sing about a guy who can play a guitar just like a-ringin' a bell, but watching Beck do his thing is such an education in execution that you can't help but get the feeling that Beck invented that bell; designed it; manufactured it; polished it; and then is able to ring it six ways from Sunday, hitting every possible tone it can create along the way with a maximum of ease and a minimum of effort. Unlike Mick Ronson, who grimaced as if each note he played had an actual physical weight; or Page, who literally sweats out every solo, Beck has such supreme technical mastery over his machine, it's as if he's calmly revving a supercharged muscle car that's so sensitive it responds to his slightest touch with a surgical level of hair-trigger precision that almost seems uncannily preternatural.

And I do mean flat-out red line revving because, even when he's playing softer nuanced numbers, you somehow sense that that's not the part of town where Beck really likes to hang his hat. For no matter how sonically sensitive his more melodious moods may be, it's like using Old Sparky with the juice turned down to warm up a pot of coffee. Sure it'll do the job, but you're always aware that behind that dialed down restraint there lurks enough unbridled pent-up energy to blast everything into smithereens.

That's always been the case but it's especially applicable now given that Beck is backed on this tour by his most powerful band ever, namely: legendary Mahavishnu Orchestra drummer Narada Michael Walden; bowel-buffeting bassist Rhonda Smith; and kinetic keyboardist Jason Rebello. Which pretty much explains why Beck's having so much gosh-darned fun on stage these days. I mean, the cat used to be downright dour at times, but no more. Beck talks! Beck smiles! Beck does slapstick shtick with the audience! Will wonders never cease? About the only thing he doesn't do during his two hour tenure in front of the footlights is warble a few bars of "The Nazz Is Blue" and, who knows, he just might even do that the next time he comes to Your Town.

Oh, and did I mention that it's worth the price of admission alone just to see him strap on a Les Paul and then play "How High The Moon" with Les Paul?

*** *** ***

Brian Wilson – Live At Massey Hall (June 18, 2011) :: Beginning with The Beatles back in 1964, I've been fortunate enough to have been in the same room with countless musicians over the past five decades. Some were technically proficient while others were terribly pretentious. Some made a living by being supreme showmen while others made a living by being cunning con men. But of all the acts I've seen over the decades, a scant few deserved to be described with the mighty mantle of genius.

The Rolling Stones will be the first ones to tell you that they don't qualify because that's not their job; indeed, the Stones' only talent for genius seem to lie in their uncanny ability to have survived relatively unscathed for the past fifty years.

As for The Beatles—who didn't even last a decade, let alone an entire half century—they only qualify in large part due to the fact that half the group were superior songwriters lucky enough to have had George Martin around to make their music manifest. Would The Beatles have been nearly as necessary had their albums been produced by Andrew Loog Oldham or Kit Lambert? And one listen to Let It Be provides ample evidence of what the Fabulous Four were able to come up with when left to their own dithering devices: not much, which is why, humbled with hat in hand, they had to beg a skeptical George Martin back into the studio to produce Abbey Road for them.

Dylan? See "cunning con men" above ref.

And then there's Brian Wilson, a man truly touched by genius who had only himself to rely on when it came to getting his music out of his mind and onto Beach Boys records. Unlike the Stones and Beatles, who at least had the option of infighting as a means of deflecting personal aesthetic blame, Wilson's only rhetorical recourse in times of creative crisis was himself, however debilitating the results.

So when I found out that Brian Wilson was coming to town to play his own classic compositions as well as those by another American icon, the venerated George Gershwin, I knew that I had to go and pay witness to these two generations of genius, housed under one historic roof. What I didn't expect, however, was what I got: a two and a half hour extravaganza that easily ranks right up there as one of the most extraordinarily intelligent and fun concerts I've ever had the honor of attending.

For the first hour and a quarter, Wilson played just about every major song from his catalogue that you'd want to hear, backed by a bravura nine piece band which, in turn, was ably augmented by an additional string quintet.

Oh, and if you're looking for a testament as to just how deep the Brian Wilson songbook is, look no further than the fact that Wilson could afford to effortlessly toss away major masterpieces like "God Only Knows," "California Girls," "Heroes And Villains" and "Good Vibrations" in the first half of the show instead of saving any of them for encore material. Now that's confidence. So is the fact that Wilson could seamlessly intersperse his own material with a few choice Beach Boy covers, namely one from his sonic mentor Phil Spector ("Then I Kissed Her" from the Summer Days (And Summer Nights!!) album); and Bobby Freeman's "Do You Wanna Dance" (from The Beach Boys Today!).

Playing the above-noted four epics early also provided a good frame of reference for the strength of Wilson's compositional skills when compared against those of George and Ira Gershwin, whose music was showcased during the second hour long half of the show. As might be expected, they compare more than favorably; what you might not be ready for though is the surreal sight of Wilson singing such standards as "Summertime," "Bess, You Is My Woman Now," and "Someone To Watch Over Me."

But because Wilson's voice and range is so strong, he actually manages to pull it off with ease, solidly anchored by a genuine historical respect for the material that's nonparallel. Equally uncanny is his ability to take a classic like Gershwin's "I Got Rhythm" and arrange it with his patented "Wall Of Sand" harmonies to the point where it sounds as if Wilson wrote it as a Beach Boys single. Then again, what else would you expect from a man who dares to play "I Got Plenty Of Nothing" as an instrumental—with the missing vocal line played on a harmonica?

Probably that he's the same kind of man who, as noted above, would perversely play all his big hits at the beginning of the show—during which he shyly allows that he's "kinda proud" of "California Girls"—and instead dig deep into left field for encores of Chuck Berry's "Johnny B. Goode" (via 1964's Beach Boys Concert); "Help Me, Rhonda," "Surfin' USA," "Fun, Fun, Fun" and the unexpected surprise of the night: a giddy as all get out, rip-snortin' version of "Barbara Ann."

Whether he's sitting at his Yamaha; strapping on a Fender; or inexplicably getting the audience to gleefully sing "Row, Row, Row Your Boat" for no other reason than just because, Brian Wilson continues to prove beyond a shadow of a doubt that his heart is every bit as big as his limitless talent—and if anyone ever tries to tell you different, you just tell 'em it ain't necessarily so!

Be seeing you!
Sun, October 27, 2013 | link
Friday, October 25, 2013
JEFFREY MORGANíS ROCK íNí ROLL PHOTOGRAPHS
JEFFREY MORGAN'S ROCK 'N' ROLL PHOTOGRAPHS

While you're visiting, don't forget to view the dozens of essential selections from my vast archive of
hundreds of extremely rare and previously unseen rock 'n' roll photographs from the 1970s and 1980s—all of which were taken by myself from my front row center seat at various venerable venues; vintage historical portraits which include the following rock stars caught in their youthful prime:


David Bowie
(1976 Station To Station tour) :: Lou Reed (1974 Sally Can't Dance tour) :: Iggy Pop (1977 The Idiot tour) :: Bob Dylan (1978 Street Legal tour) :: George Harrison (1974 Dark Horse tour) :: Paul McCartney (1976 Wings Over America tour) :: Pete Townshend (1976 The Who By Numbers tour) :: Johnny Winter (1976 Captured Live! tour) :: Jeff Beck (1975 Blow By Blow tour) :: KISS (1977 Love Gun tour) :: Alice Cooper (1975 Welcome To My Nightmare tour) :: Freddie Mercury (1977 News Of The World tour) :: Amanda Lear (1975 Sweet Revenge tour) :: Rod Stewart (1977 Foot Loose & Fancy Free tour) :: Mick Jagger (1975 It's Only Rock 'n Roll tour) :: New York Dolls (1975 Tokyo Dolls Live tour) :: Keith Richards (1975 It's Only Rock 'n Roll tour) :: Ian Hunter (1989 YUI Orta tour) :: Elton John (1974 Caribou tour) :: Mick Ronson (1989 YUI Orta tour) :: Steven Tyler (1977 Draw The Line tour) :: Sparks (1975 Indiscreet tour) :: James Brown (1986 Gravity tour) :: Miles Davis (1985 You're Under Arrest tour) :: Roger Daltrey (1976 The Who By Numbers tour) :: Bruce Springsteen & Clarence Clemons (1975 Born To Run tour) :: John Entwistle (1976 The Who By Numbers tour) :: Keith Moon (1976 The Who By Numbers tour) :: The Who (1976 The Who By Numbers tour) :: and more!

Ask any dealer and he'll tell you that the best way to get someone hooked on your product is to give them a free sample, so here's just a small taste of what's coming your way when you click on the eleven gallery links to your left: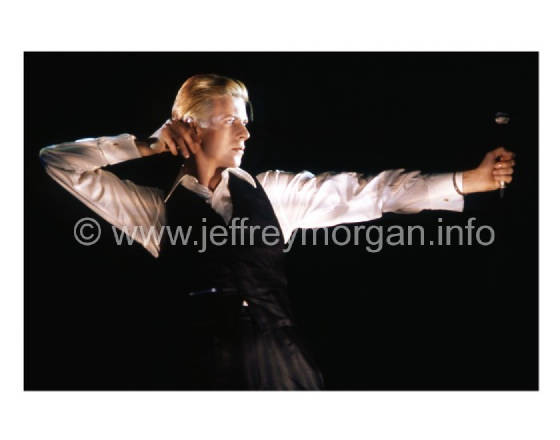 And you thought I was only a writer...
Fri, October 25, 2013 | link
---