Saturday, November 26, 2016
JEFFREY MORGANíS MEDIA BLACKOUT #550
JEFFREY MORGAN'S MEDIA BLACKOUT #550.181.82!
Jan And Dean – The Complete Liberty Singles (Collectors' Choice) :: From "Surf City" and "Drag City" to "Dead Man's Curve" and "The Little Old Lady (From Pasadena)," each one of these Hemi hits is guaranteed to light up your Christmas tree every time. Red light! Brian Wilson of the Beach Boys helped Jan and Dean write some of their hits and he sung on them as well. Yellow light! Jan and Dean's original recording of "Bucket 'T'" smokes the Who's later Moon-equipped cover version. Green light! Jan and Dean wrote some of the hippest lyrics ever, as evidenced by this suave little gem from 1964: "They wear organdy dresses and high-button shoes, they read Playboy magazine and Hot Rod news."
Various Creators – Batman: Gotham Knight – Two-Disc Special Edition (DC Comics/Warner Premiere DVD) :: I recommend this Anime-infused series of six separate segments, penned in part by the pulp-pedigreed likes of Dark Knight author David S. Goyer (the truly trippy "In Darkness Dwells") and 100 Bullets co-creator Brian Azzarello (the spiritually somber "Working Through The Pain").
Reverend Peyton's Big Damn Band – The Whole Fam Damnily (Side One Dummy) :: Wherein the ragged but right Rev. rasps out a gnarly backwater batcha tub-stompin' songs o'protest 'n' faith, all wrapped 'round a seismic swath of tremeloed slide gitbox 'n' harp that'll turn you into a testifyin' witness givin' state's evidence that this here long-player sho 'nuff sounds like a stripped-down high-energy cross between High On The Hog and Led Zeppelin III.
SIZZLING PLATTER OF THE WEEK: New York Dolls – Live At The Fillmore East (Sony) :: Some wonky word wankers wrote that I was thoroughly Scrooged for viciously smearcasing the Dolls' reunion album as a too little too late pasty-faced pastiche that was nothing more than a David JoHandsome solo album in sell-out drag—but I was right, no matter how many other critics waxed blowjobian over it. So why do I heartily recommend this new ragged rehash? Because it's the energetic antithesis of its slick and soulless studio predecessor, that's why. It also helps that they dug deep into their solid songbook to run through a number of less obvious numbers, such as "Jet Boy" and "Pills" and "Puss 'n' Boots" before finally bringing down the curtain with a heartfelt tribute to El Thunderoso on "Lonely Planet Boy." As a matter of fact, this album is so good, you'll almost forgive the singer for foisting Buster Poindexter on us. Almost.
Be seeing you!
Sat, November 26, 2016 | link
Friday, November 25, 2016
JEFFREY MORGANíS ROCK íNí ROLL PHOTOGRAPHS
JEFFREY MORGAN'S ROCK 'N' ROLL PHOTOGRAPHS

While you're visiting, don't forget to view the dozens of essential selections from my vast archive of
hundreds of extremely rare and previously unseen rock 'n' roll photographs from the 1970s and 1980s—all of which were taken by myself from my front row center seat at various venerable venues; vintage historical portraits which include the following rock stars caught in their youthful prime:


David Bowie
(1976 Station To Station tour) :: Lou Reed (1974 Sally Can't Dance tour) :: Iggy Pop (1977 The Idiot tour) :: Bob Dylan (1978 Street Legal tour) :: George Harrison (1974 Dark Horse tour) :: Paul McCartney (1976 Wings Over America tour) :: Pete Townshend (1976 The Who By Numbers tour) :: Johnny Winter (1976 Captured Live! tour) :: Jeff Beck (1975 Blow By Blow tour) :: KISS (1977 Love Gun tour) :: Alice Cooper (1975 Welcome To My Nightmare tour) :: Freddie Mercury (1977 News Of The World tour) :: Amanda Lear (1975 Sweet Revenge tour) :: Rod Stewart (1977 Foot Loose & Fancy Free tour) :: Mick Jagger (1975 It's Only Rock 'n Roll tour) :: New York Dolls (1975 Tokyo Dolls Live tour) :: Keith Richards (1975 It's Only Rock 'n Roll tour) :: Ian Hunter (1989 YUI Orta tour) :: Elton John (1974 Caribou tour) :: Mick Ronson (1989 YUI Orta tour) :: Steven Tyler (1977 Draw The Line tour) :: Sparks (1975 Indiscreet tour) :: James Brown (1986 Gravity tour) :: Miles Davis (1985 You're Under Arrest tour) :: Roger Daltrey (1976 The Who By Numbers tour) :: Bruce Springsteen & Clarence Clemons (1975 Born To Run tour) :: John Entwistle (1976 The Who By Numbers tour) :: Keith Moon (1976 The Who By Numbers tour) :: The Who (1976 The Who By Numbers tour) :: and more!

Ask any dealer and he'll tell you that the best way to get someone hooked on your product is to give them a free sample, so here's just a small taste of what's coming your way when you click on the eleven gallery links to your left: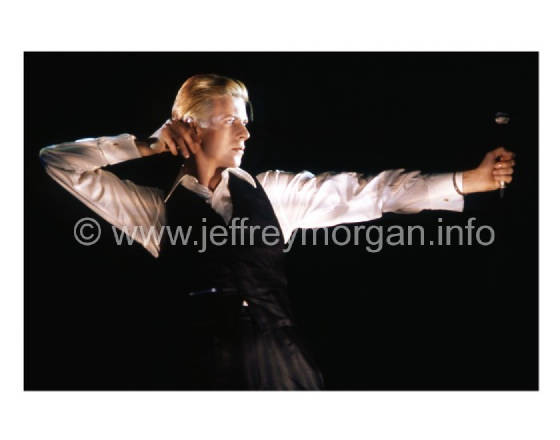 Fri, November 25, 2016 | link