Saturday, July 30, 2016
JEFFREY MORGANíS MEDIA BLACKOUT #533
JEFFREY MORGAN'S MEDIA BLACKOUT #533.164!
Bruce Timm & Lauren Montgomery & Brandon Vietti – Superman: Doomsday (DC Comics/Warner Premiere DVD) :: DC Comics claims that The Death Of Superman is the biggest selling graphic novel of all time and I have every reason to believe them. The biggest reason is that I actually went out and bought all of the various issues which contained the storyline as they came out decades ago—dozens upon dozens of them, month after month, at a time when I was buying absolutely no comic books whatsoever. So I give DC full credit for successfully managing to get my hard-earned nickels and dimes at a time when no other comic book company could. But although I ultimately ended up liking the cool new John Henry steel-drivin' version of Superman, I found the convoluted plot to be in overall need of some serious pruning back. That's where Bruce Timm and company's new animated version of the Doomsday saga comes in, which does just that while leaving all of the essential key elements in place.
Amazingly for a feature length animated cartoon, even one which is stickered PG-13, the level of violence is completely off the chart. Not only do folks get unexpectedly knocked off left, right and center; but the Metropolis fight scenes between Superman and Doomsday play harder and faster than the downtown dust-up in Superman II: The Richard Donner Cut. That's because the literal sense of gravity given the entire proceedings is right up there with the real world physics that the Fleischer brothers imbued their seminal Superman cartoon series with.
SIZZLING PLATTER OF THE WEEK: Ministry & Co-Conspirators – Cover Up (13th Planet) :: This is the absolute greatest album of cover versions since Bowie's crushed larynx curdled milk on Pinups. If you thought that Ministry's "Jesus Built My Hotrod" was heavy, then you haven't heard Jackie O. Jourgensen pulverize songs like "Radar Love," "Mississippi Queen," "Space Truckin' " and "Bang A Gong" into a puréed pulp pudding!
Be seeing you!
Sat, July 30, 2016 | link
Friday, July 29, 2016
JEFFREY MORGANíS ROCK íNí ROLL PHOTOGRAPHS
JEFFREY MORGAN'S ROCK 'N' ROLL PHOTOGRAPHS

While you're visiting, don't forget to view the dozens of essential selections from my vast archive of
hundreds of extremely rare and previously unseen rock 'n' roll photographs from the 1970s and 1980s—all of which were taken by myself from my front row center seat at various venerable venues; vintage historical portraits which include the following rock stars caught in their youthful prime:


David Bowie
(1976 Station To Station tour) :: Lou Reed (1974 Sally Can't Dance tour) :: Iggy Pop (1977 The Idiot tour) :: Bob Dylan (1978 Street Legal tour) :: George Harrison (1974 Dark Horse tour) :: Paul McCartney (1976 Wings Over America tour) :: Pete Townshend (1976 The Who By Numbers tour) :: Johnny Winter (1976 Captured Live! tour) :: Jeff Beck (1975 Blow By Blow tour) :: KISS (1977 Love Gun tour) :: Alice Cooper (1975 Welcome To My Nightmare tour) :: Freddie Mercury (1977 News Of The World tour) :: Amanda Lear (1975 Sweet Revenge tour) :: Rod Stewart (1977 Foot Loose & Fancy Free tour) :: Mick Jagger (1975 It's Only Rock 'n Roll tour) :: New York Dolls (1975 Tokyo Dolls Live tour) :: Keith Richards (1975 It's Only Rock 'n Roll tour) :: Ian Hunter (1989 YUI Orta tour) :: Elton John (1974 Caribou tour) :: Mick Ronson (1989 YUI Orta tour) :: Steven Tyler (1977 Draw The Line tour) :: Sparks (1975 Indiscreet tour) :: James Brown (1986 Gravity tour) :: Miles Davis (1985 You're Under Arrest tour) :: Roger Daltrey (1976 The Who By Numbers tour) :: Bruce Springsteen & Clarence Clemons (1975 Born To Run tour) :: John Entwistle (1976 The Who By Numbers tour) :: Keith Moon (1976 The Who By Numbers tour) :: The Who (1976 The Who By Numbers tour) :: and more!

Ask any dealer and he'll tell you that the best way to get someone hooked on your product is to give them a free sample, so here's just a small taste of what's coming your way when you click on the eleven gallery links to your left: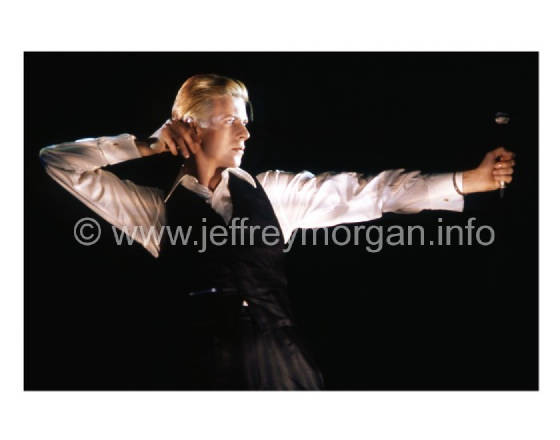 Fri, July 29, 2016 | link