Saturday, September 14, 2019
JEFFREY MORGANíS MEDIA BLACKOUT #696
JEFFREY MORGAN'S MEDIA BLACKOUT #696.419.20!
Coralie Clement – Bye Bye Beauté (Nettwerk) :: Look, if I want to hear a breathy babe cooing sweet nothings to me in a foreign language, I'll listen to Lola Dutronic instead, all right?
Lola Dutronic – The World Of Lola Dutronic (Bongo Beat) :: Whatever Lola wants, Lola gets. So go out and get these luscious covers of "Walking On Sunshine," "To Sir With Love," and "Porpoise Song."
Loopy – Smile Back Home (Zip) :: This must-have merges all the power of a classic three-chord rock band with the heavenly heartfelt harmonies of Brian Wilson.
Razor Crusade – Infinite Water (Deathwish) :: Hey, sailor, looking for a hot screw of screamotronic vocals and a heavy spew of garage guitars?
Theory Of A Deadman – Gasoline (Roadrunner) :: The singer apes Chris Cornell, but this rent-a-drummer trio does heavy blustery rage that's right up there with the best of them.
The Living End – Modern ARTillery (Reprise) :: I don't know much about art, but I know what I don't like.
Various Artists – Mary Had A Little Amp (Epic) :: It wasn't just for show. And when she played this disc through it, she said: "This record blows!"
SIZZLING PLATTER OF THE WEEK: DMBQ – The Essential Sounds From The Far East (Estrus!) :: Are you ready for the absolute heaviest rock 'n' roll album of the week? Hendrix in the East. Reincarnated in Japan. As Godzilla. With a guitar. And a wall of over-cranked amps. Run for your lives!
Be seeing you!
Sat, September 14, 2019 | link
Saturday, September 7, 2019
JEFFREY MORGANíS MEDIA BLACKOUT #695
JEFFREY MORGAN'S MEDIA BLACKOUT #695.416.17!
Raphael Saadiq – As Ray Ray (Pookie) :: Blaxploitation movie parody gets bogged down in an overlong barrage of falsetto ballad clichés.
Sum 41 – Chuck (Island) :: If you kids want me to take your anti-war songs seriously, then don't destroy your credibility by calling your publishing company Rectum Renovator Music. Yeah, that's the sign of a mature, informed adult.
K-OS – Joyful Rebellion (Astralwerks) :: Phinally, a rapper who can actually sing hip-pop and isn't aphraid to mix saxofones and ambient symfonic music with his phat beats.
Roxy Music – Viennalle (Mainstream) :: Recorded in December 1973 during the Stranded tour of Austria, this listenable audience recording contains rare live versions of "Street Life," "Amazona" and "Psalm."
Mobb Deep – Amerikaz Nightmare (Jive) :: If these Cube wannabes were half as rich as they pretend to be, they wouldn't have to pimp lame copycat records like this to make a buck.
Various Artists – Take Action! (Sub City) :: Putting a free copy of a suicide prevention book on this double compilation is an admirable notion, but doesn't the inclusion of a band called 'Murder By Death' send a mixed message?
SIZZLING PLATTER OF THE WEEK: Quintron – The Frog Tape (Skin Graft) :: I dunno what's scarier: a guy in Louisiana spending half an hour recording frog sounds on a cassette while playing a Wurlitzer and laughing into the mic; a record company actually releasing it; or me giving it a Sizzling Platter Of The Week.
Be seeing you!
Sat, September 7, 2019 | link
Saturday, August 31, 2019
JEFFREY MORGANíS MEDIA BLACKOUT #694
JEFFREY MORGAN'S MEDIA BLACKOUT #694.415.16!
The Slackers – Close My Eyes (Hellcat) :: Closed my ears instead.
Loque – So Long (Lava) :: Low key, see ya.
Stroke 9 – All In (Records, Man!) :: Stupid band name. Smart rock album.
No Warning – Suffer, Survive (Machine Shop) :: Fair warning: delete, delight.
The Aeffect – Secrets and Lies (Hitchhiker) :: Gosh, I miss the Human League.
7 Seconds – Take It Back, Take It On, Take It Over! (Side One Dummy) :: Ramones meet Badfinger and carry on bopping till tomorrow.
Court And Spark – Witch Season (Absolutely Kosher) :: The credits list 25 musicians who crafted this smart set of acoustic-based harmonious pop music, including the name of the guy who did the hand claps. Too bad they forgot to name any of the singers.
Kelly Clarkson – Breakaway (RCA) :: If legendary record producer Clive Davis honestly thinks that this puerile pap is what passes for a good female vocalist these days, then he oughtta have his head read.
Janis Joplin – Pearl (Columbia) :: With her dowdy looks and coarse voice, you just know she'd never get signed by fuddy-duddy Davis today.
Moody Bluegrass – A Nashville Tribute To The Moody Blues (Rounder) :: Finally, a banjo and fiddle version of "Nights In White Satin."
The Trews – House Of Ill Fame (Epic) :: One of 2003's unmitigated pop masterpieces is back on the racks with a bonus disc of new live tracks including their seismic extrapolation of "Hey Jude."
SIZZLING PLATTER OF THE WEEK: Mark Dignam – Box Heart Man (Times Beach) :: Irish folk singer Dignam starts off his record with a classic George Harrison "Blue Jay Way" drone before abruptly shifting gears down into some of the strongest and most heartfelt pickin' and singin' I've heard in quite a while.
Be seeing you!
Sat, August 31, 2019 | link
Saturday, August 24, 2019
JEFFREY MORGANíS MEDIA BLACKOUT #693
JEFFREY MORGAN'S MEDIA BLACKOUT #693.414.15!
Valdy – Viva Valdy: Live At Last (Rack-On-Tour) :: The troubadour you can trust who gave us the enduring "Rock 'n' Roll Song" is back with a double album that's one side live, one side studio, and both sides wow.
Day Of Infamy – Red Autumn (DOI) :: The Everly Brothers meet Audioslave. Wake up, little snoozie.
Kasabian – Kasabian (RCA) :: Dylan joins the Strawberry Alarm Clock and records a trippy stoner album.
Skindred – Babylon (Lava) :: I'd rather hear Jar Jar Binks babble on than listen to this snore-bore in a grotty dread.
UPO – The Heavy (DRT) :: If the Home Shopping Channel ran a music network for zirconium metal bands, these guys would be No. 1 with a mullet.
Blue Öyster Cult – We're Cooking For You (MEnu262) :: The Cult contributes recipes to a fan cookbook. I remember when they used to cook in the studio instead.
Dennis DeYoung – The Music of Styx Live With Symphony Orchestra (Grand Illusion) :: And with a donation to PBS of only $150, you'll get a copy of the new double CD plus the DVD!
Eddie From Ohio – This Is Me (Virginia Soul) :: Literate lyrics, earnest songwriting, honey-flavored female vocals.
SIZZLING PLATTER OF THE WEEK: The Beatnuts – Milk Me (Penalty Recordings) :: I was gonna end by warning ya about this sexist cover photo which shows a lissome Nubian goddess reclining in a skimpy lime green bikini while thick creamy white liquid is poured all over her glistening ebony endowments but, wouldn't ya know it, I'm plumb out of room.
Be seeing you!
Sat, August 24, 2019 | link
Saturday, August 17, 2019
JEFFREY MORGANíS MEDIA BLACKOUT #692
JEFFREY MORGAN'S MEDIA BLACKOUT #692.413.14!
Diana Degarmo – Blue Skies (RCA) :: And you thought Jewel was stacked.
Mix Master Mike – Bangzilla (Scratch) :: I knew Steinski. Steinski was a friend of mine. Beastie Boy, you're no Steinski.
Gym Class Heroes – The Papercut EP (Fueled By Ramen) :: I bet Dylan wishes he could write a line like: "She's the reason for the lesions."
Matt Sharp – Matt Sharp (Boompa) :: Plaintive music so utterly anguished yet hauntingly beautiful it's almost too painful to listen to.
Strung Out – Exile In Oblivion (Fat Wreck Chords) :: Lame grunge band called Strung Out begins its record by stealing 20 seconds of Billie Holiday, geddit? Well, don't get it.
Jakalope – It Dreams (Orange) :: Proof positive that anyone with a Mac can ape NIN and record Jamming With Reznor.
Simple Plan – Not Getting Any (Lava) :: Sure they're not. That's why there's a flier stuck inside that shills the songs on their new album as ring tones at $2.50 a pop.
Jem – Finally Woken (ATO) :: Narcotic and erotic music to read Edward Gorey by.
Lesbians On Ecstasy – Lesbians On Ecstasy (Alien8) :: Today on Maury: Women who love women and the fishy records they make.
Westlife – Allow Us To Be Frank (RCA) :: A pack of real rats could sing better than these four fops.
SIZZLING PLATTER OF THE WEEK: Vampire Beach Babes – Beach Blanket Bedlam! (Divine Idustries Inc.) :: By combining the feisty fiesta vocals of the B-52s with the seamy archirony of the Cramps, these fun-loving culture vultures are the kitschiest thing to hit the surf since Eric Von Zipper hung 10.
Be seeing you!
Sat, August 17, 2019 | link
Saturday, August 10, 2019
JEFFREY MORGANíS MEDIA BLACKOUT #691
JEFFREY MORGAN'S MEDIA BLACKOUT #691.411.12!
Pink Floyd – The Wall (Columbia) :: Producer Bob Ezrin records school kids on 1979 album, school kids now sue for royalties.
John Wayne – America, Why I Love Her (MPI) :: Now, more than ever.
The Dears – No Cities Left (SpinART) :: Just when you think that theatrical rock is dead, somebody comes along to prove you right.
KISS – Destroyer (Casablanca) :: Bob Ezrin records school kids on 1976 album, school kids now sue for royalties.
The Music – Welcome To The North (Capitol) :: Jon Anderson on heavy-metal steroids? Yes!
Blanche – If We Can't Trust The Doctors (V2) :: Fans of Angelo Badalamenti and Julie Cruise might like the tremulous tremolo tunes that these local yokels are a-pickin'.
Dead Celebrity Status – Blood Music (HRM) :: Medic! Transfusion! Too late, somebody call the coroner.
Alice Cooper – School's Out (Warner Bros.) :: Ezrin records school kids on 1972... Oops, ran out of space!
SIZZLING PLATTER OF THE WEEK: Kaada Patton – Romances (Ipecac) :: Just when you think that you've heard it all, along comes the absolute weirdest album of the year. If Leonard Cohen had been a black falsetto horror movie TV host back in the '50s who dug Stockhausen, he couldn't have come up with a more deliriously psychotronic album than this.
Be seeing you!
Sat, August 10, 2019 | link
Saturday, August 3, 2019
JEFFREY MORGANíS MEDIA BLACKOUT #690
JEFFREY MORGAN'S MEDIA BLACKOUT #690.410.11!
B.I.G. – Reloaded (Slaystation) :: Play online as either Biggie or 2Pac and solve the conspiracy! Assault and battery not included.
Ali Shaheed Muhammad – Shaheedullah And Stereotypes (Penalty) :: Shaheed my words because this stereo tripe isn't dullah, it's duller.
The Bones – Straight Flush Ghetto (Liquor and Poker) :: Some people think the world has had enough of noisy rock songs. But I listen to these funky punkabillys and I see it isn't so.
Sarah Fimm – Nexus (self-released) :: Earnest and plaintive, this sultry synthesiren is the new and improved Peter Gabriel. Which makes her a whole lot easier on the ears and, especially, the eyes.
Million Dollar Marxists – Give It A Name (Gearhead) :: Frothing like a dog that's been infected by the rabies, this hard-rocking quintet ain't no million-dollar maybe.
Morris Tepper – Head Off (Candlebone) :: Remember how Dylan was rumored to have secretly recorded an album while he was in seclusion after his motorcycle accident left him temporarily brain damaged? Well, here it is.
Nitromusk – Things I've Done (Stratospheric) :: The Rutles meet Cheap Trick. Surrender, but don't give your day job away because the Delete Police are calling your name.
SIZZLING PLATTER OF THE WEEK: Dry Kill Logic – The Dead And Dreaming (Repossession) :: Lead screamer Cliff Rigano is smart enough to know that variety is the spice of life and man enough to show the world that he can also actually sing. Factor in stellar musicianship and shrewd arrangements and you have the reason why DKL is one small step away from rightfully claiming the heavy metal throne.
Be seeing you!
Sat, August 3, 2019 | link
Saturday, July 27, 2019
JEFFREY MORGANíS MEDIA BLACKOUT #689
JEFFREY MORGAN'S MEDIA BLACKOUT #689.409.10!
The Who – The Who Sell Out (Decca) :: Automobile commercials. Hewlett-Packard commercials. The CSI franchise. And you thought they were just being ironic.
Wu-Tang Clan – Greatest Hits (BMG) :: Bill Cosby is right.
O.D.B. – O.D.B. (Roc-A-Fella) :: D.O.A.
Wolf Eyes – Burned Mind (Sub Pop) :: Vicious, you hit me with this neural nullifying slice of neurotic electronica from Ann Arbor.
AM – Francophiles & Skinny Ties (AM Mayhem) :: Not since the legendary Masked Marauders waxed "I Can't Get No Nookie" has there been such a fun-filled send-up of the early Rolling Stones.
Amy Correia – Lakeville (Nettwerk) & Tom McRae – Just Like Blood (Nettwerk) :: These two stunning new albums of thoughtfully intelligent pop music will renew your flagging faith in the lost art of emotive singing and insightful songwriting.
Anavana – Anavana (Zip) :: Part sassy Debby Harry and part sultry Sade, funky is the word for this debut disc by chameleonic pop singer Annastasia Victory Kuporosova and her reggae-tinged band.
Stars – Set Yourself On Fire (Arts & Crafts) :: Ignore the inane title because you won't find a more delightfully ethereal pop album to play this winter while you're dashing through the snow.
Feverdream – Freeze (Coalition) :: "Shake hands with my johnson," sings René van Lien of the Netherlands. "Do you know what it feels like to be that hung?" No, but if you wait here a moment, I'll go get a rope so you can tell me.
SIZZLING PLATTER OF THE MONTH: The Gun Club – The Las Vegas Story (Sympathy For The Record Industry) :: Remastered and reissued. Discordant and disconcerting. Off-key and off-kilter. Haunting and harrowing. Sardonic and psychotronic. A grievous mistake and a genuine masterpiece.
Be seeing you!
Sat, July 27, 2019 | link
Saturday, July 20, 2019
JEFFREY MORGANíS MEDIA BLACKOUT #688
JEFFREY MORGAN'S MEDIA BLACKOUT #688.408.9!
The Beatles – Turn Me On Dead Man (Vigotone) :: Before he died of cancer, not only did Abbey Road engineer John Barrett secretly make hours of pristine cassette dubs of unreleased Beatles songs direct from the original multitrack masters, he also actually remixed many familiar classics. So take this bootleg, brother, may it serve you well.
Tamara Bedricky – Through These Eyes (self-released) :: Poignant easy-listening pop ballads aren't usually my cup of tea, but I know a good voice when I hear one, and this Detroit songwriter has the pristine pipes to go the distance.
Project Oragnge – Megaphobe (BMG Canada) :: These mothercanuckers keep Canada united by recording their vapid songs in both official languages so the French can be just as bored as the English.
Yowie – Cryptooology (Skin Graft) :: Finally, a garage band that plays nothing but mental instrumentals that sound like the schizoid diagrams on the back of an Anthony Braxton album.
Paul Reddick – Villanelle (Northern Blues) :: Producer Colin Linden gives Reddick's exceptional new album the rough echoing distorto sound of a vintage field recording. Very uncanny and very good.
The Dollyrots – Eat My Heart Out (Panic Button) :: Sky-high production values, a streetwise attitude, the chirpiest female vocalist this side of Stiff Records and album art to die for. Literally.
Mike Kenally Band – Dog (Exowax) :: Imagine if Freddie Mercury had played killer guitar and formed both the Mothers Of Invention and the Mahavishnu Orchestra. Now go listen and treat yourself.
SIZZLING PLATTER OF THE WEEK: The John Butler Trio – What You Want (Lava) :: By mixing spiritually sublime orchestrations with heavy lowdown hoedowns, this sampler serves notice that guitarist Butler is a future force to be reckoned with.
Be seeing you!
Sat, July 20, 2019 | link
Saturday, July 13, 2019
JEFFREY MORGANíS MEDIA BLACKOUT #687
JEFFREY MORGAN'S MEDIA BLACKOUT #687.407.8!
Ciara – Goodies (La Face) :: Lady sings the cooze.
Bury Your Head – Cover Your Tracks (Victory) :: This bruising metal may not be what Mickey Spillane had in mind when he wrote about the white noise that roars in Mike Hammer's brain every time he empties his nickel-plated .45 into a commie's guts, but it's a good start.
Avril Lavigne – Under My Skin (RCA) :: Gosh, I miss Grace Slick.
Grace Slick – Manhole (RCA) :: Ask your mom.
Big Thicket – Sexual Breakfast (SAF) :: I admire Afandi A. Menduno for playing all the instruments on this album, but I'd admire him even more if he knew how to write a good song.
Aqui – Aqui (Ace Fu) :: Tiny Tim joins Devo for the last enjoyable word in cosmic space rock.
Dead To Fall – Villainy & Virtue (Victory) :: I know the genre demands such Exorcist silliness, but I really hate to hear an otherwise excellent metal band being ruined by the laughable guttural raspings of a Drano-drinking "vocalist" who doesn't know that satan sounds like Lionel "22" Twain.
Groove Armada – The Best Of (Jive) :: Gayer than satan.
Silvertide – Show And Tell (J) :: Attention groupies! Thirsty for the kind of classic cock rock that used to make tinsel tarts like Sable Starr fall gaping to their knees? Well, crawl this way!
SIZZLING PLATTER OF THE WEEK: Roxy Saint – The Underground Personality Tapes (Star Blue TV) :: This DVD proves that ribald rocker Roxy is the sleaziest skank walkin' the plank today. So roll down your window and give this nasty girl a backseat whirl. Once around the block, Jeeves...slowly.
Be seeing you!
Sat, July 13, 2019 | link
Thursday, July 11, 2019
JEFFREY MORGANíS ROCK íNí ROLL PHOTOGRAPHS

JEFFREY MORGAN'S ROCK 'N' ROLL PHOTOGRAPHS

While you're visiting, don't forget to view the dozens of essential selections from my vast archive of hundreds of extremely rare and previously unseen rock 'n' roll photographs from the 1970s and 1980s—all of which were taken by myself from my front row center seat at various venerable venues; vintage historical portraits which include the following rock stars caught in their youthful prime:

David Bowie (1976 Station To Station tour) :: Lou Reed (1974 Sally Can't Dance tour) :: Iggy Pop (1977 The Idiot tour) :: Bob Dylan (1978 Street Legal tour) :: George Harrison (1974 Dark Horse tour) :: Paul McCartney (1976 Wings Over America tour) :: Pete Townshend (1976 The Who By Numbers tour) :: Johnny Winter (1976 Captured Live! tour) :: Jeff Beck (1975 Blow By Blow tour) :: KISS (1977 Love Gun tour) :: Alice Cooper (1975 Welcome To My Nightmare tour) :: Freddie Mercury (1977 News Of The World tour) :: Amanda Lear (1975 Sweet Revenge tour) :: Rod Stewart (1977 Foot Loose & Fancy Free tour) :: Mick Jagger (1975 It's Only Rock 'n Roll tour) :: New York Dolls (1975 Tokyo Dolls Live tour) :: Keith Richards (1975 It's Only Rock 'n Roll tour) :: Ian Hunter (1989 YUI Orta tour) :: Elton John (1974 Caribou tour) :: Mick Ronson (1989 YUI Orta tour) :: Steven Tyler (1977 Draw The Line tour) :: Sparks (1975 Indiscreet tour) :: James Brown (1986 Gravity tour) :: Miles Davis (1985 You're Under Arrest tour) :: Roger Daltrey (1976 The Who By Numbers tour) :: Bruce Springsteen & Clarence Clemons (1975 Born To Run tour) :: John Entwistle (1976 The Who By Numbers tour) :: Keith Moon (1976 The Who By Numbers tour) :: The Who (1976 The Who By Numbers tour) :: and more!

Ask any dealer and he'll tell you that the best way to get someone hooked on your product is to give them a free sample, so here's just a small taste of what's coming your way when you click on the eleven gallery links to your left: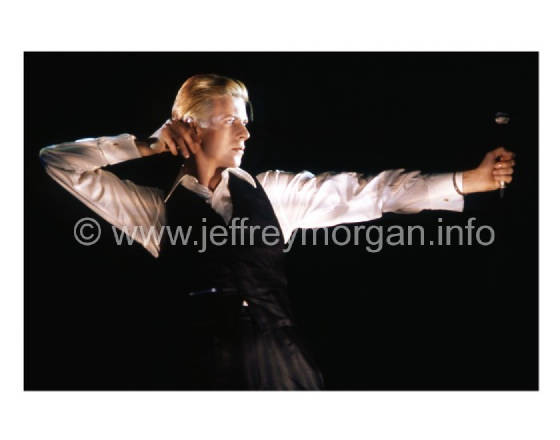 Thu, July 11, 2019 | link
Saturday, July 6, 2019
JEFFREY MORGANíS MEDIA BLACKOUT #686
JEFFREY MORGAN'S MEDIA BLACKOUT #686.404.6!
Brian Wilson – Smile (Live In Concert) :: Yeah, I love paying big bucks to watch a medicated wax dummy spend the entire evening reading from two teleprompters that are force-feeding him his own lyrics.
John Frusciante – Inside Of Emptiness (Record Collection) :: If you thought his last extended player reeked, then you won't want to smell this plugged john's fresh runny sonic stool of amateur aural excrement.
Gov't Mule – Déjà Voodoo (ATO) :: Formulaic but enjoyable Southern rock that'll go down smooth with a full 60-ouncer, a loaded 12-gauge and an exposed set of 36DDs.
Katrina Carlson – Untucked (Kataphonic) :: Honey-voiced blonde swan dives into the deep end of the Pop Life pool and surfaces for an enjoyable hour-long float.
Keren Ann – Not Going Anywhere (Blue Note) :: But if you prefer your chanteuses soporifically wandering barefoot in the moonlight, then say hello to the new Nico.
Shoplifting – Shoplifting (Kill Rock Stars) :: By melding the herky sound of Pere Ubu with the jerky vocal phrasings of Patti Smith, this four-track EP shows more than enough primo potential to justify a full-length album.
3 Inches Of Blood – Advance And Vanquish (Roadrunner) :: Some critics have accused these guys of musically retreating. They didn't retreat. They just advanced in the opposite direction.
SIZZLING PLATTER OF THE WEEK: Low Millions – Ex-Girlfriends (Manhattan) :: Because I'm a soft touch for old-fashioned pop music with killer riffs and witty lyrics, I got instantly hooked when I heard "Eleanor," the first song on this debut disc. Not since a spurned Bryan Ferry penned Roxy Music's Siren has there been such a long-playing ode to the angst of urban abandonment.
Be seeing you!
Sat, July 6, 2019 | link
Saturday, June 29, 2019
JEFFREY MORGANíS MEDIA BLACKOUT #685
JEFFREY MORGAN'S MEDIA BLACKOUT #685.401.1!
Ray Charles – Genius Loves Company (Concord) :: And modesty hates egomaniacs.
Last Of The Famous – The Music Or The Misery (FourFiveSix) :: Make mine misery because these Clash City Poppers don't rock my casaba.
Norman Brown – I Might (Warner Bros.) :: Sexy, soulful old-school make-out music for tough guys who'd rather be inside bangin' than outside gangin'.
The Hentchmen – Form Follows Function (Times Beach) :: Funky reverb garage surf music with a Leigh Stephens fuzz-tone pedigree and cool black turtleneck lyrics like: "I was only five when I saw the scene of that Charger versus Steve McQueen."
Junior Boys – Last Exit (KIN/Domino) :: Hall & Oates join Kraftwerk. File under: Outenzi Touchenzi.
Wyclef Jean – Welcome To Haiti: Creole 101 (Sak Pasé) :: Those of you who don't speak Spanish, Creole or French can look forward to Jean's next album: Welcome To America: English 101.
Minnie Driver – Everything I've Got In My Pocket (ZOE/Rounder) :: Hide the straight razor because this set of sad songs is the best melancholy music since Sinatra's Only The Lonely.
Janiva Magness – Bury Him At The Crossroads (Northern Blues) :: On the prowl with a sexy growl, this blues-beltin' babe provides the perfect yoni yang to Minnie's yearning ying.
Elvis Costello – The Delivery Man (Lost Highway) :: And you thought marriage would mellow him.
SIZZLING PLATTER OF THE WEEK: The Briggs – Leaving The Ways (Side One Dummy) :: Absolutely the best high-energy hybrid of the Clash and Metallica you're likely to hear in many a moon so go out and get it, got it?
Be seeing you!
Sat, June 29, 2019 | link
Saturday, June 22, 2019
JEFFREY MORGANíS MEDIA BLACKOUT #684
JEFFREY MORGAN'S MEDIA BLACKOUT #684.396!
Jimmy Lynch – Nigger Please! (MVD Audio) :: Colorful!
Dweller – Good Morning Harakiri (Small Stone) :: Dawning!
Little Suns – Normal Human Feelings (High Romance) :: Illuminormal!
Deville – Hydra (Small Stone) :: Minky!
Redd Foxx – I Ain't Lied Yet! (MVD Audio) :: Truthful!
Larman Clamor – Frogs (Small Stone) :: Leaping!
Destroy This Place – Destroy The Place (Bellyache) :: Razing!
Dixie Witch – Let It Roll (Small Stone ) :: Spellbinding!
These Hearts – Yours To Take (Victory) :: Rending!
Five Horse Johnson – The Taking Of Black Heart (Small Stone) :: Captivating!
Sister Sin – Now And Forever (Victory) :: Eternal!
Sun Gods In Exile – Thanks For The Silver (Small Stone) :: Ramrodding!
The Virgin Marys – King Of Conflict (Wind-Up) :: Clashing!
Gozu – The Fury Of A Patient Man! (Small Stone) :: Raging!
Canned Heat – Live At Montreux 1973 (Eagle) :: Sterno!
Mother Of God – Anthropos (Small Stone) :: Ricoized!
Penguin Prison – Penguin Prison (Downtown) :: Elegant!
Momantha – Backwoods Payback (Small Stone) :: Squealing!
Don Nix – Living By The Days (Real Gone Elektra) :: Hawtlix!
Lord Fowl – Moon Queen (Small Stone) :: Lunachix!
Counterparts – The Difference Between Hell And Home (Victory) :: Parsing!
Lo-Pan – Salvador (Small Stone) :: Hi-Praise!
Sister Sin – Dance Of The Wicked (Victory) :: Gavotting!
Skanska Mord – Paths To Charon (Small Stone) :: Styxxy!
The Duke Spirit – Bruiser (Fiction) :: Two-Fisted!
Freedom Hawk – Holding On (Small Stone) :: Soaring!
Tear Out The Heart – Violence (Victory) :: Rending!
Nightstalker – Dead Rock Commandos (Small Stone) :: Kolchakking!
Bushmaster – Revolution Rhapsody (self released) :: Raptivating!
Abrahma – Through The Dusty Paths Of Our Lives (Small Stone) :: Chartopping!
Skillet & Leroy & Lawanda Page – 2 Or 3 Times A Day (MVD Audio) :: Insatiable!
Green Leaf – Nest Of Vipers (Small Stone) :: Biting!
SIZZLING PLATTER OF THE WEEK: Thomas Alexander – Piano Madness (self released) :: Gershwinnner!
Be Seeing You!
Sat, June 22, 2019 | link
Saturday, June 15, 2019
Bob Dylan! John Foxx! Vincent Bugliosi! Andrew Lloyd Webber! Mick Jagger! The Sojourners! The Flowers Of Hell! Velvet Underground! Theyíre ALL in this weekís edition of JEFFREY MORGANíS MEDIA BLACKOUT #683 http://www.jeffreymorgan.info
JEFFREY MORGAN'S MEDIA BLACKOUT #683.395!
Bob Dylan – Selfie (Columbia) :: As if remixing old albums wasn't bad enough, now they're retitling them.
John Foxx – Metamatic (Metal Beat) :: This decades ahead of its time concept album about the Kennedy assassination contains automated metal machine music that's so charmingly cold and coolly calculating it makes Gary Numan sound positively human by comparison. It's the perfect gift for the conspiracy theorist on your holiday shopping list who has everything—and so is this:
Vincent Bugliosi – Reclaiming History: The Assassination Of President John F. Kennedy (Norton) :: One volume. Five pounds. 1,600 pages. 1,000 additional pages of supplementary notes and sources on two portable document files on one compact disc. All this plus the greatest conspiracy joke on page 1,489? Case closed!
Andrew Lloyd Webber & Mick Jagger – Tumbling Dice, Superstar (Bialistock & Bloom) :: Which twin wins the Tony? Neither one since "Tumbling Dice! Tumbling Dice! Who are you? What have you sacrificed?" is the world's worst ill-advised Broadway lyric ever.
Various Artists – Annie: The Musical: The New 2012 Broadway Cast Recording (Shout! Factory) :: Because as every rock critic knows, you're never fully dressed without a simile.
SAINTLY PLATTER OF THE WEEK: The Sojourners – Sing And Never Get Tired (Little Pig) :: I saw these three cool cats strutting their barn burning stuff at Folk Alliance earlier this year so I'm more than pleased to testify that they've got a brand new long player out that continues to showcase their unique style of gospelized funk-fuelled spiritual three part harmonies. So do yourself a very big favor and pick up on what these number one soulful brothers are putting down because you could do a lot worse than spend some of your finite heartbeats listening to The Sojourners. Indeed, you probably already have so spin this platter pronto and set yourself on the road to redemption before it's too late!
SIZZLING PLATTER OF THE WEEK: The Flowers Of Hell – Odes (Optical Sounds) :: Word has it that Unca Lou loved this thematic tribute album to himself that came out in 2012—and rightly so, given that it cannily coalesces the best of his Velvet Underground excursions with some rare solo transmogrifications such as a rare first draft early lyric interpretation of "Walk On The Wild Side" that's well worth the price of admission alone. But Lou's dead so you'll have to take my word for it in 2013 that this is now the most poignant Lou Reed tribute album you'll hear this year. Bonus points for including a Nicoized version of "Mr. Tambourine Man" that would've sounded right at home on Chelsea Girl.
Be seeing you!
Sat, June 15, 2019 | link
Saturday, June 8, 2019
JEFFREY MORGANíS MEDIA BLACKOUT #682
JEFFREY MORGAN'S MEDIA BLACKOUT #682.392!
Chilliwack – Lights From The Valley (Mushroom) :: The liner notes say that Chilliwack means "Valley Of Many Streams" in Halq'eméylem.
Doucette – Mama Let Him Play (Mushroom) :: Papa make him stop!
Chilliwack –Dreams, Dreams, Dreams (Mushroom) :: And Wikipedia says that Chilliwack means "Going Back Up" in Salish.
Doucette – The Douce Is Loose (Mushroom) :: And if his name was Douchette this album woulda been called...
Chilliwack – Breakdown In Paradise (Mushroom) :: But judging from the small print that says: "We acknowledge the financial support of the Government of Canada through the Department of Canadian Heritage (Canada Music Fund) for this project," I think Chilliwack means "Taxpayerola" in Freedian.
The Sattalites – The Best Of Canadian Reggae (Solid Gold) :: Not to be confused with the Sunnalights; Monnalights; Tuessalights; Weddalights; Thurssalights; or Friialiites, these here Sattalights have been rolling their own funky brand of reggae longer than the Department of Canadian Heritage and Canada Music Fund has been providing financial support for decades-old deleted discs like this. So, before it gets drilled anew, you would do well to give it a spin and hear for yourself what the Canuckistan taxpayer is being forced to shell out and support these days against their collective will under the dubious guise of historical value.
SIZZLING PLATTER OF THE WEEK: Art Decade – Art Decade (self released) :: If you screw on your thinking cap, you just might remember what I said about these cat's début long player back in MB353 but, if not, I'll reiterate for ya:
"Art Decade – Western Sunrise (Eldest Only) :: A lesser league of leeches woulda called themselves "Chant Of The Ever Circling Skeletal Family" or "Homo From Aldebaran" but, the way I see it, if you're gonna name your band after an obscure '70s David Bowie instrumental, then choosing the atmospherically arch decadent "Art Decade" is definitely the way to go—and, boy howdy, does this excellent album ever live up to that makeshift moniker and go go go!
"The first two seconds sound like a James Brown intro before everything suddenly switches into a string-soaked Beatlesque art rock escapade which owes more than a lush nod to Queen Mercury in the vocal arrangement and songwriting department. There's also an admirable element of '80s symphonic synthesizer pop in place to spice up the proceedings—but don't think they're not capable of breaking out the big audio dynamite because the longer you listen, the louder things get.
"Bonus points for including a glossy full color twelve page booklet that contains nothing but twelve full bleed paintings which are completely devoid of text—and that's an extreme visual treat that even Eno and Peter Schmidt never attempted to do at their Taking Tiger Mountain (By Strategy) and Before And After Science art rock peak of perfection."
That's how they began the year last February and, wouldn't you know it, here they are again with a year-ending roundhouse to polish things off and lemme tell ya that it's a good 'un. If anything, it's even more of a string-soaked Beatlesque art rock escapade (Greylock Hill") which owes more than a lush nod to Queen Mercury ("Boredom") in the vocal arrangement and songwriting department. And while many a band from Badfinger and ELO to Cheap Trick and the Knack have successfully mined that particular pop vein at various points during their careers, keep in mind that it's by no means as easy to do as it sounds—just ask Brian Wilson.
So if you didn't take my advice at the beginning of the year, now's your chance to make amends unless, of course, you're waiting for the band to gnaw some blotter acid and "head" into their psychedelic period—which might not be such a bad idea. I mean, think about it, man. Aren't you curious about what a lysergically-soaked Freddie Mercury would sound like? I'm curious. I'm very curious. Are you curious?
Be seeing you!
Sat, June 8, 2019 | link
Saturday, June 1, 2019
JEFFREY MORGANíS MEDIA BLACKOUT #681
JEFFREY MORGAN'S MEDIA BLACKOUT #681.386!
Jefferson Starship – Live In Central Park NYC May 12, 1975 (RCA / Real Gone Music) :: As if that newly found color footage shot by Jean-Luc Godard of the Airplane playing on an LA rooftop in 1968 wasn't good enough, we now have this newly found recording that comes straight from the archives of the latter day law firm of Slick, Balin, Kantner & Creach. I shutterbugged this particular iteration of the band when they hit My Town back in 1975 so I can testify with unimpeachable impunity that this twofer perfectly encapsulates that incarnation at the height of their arena-packing prowess, right down to the insightful inclusion of "Better Lying Down" from El Slicko's Manhole album. Bonus points for the far out fab-o-phonic 1964 era mixola which idiosyncratically isolates the vocals on one channel while exiling most of the band to the other.
Claudia Lennear – Phew! (Real Gone Music) :: And while we're on the topic of titanic pioneering rock 'n' roll women, if you're not already familiar with Claudia Lennear's vocals calisthenics on the Concert For Bangladesh and Mad Dogs & Englishmen films, then maybe it's high time that you got yourself freshly reacquainted with this benchmark album from 1973 which was waxed by one of the landmark ladies of the genre at the top of her game. Backed by such stellar studio stalwarts as ace axe maniac Ry Cooder; pneumatic traps master Jim Keltner; and New Orleans legend Allen Toussaint, this is one of the most rawest and most high octane butane blistering pieces of music that you're likely to hear in this lifetime or any other lifetime for that matter. And if you're of the opinion that the only big letdown to this story is that Lennear never recorded a second album, don't worry 'cause even she'd never be able to top this one for sheer out 'n' out peerless perfection personified.
SIZZLING PLATTER OF THE WEEK: Johnny McLeod – If You're Living (self released) :: In a perfect world, Johnny McLeod would need no introduction. But since this is a less than perfect world, allow me to set the audio table for you by reiterating what I said about him in the August 1985 issue of CREEM: America's Only Rock 'n' Roll Magazine, wherein I wrote:
Johnny MacLeod with The Young Pioneers – Dynamite In The Stove (True North/CBS) :: Even though I live in Toronto, you can count on one hand the number of times I've bent your ear about Canadian talent in the ten years I've been writing for CREEM, so bear with me on this one because Johnny is the only singer-songwriter I'd put serious money on. He released one album (Every Twist Reminds) in 1980 with his former band the G-Rays, and has spent the last half decade leading up to this triumphant moment. The man's lyrical and musical depth knows no equal, so I'm not going to give you a comparison against which you can judge him. But considering the current value of the U.S. dollar against the Canadian dollar, I'd say that a trip across the border to but this album would be more than worth your while.
Thirty years later I stand by those words—especially the parts about the money and the lyrical depth. However, with the release of this new album, I would add one extra word which is not to be bandied about lightly:
Poet.
I happen to know a few things about poetry, which is I'd like to point you in the direction of a few song titles which grace this heartfelt confessional because they alone should give you a good indication of the kind of emotional insight we're dealing with here: "Never Is Your Soul Alone." "The Pleasures Life Reveals." "If You're Living." "More Than I Can Do."
Oh, and then there's "Here's Your Moment" which begins:
"Your reluctance is feeble and thin. Soon its weight will cave itself in. Go and bid your reward to begin. Here's your moment. Here's the offer that hangs from your name."
And that's why I'd still put serious money on Johnny MacLeod—and so should you because, both spiritually and intellectually, odds are you won't get a better rate of return for your dollar.
To get a copy of If You're Living, contact Johnny at: Box 113, 31 Adelaide Street East, Toronto, Ontario, Canada M5C 2H8
Be seeing you!
Sat, June 1, 2019 | link
Saturday, May 25, 2019
JEFFREY MORGANíS MEDIA BLACKOUT #680
JEFFREY MORGAN'S MEDIA BLACKOUT #680.384!
Dengue Fever – Venus On Earth (M80) :: What starts out as a Klaus Schulze synthesizer space-out immediately morphs into a Jefferson Starship psych-out before finally ending up perched on a rice paddy next to a finger-snappin' mini-skirted Cambodian chanteuse who coolly coos sweet foreign-tongued somethings in your ear against a slinky bongo beat—and that's just in the first 45 seconds. Stick around and you'll hear an eclectic blend that's one part sensual Sade, one part suave Japan, and one part pop tart Dee-Lite. Sounding as if it slowly sashayed out of a Tarantino flick, this is one air-borne virus you won't want to be inoculated against.
Johnny Hollow – Dirty Hands (Orange) :: Imagine longtime Hitchcock composer Bernard Herrmann reincarnated as two gals and a guy and you'll have a pretty good idea of just how spooky this album is. That's 'cause Johnny Hollow have what it takes to be the world's preeminent Goth band—and on Dirty Hands they prove it by cleverly carving out one of the finest examples of the genre since Siouxie & The Banshees' landmark A Kiss In The Dreamhouse. Merging NIN-nuanced electro-atmospherics with a lush surfeit of strings that accentuate a multiplicity of instrumentation, Dirty Hands is uneasily the most eerily haunting record you'll hear all year.
Lori Cullen – Buttercup Bugle (self released) :: If you heard Calling For Rain, Lori Cullen's last album of classic covers, then you know that she has one of the purest voices in a generation and more than enough talent to become the next premier interpreter of our time. That's because when Lori sings, she lives every song without the slightest hint of ironic inflection. And on her new record Buttercup Bugle she offers up a delightful bouquet of gentle brass-backed melodies which are light and airy, just like windswept love is supposed to be. This clever Cupid's got a hammer and she's swingin' it all over this land.
SIZZLING PLATTER OF THE WEEK: Judith Owen – Lost And Found (Courgette) :: Bein' a rock critic these days is just like bein' a cheroot chompin' music publisher back in the old Tin Pan Alley era a hundred years ago. The only difference bein' that instead of havin' to suffer through a never endin' array of auditionin' piano players plyin' their songs on an upright in your office, nowadays y'gotta suffer through the endless ordeal of listenin' to hundreds of new records. But now as then the name of the game remains the same: to hear somethin' so unique it'll snap open your saggin' eyelids and elevate your interest level a notch or two above the usual albatross dross.
And nothin' peeled my pooped peepers faster this month than hearin' this woman belt out a torchy nightclub version of Deep Purple's goofy guitar classic "Smoke On The Water." Backed by only a tinkly piano, Judith manages to wrap her well endowed pipes around the most inane rock lyrics ever written and make them sound as if they were penned by the great Sammy Cahn. I know you're not convinced yet but by the time the accordion solo kicks in, you will be.
Be seeing you!
Sat, May 25, 2019 | link
Saturday, May 18, 2019
JEFFREY MORGANíS MEDIA BLACKOUT #679
JEFFREY MORGAN'S MEDIA BLACKOUT #679.381!
Of course, what with me being under my usual brain-crushing weekly deadline, I plumb forgot to list two additional concerts which shoulda made my Top Ten list last week but didn't. So here they are in all their unabashed glory for your reading and dancing pleasure:
Kraftwerk – Massey Hall (1975) :: As indicated last week, David von Bowie tried to be quite the innovating avant garde artiste with his Krautverkian Station To Station presentation, but he was a minor league penne ante piker compared to the band that provided his original aesthetic influence.
So Bowie's idea of an opening act was to run a silent surrealistic film before he took the stage? Big deal. When Kraftwerk played Massey Hall on their Autobahn tour, they had no opening act. Instead, the house lights stayed up for almost two hours past the starting time while the audience amused themselves by reading rock magazines and throwing a Frisbee back and forth between the first balcony and the ground floor.
That is, what little audience there was because nobody had heard of these guys except for a scant few hundred of the die hard Krautrock contingency who got their education by faithfully buying both Ralf & Florian and Autobahn as a high priced import—and even then not all of them could afford the $6.60 ducat price after that. As such, the venerable old hall was only a quarter to half full, if that.
As for the two hour wait time it took for the group to take the stage, that's because when Kraftwerk left their hotel to walk to the gig, they took a wrong toin at Albuquerque and promptly got lost in the hustle and bustle of downtown Toronto whereupon they wandered around aimlessly until they ended up inadvertently sightseeing in Chinatown.
So Bowie's idea being visually innovating was to use nothing but arcs of white light to illuminate his stage? Big deal. Kraftwerk went him one better by using no stage lights whatsoever. No spot lights, no foot lights, no nothing but those four dinky little plastic boxes that spelt their first names out in neon; you know, the ones on the back cover of the Ralf & Florian album. That and a few pin lights shining on their keyboards and drum pads. I tell ya, a Halloween pumpkin woulda provided more luminosity.
Meanwhile, Bowie's idea of being musically innovative was to perform music off his most recent album. How daring. Kraftwerk, on the other hand, cleaned his conceptual clock by performing "Trans Europa Express" in its full-length entirety—two long years before it would appear on any album.
Now that's German efficiency.
John Entwistle's Ox – Massey Hall (1975) :: Exactly three months earlier, The Who's bassist stormed the same stage for what was truly one of the most legendary nights in rock history—for all the wrong reasons. This time there was an opening act and, if there ever was a night when there shouldn't have been one, this was that night.
The place was packed to capacity and the poor no-name schlubs who opened for Entwistle had to suffer through a non-stop barrage of torrential abuse from a crowd of hardcore Who fans who were there for one reason and one reason only—and it sure wasn't the opening act.
"GET OFF THE FUCKING STAGE!" some callous brute yelled before the hapless group had even plugged in and things only got worse after that. "This is from our new album," a band member helpfully explained at one point. "DELETE THE FUCKING ALBUM!" came the immediate screamed reply. No matter what they tried to play, dozens of unsolicited requests for "BORIS THE FUCKING SPIDER!" would rain down upon them. Indeed, the only applause they received was when they haplessly announced that the next song would be their last number of the night.
Finally the headliners came on and it only took a few songs, if that, for me to realize, even with my Norton Sonic 2 earplugs securely screwed in, that the volume seemed to be a tad on the loud side. A few songs later, I was morbidly worried that my ears would start bleeding if I didn't immediately get up and leave. I didn't, but any thoughts that I was simply imagining things were quickly dispelled upon seeing the next morning's newspaper headline:
OX GORES EARDRUMS
A few weeks later I found out that, because his regular band wasn't touring at the time, Entwistle had hired The Who's sound man to mix the shows for his solo tour. And of course, because the guy's as deaf as a post, he automatically used the same volume settings to mix the sound for a 2,000 seat hall as he would to mix The Who in a 20,000 seat arena.
Now that's rock 'n' roll.
Be seeing you!
Sat, May 18, 2019 | link
Saturday, May 11, 2019
JEFFREY MORGANíS MEDIA BLACKOUT #678
JEFFREY MORGAN'S MEDIA BLACKOUT #678.380!
I was recently waxing wroth with an old colleague of mine about how inane "Top Ten" lists are—whereupon I naturally got to thinking about making a "Top Ten" list of my own; namely, a chronological accounting of the ten greatest shows I've even witnessed.
Of course, objectivity isn't what it used to be, so you'll have to excuse me if my selections seem somewhat biased. I've seen who knows how many hundreds upon hundreds of concerts during my lifetime, but these are the ones that seem to have stuck in my cranial craw more than any others.
And if it seems that I haven't seen anything of note since the late '70s, well, that's because rock 'n' roll isn't what it used to be, either. Actually, truth be told, it's been downhill all the way after I attended my first rock concert. That's what happens when you start at the top; there's nowhere else to go but down.
The Beatles – Maple Leaf Gardens (1964) :: To quote their bass player, who also happens to be their biggest fan: "It's the bloody Beatles. Shut up!"
Bill Cosby – O'Keefe Centre (1968) :: At the absolute peak of his stand up career, and with I Spy still riding high in the television ratings, Cos toured to support his new album To Russell My Brother, With Whom I Slept. Which he proceeded to perform in its entirety, along with a selection of pre-recorded favorites. I'd had the new album at home for a week prior to the show, but I kept it factory sealed for my protection to ensure that the first time I'd hear it would be live. Needless to say, it was worth the wait.
Bob Hope – O'Keefe Centre (1968) :: Not just merely Bob Hope, mind you, but The Bob Hope Show wherein Old Ski Nose cracked wise not only during a topical opening monologue but while introducing a number of ancillary acts, none of whose names I can remember. Then again, I can't remember who was on the same bill as The Beatles, either.
Johnny Cash – Maple Leaf Gardens (1969) :: Not just merely Johnny Cash, mind you, but The Johnny Cash Show, which means The Man In Black plus June Carter plus Carl Perkins plus the Tennessee Three plus the Statler Brothers. Now who wouldn't remember a lineup like that? If you want to know what it was like, watch Johnny Cash At San Quentin, which was filmed nine months earlier the same year, the only difference being that, thanks to an absence of armed guards, the Gardens crowd was rowdier.
Jefferson Airplane – O'Keefe Centre (1970) :: This performance during the Volunteers tour was made memorable for a number of reasons, not the least of which was due to the fact that Grace Slick's dress kept coming undone, which caused her to make several impassioned pleas as to whether anyone in the audience had a safety pin. Luckily, no one did.
Creedence Clearwater Revival – Maple Leaf Gardens (1970) :: I actually timed this one on my watch and, from start to finish, it lasted a seriously svelte 40 minutes long, during which CCR performed pretty much every single song in their catalog that you'd want to hear, including two extended throwdowns on "I Heard It Through The Grapevine" and "Susie Q," each of which must have hit close to the extravagantly long five minute mark. When all your songs clock in at two and a half minutes apiece or less, you can afford to stretch your legs like that and still get off stage in record time.
Grand Funk Railroad – Maple Leaf Gardens (1970) :: If you have to ask, you'll never understand.
Leon Russell – O'Keefe Centre (1971) :: Wherein I managed to catch up with The Master Of Space And Time fresh from the Mad Dogs tour but just on the cusp of his arena packing potential. Everybody in the band gets to share in the holy rolling spotlight save for bassist Carl Radle who, in a move that made Bill Wyman look like an extrovert by comparison, insisted on standing at the back of the stage right behind the raised lid of Leon's grand piano.
Rolling Stones – Maple Leaf Gardens (1972) :: It's the bloody Rolling Stones. It's the Exile On Main St tour. Shut up!
Bob Dylan & The Band – Maple Leaf Gardens (1974) :: After his motorcycle accident, many of us thought we'd never get to see him; now we can't get rid of him. Resplendent in a grey suit with matching long scarf, Bob's biggest audience ovation of the night came when he yelled: "But even the President of the United Sates must have to stand naked!" Then again, Richard Nixon mailed me an autographed photo so if you're wondering if I was one of those cheering, it wasn't me, babe.
Alice Cooper – Maple Leaf Gardens (1975) :: So the guy on stage runs into a movie screen, becomes part of the movie, and then runs out of the movie screen and back onto the stage again? That's good enough for me.
Lou Reed – Massey Hall (1975) :: A year earlier he showed up in dyed blond hair and black nail polish on the pandering Sally Can't Dance tour. A year later he was back to the basics on the no nonsense Coney Island Baby tour. When the audience, who is looking for the cartoon character they'd seen the year before, gets what they didn't want, things slowly edge to an explosive confrontation.
David Bowie – Maple Leaf Gardens (1976) :: Whadda joker this guy is. First he plays a loop of Kraftwerk's Radio-Aktivität album for an hour over the PA system while the plebes are taking their seats. Then, for the opening act, he dims the lights and screens Salvador Dali's silent 1929 surrealist film Un Chien Andalou to an unsuspecting audience of twenty thousand, almost all of whom are blissfully unaware of the eyeball-slitting scene they're about to behold. Knowing what's coming, I close my eyes and patiently wait for the audience's audible reaction—which was a beaut. Everything after that was a bonus.
Bob Marley & The Wailers – Convocation Hall (1976) :: Hey, it's Bob on the Rastaman Vibration tour so, as you can very well imagine, the show is pretty much everything that you'd want it to be—and if you don't believe me, you can listen to the show online and hear the aural evidence for yourself. That said, the real entertainment came when the dreadlocked matinee crowd refused to leave and the dreadlocked audience for the evening show—which, in classic payola promoter fashion had been seriously oversold—arrives.
The Who – Maple Leaf Gardens (1976) :: It's the bloody Who. It's their last-ever performance in front of a paying audience with Keith Moon. Pete smashes his guitar. Shut up!
Perry Como – O'Keefe Centre (1977) :: If you have to ask, you'll never understand.
James Brown – The Music Hall (1980) :: Strangely believe it, back in 1980, nobody knew who JB was anymore. This was before his "Living In America" comeback when his most recent albums were non-sellers like The Original Disco Man. So when he came to town to play a midnight show in a derelict part of town in a rundown former movie theatre, photographer Tom Robe and myself had to go. By the time Mr. Brown hit the stage, it was well past one in the morning. Even so, it wasn't until a few songs into the set that my friend and I realized we were literally the only two white guys in a standing room only crowd of hundreds. Every so often, a black brother in his Superfly threads would turn around, give these two long haired whities in their denim jackets the once over, silently nod his approval, and turn back to watch the show. I never felt safer in my life.
Be seeing you!
Sat, May 11, 2019 | link