Saturday, November 25, 2023
JEFFREY MORGANíS MEDIA BLACKOUT #916
JEFFREY MORGAN'S MEDIA BLACKOUT #916.602.237.38!
Nushu – Hula (self released) :: Nushu is the band name of Hillary Burton and Lisa Mychols, the latter being the 'primo pop princess' responsible for one of my favorite all time brain-invadin' tunes, the aptly-titled "Out Of My Mind" which drove me just that. But even I'm sane enough to know that this beach blanket slice o'fun in the sun has enough chirpy chick vocals and jing-janglin' guitars to get you offa that thing and dancin' the strip-shake before you know it. Chirps up!
Chloe Charles – Little Green Bud (self released EP) :: Evocative soundscapes languidly swirl about like windswept snowflakes. Then Chloe's magnificent voice materializes in the middle of your mind with a warming timbre telling warning tales rife with the learned experience of one who knows. Meanwhile, her acoustic guitar proceeds to gently pluck away at your meager defenses until you finally capitulate.
The Hyena Dog Robbery – The Hyena Dog Robbery (self released) :: Kids, if you're gonna steal, make sure that you steal from the best like these sonic satirists do. When they aren't busy burgling guitar riffs from "Secret Agent Man" and "James Bond Theme" they're busy burgling vocals from the Cramps and My Life With The Thrill Kill Kult. Now that's what I call snatchin' the pooch!
Middle Class Rut – No Name No Color (Bright Antenna) :: Y'never know when something new's gonna come rocketing in outta left field to grab you by the ears and shake you wide awake—and you won't sleep for days after you hear this relentless amped-up guitar 'n' drum overdrive onslaught that wittily welds angst-ridden Trenton Reznor boo-hoo heaviness with angry Peter Townshend screw-you poppiness.
Pamela Des Barres – I'm With The Band: Confessions Of A Groupie (Chicago Review Press) :: She's my little douche coupe, you don't know what I caught.
Keith Richards – Life (Little, Brown) :: "That's life." "What's life?" "A book." "How much does it cost?" "Thirty bucks." "I only have a dollar." "That's life." "What's life?" "A book." "How much does it cost?" "Thirty bucks." "I only have a dollar."
Frank Sinatra – "That's Life" (Reprise) :: What's life?
Desi Arnaz – A Book (Buccaneer) :: Well, that was fun.
Bad Books – Bad Books (Razor & Tie) :: What if the David Bowie who recorded Hunky Dory and the Kevin Ayers who recorded whatevershebringswesing had teamed up to record a delightfully light album like this intelligent airy offering? Too bad the naïve cover art is so visually repulsive though. Style, boys. Whatever happened to style?
Franklin D. Roosevelt – The New Deal (1933) :: What rock 'n' roll needs is a Works Progress Administration!
The New Deal – Live: Toronto 7.16.2009 (SCI Fidelity) :: This synth, bass and drums aggregate is great at cranking out the trippy transcendental trance beats in a way that sounds like an intoxicated unification of prog rockers FM with trance rockers Tangerine Dream under the amped up aegis of hardhouse rocker Lisa Lashes. Then some maroon on stage has to break the mood by inanely yelling out: "All right Toronto! Let's take this one out! C'mon! Are you with me? Are you with me?" No kid, that's where you lost me. Next time, keep your mouth shut.
Motionless In White – Creatures (Fearless) :: At first scream, these guys seem to be the scare apparent to Pantera only a lot more melodic with an upped ante of atmospheric keyboard washes. Maybe they oughtta change their name to the Ozzy Osmonds.
Trent Reznor & Zack de la Rocha - Rage Against The Pretty Hate Machine (Polemic) :: I wish.
SIZZLING PLATTER OF THE WEEK: Randy Weston And His African Rhythms Sextet – The Storyteller: Live At Dizzy's Club Coca-Cola (Motéma) :: Man, if you think that's a mouthful to visually digest, then just wait until your ears get hip-addicted to one of the most slammin'ist live jazz albums to be released in many a moon 'cause this thick smoker sounds as if it came wafting outta some swingin' soiree where the ultra suave groove on ultra waves of sound.
When ivory-tinkler Weston isn't smearcasing Keith Jarrett at his own game on the Latin jazz pioneer tribute "Chano Pozo," he's hunkered down and hammering away on "Jus' Blues" like a seriously schizoid Mike Garson. Then the band comes roaring in straight outta Heavytown like they've been depth charging Dizzy's "Manteca" for breakfast with a four-sided Miles Dark Magus chaser.
And just when you think that your head is gonna explode from this overdose of sheer aural ecstasy, they lower the pace and let you take five before cranking it up all over again.
That's slammin'ist.
Be seeing you!
Sat, November 25, 2023 | link
JEFFREY MORGAN'S ROCK 'N' ROLL PHOTOGRAPHS
JEFFREY MORGAN'S ROCK 'N' ROLL PHOTOGRAPHS

While you're visiting, don't forget to view the dozens of essential selections from my vast archive of hundreds of extremely rare and previously unseen rock 'n' roll photographs from the 1970s and 1980s--all of which were taken by myself from my front row center seat at various venerable venues; vintage historical portraits which include the following rock stars caught in their youthful prime:

David Bowie (1976 Station To Station tour) :: Lou Reed (1974 Sally Can't Dance tour) :: Iggy Pop (1977 The Idiot tour) :: Bob Dylan (1978 Street Legaltour) :: George Harrison (1974 Dark Horse tour) :: Paul McCartney (1976 Wings Over America tour) :: Pete Townshend (1976 The Who By Numberstour) :: Johnny Winter (1976 Captured Live! tour) :: Jeff Beck (1975 Blow By Blow tour) :: KISS (1977 Love Gun tour) :: Alice Cooper (1975 Welcome To My Nightmare tour) :: Freddie Mercury (1977 News Of The World tour) :: Amanda Lear (1975 Sweet Revenge tour) :: Rod Stewart (1977 Foot Loose & Fancy Free tour) :: Mick Jagger (1975 It's Only Rock 'n Roll tour) :: New York Dolls (1975 Tokyo Dolls Live tour) :: Keith Richards (1975 It's Only Rock 'n Roll tour) :: Ian Hunter (1989 YUI Orta tour) :: Elton John (1974 Caribou tour) :: Mick Ronson (1989 YUI Orta tour) :: Steven Tyler (1977 Draw The Line tour) :: Sparks (1975 Indiscreet tour) :: James Brown (1986 Gravity tour) :: Miles Davis (1985 You're Under Arrest tour) :: Roger Daltrey (1976 The Who By Numbers tour) :: Bruce Springsteen & Clarence Clemons (1975 Born To Run tour) :: John Entwistle (1976 The Who By Numbers tour) :: Keith Moon (1976 The Who By Numbers tour) :: The Who(1976 The Who By Numbers tour) :: and more!

Ask any dealer and he'll tell you that the best way to get someone hooked on your product is to give them a free sample, so here's just a small taste of what's coming your way when you click on the eleven gallery links to your left: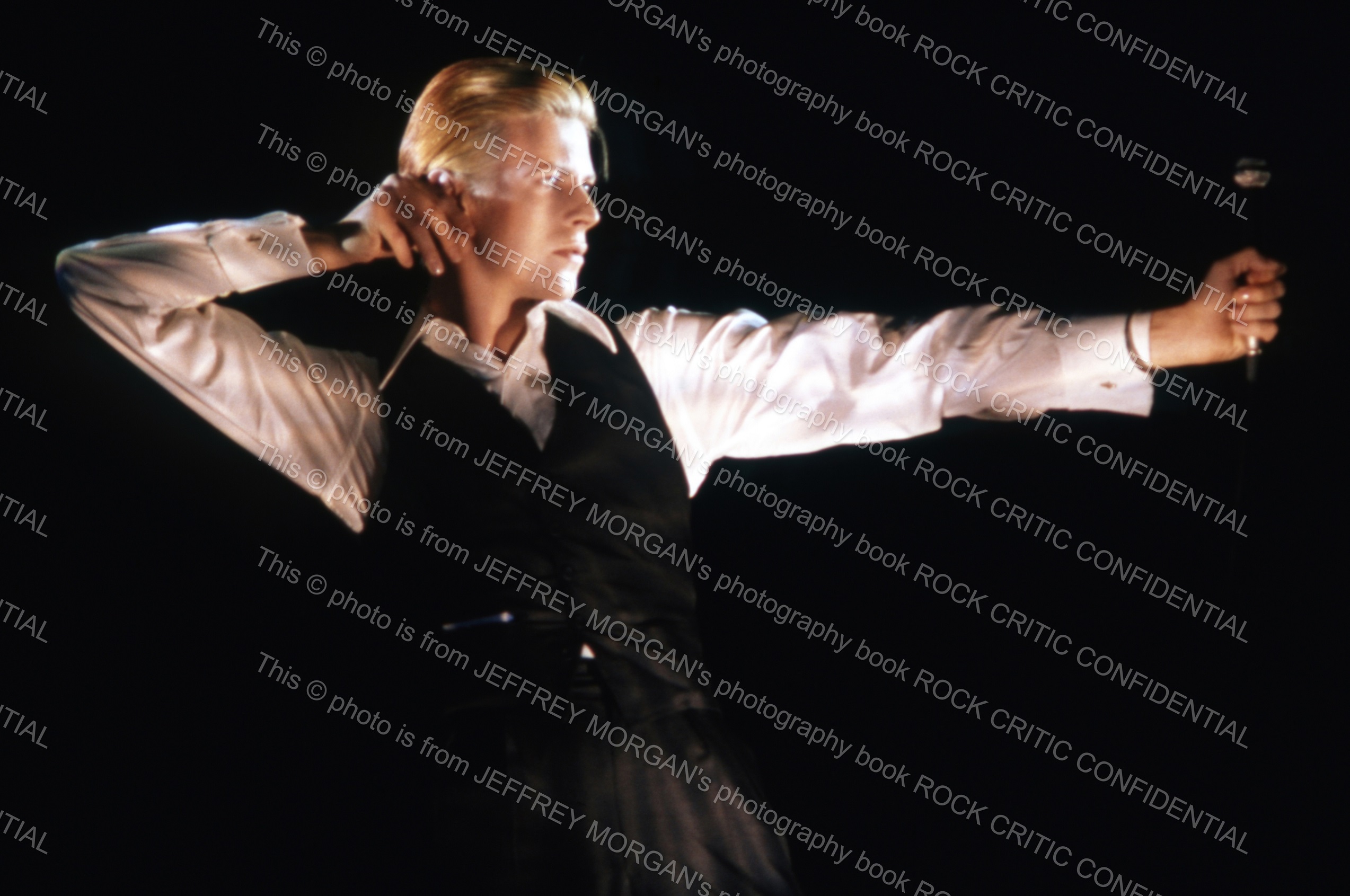 Sat, November 25, 2023 | link
Saturday, November 18, 2023
JEFFREY MORGANíS MEDIA BLACKOUT #915
JEFFREY MORGAN'S MEDIA BLACKOUT #915.601.237!
Jay Semko – Jay Semko (Busted Flat) :: Wherein Jay uses his emotive voice to ably express these eleven country cautionary tales of life's up and downs. Bonus points for writing the greatest cross-border breakup song ever, the humorously hurtin' "Before You Leave Canada."
Freeland – Cope (Marine Parade) :: The solid song structures of Nine Inch Nails solidly anchored by the squawky bloop 'n' blorpy synthesizer sounds of vintage Eno. If you liked the hyperkinetics of Pretty Hate Machine but hated the tepid languor of Another Day On Earth, then this one's for you.
Paul Oakenfold – Perfecto Vegas (Thrive) :: Lisa Lashes may be the heaviest hardcore DJ in the world and Jeff Mills may be the most psychotically hypnotic, but this double dose of mellow beats shows you why Oakenfold is the tranciest tripper of them all.
The Jezabels – Dark Storm (self released) :: A good EP will quickly make its mark and leave you reeling in its wake while a lesser full length album is just trying to get traction—and this EP is better than just good. From the elegantly beguiling water front cover of a water wading woman to the passionate music and literate lyrics within, it'll have you smitten with its heartfelt emotion and strength. Wordier than Patti Smith and whoopier than Lene Lovich, this is one teaser that has me eagerly anticipating the inevitable long player.
SIZZLING PLATTER OF THE WEEK: The Flowers Of Hell – "O" (Optical Sounds) :: The essence of all criticism can be boiled down to the one line that stranded spaceman David Bowie says at the end of The Man Who Fell To Earth. Having recorded an album of literally unearthly sounds that he hopes his wife will hear in outer space when it's played, a boozed-up Bowie is confronted by Rip Torn who says that he heard the alien-sounding record and didn't like it. Bowie's reply: "I didn't make it for you."
Well, the Flowers Of Hell made this album for me. I'm its target audience and you are too if you're addicted to dreamy minimalist drone music as expertly exemplified by such album as: Terry Riley's Persian Surgery Dervishes; Eno's Discreet Music; Gavin Bryars' The Sinking Of The Titanic; and Tony Conrad's Outside The Dream Syndicate, to name only a few of my own personal favorites.
During its languid 45 minute length, "O" will evoke all of these albums as treated guitars, violin, trumpet, cello, double bass, drums, percussion, flute, chimes, organ, and baritone sax coalesce to sculpt a seamless sonic soundscape that will transport your mind deep into an inner realm which records rarely seek to reach these days.
And, in the best value an ambient enthusiast is going to find these days, "O" is issued on a double layer disc whose flip side DVD includes a 5.1 mix, hour long concert film, plus bonus live performances.
Now that's what I call a sustained release.
Be seeing you!
Sat, November 18, 2023 | link
Saturday, November 11, 2023
JEFFREY MORGANíS MEDIA BLACKOUT #914
JEFFREY MORGAN'S MEDIA BLACKOUT #914.600.234!
Mudvayne – Mudvayne (Epic) :: Visually, the artwork appears blank unless seen under a black light. Musically, the disc should've been left blank too.
David Lee Roth – "Blacklight" (Wawazat!) :: You see?
Bill Dana – My Name...José Jiménez (Kapp) :: You see?
JW-Jones – Midnight Memphis Sun (Northern Blues) :: Did I hear a hint of Pat Boone in JW's voice on this bloozified country twanger? Lemme go play it again; I'll be right back.
Pat Boone – In A Metal Mood: No More Mr. Nice Guy (Hip-O) :: I bet Tony Bennett wishes he had Ronnie James Dio and Ritchie Blackmore sitting in on one of his swingin' sessions!
JW-Jones – Midnight Memphis Sun (Northern Blues) :: Indeed I did!
Dan Mangan – Nice, Nice, Very Nice (File Under: Music) :: As nice as this gentle romp is, wouldn't it be nicer if Canada's answer to Kevin Ayers could now find his Canucklehead counterparts to Cale, Nico, and Eno?
Kevin Ayers – "Falling In Love Again" (Island) :: Exactly!
Hadouken! – For The Masses (Surface Noise) :: The cover sticker claims that this one contains "The Prodigy's energy" but it's just a monotonous retread of Liam Howlett's brainchild without a single shred of originality. Now you know why the band's name translated into in English means: "Bland Theft Audio!"
Peter Bjorn – Living Thing (Sony) :: Track one is awash with a pale pallet of minimal synth sounds and handclaps. Track two introduces the drum machines. Track three, well, you get the idea.
Dusty Rhodes And The River Band – Palace And Stage (Side One Dummy) :: Don't let the band name fool you 'cause this ain't no country hoe-down, it's an ambitious aural production that's reminiscent of ELO-down.
Vienna Teng – Inland Territory (Zoë) :: Is this the richly complex imaginary soundtrack to a silent film or a foreign film? Either way, it'll provide you with a wealth of mental images that'll last a lifetime. Close your eyes and see for yourself.
Charles Mingus – Epitaph (Eagle Eye) :: This two hour excursion into the depths of tuxedoed symphonic avant jazz is boring to watch but an excellent aural delight if you pass on the visuals and just play it as an audio disc.
Billie Holiday – The Life And Artistry Of Lady Day (MVD Visual) :: Stacked & Smacked is more like it.
The Lovely Feathers – Fantasy Of The Lot (Sparks) :: Hysterically tinged melodrama that dresses like a New Wave queen but kicks like a '80s synthpop mule.
Geoff Berner – Klezmer Mongrels (Jericho Beach) :: If you can't say anything good about a song called "Half German Girlfriend" with lyrics like: "The Nazi and the Orthodox Jew would both be disgusted if they knew about the dirty things we do," then don't say anything at all.
Blue Ash – No More, No Less (Collectors' Choice) :: This debut album from 1973 interprets the mid-'60s Who, right down to the guitar and drums, with pop songs that are more tightly focused than most complete Who albums from that early era, along with a dash of Badfinger thrown in for good measure.
Emma-Lee – Never Just A Dream (Special Agent) :: This singing songstress does it all with a switch-hitting style that runs the gamut from languid piano blues to bouncing bossa nova to jazzy horned-up swing. She emotes earthily and wails wildly, but can she rock?
Batusis – Batusis (Smog Veil) :: Holy misunderstanding! At first I thought this was some kinda Adam "Batusi" West tribute album! Then I took another look and discovered that it's a four track EP by Cheetah "Dead Boy" Chrome and Sylvain "Sylvain" Sylvain that's gotta lotta grungy guitar! Holy overdose!
Kele Fleming – World In Reverse (Tin Forest) :: Don't let the ambiguous name fool ya 'cause Kele's a she and she's got the kind of powerful high ululating voice that, in my world, would be screamin' out maximum amped rock 'n' roll just like Grace Slick used to do—so you can imagine just how expressive and impressive Kele sounds singing her own insightfully sensitive songs from behind an acoustic guitar.
The Black Pacific – The Black Pacific (Side One Dummy) :: I dunno; sounds like a double time thrashmo version of Marilyn Manson, whadda you think?
The New Czars – Doomsday Revolution (Samson) :: Now that the Ramones are ancient history, these wannabe revolutionaries are D-U-M-B enuff to think that the coast is clear for them to steal the Gabba Four's patriotic American eagle logo without anyone noticing—which only proves that they've been snorting too much Carbona. At least they have the common decency to record an album of Steve Miller meets ZZ Top hard-edged power pop puds instead of the expected "1-2-3-4!" knock-offs, but still...
SIZZLING PLATTER OF THE WEEK: Kate Reid – I'm Just Warming Up (self released) :: With song titles like "The Only Dyke At The Open Mic" and "Emergency Dyke Project," you can probably guess which side of the swingin' gate country singin' Kate is straddling. She's got a brain as big as her heart and a good-natured sense of humor that's even bigger. But don't let her cheerful chirpy voice fool ya 'cause Kate's nobody's fool, nuh uh. That's why she prefaces each set of lyrics in the booklet with insightful little explanations and relevant bits of advice like: "In mainstream pop culture, lesbianism is becoming a marketing tool to reach male audiences. Not good."
Of course Kate's right but, what with me bein' a guy who still harbors eleventh hour Honor Blackman conversion fantasies, I'm not ashamed in the least to admit that talkin' tales like "Ex-Junkie Boyfriend" and "Truckdriver" made me fall head over heels for her.
Marlene Dietrich – "Falling In Love Again" (Decca) :: Can't help it.
Be seeing you!
Sat, November 11, 2023 | link
Saturday, November 4, 2023
JEFFREY MORGANíS MEDIA BLACKOUT #913
JEFFREY MORGAN'S MEDIA BLACKOUT #913.599.233!
SIZZLING SOUL PLATTER OF THE WEEK: Phil Collins – Going Back (Atlantic) :: I know good music when I hear it and on Going Back what I hear is Brother Phil skillfully interpreting a whole funky mess of Motown classics from "Jimmy Mack" to "Papa Was A Rolling Stone."
It's a welcome change of pace from the days when a scam artist like Mick Jagger could get away with hacking out inauthentic rubber soul covers like his mugging versions of "Going To A Go-Go" and "Harlem Shuffle"—and don't get me started on that leering violation of "Dancing In The Streets" that he committed with David Jones. Compared to such base vulgarities, it's obvious that Brother Phil's nuanced and righteously respectful vocals were just made for mature Motown material such as "(Love Is Like A) Heatwave" and the reverse parenthetical "Uptight (Everything's Alright)."
Granted, to the untrained ear, some of these inner city songs may sound pretty white. But so is Brother Phil; what can I tell you?
Davy Jones – "Daddy's Song" (Head) :: Exactly!
The Glass – At Swim Two Birds (Plant) :: This suavely smooth selection of synth-soaked songs initially evokes dissipated memories of latter day Japan ennui and Roxy languor before phase shifting into a solid electro barrage of modern day dance beats which sound like any day Telex whimsy. Bonus points for actually recording a song called "Heavy Disco" in 2010.
Telex – "Moskow Diskow" (Virgin) :: Exactly!
Katherine Wheatley – Landed (The Hoot Music Company) :: Not since Sparks' Indiscreet has there been such an amusing airplane crash album cover—landed, geddit?—but the yucks stop there because this is one country record that's no laughing matter. Inspirational verse: "I'm not the murdering kind, but killing you is on my mind. I'd have made a very fine wife, I'm good and ready to bury this knife."
Diamanda Galás – "Wild Women With Steak Knifes" (Mute) :: Exactly!
Ariana Gillis – To Make It Make Sense (self released) :: I'm sure Ariana would never agree that her sensitive socially-conscious acoustic music is of the neo-psychedelic ilk, but that's exactly what it is—and to make sense of that, all y'gotta do is listen to the first track "Blueberry Ocean" and then stick around for such additional under-the-influence excursions as the Dylanary "Be A Man" and the watery Badalamentistic atmospheric reflections of "Agent Orange."
Jadea Kelly – Eastbound Platform (self released) :: Jadea manages to whip up a good head of steam on the opening track "Never Coming Back" which musically has all the verve 'n' swerve of—I kid you not—a Zeppelin outtake circa 1969. Then she regretfully reverts to type by inexplicably settling down for the remainder of the record, thereby derailing the disc for its duration. Next time around, somebody oughtta tell her to play to her strengths and get the Led out.
Heart – Steamboat Annie (Mushroom) :: Not that much Led.
SIZZLING PLATTER OF THE WEEK: Marco Benevento – Between The Needles And Nightfall (Royal Potato Family) :: Aided and more than ably abetted by Reed Mathis on bass and Andre Barr on percussion, quirky keyboardist Marco serves up eleven excellent eclectically inventive electro acoustic instrumental essays which evoke aural ambient echoes of earlier like-minded albums, none more so than Paul McCartney's McCartney and Nash The Slash's Bedside Companion.
Jeffrey Morgan – Alliterative Run On Sentences (Media Blackout) :: I am the greatest!
Cassius Clay – I Am The Greatest (Columbia) :: Exactly!
The Cringe – The Cringe (Listen) :: Exceptionally intelligent power pop that oughtta be spinnin' on your turntable right now if you're half as smart as you think you are. The subtle glam rock underpinnings only reinforce my feeling that this one sounds as if it originally came out on vinyl in the mid-'70s—and if it had, I woulda worn out my copy in a week.
Meatdraw – fin du monophone (self released) :: Bonus points for coming up with a cool cross of '80s syntho Europop that gives lip-service to John Foxx's Ultravox and hip-service to the aforementioned U.S. Mael's Sparks. Points deducted for having an album title that's not in English.
Caracol – L'arbre Aux Parfums (Gross Maman) :: Doesn't anyone speak English anymore?
The Stranglers – "Sverige" (EMI Sweden) :: I guess not.
David Lee Roth – "Loco Del Calor!" (Warner Bros. Spain) :: Okay, you made your point.
The Rolling Stones – "Con Le Mie Lacrime" (Decca Italy) :: Alright, enough already.
The Beatles – "Komm, Gib Mir Deine Hand" (Parlophone Germany) :: Shut up!
Kraftwerk – "Die Mensch-Maschine" (Kling Klang) :: Oh, I give up.
SIZZLING SUPERSIZED PLATTER OF THE WEEK: Matt Anderson – Live From The Phoenix Theatre (Busted Flat) :: "What's all this about me being the Orson Welles of rock?" Meat Loaf once asked me, after I'd made the not-too-subtle suggestion to his songwriting foil Jim Steinman that, well, Meat Loaf was the Orson Welles of rock.
"The great thing about Orson Welles is the combination of power and brilliance," said Steinman, which is exactly how I feel about Matt Anderson's musical largess—and, as it turns out, so does Mr. Anderson, what with him singing self-deprecating songs like "One Size Never Fits" and having a website indelicately dubbed "Stubby Fingers."
Now it's no secret Matt's one hell of a barn-burnin' guitarist, but I gotta tell ya that it's his bravura vocals that steal the show from start to finish. F'rinstance, his unearthly wails on "I Play The Fool For You" are so utterly uncanny that he'll have you giving your speakers a well-deserved double take. But whether he's essaying ballads or blues, Matt always sings 'em with a deep-seated soulfulness and bottomless depth of emotion that's always backed up by his good-natured personality.
That's why, just like the man himself, Matt Anderson's Live From The Phoenix Theatre is larger than life and even harder to overlook. Now who you gonna believe: me or your own ears?
Stubby Kaye – The Ballad Of Cat Ballou (Capitol) :: Oh, what an episode!
Be seeing you!
Sat, November 4, 2023 | link
Saturday, October 28, 2023
JEFFREY MORGANíS MEDIA BLACKOUT #912
JEFFREY MORGAN'S MEDIA BLACKOUT #912.598.235!
Bud Abbott & Lou Costello & Lénore Aubert – Abbott And Costello Meet Frankenstein (Universal) :: Folks, they just don't write 'em like this anymore:
LOU: I hurt my poor little head.
BUD: Get up and go to work! That is, if your head doesn't bother you too much.
LÉNORE: His head is all right.
BUD: Is it? But is your head all right?
LÉNORE: Certainly.
BUD: Frankly, I don't get it.
LÉNORE: And frankly, you never will.
Edward G. Robinson & Boris Karloff – Five Star Final (First National) :: In 1931, the same year that Eddie G. made Little Caesar and Boris made Frankenstein, the two teamed up for this seldom-seen newspaper melodrama that's worth the price of admission alone just for the scene in which a cynically bemused Robinson looks up at a ghastly grinning Karloff and says: "You're the most blasphemous thing I've ever seen. It's a miracle you're not struck dead."
Arch Oboler – Drop Dead! An Exercise In Horror! (Capitol) :: If Arch Oboler is remembered at all these days, it's as the director of such twonky forays into 3-D filmmaking as 1952's Bwana Devil and 1966's The Bubble. But long before that, beginning for three years in 1936, Oboler was best known as the writer who shocked audiences from coast to coast with the infamously eerie Lights Out radio program—and in 1962, Oboler recreated some of his most horrific radio shows for this album which still horrifies today.
Where else can you hear the sickening sound of a man literally being turned inside out while a hapless witness moans: "...inside out...a man being turned...inside out..." before suffering the same fate himself. But of all the episodes that Oboler recreates, none are more legendary than the 1937 tale of a lab-tampered chicken heart that grows exponentially until it finally consumes the entire world. It's no laughing matter...or is it?
Bill Cosby – "Chicken Heart" (Warner Bros.) :: You bet it is—and on this twelve and a half minute track from his 1966 album Wonderfulness, Cos does a literally hysterical take on hearing Oboler's Lights Out episode as a child, complete with the original radio show's archetypical thumpthump sound effect of the tell tale heart. You'll laugh so hard you'll turn...inside out...
Nine Inch Nails – Broken (authorized download) :: After originally circulating for decades as a visually deficient nth generation VHS bootleg, Trent Reznor finally uploaded this affluently filmed pre-Saw torture porn companion to NIN's Broken EP for anyone to download and burn to disc. The killing joke being that, due to the high quality of the new digital format being so perfectly pristine, it's the muddy old videotape version that's now scarier by default because it literally looks as if it did come straight from a psychopath's abode.
Esa-Pekka Salonen – Bernard Herrmann: The Film Scores (Sony Classical) :: Decades ago I had an obscure import copy on vinyl of Herrmann conducting his own score for Hitchcock's Psycho. I don't have that album anymore, but this 1996 recording of Salonen conducting the Los Angeles Philharmonic is such an uncanny note for note recreation that anyone who has Herrmann's soundtrack memorized won't find a single auditory flaw. Plus, Salonen also recreates the soundtracks for Hitch's North By Northwest, Vertigo, Marnie, Torn Curtain, and The Man Who Knew Too Much as well as Herrmann's cruisin' for a bruisin' "Night-Piece For Orchestra" score for Scorsese's Taxi Driver.
Kenneth Alwyn – The Franz Waxman Score: The Bride Of Frankenstein (Silva Screen) :: And if you're hooked on hearing classic Universal Monster movie soundtracks, then look no further than this 1993 recording of the Westminster Philharmonic Orchestra recreating Waxman's classic score. You can argue until you turn blue about which of Whale's two Frankenstein films were the best, but if there's a general consensus that it's the second, then you can bet that Waxman's music had a lot to do with it—and if you don't believe me, just read the liner notes to see what Whale himself told Waxman's son John in 1957.
William T. Stromberg – The Monster Music Of Hans J. Salter & Frank Skinner (Marco Polo) :: Wherein arranger John Morgan digs deep into the Universal Studios Music Department archives and comes up with the original sheet music for The Wolf Man, Son Of Frankenstein, and The Invisible Man Returns, plus rare unused cues. The result, thanks to Stromberg conducting the Moscow Symphony Orchestra, is another album of excellent audio recreations. So excellent, in fact, that the original "Universal Signature" logo themes are faithfully reproduced for each film, varying in composition and length between fourteen and seventeen seconds. Now that's accuracy above and beyond the call of duty.
Basil Gogos – Famous Monster Movie Art Of Basil Gogos (Vanguard Productions) :: Gogos was the greatest living monster movie painter and this colorful comprehensive book shows you how he single-handedly redefined the entire genre, from FJA's Famous Monsters to Rob Zombie's Hellbilly Deluxe. Add in dozens of rare pencil illustrations and vintage magazine pieces and you've got one of the greatest graphic art volumes extant!
SCARY PLATTER OF THE WEEK: Boris Karloff – An Evening With Boris Karloff And His Friends (Decca) :: Back in the day when there was no home video, the only way you could get to watch an old Universal monster movie was on television during the late show, where it was listed as a "melodrama" in TV Guide. Or, you could put on this 1967 Forrest J Ackerman-produced platter and let Uncle Boris walk you through audio clips from Frankenstein, Bride Of Frankenstein, Dracula, The Wolf Man, and others.
But what makes this disc worth hearing is Karloff's good-natured animated delivery of Forrey's script, as when he follows up Bramwell Fletcher's mad cackle in The Mummy that "He went for a little walk!" by sonorously intoning: "Yes, I went for a little walk—and in that year and in years soon after in The Old Dark House, The Back Cat, and The Raven, I went for other little walks that somehow always panicked people. And then, in 1935, I met..."
Well, go hear it for yourself—that is, if you can dig up a copy...
Be spooking you!
Sat, October 28, 2023 | link
Saturday, October 21, 2023
JEFFREY MORGANíS MEDIA BLACKOUT #911
JEFFREY MORGAN'S MEDIA BLACKOUT #911.597.232!
Mike Evin – Good Watermelon (Just Friends) :: Just like the first song "Great Pop Song" shows, Mike Evin plays tribute to the tinny transistor radio tradition of Top Ten bliss. Powered by a jing-janglin' piano, happy hippie handclaps and chirpy chick backing vocals, the resultant pseudo-Gospel proceedings are both exhilarating and exalted in a charmingly naïve way not heard since early Runt-era Rundgren. Go ahead. Ignore him.
Kelly Joe Phelps – Western Bell (Black Hen) :: He's got a name like an old jazzbo stringer and a mug like an old Waitesbo singer but inside the sleeve this acoustic guitar slinger has woven a thoughtful instrumental album.
Leeroy Stagger – Everything Is Real (Boompa) :: The cover sticker says "the title track is (sic) rollicking 3 minute classic reminiscent of late 70's New York punk" but that's a (very sic) rollicking three line lie written by some promo bumpkin who's obviously too young to have lived through late '70s New York punk to know what they're talking about—which does a disservice to Stagger Lee's latest album of pop country tunes. Trust me: if this sounded anything even remotely like Unca Lou or David Jo, I'd know.
Howling Bells – Radio Wars (Nettwerk) :: England's long-lost missing link between Juju and A Kiss In The Dreamhouse. Really.
Anti-Flag – The People Or The Gun (Side One Dummy) :: This anti-Obama album reflects a refreshing return to their raucous roots. A portion of the sales will be donated to Amnesty International but don't let that socialist sop stop you from counting up this spare Clashian change that you can really believe in. What's that you say? They're not anti-Obama? They just rage against the machine that pulled his puppet strings? Uh huh.
Danko Jones – This Is Danko Jones (Aquarius) :: He walks into the room with a record in his hand. He plays it on the turntable and you ask: "Who is that man?" I'm here to tell ya so you'll understand: this is one Mr. Jones who knows what's happenin' baby—and this fifteen track, thirteen-year spannin' compilation of hellacious hard rock 'n' roll will have your bouncin' brainpan borin' huge holes in your noggin!
Ministry – Adios… (13th Planet) :: This political polemic is about as humorously heavy as heavy humor gets these days and it's a fitting epitaph for one of rock's more rebellious rabble-rousers. Points deducted for (1) partially lifting the record title from the last Ramones studio album; and (2) not including "Jesus Built My Hot Rod" so that they could cleverly call this live set: Let's Hit The $#!%in' Road.
Tipper Gore – PMRC (Parential Warning) :: Sorry.
The End Is Not The End – House Of Heroes (Gotee) :: And, in the end, they're being compared to The Beatles but using a Rigbyish string section doesn't even make them a not so Badfinger. Points deducted for still putting a hidden "bonus track" on an album—and who started that stupid trend, anyway?
The Beatles – "Her Majesty" (Apple) :: Ooops.
SIZZLING PLATTER OF THE WEEK Watermelon Slim – Escape From The Chicken Coop (Northern Blues) :: The back cover shows a big rig's rear with a bumper sticker that reads "HOW'S MY SLIDE PLAYING? 1-866-540-0003" so I'm here to stick my finger in the hole and dial up an endorsement that this is Slim's best record yet—and if the title "Gone Dead Train" means anything to you, then you'll dig where he's headed. Bonus points for slingin' a hot hash duet with Jenny Littleton.
Big Black – "The Power Of Independent Trucking" (Touch And Go) :: A chicken in every port.
Be seeing you!
Sat, October 21, 2023 | link
Saturday, October 14, 2023
JEFFREY MORGANíS MEDIA BLACKOUT #910
JEFFREY MORGAN'S MEDIA BLACKOUT #910.596.231!
David Lanz – Liverpool: Re-imagining The Beatles (Moon Boy) :: Shrewdly eschewing the cloying saccharine sentimentality that mars most Beatle tribute records, pianist Lanz and his band exhibit a thoughtful jazz-tinged sensibility that sees original melodies tastefully blended into lush new realms of atmospheric sound such as "Because I'm Only Sleeping" and "Rain Eight Days A Week." Add on a couple of sublime Fab-inspired originals and you've got an exceptional album the likes of which either Creed Taylor or Manfred Eicher would've been proud to have released during their CTI and ECM heydays.
Fred – Go God Go (Sparks) :: What if George Harrison's Beatles had been an '80s pop band instead of a '60s pop band?
Yakuza – Of Seismic Consequence (Profound Lore) :: If you're looking for a one way doom 'n' gloom excursion that'll leave you stranded out where the busses don't run, then this is the prog metal album for you. It surprisingly surpasses all aural expectations by fusing ominous ambient atmospherics with mournful midnight mass saxophones and bone powdering guitar. Season with echoing vocals that evoke the best of Kyuss' John Garcia and the Obsessed's "Wino" Weinrich and you've got a recipe for disaster—literally. Please, sir, I want some more.
Matt And Kim – Grand (Red Ink) :: What if John Catto's Diodes had been an '80s synth art rock band instead of a '70s punk art rock band?
Dance Party – Touch (Hell Ya!) :: It sure didn't take me long to realize that this is a hip hybrid of The Time's frail-chasin' masculinity and the Rolling Stones free-basin' femininity back when they were going through their pansy sailor suit and trawled on makeup phase—or am I thinkin' of the New York Dolls after they went Commie? Either way, this outrageous oral extravaganza is a smart 'n' sassy synth-soaked power pop pastiche of disco-dancin' pud-poppin' bathroom bliss.
Sevendust – Cold Day Memory (Asylum) :: Melodic melodies and three part harmonies inharmoniously merge with malodorous Drano-drinkin' vocals. File under: Crosby, Stills, Nash & Kilmister.
Great Lake Swimmers – Lost Channels (Weewerk) :: According to the front cover promo sticker, Mojo mag says this is "Ambient Zen Americana" but that's an ignorant lie by a rag that reviews too many records for its own good. I know ambient when I hear it and this ain't it unless you consider folk songs sung by a Neil Young impersonator Music For Fairports.
Maria Taylor – Lady Luck (Nettwerk) :: Maybe I'm dreaming, but on tracks like "It's Time" and "A Chance" she sounds like a female Eno doing her own airy side two of Before And After Science. Then again, maybe I gotta lay off them pickles and ice cream before I go to bed.
The United Steel Workers Of Montreal – Tree On The Tree (Weewerk) :: They've got the greatest band name since the Reverb Mofos and they've got the greatest album cover since Jeff Beck's Guitar Shop. Then how to explain that, instead of muslin-bleachin' metal, I get wonky banjo-pickin' shades of Boiled In Lead? Beats me, but I like it.
Kleerup – Kleerup (Astralwerks) :: Synthesizers! Sequencers! Drone! Need I say more? More!
Brent Randall And Those Magnificent Pinecones – We Were Strangers In Paddington Green (Endearing) :: If Gilbert O'Sullivan and Julee Cruise had formed the Asylum Choir instead of Leon Russell and Marc Benno, this might have been the 'luded result.
The Hundred And Thousands – The Hundred And Thousands (Nettwerk) :: Sounding like Midge Ure's Ultravox with a Cheap Trick chaser, this might be the ultimate apex of '80s Euro synthopop.
Tin Star Orphans – Yonder (Sparks) :: Unlike a double D divorcee with too much hooch under her heaving halter-top, this one takes a while to get going. But when it does, it quickly unleashes a sensuous six minute violin-laden instrumental that quickly kicks into shorter schizo songs with gnarly Aqualung vocals which are loaded with personality—and I'm all about personality.
Barzin – Notes To An Absent Lover (Monotreme) :: Sensitive soft-spoken songs about lost love and broken hearts that taps into a sliced open Bryan Ferry vein.
SIZZLING PLATTER OF THE WEEK: Romi Mayes – Achin In Yer Bones (self released) :: Many moons ago I lauded this hot hellcat for her last release Sweet Somethin' Special. Well, she's back with yet another set of electrified countrified cautionary tales told from a small town woman's view. Only this time she seems be in a lot lighter mood, which is even better—but don't let your guard down 'cause this is one dangerous dame.
Be seeing you!
Sat, October 14, 2023 | link
Saturday, October 7, 2023
JEFFREY MORGANíS MEDIA BLACKOUT #909
JEFFREY MORGAN'S MEDIA BLACKOUT #909.595.230!
Dweezil Zappa – Return Of The Son Of... (Razor & Tie) :: Brown singers don't make it.
Lorrie Matheson – In Vein (I Can't Read What The Name Of The Record Label Is Because The Logo Is Printed In Glossy Black Enamel Against An Equally Black Matte Finish) :: Look, I'm all for artsy black on black Warholian art direction but not when form impedes function, alright? That said, this is a folksy pop album with rusted edges of insanity that some blind folks might like—but if you can't read any of the lyrics or album credits, who will love this lad's In Vein?
Johnny Foreigner – Waited Up Til It Was Light (Nettwerk) :: What we got here is some erratic experimental pop music the likes of which used to be regularly served up by Stiff and Island. It's Jam packed to overflowing with noisy unbridled enthusiasm and joyous burbling Vibrators spunk. Male and female vocals collide as if they were yanked from an Orson Welles optical soundtrack and guitars wail with a frenzied out of control Buzzcocks aesthetic. In fact, I haven't heard such a bracing barrage since Robin Scott's M. Or is that Howard Devoto's Magazine?
SIZZLIN' PLATTER OF THE WEEK: Tim Hus – Hockeytown (Stony Plain) :: It's that time of year when I start to get a-thinkin' about my annual Top Ten list and this joyous upbeat country celebration of what it means to be a prairie-bred Canadian is already on it, the only question bein' how high a rankin' it'll receive by the end of the year.
Y'see, I spent several of my teenage summers livin' on a farm in Prince Albert and some of my adult years residin' in Saskatoon, so I can testify to the veracity of such Saskatchewan songs as the two-fisted "Saskatchewan Son-Of-A-Gun" and the culinary-berry "Talkin' Saskatoon Blues." But don't you go thinkin' that this is some kinda concept album about the land that Dief The Chief made famous 'cause it ain't.
Tim rambles from coast to coast to coast on numbers like the rail-rumblin' "Canadian Pacific," the molten-hammerin' "Hamilton Steel," the fish-flounderin' "North Atlantic Trawler" and the patriotic title track which comes complete with no less a Canadian icon than Foster "He shoots! He scores!" Hewitt callin' the play-by-play. "Hockeytown" is poised to become the new unifyin' Canadian national anthem, so you can forget all about them playin' "O Canada" at the next puck drop—and I've attended three Stanley Cup parades in Toronto so I should know.
There's no mistakin' that Tim is the heir—and boy is it ever apparent—to the wood-splinterin' cowboy singin' legacy of the legendary Stompin' Tom Connors. But don't take my word for it, just ask Stompin' Tom yourself the next time you see him and Tim Hus sharin' a stage.
And after you hear Hockeytown you'll know why this is one of the best albums of the year—and Howe!
Be seein' you!
Sat, October 7, 2023 | link
Saturday, September 30, 2023
JEFFREY MORGANíS MEDIA BLACKOUT #908
JEFFREY MORGAN'S MEDIA BLACKOUT #908.594.228!
Black Stone Cherry – Folklore And Superstition (Roadrunner) :: Wherein one of the best hard rock bands in America blends the best of Aerosmith and Alice in one timpani shredding session.
Anemo – Stentorian (City Canyons) :: They've got the same pop vocal stylings and 4/4 backbeat of Eurythmics with a heapin' helpin' of hard rockin' Heart. That I didn't clue in to this initially means that they've got their own thing goin' on too.
Bob Dylan – Both Ends Of The Rainbow (MVD Visual) :: Wherein the usual bunch of windbag wankers expound on Bob's born again phase—as if the actual records themselves weren't good enough.
The Dirty Heads – Any Port In A Storm (Universal) :: These four white guys do echoed dub like it genetically runs through their veins—and who knows, maybe it does.
Rick Wakeman – Rick Wakeman's Grumpy Old Picture Show (MVD Visual) :: Wherein prog rock's greatest keyboardist hangs up his cape to try his hand at biographical multi-media stand up comedy—but don't laugh 'cause he actually manages to pull it off thanks to his prattle-punctuatin' piano passages.
Mark Berube & The Patriotic Few – What The Boat Gave The River (KBM) :: I dunno if Mark Berube ever heard Marc Benno's Asylum Choir work, but this one sure sounds like he did, right down to the mix's schizoid stereo separation.
One Second 2 Late – World Time Bomb (Red Ink) :: Wherein one of the best hard rock bands in Canada blends the best of old Korn and new Korn in one bagpipe shedding session.
SIZZLING TV SHOW OF THE WEEK: Jefferson Airplane – Go Ride The Music (Eagle Vision) :: This live in the studio session originally ran on NET's Fanfare program back in 1969 and contains seven full-length songs from the Volunteers era, including a slow vamp on their then-current single "Mexico" as well as the elusive "Emergency" which was never waxed but remained a live staple—plus an extended barn-burning throwdown on "Volunteers" itself. Points deducted for Jorma's ever-present swastika pendant. What a maroon.
Be seeing you!
Sat, September 30, 2023 | link
Sunday, September 24, 2023
JEFFREY MORGANíS MEDIA BLACKOUT #907
JEFFREY MORGAN'S MEDIA BLACKOUT #907.593.227!
Comic Book Heroes – Take A Seat (self released) :: I was gonna say something suitably snide like: "If real superheroes were as lame as these four Supersnipes, the world would be run by supervillains." But it turns out I'm only half wrong because, just like the Hawk, they got enough Whoish power chord trappings to wake me up. Unfortunately, just like the Dove, they also got enough Hagarish power ballad trimmings to snooze me down.
North Side Kings – Suburban Royalty (I Scream) :: These screamos write liner notes that brag: "This is the song Ice-T wishes he wrote in place of 'New Jack Hustler'." Yeah, right.
Ice-T – Home Invasion (Rhyme Syndicate) :: And this is the album the North Side Kings wish they'd made in place of Suburban Royalty. Yeah, right on.
Fear Nuttin Band – Yardcore (Bodog) :: Jahve nuttin d'feah bwah dis Korny wrekord widjil leeve fuh evva indie infuhmmy, mon.
The Notwist – The Devil, You & Me (Domino) :: Love their way, they're the new Psychedelic Furs!
Bad Luck Charms – Bad Luck Charms (I Scream) :: I scream, you scream, we all scream for this slovenly hard rock cross between the New York Dolls and Wild Man Fischer.
Keaton Simons – Can You Hear Me (CBS) :: You're breaking up.
Neil Sedaka – Breaking Up Is Hard To Do (Rocket) :: Can you hear me now?
Your Vegas – A Town And Two Cities (Universal Republic) :: It was the best of Hall & Oates, it was the worst of U2.
PSEUDO-SIZZLING PLATTER OF THE WEEK: John Oates – 100 Miles Of Life (Phunk Shui) :: Strangely believe it, this one sounds a whole lot like DaBo's Young Americans, which ain't no insult by a long shot when you consider that it's got a similar trifecta of breathy pseudo-soul lead vocals, smooth pseudo-soul background vocals, and slinky pseudo-soul strings—the only difference being that the erstwhile Mr. Jones never slipped into gritty pseudo-stud David Lee Roth vocal mode from time to time like pseudo-soul Oates does here.
Be seeing you!
Sun, September 24, 2023 | link
Saturday, September 16, 2023
JEFFREY MORGANíS MEDIA BLACKOUT #906
JEFFREY MORGAN'S MEDIA BLACKOUT #906.592.226!
Joe Cocker – Bird On A Wire (Eagle Rock DVD) :: Boy, what a difference a few decades can make, huh? Long after his 1970 Mad Dogs prime, we find the Rotating Rocker in Doucheland backed by a buncha lanky Eurodisco-dressing dudes 'n' dudettes. Luckily, his voice is in fine fettle and his hair still reasonably long, even if he doesn't paw at it once. Bonus points for belting out a boisterous "High Time We Went."
Chad Van Gaalen – Soft Airplane (Flemish Eye) :: When he's not using an effective falsetto similar to Bryan Ferry ("Willow Tree") or a droll mid-range that evokes Neil Young ("Bones Of Man"), he's using his own plaintive voice to front a series of oddball Eno-esque pop songs that remain upbeat, despite the mordant subject matter.
Obscured By Clouds – Psycheclectic (Psycheclectic) :: An ambitious prog rock album where surface-sutured layers of trippy textures and trances melt into ominous simmering swatches of deep-seated psychotronic sensations before slowly coalescing together again.
Palmyra Delran – She Digs The Ride (Apex East) :: She begins with a "Wipeout" riff and then shifts into third gear—it's all right—with a classic janglin' guitar-driven groove that manages to stuff a wild surfin' bird with a beach blanket bikini.
Tom Verlaine – Dreamtime & Words From The Front (Collectors' Choice) :: These '80s solo albums from Television's anchorman sound like early herky-jerky Talking Heads in places, but it's the wonky up-tempo tracks like "Mr. Blur" and "Present Arrived" that prove it all night like an analog TV set jammed between channels—and don't I miss that sound!
SIZZLING PLATTER OF THE WEEK: Family Force 5 – Dance Or Die (Tooth & Nail) :: Cheap Trick and Flavor Flav meet the Jacksons and KISS on this utterly charming album that dares to mix high energy power pop and low brow ghetto funk with a big heapin' helpin' of Teutonictronics lathered thick on top. I haven't had so much fun listening to an album in days, so ketchup!
Be seeing you!
Sat, September 16, 2023 | link
Saturday, September 9, 2023
JEFFREY MORGANíS MEDIA BLACKOUT #905
JEFFREY MORGAN'S MEDIA BLACKOUT #905.591.225!
SIZZLING PLATTERS OF THE WEEK: Phil Manzanera – The 801 Series (Expression/MVD Audio) :: 801 was the Plastic Ono Band of mid-'70s progressive supergroup rock ensembles, a nebulous ever-shifting central shaft around which revolved some of the greatest English art rock adherents ever: Roxy Music's Phil Manzanera, Eno, Andy Mackay, Paul Thompson and Eddie Jobson; 10cc's Lol Creme and Kevin Godley; Quiet Sun's Bill MacCormick; Curved Air's Francis Monkman; and many others ranging from Tim Finn to Simon Phillips. Now, for your pleasure, Manzanera has assembled his 801 tape archive into the following four separate live albums, all of which are on his Expression Records label in the UK which is distributed in the US by MVD Audio.
801 Live :: When it came out in 1976, 801 Live was immediately acclaimed as being one of the greatest sounding live rock albums ever released—and that goes double now that it's been reissued in this definitive new expanded dual disc edition. The first platter contains the original live album augmented by a few numbers, which were left off the original vinyl pressing due to space limitations. The highlights include blistering versions of songs from Eno's first three solo albums as well as Manzanera's own underrated Diamond Head record. The second disc finds the live album duplicated track for track, only this time in a studio setting during a rehearsal recorded a few days before the gig.
801 Manchester :: Shortly thereafter, 801 hit the road to support their new studio album—which explains why there's a surfeit of surefire songs from Listen Now performed, along with an unexpected Roxy cover that's literally out of the blue.
801 Live @ Hull :: Getting back to mono, this excellent audience recording captures the band in a form that's arguably even fiercer than on the above-noted sonically superior stereo Manchester tape—which was rabid enough to begin with.
801 Latino :: If it proves anything at all, this incongruous Latin throwdown proves that Manzanera does not live on art rock alone.
Be seeing you!
Sat, September 9, 2023 | link
Saturday, September 2, 2023
JEFFREY MORGANíS MEDIA BLACKOUT #904
JEFFREY MORGAN'S MEDIA BLACKOUT #904.590.224!
Caledonia – We Are America (self released) :: I know where this band of Canuckleheads is coming from when they kvetch about America culturally sucking Canada dry. Sure, they mean it as a protectionist slam, but I wouldn't have it any other way—besides, being a good Detroiter, I'm a Vernors man myself.
Snooks Eaglin – Baby, You Can Get Your Gun! (Hep Cat) :: Anyone widda moniker like "Snooks" has gotta be cool but, as you might've already guessed, that ain't his real handle: It's Fird, which is even cooler—just like the beyond butane blues-infused scorchers which ignite this reissued 1986 session.
Fanny Brice – The Baby Snooks Show (CBS) :: Geddit?
Odis – Feel (Miss Press) :: Miss Odis regrets how bands these days sound like everyone else. But here's an admirable exception with a pulse that's hard to put my finger on but I'll sure try: I hear a loud Living Color rock aesthetic at play here, ably augmented by a Southern sensibility with a playful underpinning of Prince. Too many slushball ballads, though.
Barbara Streisand – Funny Girl (Columbia) :: Oy vey, baby!
SIZZLING PLATTER OF THE WEEK: Chairlift – Does You Inspire You (Kanine/Columbia) :: I may hate ballads, but I bought this one nevertheless because the sticker on the front cover claimed that it contained "beguiling heroin ballads, nodding deeply to David Lynch's Angelo Badalamenti-scored oeuvre." Musically, that happens to be true. Vocally, it goes without saying that Caroline Polacheck is no Julee Cruise—which is understandable. She's more like a sonorous soporific pop suturing of Beth Gibbons and Eno—which is unmedicated.
Angelo Badalamenti – Music From Twin Peaks (Warner Bros.) :: Number one in a field of none.
Be seeing you!
Sat, September 2, 2023 | link
Saturday, August 26, 2023
JEFFREY MORGANíS MEDIA BLACKOUT #903
JEFFREY MORGAN'S MEDIA BLACKOUT #903.589.223!
Ray Charles – A Message From The People (Concord) :: I don't care if the sun don't shine—but if I hear this flamboyant, cloying, overwrought, terminally maudlin, tear-jerkin' melodramatic version of "America The Beautiful" one more time, I'm gonna kill something.
Chris Velan – Solidago (New Song Recordings) :: Looking to score? Then match a few candles and play these sensitive songs, which'll woo any weepy woman on the rebound. Works for me!
Dee Dee Ramone – History On My Arms (MVD Visual) :: You'll wanna buy this Dee-V-Dee for the three filmed documentaries but you're gonna keep it for the bonus home-recorded album Dee Dee Blues on which the man who gave us the speaker-shredding "Wart Hog" redefines abrasive with a monocaustic mind-numbing set that makes Unca Lou's overdrive antics on "I Heard Her Call My Name" sound like Jeanine Deckers plucking "Dominique" on downers. Then Dee Dee takes a well-deserved break to berate his cat while he skillets some eggs for breakfast.
SIZZLING MODERN PLATTER OF THE WEEK: Ray Charles – Modern Sounds In Country And Western Music: Volumes 1 & 2 (Concord) :: Half of these two dozen tracks sound like a Jackie Gleason string seduction session while the other half swings in kinetic "And away we go!" akimbo mode. Mercifully devoid of his usual annoying vocal mannerisms, this is Raymond's finest auditory hour.
SIZZLING POST-MODERN PLATTER OF THE WEEK: Big D And The Kids Table – Fluent In Stroll (Side One Dummy) :: Chirpy chicks chirpin' Linda McCartneyesque backing vocals against a horny horn backing while the suave Romeo upfront sells you the goods with a punky swagger worthy of a singin' Stooge in sidewinder Soldier mode. The first song is called "Doped Up Dollies On A One Way Ticket To Blood," which tells you all you need to know about how mentally stable these cool cats are. Add an overflowing side platter of ska slathered with a hot throbbing organ and you've got an album that's so fulla fun you'll plotz your pud.
Be seeing you!
Sat, August 26, 2023 | link
Saturday, August 19, 2023
JEFFREY MORGANíS MEDIA BLACKOUT #902
JEFFREY MORGAN'S MEDIA BLACKOUT #902.588.222!
SIZZLING ROCKUMENTARY OF THE WEEK: Bill Fishman – My Dinner With Jimi (Rhino Films) :: I'd say that this was the greatest rock 'n' roll movie ever made—except for the small fact that my name happens to be on the back cover of every copy of Mayor Of The Sunset Strip saying the exact same thing. What I can say, however, is that this is the greatest rock 'n' roll movie ever made about how the Turtles—aka Mark Volman and Howard Kaylan aka Flo & Eddie—hit it big in America with their 1967 Beatle-bashing mega-smash single "Happy Together," and then went to England where they hung out with George, Ringo, Paul, John, Charlie, Brian, Keith, Bill, Mick, Jim, Frank, Twiggy, Donovan and Hendrix. The screenplay's penned by Kaylan himself, so you can be sure that the factual accuracy is spot-on, insofar as drug-addled recollections go. It's a hell of a hoot and one of the essentials for anyone who ever had a rock 'n' roll heart.
SIZZLING PLATTER OF THE WEEK: Ted Nugent – Motor City Mayhem: The 6,000th Concert (Eagle) :: When I reviewed Love Grenade in Detroit's Metro Times, I wrote that "the only way Ted could've improved this album is if he'd hired Derek St. Holmes to sing half the songs." And when I reviewed Sweden Rocks in this column, I likewise opined that "with any luck, Derek St. Holmes will be back the next time around to keep Nugent's ego in check." So you can imagine my delight that Ted finally got off the pot and brought St. Holmes onstage to sing "Hey Baby" and "Stranglehold" for this live twofer, which is also available on video, and which was recorded in Detroit way back when during Theodore's 4th of July milestone 6,000th performance celebration. Even better, if you watch the companion video you can actually see Ted lower his wireless mic to give St. Holmes an unimpeded vocal spotlight. Best of all, they can still sing and play the high notes just like they did back in 1975 on Nugent's first solo album.
Be seeing you!
Sat, August 19, 2023 | link
Saturday, August 12, 2023
JEFFREY MORGANíS MEDIA BLACKOUT #901
JEFFREY MORGAN'S MEDIA BLACKOUT #901.587.220!
Broadway Calls – Good Views, Bad News (Side One Dummy) :: You know I've had my share. Well, my woman left home for a brown-eyed man who plays in a generic teenage angst rock band that should've closed out of town on opening night, but I still don't seem to care.
Lee Harvey Osmond – Quiet Evil (Latent) :: I guess "John Wilkes Partridge" was already taken, huh?
Manchester Orchestra – Mean Everything To Nothing (Favorite Gentlemen) :: Early prissy Bowie meets early pensive Reznor backed by early primo Page.
Charles E. Caine – The Mayor Of Hell (Warner Bros.) :: James Cagney may be the star of this 1933 prison flick, but who can deny that good old Charlie Caine steals the show as Tommy 'Stupe' Gorman?
23 Rainy Days – Wonderful Disaster (Radio Active) :: Their own website describes them as being "Dark Pop Synth Rock" so who am I to argue that they're wrong—especially when that happens to be an accurate assessment of this exemplary slice of arch '80s anxiety.
SIZZLING SHOMOE OF THE WEEK: Jesse James – Jesse James Is A Dead Man (Spike) :: And speaking of past blasts, here's one dead man who used to turn me on with a kinetic fury and oddly incongruous laconic Zen-ness that evoked memories of Raw Power and A Gift From A Flower To A Garden being played simultaneously at full volume. This linear ancestor to the pistol-packin' outlaw may look and sound like David Lynch but the death-defyin' stunts he pulls off are still worthy of Evel Knievel in his outta-mah-head prime. It also adds more fuel to the argumentative fire that Spike once was the greatest heavy metal television network casting broads, but not no more.
Be seeing you!
Sat, August 12, 2023 | link
Saturday, August 5, 2023
JEFFREY MORGANíS MEDIA BLACKOUT #900
JEFFREY MORGAN'S MEDIA BLACKOUT #900.586.219!
Bart Davenport – Palaces (Antenna Farm) :: Burt Bacharach is more like it and I like it, like it, yes, I do.
Bad Flirt – Virgin Talk (Kartel) :: What's to like? How about perky power pop fuelled by fun-filled female vocals, a wickedly witty sense of humor, an enclosed pamphlet with a suitable-for-autographing poster, and the words "THANK YOU" in huge type on the flip side.
Holly Golightly & The Brokeoffs – Dirt Don't Hurt (Transdreamer) :: Murder-in-the-makin' songs like "My 45" show why American slothic lives on this banjofied country hoedown which was recorded with the safety off. BLAM!
Deas Vail – White Lights (Brave New World) :: No! Psychedelic Furs meet Yes! Maybe?
The Wedding Present – El Rey (Manifesto) :: Heavily tremoloed contemporary '80s angst rock with a Europatina that says: re-gift.
Rae Spoon – Superior You Are Inferior (self released) :: A woman singing self-penned songs like "My Heart Is A Piece Of Garbage. Fight Seagulls! Fight!" and "Come On Forest Fire Burn The Disco Down"? Crazy, man, crazy. Roll over Leonard Cohen and tell Lewis Furey the news.
The Moody Blues – Live At The Isle Of Wight Festival 1970 (Eagle) :: Prog schlock.
SNIVELING PLATTER OF THE WEEK: Rhino Bucket – The Hardest Town (Acetate) :: Gee, you'd think that these callow mugs would be grievously ashamed of slavishly aping AC/DC so blatantly, right? Well, you'd be wrong. Dead wrong. I guess the name "Vomit Bucket" was already taken, huh?
SIZZLING PLATTER OF THE WEEK: Carlos del Junco – Steady Movin' (Northern Blues) :: The greatest harmonica player in the world is back with another album that only serves to further cement his already stellar reputation—and if you think what he does in the studio is jaw-dropping, then you just gotta see him live to get the full gist of his uncanny ability. Bonus points for writing a clever Canucklehead harp tribute to the GFOS called "Mashed Potatoes Canada" that loiters with intent on the corner of Good God Boulevard and Hit Me Drive.
Be seeing you!
Sat, August 5, 2023 | link
Saturday, July 29, 2023
JEFFREY MORGANíS MEDIA BLACKOUT #899
JEFFREY MORGAN'S MEDIA BLACKOUT #899.585.218!
The Black Crowes – Warpaint Live (Eagle Rock) :: I'd never heard these guys before but after listening to this one, I'm in no hurry to hear them caw again. The first track, "Goodbye Daughters Of The Revolution," is a great Exile On Main St. meets the Allman Brothers pastiche, but that's exactly why I ended up nodding off halfway through. Whereas Exile served up a surfeit of creative variety, this brash rehash is nothing but a monotonous one-trick phony that takes fawning sycophantic fanboyism and then shamefully runs it into the ground—and the fact that they actually stoop to cover "Torn And Frayed" only proves my point. It also makes me want to play Exile again and forget about this fraud on the run.
Zac Harmon – From The Root (Northern Blues) :: Avid octogenarian eaters like myself will be able to relate to a smooth snatch-suckin' song like "The Older Woman" because it's mmm-mmm, finger-licking good. And although Zac will no doubt declare that his song ain't about gettin' down and rootin' around in the underground, he'd be wrong because the cumstomer is always right!
SIZZLING PLATTER OF THE WEEK: Gary Lewis & The Playboys – The Complete Liberty Singles (Collectors' Choice) :: How cool is Gary Lewis? He's the son of Jerry Lewis. He looks like Supercar's Mike Mercury. An unreasonable chunk of the songs that he cut were co-written with producer Snuff Garrett and arranger Leon "Holy Trinity" Russell. He recorded a Kellogg's Corn Flakes song called "Doin' The Flake" that out-milks the Rolling Stones' Kellogg's Rice Krispies song, "Wake Up In The Morning." But coolest of all is the uncanny spot-on impersonation that Gary does of his dad when he savages the grisly ballad "Time Stands Still" by singing it in a nasally spastic-retardo voice that out-Jers Jer. Two discs? Forty-five tracks? All in mono? La la la, nice record!
Jerry Lewis – Jerry Lewis Just Sings (Decca) :: He's no Gary Lewis, but who is?
Be seeing you!
Sat, July 29, 2023 | link
Saturday, July 22, 2023
JEFFREY MORGANíS MEDIA BLACKOUT #898
JEFFREY MORGAN'S MEDIA BLACKOUT #898.584.217!
Dennis O'Neil & Curt Swan – DC Comics Classic Library: Superman — Kryptonite Nevermore (DC Comics) :: In 1971, definitive Supes artist Swan and definitive Green Lantern writer O'Neil teamed up to clean up a cluttered iconography by finally putting the kibosh on a multicolored crutch called Kryptonite. It's an exciting read that features Clark Kent during his TV reporter phase—a gig he definitely didn't dig, which only goes to show that even Superman once had a day job that really sucked.
FemBots – Calling Out (Weewerk) :: If Trent Reznor has formed the Velvet Underground, their first unbalanced album would've sounded just like this.
Harvey Kurtzman, Will Elder, Jack Davis, Al Jaffee, and Arnold Roth – Humbug (Fantagraphics Books) :: After they definitively defined satire for Bill Gaines' MAD but before they refined it for Hugh Hefner's Little Annie Fanny, unparallel parodists Kurtzman and Elder ran rampant for themselves when they published these 11 exceptional issues of comic art anarchy. This two-volume hardcover box set has been reproduced from the original art and digitally restored to make everything look even better than when it first came out in 1957. This long-overdue definitive edition of Humbug is an essential slice of satire from the masters of the genre.
Mother Mother – O My (Last Gang) :: And if Lou Reed had formed Blondie, their first unbalanced album would've sounded just like this.
Ross Andru and Mike Esposito – Get Lost! (Hermes Press) :: Andru and Esposito were no Kurtzman and Elder, but they sure gave it their best shot with this short-lived comic book from 1953 that provided some direct competition to MAD—so direct, in fact, that Bill Gaines tried to sue them out of existence. He lost, but by that time the damage had been done. Now see for yourself what got Gaines' goat in this gorgeously restored paperback that collects all three issues.
SATIRICAL PLATTER OF THE WEEK: Stan Freberg – "St. George And The Dragonet" (Capitol) :: Three million copies sold in three weeks in 1953? Hoo-hah, that's one sizzling single!
Be seeing you!
Sat, July 22, 2023 | link