Saturday, August 18, 2018
JEFFREY MORGANíS MEDIA BLACKOUT #639
JEFFREY MORGAN'S MEDIA BLACKOUT #639.282!
Sly & The Family Stone – Woodstock (Atlantic) :: Everybody's got their own favorite musical Woodstock moment and this hyperactive fourteen minute medley remains mine. Not only will the sheer level of exuberance on display keep you up at night for weeks, just one listen is convulsively callisthenic enough to make you shed all those excess pounds in the process. Say, whatever happened to Sly Stone anyway?
SIZZLING PLATTER OF THE WEEK: Sly Stone – I'm Back! Family & Friends (Cleopatra) :: 30 YEARS IN THE MAKING and ALL NEW RECORDINGS brazenly blares the superhype cover sticker only to 'fess up with a back cover blurb which admits that this ain't nothin' but an elpee of re-recorded gazillion year old greatest hits—and don't that just sound like a misguided recipe for sonic disaster even if it is ably aided and abetted by a buncha high profile guest stars ranging in rank from Jeff Beck and Ray Manzarek to Bootsy Collins and Johnny Winter?
Little Richard once pulled a similar stunt when he re-recorded his greatest hits live in the studio for a package called, oddly enough, Little Richard's Greatest Hits Recorded Live. And although that album actually managed to buck the odds by being the amped-up equivalent of his earlier studio work, let's face it: rare is the time that such revised recordings actually work—which is why I'm pleased as punch to report that this one works just as well.
The first reason why it works is because, like Richard's record before him, Sly's timeless classics are beyond any revisionary butchering.
The second reason is that the hired gun choices are well thought out vis-à-vis which song they're assigned to. F'rinstance, having Manzarek do the organ work on "Dance To The Music" is an inspired move that turns mischievous when he has the temerity to start his solo by tossing in the riff from "Light My Fire." Equally enthused is veteran saxsmith Ernie Watts' wailing work on "Stand!" And if John Dawson's work on "Thank You" is relatively invisible due to a mix down mishap, whatcha gonna do, brother, when Beckamania runs wild over "(I Want To Take You) Higher" with an insane outta control high octane intensity that sets the stage for his fellow Bootzilla Orchestra confrere Mister Collins, who likewise stomps all over "Hot Fun In The Summertime" with his registered trademark bass and vocals.
The third reason is that Sly's voice, while ragged, remains right enough to strike the proper funky tone just like it used to do.
In other words, I'm Back! is a sly way of reintroducing Sly to a brand new crowd. Whether it'll foreshadow a fresh era of Sly Stone musical inventiveness is anyone's guess but, despite his past proclivities, I sure wouldn't bet against the cat, would you?
Bonus points for indulgently including some radical eletrodub mixes that'll have you bouncing off the walls so fast it'll make your head spin.
Be seeing you!
Sat, August 18, 2018 | link
Saturday, August 11, 2018
JEFFREY MORGANíS MEDIA BLACKOUT #638
JEFFREY MORGAN'S MEDIA BLACKOUT #638.281!
Terry Riley – A Rainbow In Curved Air & Persian Surgery Dervishes (Columbia) :: Terry is the "Riley" in the Who's "Baba O'Riley" because he's the visionary musician who influenced Pete Townshend's ARP synthesizer sequencer work on Who's Next—and both of these innovative electric organ albums are the unrivaled apex of trippy hypnotic meditative trance music. By way of contrast, 1966's landmark A Rainbow In Curved Air is an iridescent triumph of intricate studio overdubbing while Persian Surgery Dervishes is an extraordinary amalgamation of two live performances that Riley gave in 1971 and 1972. Just make sure that you listen to both albums either through headphones or with your ears strategically spaced between two speakers to properly experience the full spiritual stereophonic effect.
Steve Reich – "Come Out" (Nonesuch) :: Now your mind is sufficiently lubricated to take on this equally-epochal phase-shifted spoken word transmogrification.
Bill Cosby – Is A Very Funny Fellow...Right! (1963) - I Started Out As A Child (1964) - Why Is There Air? (1965) - Wonderfulness (1966) - Revenge (1967) - To Russell, My Brother, Whom I Slept With (1968) (Warner Bros.) :: Others may have been the Rolling Stones or Doors of stand-up comedy but, back in the seminal '60s, Bill Cosby was the undisputed trend-setting ground-breaking Beatles of stand-up—and these six albums, released in six consecutive years, the latter half of which were recorded while Cos was co-starring with the equally urbane Robert Culp in I Spy, prove it. If you haven't heard them in decades, then it's about time that you heard them again. And if you've never heard them, then it's imperative that you do because Wonderfulness; Revenge; and To Russell, My Brother, Whom I Slept With are to comedy what Rubber Soul; Revolver; and Sgt. Pepper's Lonely Hearts Club Band are to music. And speaking of musical comedy...
SIZZLING PLATTER OF THE WEEK: Bing Crosby & Dinah Shore & Bob Hope & Frank Sinatra & Judy Garland & Jimmy Durante & The Andrew Sisters & Frank Morgan & Jerry Colonna – Dick Tracy In B Flat (Armed Forces Radio Service) :: This hour-long episode of Command Performance, which was originally broadcast to our brave men and women in uniform on Valentine's Day in 1945, is available as a free 'old time radio' public domain download and proves that they really don't make 'em like they used to. After all, where else can you hear Crosby as Dick Tracy and Hope as Flattop, exchanging dialogue like this:
HOPE: Drop that gun and turn around, Tracy!
CROSBY: If that voice belongs to who I think it does, I may never turn around.
HOPE: What a pleasure. I've always wanted to have a gun in this guy's back.
CROSBY: Yeah, and you can pull it up a little, too.
HOPE: Sorry, I was gonna blow your brains out.
Be seeing you!
GARLAND: Flattop, I appeal to you on bended knee!
HOPE: Kid, you appeal to me in any position.
Sat, August 11, 2018 | link
Saturday, August 4, 2018
JEFFREY MORGANíS MEDIA BLACKOUT #637
JEFFREY MORGAN'S MEDIA BLACKOUT #637.280!
Sonics Rendezvous Band – Live, Masonic Auditorium, Detroit, January 14, 1978 (Alive) :: This exhilarating, apostrophe deficient, comma-clad, louder than life lease-breaker was recorded in living mono on a lousy Maxell C-90 audiocassette and yet I still keep playing it habitually. Now that's what I call the hallmark of a truly great live rock 'n' roll album—and so will you as soon as you hear it.
SIZZLING PLATTER OF THE WEEK: James Williamson & Iggy Pop – Kill City (Alive) :: I bought this long-lost missing link between Raw Power and The Idiot when it first came out some zillion years ago, at which point I lauded it as quite the auditory accomplishment. But that's nothing compared to how enthused I am about Kill City now that it's finally been remixed from the original masters under the watchful eye of album producer Straight James himself—even if he isn't actually credited as such on the record; you can trust me on this one, folks.
You can also trust me when I tell ya that the new and drastically improved sound is more potent than a broken beer bottle heaved at your bobbing peroxide head. Purists may be peeved that a few songs get fiddled around with by fading up a few new multi-tracks in lieu of the older ones—most notably during the guitar passages on "Kill City"—but no matter how much you may have the original vinyl version burned into your brain, I guaranteed that your noggin will gladly accept these new values after only a few rotary motions. And while we're talking about the title track, it behooves me to point out that the handclaps now crack as crisply as a snappin' slave ship whip while the ragged backing vocals actually have a dissipated Exile On Main St. edge to them. Oh, and did I forget to mention the barely audible part of the proceedings wherein an agitated Igg apes Williamson's unreasonably abrasive guitar fills with his own inimitable imitative vocal screech just before he begins the vocals? I thought not.
As for the rest of the album—from the sax-soaked noir ballad of inoperable obsession "Johanna" to the clued-up cautionary street-walkin' tale "Sell Your Love"—Kill City remains a achingly mature work that eschews the brainy turn-of-phrase lyrics and brutal turn-of-stomach music of Raw Power in favor of a far more thoughtful and elegiac eleven step program of sanity survival.
And if things didn't quite work out exactly as planned, don't fault the two primary participants because they gave it their best shot while laboring under a stacked deck of circumstances that would've crushed lesser mortals like you and I into dust. That both James Williamson and Iggy Pop not only managed to subsequently survive but successfully thrive only proves that they are the greatest.
Iggy & The Stooges – Raw Power (Columbia) :: Because man does not live by achingly mature work alone.
Be seeing you!
Sat, August 4, 2018 | link
Saturday, July 28, 2018
JEFFREY MORGANíS MEDIA BLACKOUT #636
JEFFREY MORGAN'S MEDIA BLACKOUT #636.279!
Tiesto – Just Be (Magic Music) :: Eh, what a maroon. The sticker on the front cover brags that Tiesto's "The #1 DJ In The World" yet he begins track one with over three minutes of aimlessly anemic synthesized symphonic string music that would make even Jean Michael Jarre cringe with embarrassment. Three minutes? Dude, you lost your bass and drum audience at the 15 second mark. And take a letter, Maria: we like our B&D tracks blended and crossfaded into a single cohesive soundscape, not individually separated. Oh, and one more thing: if you're going to steal your album cover from Eno's Before And After Science, then you'd gosh darn well better live up to it instead of dishing out the usual high-hat disco dross clichés.
SIZZLING VIDEO OF THE WEEK – SIDE ONE: The Beatles – Let It Be: Deluxel 35mm Widescreen Stereo Edition (Double D) :: After spending big chunks of change to finally restore the Let It Be movie for public consumption, it figures that Paul and Ringo would then get cold feet and veto its release on the grounds that it makes the band look bad. Which is a nice way of saying that they both watched it and were horrified to find that it makes the bassman look like a domineering boss man and the drummer decidedly comatose.
Luckily you can watch this release instead, which is the most pristine copy you'll ever find—especially since it includes not only the original thin theatrical soundtrack but a new and vastly improved digital one that's been synced to the studio stereo multitracks and the original Nagra tapes. The back cover blurb says that the source material is a videotape which was recorded when the film was shown in widescreen format on the BBC back in 1982, but don't you believe it because the high visual quality says that this came from a good telecine of an original 35mm print. My friend, can you prove otherwise?
SIZZLING VIDEO OF THE WEEK – SIDE TWO: The Beatles – Get Back: The Outtakes (Double D) :: And while you're at it, make sure that you pick up this definitive two disc collection of Twickenham and Apple outtakes which contains just about everything that you'd want to see, from the infamous Goon Show encounter wherein a smack-smitten Lennon dispenses some timely personal advice to a bathroom-bound Peter Sellers: "Just don't leave the needles lying around, you know. We've got a bad reputation now with John getting busted and that!" to the mixing board moment when the band decides to release "Get Back" as their next 45:
George: Let's put it out as a single.
John: Okay, let's knock it off as a single then.
George: What was the last single?
Paul: "Hey Jude."
George: Let's finish it off as a single.
Paul: [slyly smiling] Oh yeah?
John: We'll do "Part Two" on the backside.
Paul: [slyly smiling] I'm easy, lads.
Ringo: zzzzzzzz
Be seeing you!
Sat, July 28, 2018 | link
Saturday, July 21, 2018
JEFFREY MORGANíS MEDIA BLACKOUT #635
JEFFREY MORGAN'S MEDIA BLACKOUT #635.278!
Alice Cooper – Alice Cooper Goes To Hell (Warner Bros.) :: Amateur.
Anna Atkinson – Mooniture (self released) :: So I'm spinnin' the first song and suddenly thinking that, no, the absolute last thing I wanna do is say that Anna is the new Nico 'cause she seems to be way too normal to be saddled with that kind of calamitous tag. But every time I hear the viola sonorously slither up beside her, I get flummoxed into thinking that I'm listening to some kinda vintage John Cale creation before remembering that, no, Anna seems to be way too normal to be saddled with that kind of calamitous tag. And then I'm spinnin' the second song which starts: "The inside of my head sounds like a choir of trumpets ever since the accident" and suddenly I'm thinking that, yes, Anna is the new Nico 'cause she's way too abnormal to be saddled with anything less than that kind of calamitous tag.
AC/DC – Highway To Hell (Atlantic) :: Amateurs.
Desmond Grundy – Oddly Enough (self released) :: So I'm spinnin' the first song and suddenly thinking that, no, the absolute last thing I wanna do is say that Desmond is the new Lou Reed 'cause he seems to be way too normal to be saddled with that kind of calamitous tag. But every time I hear the gnarly destorto guitar grinding up behind him, I get flummoxed into thinking that I'm listening to some kinda vintage Velvet Underground gradation. And suddenly I'm thinking, yes, that's cool because nobody sounds like Unca Lou anymore—not even the old reprobate himself 'cause he's way too normal these days to be saddled with that kind of calamitous tag.
Diamanda Galás – You Must Be Certain Of The Devil (Mute) :: Amateur.
SIZZLING PLATTER OF THE WEEK: Notar – Devil's Playground (Tyrannosaurus) :: When it comes to writing and rapping, Notar can go toe to toe with the best of 'em and then best the rest of 'em. What immediately elevates this admirable effort above and beyond all other recent rap records is the sheer ambitious scope of the studio production coupled with an accompaniment of eclectic instrumentation that effortlessly oscillates from track to track between hot snatches of Prince-style synthesizer; deep scratches of melodramatic Queen choir backing vocals; and wet splashes of Zeppelinesque guitar and strings.
But what really anchors the proceedings with a rock-solid foundation are the songs, which range in rage from the sulfuric subject matter of the cautionary title track to the social satire of the anthemic "Alcoholic" to the so-goofy-it's-great musical history lesson "Perseverance" which dares to narratively name-check a whole gaggle of groups from the Yardbirds and Velvets to Boston and Rush. Now that's what I call being a professional. Bonus points for having a name that, backwards, reminds me of a 1976 comedy album title.
Bill Cosby – Bill Cosby Is Not Himself These Days Rat Own Rat Own Rat Own (Capitol) :: Riiight!
Be seeing you!
Sat, July 21, 2018 | link
Saturday, July 14, 2018
JEFFREY MORGANíS MEDIA BLACKOUT #634
JEFFREY MORGAN'S MEDIA BLACKOUT #634.276!
Alyssa Reid – The Game (Wax) :: "I didn't see that coming" says a stock-sampled voice at the end of the first track, and it sure knows whereof it speaks because this one starts out with a plaintive solo piano paean in the sensitive style of Tori Amos only to shift into a brief church choir vamp that hints at a potential future as an art rock practitioner. Then everything belly-flops into a generic mung of breathy squeaky-voiced girl power angst-ridden ballads and mandatory guest star macho raps, all of which come straight outta Xerox Studios complete with embarrassing cringe-inducing lyrics like this one: "I feel like Spider-Man, you got me flyin' offa the wall." Calling Doc Ock!
Ramones – "Spider-Man" (Sire) :: Julie Taymor should've hired these guys instead. So what if they're all dead? They'd still do a better job.
UME – Phantoms (Modern Outsider) :: And so would these guys 'cause they crank out a power pop pulse that has absolutely everything you want to hear as the summer winds down and the winter winds up—and that includes a surfeit of jing-jangly guitars; chirpy-chick vocals; and skin-slammin' beats to keep your ten toes aligned and tappin' in time. Even better, they're not adverse to shifting gears and submerging into an echoing ethereal environment of evocative emotion. You know, kinda like a midnight meeting of the minds between Portishead and Sandii & The Sunsetz.
SIZZLING PLATTER OF THE WEEK: The Doobie Brothers – Live At The Greek Theatre: 1982 (Eagle) :: Brothers and sisters, I'm ashamed to admit it now but, back in the day, I had no time for these guys—which only goes to show what kind of a snooty stuck-up snob I was. Maybe if they'd called themselves the Coke Brothers instead, I might've been interested. And you can bet your bottom dollar that an old Glam Rock adherent like myself would've been there in a Jobriath heartbeat had they gone the blown tranny route and called themselves the Smack Sisters. Heck, even an inner city moniker like the Crack Cousins could've caught my attention but, c'mon, the Doobie Brothers? Oh, pshaw; it is to laugh.
Well, better late if ever I always say—and that's why I'm man enough to 'fess up and admit that I was as wrong as wrong can be when I lifted my leg on these guys 'cause this is one of the hottest and downright funkiest live albums I've ever had the pleasure of playing. Shucks, even the smooth-as-silk make out ballads have enough pudenda-pounding potential to make you wanna conduct your own baton-brandishing bedspring symphony, if you catch my drift. But whatever you do, don't make the same mistake that I did. Go out and buy this raucous rip-roarin' record now, while there's still time to save your musical soul.
I guess I should've listened to Frampton Comes Alive and Saturday Night Fever when they came out, too, huh?
Be seeing you!
Sat, July 14, 2018 | link
Saturday, July 7, 2018
JEFFREY MORGANíS MEDIA BLACKOUT #633
JEFFREY MORGAN'S MEDIA BLACKOUT #633.275!
Jim Morrison music by The Doors – An American Prayer (Elektra) :: Morrison Hotel may be the apex of his Doors career but, if you ignore the superfluous bonus tracks and stick with the original vinyl incarnation, this is Jimbo's finest solo moment, however posthumous. His surviving band mates did him good by crafting an album that's so restrained it sneaks up on you every time you think you've got it memorized. It's just too bad that the singer himself never got to hear it becaus—oh, that's right, I almost forget: Jim is alive, man!
Bad Company – Live At Wembley (Eagle) :: I saw them in the '70s on their first North American tour as the opening act for someone—maybe it was Screaming Lord Sutch—and they were so good that I walked out before the headliners even hit the stage—possibly it was the Masked Marauders—and went straight to my friendly neighborhood record store; shelled out $2.99 to buy a copy of their debut album; headed home; slapped it on the old Victrola; and was shocked by how dead ass dull it was compared to their dynamic live show. Well, this new offering is the butane barn-burner I expected to hear that night, from Paul Rogers' hyper-studly "Can't Get Enough" to Mick Ralph's Hoople-standard "Ready For Love" and beyond. Wait, I remember, it was Cat Mother and the All Night Newsboys!
The Prodigy – Live: The World's On Fire (The End) :: The only band that matters never sounded as bludgeoningly brutal as they do on this audio-video twofer. When the singer sagely says: "I hear thunder but there's no rain! This kind of thunder breaks walls and window panes!" he ain't talkin' about unbridled nature, he's talkin' about an unnatural aural assault propelled by a bowel-buffeting bass that's so severe it makes the bottom end on "Instant Karma" sound like a crumpled ball of tin foil by comparison. Despite ostensibly being a tour souvenir album inevitably infused with a surfeit of songs from Invaders Must Die, all the global game changers are accounted for, including the iconic "Firestarter" and the heroic "Smack My Bitch Up." The real Prodigy experience, however, is on the second disc's full-length video, which readily redefines what a live performance oughtta be.
SIZZLING PLATTER OF THE WEEK: James Lee Stanley and Cliff Eberhardt – All Wood And Doors (MVD Audio) :: Already they're calling this one a CSN version of the Doors, but that's just lazy shorthand by so-called "music journalists" who never heard of the Kingston Trio. C'mon, c'mon, c'mon, c'mon now; trust me, Babe: can't you see that I am not afraid to say that this tastefully acoustic guitar session is nothing less than a bluesy stripped-down symposium that showcases how truly timeless their greatest hits really are? Bonus points for being accompanied by erstwhile Doors members Robbie Krieger and John Densmore; plus previous Monkee Peter Tork. Hey hey, they're the Doorkees!
Stronger than dirt!
Sat, July 7, 2018 | link
Saturday, June 30, 2018
JEFFREY MORGANíS MEDIA BLACKOUT #632
JEFFREY MORGAN'S MEDIA BLACKOUT #632.274!
See Green – Ultramarine (self released) :: When she's not busy waxing philosophical on "Are You Happy" like some kinda latter-day female George Harrison ("Are you losin' focus when you need to find it? 'Cause your tape is rolling and you can't rewind it!"), multi-instrumentalist Courtney Green is busy waxing rhetorical on three additional dreamy synth-soaked throwback tracks like some kinda latter-day female Todd Rundgren in his Something/Anything? pure pop heyday. And although Courtney's chirpy cooing can cajole your cajones, don't make the mistake of confusing her whimsy for weakness 'cause she can also kick like a government mule. Go ahead, ignore her.
Friend Slash Lover – As American As Ones And Zeros (self released) :: The sonic scent of early arch-histrionic Bowie fused with the dry wry wit of early angst-ridden Sparks. Could use more of a dance beat, though.
Truth Panel – Preliminary Hearing (self released) :: This one gets bonus points awarded right off the top for having a smart band name and an equally brainy album title that conceptually fits the former. Even better, the band actually lives up to that initial assertion by offering up eleven tracks that sound like Ian Hunter refereeing a back alley balladeer brawl between Elliott Murphy and Leonard Cohen with the Tragically Hip serving as special guest enforcer. Points deducted for having an atrociously abysmal album cover and brutally banal band logo, both of which should've been credited to "Medusa" because one look at either of them will turn you into stone.
Friend Slash Lover – friendslashlover.remixed (self released) :: Now this is more like it! Aquarhythms meets Nash The Slash on this senses-expanding four track extended player that's one of the best remix records I've heard since the League Unlimited Orchestra's Love And Dancing—and how long has it been since that little gem came out? Exactly.
SIZZLING PLATTER OF THE WEEK: T-Model Ford and GravelRoad – Taledragger (Alive) :: T-Model Ford is this gravelly voiced gazillion-year-old bluesman who's got more hot spunk loaded in the little finger of his left hand than you've got in your entire spuzzy wang dang doodle—and that goes double for alla youse loose wimmens; triple for alla youse tight ones. Meanwhile, GravelRoad is the three young gun-slingin' spuds who have the honor of backin' up T-Model Ford as he wails righteously on these eight titanic testifyin' tracks. Believe you me, this is the authentic blooze sound that Jimmy Page sold his sordid soul to snatch, but never managed to snare. Bonus points for the monochromatic cover photography by my old confrère Mr. Robert Matheu because, as we all know, you can get T-Model Ford in any color you like, just as long as it's black.
Be seeing you!
Sat, June 30, 2018 | link
Saturday, June 23, 2018
JEFFREY MORGANíS MEDIA BLACKOUT #631
JEFFREY MORGAN'S MEDIA BLACKOUT #631.273!
White Zombie – Let Sleeping Corpses Lie (Geffen) :: Five discs containing almost every non-remix track and video released between '85 and '95, with the early stuff remaining as embarrassingly execrable as the later stuff is extraordinarily exciting. Bonus points for including a complete pristine print of Béla Lugosi's 1932 namesake movie White Zombie as a hidden video. Points deducted for not scene-indexing it.
David Bowie & Deep Purple – Tin Machine Head (RCA) :: Includes the hit single "Highway Stardust."
Saga – Heads Or Tales Live (Eagle) :: Because a day without prog rock is like a day without sunshine, you'll wanna get your tea shades on for this blinding new offering that fits the prog rock bill with its sure-fire surfeit of squeaky guitars lines; shimmering synth lines; and soaring vocal lines. That's a lot of lines to do in one sitting so you'd better start now because this excellent album's nothing to sniff at.
SIZZLING LIVE PLATTER OF THE WEEK: ZZ Top – Live In Germany: 1980 (Eagle) :: Although some like to fine dine uptown next to the Church Of The Latter Day Top, I'd rather dumpster dive in a seedier section of town for the remnants of a vintage Double Z burger served slightly raw and scorched around the edges. That's why I enjoy aurally chowing down on this live long player a whole heckuva lot more than I do trying to digest their recent "official" release, the slickly smooth Live In Texas.
Y'see, Texas includes the FDA's recommended daily dose of megahits that every nubile nubbin needs to gulp, but only Germany dares to dish out a greasy heapin' helpin' of earlier era entertainment, starting with a main course consisting of such vintage brown paper bag specials as "Fool For Your Stockings" and "Manic Mechanic." Then add a side order of Bob Johnson's "Dust My Broom" and garnish with an epic paint blistering version of "Le Grange" that slams into both "Sloppy Drunk" and "Bar-B-Q" before finally careening to a blown-tranny halt.
SIZZLING STUDIO PLATTER OF THE WEEK: Carl Dixon – Lucky Dog (DD) :: "Lucky" ain't the word to describe a guy who got seriously smearcased in a horrific head-on collision only to improbably survive and then ambitiously thrive, but it's one heckuva good start. Now some of you may remember Carl from his Coney Hatch days but it's no hangin' matter if you don't 'cause this inspiring new album cleans Coney's clock six ways to Sunday.
You can take it from me when I tell ya that Lucky Dog is a classic rock fan's delight because it sounds just like it was recorded back in the halcyonic '70s. Even better, it ranks right up there in the heartfelt department with such like-minded laid-back long-players as Luther Grosvenor's Under Open Skies and Neil Young's Harvest. Bonus bravery points for having the intestinal fortitude and spiritual wherewithal to write a soul survivor song titled "Stitches, Sutures & Staples."
Be seeing you!
Sat, June 23, 2018 | link
Saturday, June 16, 2018
JEFFREY MORGANíS MEDIA BLACKOUT #630
JEFFREY MORGAN'S MEDIA BLACKOUT #630.271!
Booker T. & The MGs – McLemore Avenue (Stax) :: Brothers and sisters, the Stax Remasters series just keeps strollin' on with one of the more notable reissues being this vital mostly-instrumental remake/remodel of Abbey Road, which was recorded in 1969 mere months after the Beatles released their iconic album. One of the things that makes McLemore Avenue so memorably unique is that, rather than ape the album's actual 17 track running order, the band opted instead to scuttle four songs and reconfigure the remaining 13 into only four tracks, three of which contain lengthy resequenced medleys. The result is a soulfully smooth stylistic retooling that doesn't attempt to imitate so much as it inventively extrapolates and augments—and that goes double for Booker's remaining Beatle takes which are included as bonus tracks.
The Beatles – Green Apples (Parlophone) :: I wish.
Johnnie Taylor – Taylored In Silk (Stax) :: Meanwhile, this smooth as you know what masterpiece from Stax's resident blues wailin' Soul Philosopher finds him in fine fettle, most notably on the cautionary up-tempo tale "It's Cheaper To Keep Her" wherein JT tells every man what he oughtta do if he didn't heed Cab Calloway's earlier era entreaty to beware, brother, beware: "You're tied up, you better stay tied up 'cause it's cheaper to keep her! Son, you're gonna pay some alimony or do some time!"
Marvin Gaye – Here, My Dear (Motown) :: Exactly!
Johnnie Taylor – Taylored In Silk (Stax) :: But that's nothing compared to the equal opportunity advice JT offers to unfaithful finks everywhere: "If somebody can steal an airplane out from out of the sky, when you look around, somebody's done stole your love right from under your eye! You know what they call that, boy? Hijackin' love!"
Eric Clapton – Layla (Polydor) :: Ex...
George Harrison – Bye Bye Love (Dark Horse) :: ...actly!
SIZZLING PLATTER OF THE WEEK: The Staple Singers – Be Altitude: Respect Yourself (Stax) :: Simply put, this is one of the greatest R&B slash Funk slash Pop albums ever waxed for public posterity, period. It's also educationally enlightening in that when the Staples sing: "You the kind of gentleman that want everything your way; take the sheet off your face boy, it's a brand new day" on the titular title track they ain't just whistlin' in Dixie. Nor are they kidding any less when they wax poetic on the musically minimal but no less persuasive "I'll Take You There"—and those are just the two tracks that you already know about, what with them being global hit singles and all.
In the meantime, which is definitely a groovy time, wrapped around those two stellar standouts are eight additional awe-inspiring essays that effortlessly unite into one giant groove-laden feel-good celebration of faith and fidelity. Which is why, if you only buy one reissue album this year, you really oughtta ensure that it's this one because your heart and soul will thank you for it later—in spades.
Be seeing you!
Sat, June 16, 2018 | link
Saturday, June 9, 2018
JEFFREY MORGANíS MEDIA BLACKOUT #629
JEFFREY MORGAN'S MEDIA BLACKOUT #629.270!
Pear – Extemp'ore (PearStudio) :: I'll play it and tell you what it is later.
Bob Hilliard – Stop, You're Killing Me (Warner Bros.) :: When roses and chocolates aren't enough, remember that the greatest romantic lyric ever penned comes courtesy of this 1952 Damon Runyon gangster musical starring Broderick "10-4" Crawford: "While you're fascinatin' me, you're assassinatin' me."
Nazareth – Big Dogz (Eagle) :: Ignore the abominable album cover that looks as if it had been designed way back in 1975 by Helen Keller on a Altair 8800 'cause what's inside is the heir of the dog that first tore a chunk outta your hide way back in, well, 1975. Once again spearheaded by the gritty scotch garglin' vocals of Dan McCafferty, this is your basic meat and potatoes platter that doesn't waste any time with frilly filigree garnishes on the side that no one needs. Bonus points for writing the exemplary "When Jesus Comes To Save The World Again" which is arguably one of the most superlative sanctified songs since ZZ Top's "Jesus Just Left Chicago" was put in perpetual heavy rotation on Heaven's Hit Parade.
Sparks – No. 1 In Heaven (Elektra) :: Written, of course, by the mightiest hand.
Twisted Sister – Under The Blade: Special Edition (Armoury) :: Is this deluxe reissue of the Sister's 1982 debut an album of Alice Cooper metal or a disc of David Bowie glam? Only their scaredresser knows for sure, so the boys keep swinging both ways in search of a breakthrough teen anthem. Until then, the music plays second fiddle to the visuals, which is why the accompanying album-length DVD is essential viewing for frizzy hair and filed teeth aficionados everywhere!
Pear – Extemp'ore (PearStudio) :: Okay, having played it, I can tell you that this one opens with an admirable Miles tribute called "Dewey Davis" that contains spoken word advice from the man with the horn while the band provides an apropos sonic canvas over which Miles can rasp. After that, there follows a series of one-take tracks which run the stylistic gamut from Enoesque ambient jazz ("The Frenchman") to extended ethereal jam sessions ("Session 15") to progressive percussive paeans ("Von Schkinny"). But what really holds the whole thing together conceptually is the sheer ambitious scope of its sonic eclecticism which effectively ensures that each track has its own individual sound.
SIZZLING PLATTER OF THE WEEK: Lori Cullen – That Certain Chartreuse (self released) :: This certain chanteuse is back with a new album of classy jazzy covers that's chock-a-block a-brimmin' with reams of poise 'n' perfection. The music is sparse in an elegant early evening 'getting to know you' way that isn't afraid to occasionally apply a leisurely late night 'let's get more than friendly' technique. Meanwhile, Lori's voice is a multi-tracked delight that effortlessly flits from Samantha Sang ("Emotion") and Gordon Lightfoot ("Rainy Day People") to Peggy Lee ("Baubles, Bangles, And Beads") and, strangely believe it, King Crimson ("Matte Kudasai").
Be seeing you!
Sat, June 9, 2018 | link
Saturday, June 2, 2018
JEFFREY MORGANíS MEDIA BLACKOUT #628
JEFFREY MORGAN'S MEDIA BLACKOUT #628.269!
The Sweetness – What's It Like to Be A Sprinkler, I Wonder? (self released) :: Wherein a spate of mesmerizing double-tracked she-vocals slink against a spooky setting of sparse folksy blues. Don't let the band name fool you because, as the album title intimates in its own wonky way, this is one record that goes beyond being merely idiosyncratic into a darker vein that dares to redefine the very essence of irrational ire that's disconcertingly dire.
Rory Gallagher – Notes From San Francisco (Eagle Rock) :: It's a safe bet that nobody ever went to a Rory Gallagher concert to hear him sing and the brakeless speed-wheelin' live side of this hoarse-larynxed twofer is ample proof of that. But the real rockin' revelation can be found on first disc's unveiling of a previously unreleased studio album that The Roar waxed way back in 1977 and then was forced to shelve after he was unable to properly mix the master tapes; you know, like he was defeated dealing with Raw Power or something. Luckily, some modern whizz kid's managed to get his vacuum tubes in a row and finally finish the job, with the result being that this is one instant classic rock record that's more than worth waiting three and a half decades for! And speaking of classic rock concoctions...
SIZZLING PLATTER OF THE WEEK: Who Cares – "Out Of My Mind" b/w "Holy Water" (Armoury) :: At first I thought this was some kinda new Who single, but no such luck. Then I thought that mebbe it was some kinda Who tribute single that covered two songs I'd never heard before, but nuh-uh. Then I finally realized that I was beholding that rarest of beasts; a stubborn survivor from the last of a dying breed long thought extinct: a supergroup.
That's right, what we got here is a titanic team-up of such legendary luminaries as Ian Gillian, Tony Iommi, Jon Lord, and Jason Newsted. Now given that stellar starting line-up, it's pretty much a given that this ain't no run of the mill retro regurgitation. In fact, it sounds about as good as you'd expect it to—but the thing that really makes this classic rock reunion worth your while is Gillian's vocals, both of which are a certifiable hoot and a half.
On "Out Of My Mind" he does a fair to middling ululating David Bowie impersonation all the way through the song, except on the bridge when he opts to adopt an Ozzy Osbourne voice instead. But that's nothing compared to the uncanny channeling of Ian Anderson that Gillian does on "Holy Water." Indeed, were someone to pull a Juke Box Jury and tell you that what you were listening to was a previously unreleased Jethro Tull track, you'd be hard pressed to say nay. So go out and get it now—and make sure you stick around for the bonus videos and documentaries after you've stopped chortling.
Be seeing you!
Sat, June 2, 2018 | link
Saturday, May 26, 2018
JEFFREY MORGANíS MEDIA BLACKOUT #627
JEFFREY MORGAN'S MEDIA BLACKOUT #627.267!
Brainkiller – The Infiltration (Rare Noise) :: I got this one because the title reminded me of that old Andrew Dice Clay movie Brainsmasher—you know, the one directed by Albert "The Hawaiian" Pyun with a soundtrack featuring the Forbidden Pigs and Madelynn von Ritz—so I figured I was in for some kinda hellacious hellspew of sound that'd send me staggering into the middle of next week. Instead, I got this unexpected session of destorto jazzbo noir noodling that fuses trumpet and keys into a suitably squirrely hypothetical score for the second Mike Hammer movie that writer Mickey Spillane, regrettably, never got to star in.
Roy Rowland – The Girl Hunters (Colorama) :: And as we all know, Mickey Spillane is Mike Hammer. Happy 100th birthday, Mick!
Andrea Ramolo – The Shadows And The Cracks (Thorniac) :: Y'gotta love a woman who's got the temerity to start off an album by audaciously rhyming "Greece" with "philosophies" as Andrea does on "O Brother." The only problem being that, as equally adept as the rest of the album is, it never quite kinetically lives up to that initial harp-wailin' opening track. Granted, that's probably more my problem than it is hers; however it's obvious that Andrea's able to rock out any time she likes yet inexplicably deigns to say nay—and that's problematical.
Revis – "Save Our Souls" (NRG Artists) :: Classic guitar-wailin' power rock with a emblematic chorus that veers a little too close into generic angst rock territory for my liking. Still, it's anthemic enough to make the grade as a Class A fist-pumpin' BIC-flickin' concert staple.
The Postelles – The Postelles (+1) :: Pleasing power pop with an anchoring dash of de islands, mon—and that's just the first track. Delve deeper and you'll find a eleven more witnesses who're willing to testify to the wittiness these Postelles' deliver within.
CINEMATIC PLATTER OF THE WEEK: Daniel Jamison's Danjam Orchestra – Sudden Appearance (OA2) :: From Clint Eastwood's Sudden Impact to JCVD's Sudden Death, it's long been a proven scientific fact that anything with the word "Sudden" in its title is bound to be a bona fide hit—and this album is guaranteed to be no exception to that beholdin' rule even though this ain't no moving picture by a long shot. But it is a soundtrack of sorts in that your brain will be conjuring up an endless array of cinematic images nonetheless, thanks to the evocative assortment of selections that saxman Danjam's swingin' jazz band essays. From the frantic ten minute rain-soaked noir bop of "Alone Together" to the hepper than hip twelve minute title track to the sensitive and sensuously smooth take given the Charlie Chaplin standard "Smile" this is one album that'll be in heavy rotation on your turntable for weeks. Bonus points for admitting in your liner notes that you had the good taste to be inspired by Rob McConnell's legendary Boss Brass—because that's what this excellent album is in a word: Boss.
Be seeing you!
Sat, May 26, 2018 | link
Saturday, May 19, 2018
JEFFREY MORGANíS MEDIA BLACKOUT #626
JEFFREY MORGAN'S MEDIA BLACKOUT #626.266!
The Von Ehrics – Two Foot Stomp (Lucky Buck) :: From Von Iva and Von Dutch to Von Bodé and Von Halen, it's a well-known historical fact that the greatest rock 'n' roll bands in the world have always had a much-coveted "Von" in their names—and these here Von Ehrics ain't no exception to the grindhouse gruel 'cause their Texas-tough brand of guitar-driven block-brawlin' beats is cast iron certain to keep you on the edge of your teetering bar seat until you find yourself tipped over and suckin' sawdust. Points deducted for not getting Von Wood to give 'em some neck.
Rory Block – Shake 'Em On Down: A Tribute To Mississippi Fred McDowell (Stony Plain) :: Speaking of serious necking, you don't want to miss this new album by one of the world's premier country blues practitioners. As you might expect from someone who's been fingering frets since the early '60s and has over 25 albums to her credit, Rory does Fred justice but, even better, she's written her own excellent odes to the man—which is only fitting considering that she actually met Fred, just like she met Son House who she likewise lionized on an earlier album. Best of all, this living historian of the genre gets it done just by using her signature Martin and her signifying voice.
SIZZLING PLATTER OF THE WEEK: Bootsy Collins – The Funk Capitol Of The World (Mascot) :: I'll always consider bassman Bootsy's riotously inventive and utterly unorthodox synth-soaked funxperimental album Ultra Wave to be his ace masterpiece, but there's no denying that this new educational encapsulation of what's been going on in the hierarchy of hip is the first fresh fusion funk bomb of the decade. And although guest star appearances on an album are usually a sure-fire death-knell declaration of aesthetic bankruptcy, who could possibly argue with the delirious dream team that Casper's assembled; an all star selection so sonically stellar that even a partial accounting deserves to have a paragraph all its own:
Bobby Womack! George Clinton! Jimi Hendrix! Chuck D! Ice Cube! Snoop Dogg! Sheila E! Catfish Collins! Buckethead! Béla Fleck! plus over a dozen more, including the unlikely likes of Samuel L. Jackson (!) telling hometown tales on "After These Messages" and rapmeister Reverend Al Sharpton (!!) who—don't laugh—actually delivers the goods six ways from Sunday on the GFOS accolade "JB-Still The Man."
From the mortarboard dissertation "Hip Hop @ Funk U" that lives up to its name to the rock machination "Minds Under Construction" that picks up where Bootzilla's collaboration with Jeff Beck on "The House Of The Blue Danube" left off, this one's got it all—and there's only one thing you can say about the soulful make out music that ends the album, the likes of which haven't been heard since the sensuously smooth sound cracks waxed by the lubricous love firm of Hayes & White Incorporated:
A-well-a-ruh, that's alright!
Be seeing you!
Sat, May 19, 2018 | link
Saturday, May 12, 2018
JEFFREY MORGANíS MEDIA BLACKOUT #625
JEFFREY MORGAN'S MEDIA BLACKOUT #625.265!
The Rolling Stones – Stones In The Park (Grenada) :: This vintage television documentary on the Stones' free Hyde Park concert of July 1969 shoulda been called Their Stupidic Altamont Dress Rehearsal instead 'cause the band cooked up a Grade-A recipe for disaster: Schedule a free afternoon rock concert; garnish with a gargantuan crowd of stoned hippies; and liberally spice with security provided by everybody's favorite law-abiding enforcers, the Hells Angels. Then repeat five months later in America and slowly simmer all day until the whole lot suddenly boils over in the middle of the night and scalds everyone. Serves a quarter million.
So when the tough guy singer—funkily festooned in a frock no less—bellows out "ALLLLLLL RIGHT!" only to have the entire audience actually obey him and shut up, he clearly gains enough crowd control confidence to think that he can later likewise quell an irate Altamont audience...at two in the morning...while remaining blissfully oblivious to the fact that US Angels aren't twee like their UK counterparts. Serves him right.
Dado Moroni – Live In Beverly Hills (Resonance) :: Classic—in the truest sense of the word—jazz as played by a trio of hip hyper-proficient proponents. But what elevates this offering above the ordinary is the accompanying disc that visually documents the audio only disc. Hearing them is one thing, but actually seeing pianist Moroni, bassist Marco Panascia and traps master Pete Erskine interact on stage is another enlightening thing altogether.
John Entwistle – Smash Your Head Against The Wall (Decca) :: From its 'alkie artiste wearin' a transparent death mask whilst staring through a lung cancer x-ray' cover photo; to its affably inviting album title; to its 'mortality meets the devil' subject matter, this is the most downright cheerful downer album ever recorded. Aided and abetted by fellow Who inmate Keith Moon; Humble Pie's Jerry Shirley; Ruttle Neil Innes; and Dave "Cyrano" Langston—who I still think is Pete "The Beak" Townshend—this is one of the mellowest hard rock albums ever interred in wax.
SIZZLING PLATTER OF THE WEEK: Christine Jensen Jazz Orchestra Featuring Ingrid Jensen – Treelines (Justin Time) :: At first listen I was gonna tag this one as a smooth distillation of Miles' early excursions with Gil Evans, only to see in the liner notes that bandleader Jensen actually name checks Evans as being "an early influence and one of the coolest sound shapers in music history." Which should clue you in as to what these eight exceptional tracks sound like, the big difference being that there's an implicit aura of majesty present in these recordings that I don't always hear in some of those early Davis recordings; doubtless an inevitable result of the virtuoso playing by saxophonist Christine and trumpeter Ingrid, both of whom have done their jazz homework well and are equally adept at aesthetically applying what they've learned in a classic way that few are capable of attaining these days.
Be seeing you!
Sat, May 12, 2018 | link
Saturday, May 5, 2018
JEFFREY MORGANíS MEDIA BLACKOUT #624
JEFFREY MORGAN'S MEDIA BLACKOUT #624.264!
Duff McKagan's Loaded – The Taking (Armoury) :: Y'gotta love a legendary substance abuser who's got the temerity to have a band name like that and an album that contains song titles like "Cocaine" and "Follow Me To Hell" while staying true to his archetypal classic rock roots. Granted, it may not be nearly as much of a high-octane hoot to listen to as either Steve Stevens' Atomic Playboys or Vince Neil's Exposed still are, but considering that both of those albums were recorded decades ago in a much kindler and gentler world, it only makes sense that Duff's soberific new underTaking would more accurately reflect what's going on today.
Cycle Sluts From Hell – "Speed Queen" (Epic) :: Best hard rock song about a washing machine ever.
SIZZLING CONCEPT OF THE WEEK: Various Complainers – Complaints Choir (Smog Veil) :: I'll be the first to admit that I shoulda reviewed this one many moons ago—but you'd be late too if you hadda listen to three compact discs and watch a full-length DVD movie, which is exactly what this jam-packed package contains. Conceptually, it's the greatest naïve audiophonic idea since the dawn and demise of the late lamented Portsmouth Sinfonia. Musically, it's a travelling recorded road show that goes from continent to continent and captures the citizens of city after city as they record vast litanies of, you guessed it, everyday complaints, all put to music.
Amongst the stellar selections are those performed by the rhyming Memphis Complaints Choir ("I don't think I like your tone, please put your boss on the phone!"); the philosophical Singapore Complaints Choir ("What's not expressly permitted is prohibited!"); and the predictably merciless New York Complaints Choir ("Babies! There's a place for them! It's called Nebraska!"). With dozens of cities represented, you can rest assured that there's a gripe here for everyone, including you. And if you don't like it, you can form your own Complaints Choir!
Sparks – "Complaints" (Island) :: It's my department.
Portsmouth Sinfonia – The Portsmouth Sinfonia Plays The Popular Classics (Island) :: Exactly!
SIZZLING PLATTER OF THE WEEK: Dawn Richard – A Tell Tale Heart (mixtape) :: Wherein one of Dirty Money's dynamic Diddy divas delivers a fifteen track throwdown that'll throw you for a loop. We're talkin' bravura vocals backed by seamless synth-sweetened block-rockin' electro-techno-vocoder beats that sound as cutting edge today as the sonic squibs that the Bomb Squad was detonating back in the '80s—with a seductive side order of Malcolm McLaren's Zulu Nation libations and Prince's First Avenue antics to go. And when I say "bravura vocals" I'm not just whistling in Dixie because one listen to Dawn's astonishing aural a cappella acrobatics on "Superhero" will leave you literally slack-jawed in awe. Then, by the time she follows it up with the playful ramp rage calisthenics of "Runway" and the come-hither call of "Vibrate," you'll be recovered and ready to follow her anywhere—assuming, of course, that she'll let you.
Be seeing you!
Sat, May 5, 2018 | link
Saturday, April 28, 2018
JEFFREY MORGANíS MEDIA BLACKOUT #623
JEFFREY MORGAN'S MEDIA BLACKOUT #623.263!
Ralph Peterson's Unity Project – Outer Reaches (Onyx) :: Man oh man, does drummer Peterson ever have a treat in store for you! Although ostensibly a tonal homage to the organ and trumpet mastery of jazz greats Larry Young and Woody Shaw, Outer Reaches transcends the tribute tag by being an album for the ages that'll grow on you with each successive spin. Bonus points for ending with the seriously spiritual standard "We Three Kings" and the seriously spatial "Spectrum" by John McLaughlin.
Larry Young & Jimi Hendrix – "Young/Hendrix" (Reprise) :: They're still arguing whether this track off Nine To The Universe is "proof" that Hendrix would've gone jazzbo had he lived. Who knows, mebbe he woulda recorded a tribute album to Robert Johnson too!
Eric Clapton – Me And Mr. Johnson (Warner Bros.) :: Exactly!
SIZZLING PLATTER OF THE WEEK: Ben Waters – Boogie 4 Stu: A Tribute To Ian Stewart (Eagle) :: As you can see, tribute albums are a dime a dozen these days and most of them only make you wanna ditch the disc you're playing and listen to the original artist instead...but not this one! That's because this tribute to the Rolling Stones' late lamented co-founder and ace ivory tickler is not only a more than worthy heartfelt tip o'the hat to the man, it's an exemplary exercise in the kind of countrified boogie blues rock that Stu excelled in playing all his life.
You've heard Stu if you own any Rolling Stones album recorded prior to 1985 and you might have actually seen him play if you ever attended a Stones concert prior to 1982. But if those credentials aren't heavy enough for ya, lemme hasten to add that he also played on Led Zeppelin's archetypal track "Rock And Roll" and was actually name-checked by the band on "Boogie With Stu," which explains where this album's title came from.
Enter keyboardist Waters who used to play with Stewart and who, charmingly more by accident than design, stumbled up the perfect group of musicians to help him record his rockin' requiem: The Rolling Stones. That's right, for the first time in a decade, you can hear Mick Jagger (vocals and harp); Keith Richards (guitar and vocals); Ronnie Wood (guitar and vocals); Bill Wyman (bass); and Charlie Watts (drums) playing together on an album, aided and abetted by the likes of Jools Holland (keyboards and vocals), P.J. Harvey (vocals and sax); and a dozen and a half other equally excelling musicians—including none other than Ian Stewart himself!
Sauté with a Glyn Johns mix and garnish with an album cover specially painted for the occasion by legendary artist and designer Peter Blake and you've got an eleven track triumph that's about as polar opposite from Jamming With Edward! as you can possibly get. Besides, aren't you the least bit intrigued as to what a Rolling Stones version of Dylan's "Watching The River Flow" sounds like? I thought you might.
Be seeing you!
Sat, April 28, 2018 | link
Saturday, April 21, 2018
JEFFREY MORGANíS MEDIA BLACKOUT #622
JEFFREY MORGAN'S MEDIA BLACKOUT #622.262!
Oh Susanna – Soon The Birds (Outside Music) :: Ain't nothin' I like to do more on a gloomy day than listen to a large-lunged songstress with the ethereal voice of an angel casually croon lines like: "Black is the color of your dark, dark soul" and "They've come much too late for by rope I am hanged" and "Your wretched face you cannot scour" and... Hold on, I think the pilot light on my gas oven is out; lemme go light a match and look.
Diamanda Galás – "Wild Women With Steak-Knives: The Homicidal Love Song For Solo Scream" (Mute) :: Exactly!
Martha's Trouble – Anchor Tattoo (Aisling) :: It's not often I hear an album that's an authentic joy to listen to, but I'll be gosh darned if this isn't one of them. Not only is the uplifting music refreshingly bright and poppy, but Jen Slocumb's distinctively charming vocals shine through with a bright light of their own that perfectly compliments the proceedings. Best of all, the insightfully inspiring lyrics won't let you down when you require a much-needed lift.
True Widow – As High As The Highest Heavens And From The Center To The Circumference Of The Hearth (Kemado) :: As if getting the "Longest Album Title Of The Year" award wasn't enough, True Widow have managed to build on that impressive accolade by creating the most disconcerting disc of the year to date. The ponderous melancholy music is a heavier than heavy dirty destorto cross between Leigh Stephen's Blue Cheer and Jimmy Page's Led Zeppelin—impressive, I know—while the echoey female vocals sound like Nico auditioning for Portishead and the echoey male vocals sound like Lou Reed auditioning for Nirvana—addictive, I know. And when they both duet...
SIZZLING PLATTER OF THE WEEK: Gangpol & Mit – The 1000 Softcore Tourist People Club (Ipecac) :: I've got a good mind to join this club and beat myself over the head with it because this is nothing less than the craziest retroactive synthesizer album you're likely to hear this year. You'll turn on to its classic primitive Telex pedigree! You'll tune in to its even cooler Casio meets ARP aesthetic! You'll drop out to its Tull meets Crimson prog rock passages! Then you'll awaken to its eerie Walter Carlos lounge lizard Theremin vibe and anxiously ask yourself that timeless musical question: Well, how did I get here?
Timothy Leary – You Can Be Anyone This Time Around (Douglas) :: I bet you wish you'd recorded an acid rap album with Jimi Hendrix, Buddy Miles, Steven Stills, and John Sebastian!
Mark Farner – Grand Funk: Live Album (Capitol) :: "Hey, I keep getting shocks off this mic, can you switch the ground around? I know it's a hell of a rush but I can't take too many!"
Be seeing you!
Sat, April 21, 2018 | link
Friday, April 20, 2018
JEFFREY MORGANíS ROCK íNí ROLL PHOTOGRAPHS

JEFFREY MORGAN'S ROCK 'N' ROLL PHOTOGRAPHS

While you're visiting, don't forget to view the dozens of essential selections from my vast archive of hundreds of extremely rare and previously unseen rock 'n' roll photographs from the 1970s and 1980s—all of which were taken by myself from my front row center seat at various venerable venues; vintage historical portraits which include the following rock stars caught in their youthful prime:

David Bowie (1976 Station To Station tour) :: Lou Reed (1974 Sally Can't Dance tour) :: Iggy Pop (1977 The Idiot tour) :: Bob Dylan (1978 Street Legal tour) :: George Harrison (1974 Dark Horse tour) :: Paul McCartney (1976 Wings Over America tour) :: Pete Townshend (1976 The Who By Numbers tour) :: Johnny Winter (1976 Captured Live! tour) :: Jeff Beck (1975 Blow By Blow tour) :: KISS (1977 Love Gun tour) :: Alice Cooper (1975 Welcome To My Nightmare tour) :: Freddie Mercury (1977 News Of The World tour) :: Amanda Lear (1975 Sweet Revenge tour) :: Rod Stewart (1977 Foot Loose & Fancy Free tour) :: Mick Jagger (1975 It's Only Rock 'n Roll tour) :: New York Dolls (1975 Tokyo Dolls Live tour) :: Keith Richards (1975 It's Only Rock 'n Roll tour) :: Ian Hunter (1989 YUI Orta tour) :: Elton John (1974 Caribou tour) :: Mick Ronson (1989 YUI Orta tour) :: Steven Tyler (1977 Draw The Line tour) :: Sparks (1975 Indiscreet tour) :: James Brown (1986 Gravity tour) :: Miles Davis (1985 You're Under Arrest tour) :: Roger Daltrey (1976 The Who By Numbers tour) :: Bruce Springsteen & Clarence Clemons (1975 Born To Run tour) :: John Entwistle (1976 The Who By Numbers tour) :: Keith Moon (1976 The Who By Numbers tour) :: The Who (1976 The Who By Numbers tour) :: and more!

Ask any dealer and he'll tell you that the best way to get someone hooked on your product is to give them a free sample, so here's just a small taste of what's coming your way when you click on the eleven gallery links to your left: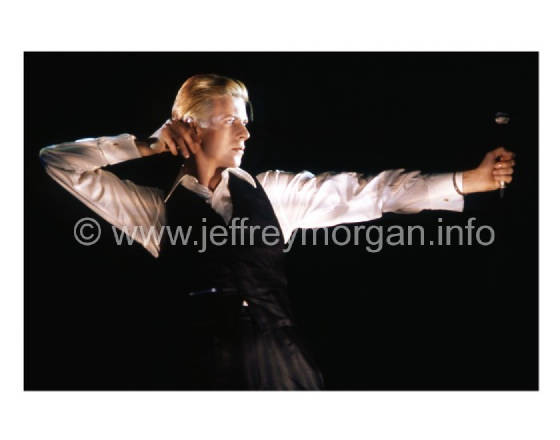 Fri, April 20, 2018 | link
Saturday, April 14, 2018
JEFFREY MORGANíS MEDIA BLACKOUT #621
JEFFREY MORGAN'S MEDIA BLACKOUT #621.261!
Pushking – The World As We Love It: A Rock And Roll Journey (Armoury) :: Y'know, I gotta be honest with ya when I tell ya that at first listen I didn't have the faintest idea what this was supposed to be until heard between the lines and subsequently sussed out that these here Pushkings are a long-time Russkie rock band who decided to celebrate their comrade accomplishments by getting a buncha bona fide rock stars to help them re-record their songs—which wouldn't be no big deal except for the fact that they actually did manage to recruit an all-star roster that includes the likes of Alice Cooper, Paul Stanley, Billy Gibbons, Glenn Hughes, Steve Vai, Steve Stevens, and Dan McCafferty, amongst others. The end result sounds like nothing less than some kinda inadvertent over-wrought progressive rock album the likes of which puts lesser wheezes to shame.
Zodiac Mindwarp And The Love Reaction – Tattooed Beat Messiah (Mercury) :: These days he's probably known only for co-writing Alice Cooper's "Feed My Frankenstein" on Alice Cooper's 1991 album Hey Stoopid, but this long player from three years earlier shows you in part why Zodiac Mindwarp got that gig. Imagine if you will—if you can—a seriously unhinged hybrid between the booze-bathed shamanism of Jim Morrison; the hook-laden pop of Marc Bolan; the sex-obsessed lyrics of Ted Nugent; the guitar-powered rock of Van Halen; plus the sleaze-sodden style of Lemmy Kilmister, and you might have an idea of what Tattooed Beat Messiah sounds like. If not, then perhaps song titles like "Skull Spark Joker" and "Spasm Gang" and "Holy Gasoline" will do the trick 'cause Zodiac makes Zombie sound like Zsa Zsa.
Stratovarius – Elysium (Armoury) :: Hey, you can trust me when I tell you that nothing says prog rock better this year than the eighteen minute title track that concludes this aurally adventurous album from Finland. From archetypal soaring vocals to prototypical dexterous guitars and synths, this one's got pretty much everything that you'd want to hear, y'hear?
SIZZLING PLATTER OF THE WEEK: Obscura – Omnivium (Relapse) :: This album is your absolute worst nightmare come true—and I mean that in nicest possible way. The ominous Giger's Alien meets Lovecraft's Cthulhu front cover and attached booklet just reek of high production values, from the multiple foldouts to the enameled spot printing on every page. In fact, it's such a much welcomed dose of visual relief in this day and age of aesthetic bankruptcy that artist and designer Orion Landau deserves to win a slew of awards for his work, which looks like nothing less than Roger Dean on a very bad trip. As for the music, it's a technically adept blend of growling progressive death metal speed thrash that takes the Metallica template best exemplified on Master Of Puppets and then exponentially ups the ante by injecting itself into a radically hyper-proficient realm that's actually sonically intimidating.
Be seeing you!
Sat, April 14, 2018 | link