Saturday, May 15, 2021
JEFFREY MORGANíS MEDIA BLACKOUT #783
JEFFREY MORGAN'S MEDIA BLACKOUT #783.522.151!
The Cinematics - A Strange Education (TVT) :: For torching a Remington typewriter on the front cover, they get an E. But if it's only a Photoshop fire, then they get an F for fake.
Big Business - Here Come The Waterworks (Hydra Head) :: Led Zeppelin crashes into Black Sabbath. Oh, the inhumanity!
Eno - Here Come The Warm Jets (Island) :: Waterworks, geddit?
Deaf School - "Golden Showers" (Warner Bros.) :: Warm jets, geddit?
The Stranglers - "Golden Brown" (EMI) :: Ewwww, fergeddit.
Saosin - Saosin (Capitol) :: Memo to muggers: These whiny pushovers have VICTIM written all over them.
Wintersleep - Wintersleep (Labwork) :: So do these guyzzzzz.
The Cicadas - The Cicadas (Roble Rot) :: Huey Lewis goes country!
Sara Wendt - Weightless With Love (City Canyons) :: Buddhist rock is the Next Big Thing, so get on board before this llama leaves the Potala. Perfect listening for reading T. Lobsang Rampa or watching Lost Horizon.
Beatnik Beatch - Beatnik Beatch (Noble Rot) :: If you collect album covers with midgets on them, then this reissue's for you.
D.O.A. - Bloodied But Unbowed (Sudden Death) :: One of their songwriting credits is: "Vancouver Punk Trad." They wish.
Snatches Of Pink - Love Is Dead (8th House) :: Raucously rawer than the Stones on smack but too pussy to call themselves Pink Snatch.
The Rolling Stones - "Torn and Frayed" (Rolling Stones) :: Ever notice how the singer breaks up and laughs between the words "kick" and "it"?
Walter Carlos - Switched On Bach (Columbia) :: Say, whatever happened to seminal synthesizer pioneer Walter Carlos? I haven't seen his name on an album in decades.
SIZZLING ROCK GODDESS OF ANY CENTURY: Grace Slick - Period (Grunt) :: "White Rabbit." "rejoyce." "Two Heads." "Lather." "Bear Melt." "Hey Fredrick." "Eskimo Blue Day." "Mexico." "Law Man." She's the undisputed all-time greatest female singer-songwriter in the entire history of rock 'n' roll. And although it's true that she never recorded an album called Period, after waxing her Manhole, she sure should've.
Orson Welles - F For Fake (Elmyr de Hory) :: Geddit?
Be seeing you!
Sat, May 15, 2021 | link
Saturday, May 8, 2021
JEFFREY MORGANíS MEDIA BLACKOUT #782
JEFFREY MORGAN'S MEDIA BLACKOUT #782.521.149!
Jethro Tull - Tullicatessen (Chrysalis) :: Includes the hit single "Schwarma For One."
Demander - The Unkindness Of Ravens (self released) :: Wherein Karen Kanan Corrêa shows she has her Siouxie Sioux shtick down cold.
Mark Davis - Part One: Don't You Think We Should Be Closer? & Part Two: Mistakes I Meant To Make (self-released) :: I'd really like to say that this guy's the prolifically inventive multi-instrumentalist Todd Rundgren of country music, but I just can't. He does get an A for ambition, though.
Belinda Bruce & The Tawny Stars - The Good Life (self released) :: Capable country cuts that're elevated by the seven-minute-long "Blackout," which invents an entire new genre: ambient country art rock.
The First Time - Taking Breaking Down (Frontline) :: Snappy snarlin' songs with a proto-punk pop pedigree.
The Holloways - So This is Great Britain? (TVT) :: I bought The Clash's London Calling. The Clash's London Calling is in my record collection. Holloways, you're no London Calling.
Johnny Irion - Ex Tempore (Rising Son) :: I've heard Neil Young ape jobs, but the quavering vocal inflections on this stellar swipe-job are uncannily eerie, right down to the sparse After The Harvest musicianship. And your point is?
Tia Carrera - Heaven/Hell (Arclight) :: These clods steal Yes' classic song "Starship Trooper" and then rename it as their own composition, thinking that no one will notice. Well, I notice everything-and I hope Chris Squire sues their sorry, thieving asses off.
SIZZLING PLATTER OF THE WEEK: Kate Mann - Devil's Rope (Orange Dress) :: Kate's got a back tat that's the size of Oregon and a voice that's twice as big. Armed with a guitar and harp, she cranks out a chicken-wired wall of country rock that'll have your toes tappin' while you watch out for flying beer bottles.
Frank Zappa, Dolly Parton & Lou Reed - Mother, Jugs & Speed (Bizarre) :: Includes the hit single "I'm Waiting For My Mammary."
Be seeing you!
Sat, May 8, 2021 | link
Saturday, May 1, 2021
JEFFREY MORGANíS MEDIA BLACKOUT #781
JEFFREY MORGAN'S MEDIA BLACKOUT #781.520.148!
SIZZLING PLATTER OF THE WEEK: Lisa Lashes - Lisa Lashes (Lashed) :: To the uninitiated listener, most DJ mixes are nothing but inorganic 200 beat per minute ordeals of repetitious headache-inducing noise. But as a veteran disco aficionado and long time dissonance connoisseur who habitually uses Dr. Reed's Metal Machine Music to get rid of a headache, I know the difference between debilitating and therapeutic-which is why I'm qualified to tell you that, when it comes to prescribing the right overdose of medication, nobody fills a better sonic script than this veteran UK practitioner.
Lisa Lashes is the greatest DJ in the world because she knows that the true hardcore addict will settle for nothing less than an unrelenting big beat treatment that's been specifically engineered to make synapses spasm until they rewire themselves into crazy new configurations.
On previous direct injection diagnoses like Hard House Euphoria and Lashed Euphoria, she raised the brutality bar to an irrationally high level of unabated aural aggression. But as bludgeoning as those earlier lease-breakers were, they don't hold a decibel to the massive mainline which is her debut solo disc Lisa Lashes.
Just like the lady herself, this 77-minute marathon is super-stacked with 12 vicious vein melters, all of which are guaranteed to fry your nervous system to a smoldering crisp. Astutely avoiding the beat deficient ballads which have deep-sixed many a mediocre mix, Lisa immediately strips down to the Real O Grind and lets loose with a seriously shredded soundtrack of stereo smack that'll have you crawling across the floor for more-assuming you can still move after being pummeled into a pulp by tracks like "Red Admiral," her penultimate pulse-pounding speed freak rave-up with longtime Tidy Girl cohort Anne Savage.
The new-fangled future of hyper-heavy houserockin' hardcore is still here and her name remains the same so you know who to blame when your brain goes insane from the pleasurable pain.
Lisa Lashes rules, OK?
Be seeing you!
Sat, May 1, 2021 | link
Saturday, April 24, 2021
JEFFREY MORGANíS MEDIA BLACKOUT #780
JEFFREY MORGAN'S MEDIA BLACKOUT #780.519.314!
SIZZLING PLATTERS OF THE WEEK: Prince - The Work: 1976-2000 (Thunderball) :: This guy once put out an album called Musicology-an egghead handle with an edifying air to it that conjured up visions of Professor Prince holding class in his best zoot suited Cab Calloway mortarboard attire. But if you want a real musical history lesson in what Prince is up to every night while the rest of the world is sleeping, then I strongly suggest that you seek out a copy of this definitive 20 disc set.
That's right, spanning a quarter of a century, this astonishing set contains a whopping 20 discs of unreleased studio demos and outtakes. That's a grand total of 331 tracks, all presented in strict chronological order. Amazingly, there are no false starts, no incomplete songs, and no duplications with any officially released Prince albums or extended singles.
With each individual disc clocking in at a full eighty minutes in length, that's over 24 hours worth of music. And for those of you who would like an old school conversion, we're talking the equivalent of 40 full-length vinyl records, or 80 album sides. This mammoth monolith makes Keith Jarrett's original vinyl ten record Sun Bear Concerts box set look like a one-sided Ramones single.
And although some of these tracks have been available on various individual bootlegs for decades, more often than not their muffled tenth-generation sound quality was so inferior as to be almost unlistenable-but not this time around. As might be expected from a major undertaking like this, the sound is uniformly of a high studio quality.
Not only are we privy to outtakes and demos from all of Prince's own albums, we're also treated to an extensive array of unreleased songs from virtually every artist Prince has worked with over the years, from The Time and The Family to Jill Jones and Carmen Electra-including tracks from completed follow up albums which were never released. Indeed, after listening to all the myriad variations presented herein, it's not unreasonable to think that Prince routinely assembles several completely different versions of each album before he releases it.
Some of the stellar selections contained on The Work include: The original demo for The Time's "Chocolate" wherein Prince shows where Morris Day's 'ad libbed' conceited shtick really comes from, including his "Yessssss" catchphrase; the full unedited 12 minute version of "Computer Blue" that restores the missing six and a half minutes which were cut from the end of the version that's on Purple Rain; and a marathon 30 minute studio version of "I Would Die For You" that served as the arrangement template for Prince's live television version.
Folks, that's only three selections from the first three discs, so you can just imagine what's waiting for you on the remaining 17. In other words, school's in session, so you'd better take notes because there's going to be a final exam-and knowing Professor Prince, it'll be oral.
Be seeing you!
Sat, April 24, 2021 | link
Saturday, April 17, 2021
JEFFREY MORGANíS MEDIA BLACKOUT #779
JEFFREY MORGAN'S MEDIA BLACKOUT #779.518.146!
Testa Rosa - Testa Rosa (Latest Flame) :: If I could crank out thunder crunge like this FMM trio does on the way-too-brief "Hollow Arm," I'd lay off the wispy Melanie melodies and record an album full of similar sonic enlargers.
Melanie & The Dominoes - Brand New Key To The Highway (Polydor) :: Donovan used Led Zeppelin and the Jeff Beck Group as his backing band, so don't laugh.
Valerian - Guerilla Fighting Method (City Canyons) :: I'm not saying that someone should drop these camouflage-clad sissies into a real war zone and see how long they last, I'm typing it.
Oxbow - The Narcotic Story (Hydra Head) :: Just say blow.
Brothers Of A Feather Featuring Chris & Rich Robinson - Live At The Roxy (Eagle Rock) :: The Black Crowes sure do got their Blind Lemon Gumball voices down cold, they sho 'nuff do.
The Undesirables - Doghouse Dreams (self-released) :: Even better, spin this acoustic set from a group that-unlike the Robinsons-doesn't feel the need to imitate dead Delta bloozemen. Plus, they write better songs.
Zonaria - Infamy And The Breed (Pivotal) :: And in the deaf, as the last few eardrums lay bleeding in the slimy headphones, black mutant metal shrieked out from Screamo City, some more schlemiels. Swedes the size of rats sucked.
SIZZLING PLATTERS OF THE WEEK: Robyn Hitchcock - Storefront Hitchcock and Jewels For Sophia (Noble Rot) :: Don't miss these reissues from one of rock's most oddball auteurs. Storefront is a sparse live set that alternates Francis Bacon monologues with time travelogues like "1974" while Jewels is a full-band blast that features "Viva! Sea-Tac" with its immortal lines: "People flock like cattle to Seattle after Kurt Cobain. They got the best computers, coffee and smack."
Goot heave-nink!
Sat, April 17, 2021 | link
Saturday, April 10, 2021
JEFFREY MORGANíS MEDIA BLACKOUT #778
JEFFREY MORGAN'S MEDIA BLACKOUT #778.517.145!
Leo - Nightmares (Dream Makers) :: Welcome to their Nightmares, I think you're gonna like it. I think you're gonna feel like listening to this angst-riddled album.
The Future Kings Of Nowhere - The Future Kings Of Nowhere (307 Knox) :: Just like the Kingston Trio, only faster and bloodier.
Shuyler Jansen - Today's Remains (Black Hen) :: Finally, a country album that cuts through the current commercial crapola and digs deep to mine the core of quality workmanship.
Bedouin Soundclash - Street Gospels (Side One Dummy) :: Street garbage that makes me lift my leg and do the pissant shuffle.
Eve To Adam - Queens To Eden (KDS) :: Track one is a banal blooper about popping pills. Track two is a pooped popped-up power ballad. The result is an easy double play that retires the side and leaves the rest of the album stranded in the on-deck circle.
Heavy Trash - Going Way Out With Heavy Trash (Yep Roc) :: Jerry Lee Lewis soaks the Cramps with spo-dee-o-dee wine and gives them a butane flame job. Mucho recommendo.
Caribou - Andorra (Merge) :: Ethereal electronics which soar like a hot air balloon escaping from a Fripp & Eno prisoner of pop camp.
Mister Mann - December Looms (self-released) :: A guy who looks like Willem Dafoe and sings: "I become the rapist from your past." What are the odds?
SIZZLING SNATCH PLATTER OF THE WEEK: Gore Gore Girls - Get The Gore (Bloodshot) :: Not since the recently reunited Cycle Sluts From Hell has there been such primo pseudo-primitive, boob-bouncin', ball-bashin', power-pop that's more Funicello than a squirtin' spread-eagled beach blanket quim quench and tuffer than Tura Satana layin' a patch over your chewed-off and spat-out knob.
Be seeing you!
Sat, April 10, 2021 | link
Saturday, April 3, 2021
JEFFREY MORGANíS MEDIA BLACKOUT #777
JEFFREY MORGAN'S MEDIA BLACKOUT #777.516.144!
Isaac Hayes - Live At Montreux 2005 (Eagle Vision) :: Wherein a soporific Black Snoozus ponderously pontificates through his greatest hits. Bonus points for finally coming alive to conduct the synthesized orchestra on an extended version of "Shaft." Points deducted for not having the testicular fortitude to encore with "Chocolate Salty Balls."
Mahavishnu Orchestra - Live At Montreux 1974 (Eagle Vision) :: A year after recording the seminal Birds Of Fire album, John McLaughlin played Montreux with a new lineup that included Jean-Luc Ponty and Narada Michael Walden. Picking up where the live-in-Central Park album Between Nothingness And Eternity left off, this rare archival footage is essential viewing for any Mahafusion fan.
Asia - Fantasia: Live In Tokyo (Eagle Vision) :: Any band that can lay claim to playing authentic versions of "Roundabout" (Steve Howe), "Fanfare For The Common Man" (Carl Palmer), "In The Court Of The Crimson King" (John Wetton) and "Video Killed The Radio Star" (Geoff Downes) all in one concert is worthy of your admiration, however begrudgingly.
Al Di Meola - Speak A Volcano: Return To Electric Guitar (MVD Video) :: As close to intuitive musical Zen as you can possibly get, the sheer effortless fluidity of Di Meola's playing is positively breathtaking. Bonus points for including a video guitar clinic.
Various Artists - Dear Mr. Fantasy: A Celebration For Jim Capaldi (Eagle Vision) :: Am I the only one who thinks that the drearily dull "Dear Mr. Fantasy" is the most overrated rock song ever? After watching these well-meaning geezers dodder around the stage for two hours, I guess I am.
SIZZLING PLATTER OF THE WEEK: Marvin Gaye - Greatest Hits Live In '76 (Eagle Vision) :: Wearing a striped slime green barbershop quartet outfit that has to be seen to be believed-sunglasses not included-our bow-tied man in Amsterdam rips through a whopping 24 songs in a Ramones-worthy 51 minutes flat. Hey, if I wore a fey-glo leprechaun suit like that, I'd wanna get off the stage as fast as I could too.
Be seeing you!
Sat, April 3, 2021 | link
Saturday, March 27, 2021
JEFFREY MORGANíS MEDIA BLACKOUT #776
JEFFREY MORGAN'S MEDIA BLACKOUT #776.515.143!
Bootsy - Ultra Wave (Collectors' Choice) :: CC-that's Collector's Choice not Chocolate City-has just reissued four vintage albums by everybody's funniest P-Funkster. But this sly "Made in Detroit" slinkfest is the one I bought first. Aided and ably abetted by brother Catfish Collins and the legendary Horny Horns of James Brown veterans Fred Wesley and Maceo Parker, Bootzilla stomps hisself silly all over songs like "Mug Push" and "Sound Crack" until the sonic landscape is reduced to riotous rubble.
Yes - Live At Montreux 2003 (Eagle Records) :: Granted, this may not be the ferocious metal monster that Yessongs is, but given that it's performed by the self-same lineup of Anderson, Howe, Squire, Wakeman, and White exactly 30 years later, it's definitely the next best thing.
Rick Wakeman & The New English Rock Ensemble - Out Of The Blue (MVD Audio) :: Meanwhile, this live Argentinean recording from 2001 is worth owning just for the marathon reworkings of "Starship Trooper" and "Catherine Parr."
The Sojourners - Hold On (Black Hen) :: Radiating a purifying white light, this is spiritual three-part harmony gospel music at its redemptive finest.
The Black Swans - Change! (La Société Expéditionnaire) :: Louie Reed meets Lenny Cohen. T-t-turn and face deranged.
Slave To The Squarewave - Big Change (Sparks) :: Skinny tie retro syntho that smacks of the '80s in blow-snortin' way-which is why they're dopey enough to steal one of their song titles and lyrics wholesale from "The Jean Genie."
SIZZLING PLATTER OF THE WEEK: Oblivion Sun - Oblivion Sun (MVD Audio) :: Finally, a band that knows how to forge Moog-fueled prog-rock just like the masters used to melt. Shades of Phil Manzanera's similarly-titled Quiet Sun collide with fragments from Stomu Yamashta's Go with a bit of early Genesis and ethereal Jade Warrior thrown in for good groovy Mahavishnu measure-and it's about time, it's about space.
Be seeing you!
Sat, March 27, 2021 | link
Saturday, March 20, 2021
JEFFREY MORGANíS MEDIA BLACKOUT #775
JEFFREY MORGAN'S MEDIA BLACKOUT #775.514.142!
Johnny Thunders - Who's Been Talking? (MVD Visual DVD) :: Recorded a few days before El Thunderoso died in April 1991, this Japanese gig is a joyous energetic romp, admirably augmented by the big Amazonian lungs of super-stacked platinum blonde chantoozie Alison Gordy. Better than any smarmy stew Buster JoHasbeen ever served up, this excellent appearance cooks from start to finish just L.A.M.F. should.
Deep Purple - In Concert With The London Symphony Orchestra (Eagle Vision DVD) :: The inevitable last word in orchestral rock concerts comes when Ian Gillian and Ronnie James Dio rip into "Smoke On The Water" and the band plays so loud that you can't hear the 100 piece orchestra behind them! Now that's entertainment.
Tim Buckley - My Fleeting House (MVD Visual DVD) :: From his early 1967 gig on The Monkees to rare European television and live footage in 1974 just before he died, this Buckley mixture is the definitive documentary for those loyalists who still revere his unique brand of musical eclecticism. I'm not one of them, but then again, I never thought Robert Johnson was any great shakes, either. Of course, I was wrong.
Paul Rodgers - Live In Glasgow (Eagle Vision DVD) :: The lead singer of Queen wants to break free-and does! You gotta give the guy credit for not performing any Queen numbers, opting instead to cover more obscure traditional blues numbers like "All Right Now" and "Can't Get Enough" in chest-thumpin' versions that make his Queen songs sound positively fey by comparison.
SIZZLING PLATTER OF THE WEEK: Harptallica - Harptallica (self released) :: If you thought that Apocalyptica's album of four cello versions was the last word in Metallica covers, then you ain't heard what Patricia Klein and Ashley Toman can do with just a couple of harps. By extracting the chilling core of Metallica's music, these women have come up with the most eerily haunting harp album you'll hear this year. Even better, they're two pretty hot babes!
Harpo Marx - Harpo In Hi-Fi (Mercury) :: Hush little baby, don't say a word.
Be seeing you!
Sat, March 20, 2021 | link
Saturday, March 13, 2021
JEFFREY MORGANíS MEDIA BLACKOUT #774
JEFFREY MORGAN'S MEDIA BLACKOUT #774.513.141!
Grant Morrison & Frank Quitely - All-Star Superman (DC Comics) :: After 70 long years, you'd think that every possible Superman story angle had already been done to death, but you'd be dead wrong. Defying all odds and exceeding all expectations comes this refreshing new take on the world's greatest superhero. Consistently entertaining with inventive writing and art that eerily evokes Tanino Liberatore's wonky work on RanXerox, this is one comic that truly is of "All-Star" caliber.
Nicole Willis & The Soul Investigators - Keep Reachin' Up (Light In The Attic) :: Despite being recorded in Helsinki of all places, this compilation sounds as if it came straight outta mid-'70s Philly. Far from being your usual retro Blaxplo, Nicole Willis and her Finlandia funksters don't just tap into the essence of urban Afrocentricity. They mine a deep-grooved authenticity that can't be faked. Even her album cover strikes the correct cool vibe; look it up for yourself and see if I'm not right. Then take it from me that the sounds within do that graphic gem justice.
Queen V - Death Or Glory (Royal Noise) :: Queen V is the raunchy new Wendy O. Williams of rock 'n' roll. Just like WOW, this snarlin' guttersnipe has a primo Plasmatics attitude and, even better, she does her own duet with Lord Lemmy, aka King Kilmister. Bow down, bow down to the Queen. The Queen of Queens. There is only one.
SIZZLING PLATTER OF THE WEEK: Betty Davis - Betty Davis (Light In The Attic) :: Try not to pass out 'cause this Betty Davis reissue is the hottest 'n' horniest, ruffest 'n' tuffest, funkiest 'n' freakiest, sweatiest 'n' sexiest female debut album ever recorded (in 1973, to be exact), period. From the sassy streetwalkin' national anthem "If I'm In Luck I Might Get Picked Up" to the hussy-hissin' late-night catfight "Your Man My Man," Betty's bold spread-eagled style is so brazen, it makes her late ex-hubby Miles' brand of hardcore fusion sound like castrated folk music. And you wonder why Miles lost his voice.
Be seeing you!
Sat, March 13, 2021 | link
Saturday, March 6, 2021
JEFFREY MORGANíS MEDIA BLACKOUT #773
JEFFREY MORGAN'S MEDIA BLACKOUT #773.512.140!
SIZZLING SOUNDTRACK OF THE WEEK: James Hyman - A Quentin Tarantino Mash-Up :: (A James Hyman/Audio Shrapnel Feature Presentation) :: So you all will know the seriousness of my warning, I shall say this in English. James Hyman, a highly respected UK tube 'n' flick music industry veteran and dizzbusting Saturday night radio DJ on London's XFM, has skillfully stitched together an extraordinary audiologue that effectively encapsulates the stylistic offbeat essence of multifaceted movies like Pulp Fiction and Kill Bill.
That's because James Hyman's A Quentin Tarantino Mash-Up is an absolute bona fide bravura masterpiece that doesn't drop the beat once, all right? Clocking in at an extensively exhaustive 78 minutes, this gargantuan-I've always liked that word-55 track epic not only features music and dialogue from QT's first four movies, it also includes vital spoken word passages from rarely heard promo-only albums like Truth And Fiction. Toss in an astute selection of other inspirational like-minded songs that QT never used in any of his films-but sure wishes he had-and you'll know why Tarantino himself gave this marathon magnum opus his certified cool Red Apple seal of approval once he heard it.
After all, where else can you hear the Beatles backing Elvis Presley or Missy Elliott doing a duet with Steelers Wheel or Britney Spears joining the stacked cast of Girls Who Love Guns or QT himself singing "My Sharona" with the Knack after competing in a rap throwdown with Andre 3000-all masterfully mixed into one seamless thematically linked soundscape?
This must-have album is essential listening because it's the only QT LP you'll ever need. Unfortunately, just like a Hattori Hanzo sword, A Quentin Tarantino Mash-Up is priceless and not for sale-not even in El Paso. But go to jameshyman.com anyway and see if you can buy one-no matter what the cost-because this unrelenting aural canvas of carnage 'n' comedy proves that James Hyman is the all-time undisputed modern master of the mash-up, all right?
Be seeing you!
Sat, March 6, 2021 | link
Saturday, February 27, 2021
JEFFREY MORGANíS MEDIA BLACKOUT #772
JEFFREY MORGAN'S MEDIA BLACKOUT #772.511.139!
Brian Azzarello & Eduardo Risso & Patricia Mulvihill - 100 Bullets, Volume 11 (Vertigo) :: The greatest full-color crime comic ever is back with a gritty new 200-page collection that's stuffed full of unbridled menace and unrepentant mayhem. If you haven't experienced this elegantly seedy modern masterpiece of rampant recidivism yet, then it's definitely time to get your hands wet because 100 Bullets is the textbook definition of what a contemporary crime comic should be. So, don't be a lollygagging sap waiting for someone to make it into a flick, go out and buy it now. It'll be the best 16 bucks you spend this week.
SIZZLING PLATTER OF THE WEEK: Ted Nugent - Love Grenade (Eagle Rock) :: If you missed Ted's last couple of albums, don't worry 'cause you didn't miss much. Both Spirit Of The Wild and Craveman were half-assed instant delete bin efforts that feebly marked musical time before a bored Ted rightly retired from the studio to hunt and star in his own ferality TV show.
But just in case you missed it the first time around, a refreshed Ted is back with his best start-to-finish solo album since he recorded Ted Nugent over 30 years ago. It's so good that his 40th anniversary remake of "Journey To The Center Of The Mind" is actually the album's weakest track. In fact, the only way Ted could've improved Love Grenade is if he'd hired Derek St. Holmes to sing half the songs.
Sure, the record's one long lascivious leer, but don't ask Ted to return to the days when he used to write socially conscious songs like "Pony Express." I did once and Ted hauled off and slugged me in the shoulder.
Just make sure that the copy you buy has the real sizzling platter on the front. That'd be the album cover with the photo of a naked woman. With her wrists tied behind her back. Doubled over and kneeling on a large cooking platter. Garnished with vegetables. With a hand grenade shoved in her mouth.
You can't Ms. it.
Be seeing you!
Sat, February 27, 2021 | link
Friday, February 26, 2021
JEFFREY MORGANíS ROCK íNí ROLL PHOTOGRAPHS
JEFFREY MORGAN'S ROCK 'N' ROLL PHOTOGRAPHS

While you're visiting, don't forget to view the dozens of essential selections from my vast archive of hundreds of extremely rare and previously unseenrock 'n' roll photographs from the 1970s and 1980s--all of which were taken by myself from my front row center seat at various venerable venues; vintage historical portraits which include the following rock stars caught in their youthful prime:

David Bowie (1976 Station To Station tour) :: Lou Reed (1974 Sally Can't Dance tour) :: Iggy Pop (1977 The Idiot tour) :: Bob Dylan (1978 Street Legaltour) :: George Harrison (1974 Dark Horse tour) :: Paul McCartney (1976 Wings Over America tour) :: Pete Townshend (1976 The Who By Numberstour) :: Johnny Winter (1976 Captured Live! tour) :: Jeff Beck (1975 Blow By Blow tour) :: KISS (1977 Love Gun tour) :: Alice Cooper (1975 Welcome To My Nightmare tour) :: Freddie Mercury (1977 News Of The World tour) :: Amanda Lear (1975 Sweet Revenge tour) :: Rod Stewart (1977 Foot Loose & Fancy Free tour) :: Mick Jagger (1975 It's Only Rock 'n Roll tour) :: New York Dolls (1975 Tokyo Dolls Live tour) :: Keith Richards (1975 It's Only Rock 'n Roll tour) :: Ian Hunter (1989 YUI Orta tour) :: Elton John (1974 Caribou tour) :: Mick Ronson (1989 YUI Orta tour) :: Steven Tyler (1977 Draw The Line tour) :: Sparks (1975 Indiscreet tour) :: James Brown (1986 Gravity tour) :: Miles Davis (1985 You're Under Arrest tour) :: Roger Daltrey(1976 The Who By Numbers tour) :: Bruce Springsteen & Clarence Clemons (1975 Born To Run tour) :: John Entwistle (1976 The Who By Numbers tour) :: Keith Moon (1976 The Who By Numbers tour) :: The Who(1976 The Who By Numbers tour) :: and more!

Ask any dealer and he'll tell you that the best way to get someone hooked on your product is to give them a free sample, so here's just a small taste of what's coming your way when you click on the eleven gallery links to your left: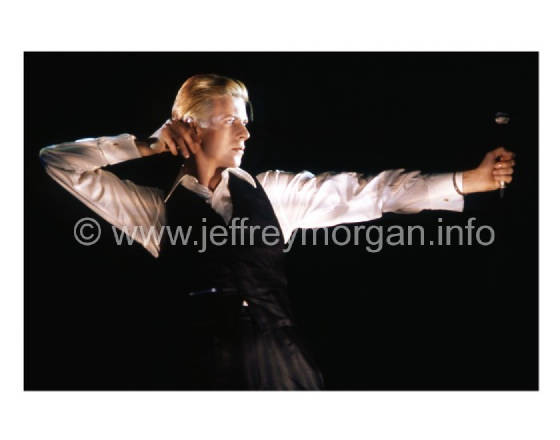 Fri, February 26, 2021 | link
Saturday, February 20, 2021
JEFFREY MORGANíS MEDIA BLACKOUT #771
JEFFREY MORGAN'S MEDIA BLACKOUT #771.510.138!
Various Artists - Wattstax (Stax) :: After my minimal Wattstax review ran two weeks ago, I received the following anonymous letter: "Dear Jeffrey Morgan. I was at Wattstax years ago and I was appalled at the short shrift you gave this new expanded version of the original album. You neglected to mention that this three-disc box set is a treasure trove of classic and unreleased tracks that brings the Wattstax experience to life. Or that virtually every Stax artist is represented doing their greatest secular, spiritual and soulful hits. Have you ever written any liner notes yourself, sir? I doubt it because if you had you would know that the musician interviews contained in Rob Bowman's excellent liner notes are a true revelation. Wattstax was much more than just the black Woodstock, it was a historical watershed moment and peaceful cultural uprising against The Man that still resonates to this day as the very embodiment of The Living Word! Not only is this new definitive version of Wattstax the greatest live album ever, in my opinion it is also the album of the year and if I had a weekly column like yours I would tell people to go out and buy it so they could hear for themselves what hope and faith sound like. You should be deeply ashamed of yourself for insulting an entire community by using this excellent Wattstax box set as a springboard for your cheap Charlie Wattstax joke." Cheap?
SIZZLING PLATTER OF THE WEEK: Tony Palmer - All My Loving (MVD Visual DVD) :: This essential late-'60s UK film about rock music and pop culture is the perfect visual companion to Revolt Into Style, George Melly's essential early '70s UK book about pop culture and rock music. All My Loving skewers rock 'n' roll with a savage unblinking eye that's both riveting and revealing. Everyone who is anyone is interviewed, from the Fabs and 'Oo to Donovan and Zappa. Too bad about the indefensible inclusion of Nazi concentration camp and Vietnam atrocity footage, though.
Be seeing you!
Sat, February 20, 2021 | link
Saturday, February 13, 2021
JEFFREY MORGANíS MEDIA BLACKOUT #770
JEFFREY MORGAN'S MEDIA BLACKOUT #770.509.137!
SIZZLING PLATTER OF THE WEEK: Zeitkratzer - Metal Machine Music: Live (Asphodel) :: Right from the very beginning, when it first came out in 1975, decades before the advent of such caffeine-laced drugs as Jolt Cola and Tylenol Ultra, I habitually used Lou Reed's Metal Machine Music as industrial strength therapeutic headache medication. I'd crank side one up to maximum volume and the grinding high-pitched feedback would lock in at the exact same neural frequency as my headache and neutralize it without fail, usually within five minutes. So when I had lunch with Unca Lou a year later in 1976, we confided as one dedicated user to another.
JEFFREY MORGAN: That album performs a service, at certain times. When you need it, it's there.
LOU REED: Metal Machine? When I need to get it out of my system so I don't kill somebody...it gets things out of my system. It's cathartic.
Over time, my avowed advocacy of the album became well known. One day in the early '90s, during the brainstorming session when I came up with the title Between Thought And Expression for Lou's RCA anthology-if you have a copy of the booklet, you could look it up-box set producer Rob Bowman asked me: "Be honest. When was the last time you listened to Metal Machine Music?" "Two weeks ago!" I replied and Rob laughed, knowing that I was telling him the truth.
And because I do have every sonic squeal and squelch of that album committed to memory, I can tell you with a fan addict's unabashed authority that Zeitkratzer's live version of Metal Machine Music is an astonishing absolute exact aural duplication of the original random-generated electronic studio recording, transcribed into sheet music and played on an unlikely array of instruments, ranging from accordion and tuba to violin and trumpet.
But the real payoff comes at the end, when Old Unca Lou himself takes the stage to pound out a solo guitar shriekfest that's even more scabrous than his synapse-snapper on "I Heard Her Call My Name."
Be seeing you!
Sat, February 13, 2021 | link
Saturday, February 6, 2021
JEFFREY MORGANíS MEDIA BLACKOUT #769
JEFFREY MORGAN'S MEDIA BLACKOUT #769.508.136!
Various Artists - Wattstax (Stax) :: The black Woodstock.
Various Artists - Charlie Wattstax (ABKCO) :: The black Altamont.
SIZZLING PLATTER OF THE WEEK: Spacekitti - Galaxy (Dart) :: So there I was, doing the seedy sidewalk shuffle late one night, when all of a sudden I hear this compelling cacophony of chaos detonating out the door of a corner bar. Instantly in love, I walk in and am I stunned to see this bodacious blond bombshell with a binary brain sitting all by her lonesome onstage with a guitar slung across her lap, hammering out cosmic coruscating sheets of rampant ambient drone, all mega-amped up to the nillionth hyperwatt degree like she's the new hard-wired industrial age Nico. Letting the amateurs stay safely ensconced at the back, I stood at the front of the stage and watched as this woman single-handedly sculpted an aural psychetecture that evoked everything from Edgar Froese and Klaus Schulze to Steve Reich and Terry Riley.
After I recovered, I scooped up a copy of her record Galaxy and took it home, fully expecting to wallow in a marathon drone session. Instead, I found a concise set of five pop songs primed to a percolating electropulse. How do I love it? Let me count the ways: "Fearless" is a whispering wash that evokes the best of early Ralf and Florian when they were still a duo; "High Strung" is a rapid-fire foggy mental breakdown; "Nobody Cares" is a deliriously disjointed herky-jerk that out-deadpans Annette Peacock; "Strung Out" is a minimal off-world space sitar recital; and "Ibizakitti" is a languid flow house drone.
But as great as Galaxy is, it's just a foretaste of what this woman is capable of doing. In her hands, the guitar is a time-spanning teleportation device through which all matter is made malleable as she spans the cosmos, traversing the space between the notes.
She is Spacekitti. Spacekitti is Jilli Dart. And Jilli Dart is the future of electronic sonic exotica.
Be seeing you!
Sat, February 6, 2021 | link
Saturday, January 30, 2021
JEFFREY MORGANíS MEDIA BLACKOUT #768
JEFFREY MORGAN'S MEDIA BLACKOUT #768.507.135!
The Mohawk Lodge - Wildfires (White Whale) :: Ugh.
Portico - Progeny Blues (Cooperspine) :: Had Kurt Cobain been born a woman, he would've stuck around to record this killer rock album.
Dana Gillespie - Weren't Born A Man (RCA) :: Too bad her record sales weren't as big as her tits.
Botch - America Nervoso (Hydra Head) :: But putting a pair on an album cover is still a good way to get my attention!
Mark Berube - What The River Gave The Boat (Kwalu) :: Why the reviewer gave the boot: Jobriath meets Tom Waits.
Okkervil River - The Stage Names (Jagjaguwar) :: This is the absolute best cabaret angst record I've ever heard. It's the only cabaret angst record I've ever heard, but it's the absolute best.
SIZZLING PLATTER OF THE WEEK: Various Artists - Vee-Jay: The Definitive Collection (Shout! Factory) :: The hip record company that first introduced The Beatles to America over 50 years ago is back with this comprehensive 86-track compendium of everything essential that's absolutely worth hearing, from gospel and blues to soul and doo-wop with a hot load of rude rudimentary rock squirted deep in between for good measure. Some of the stellar standouts include: Billy Boy Arnold's "I Wish You Would," Pricilla Bowman's "Hands Off," Elmore James' "It Hurts Me Too," Camille Howard's "Rock 'n' Roll Mama," Jimmy Reed's "Baby What You Want Me To Do," Christine Kittrell's "I'm A Woman," Frankie Valli & the Four Seasons' "Sherry," Betty Everett's "The Shoop Shoop Song (It's In His Kiss)," Gloria Jones' "Tainted Love" and-my fave-the Honeycombs' "Have I The Right." With an all-star lineup like that, it goes without saying that this ecstatically eclectic four-disc box set is the perfect nonstop soundtrack for your next swingin' soirée, whether it's a soda-sippin' sweetheart sock hop or an oiled up orgy-a-go-go.
Be seeing you!
Sat, January 30, 2021 | link
Saturday, January 23, 2021
JEFFREY MORGANíS MEDIA BLACKOUT #767
JEFFREY MORGAN'S MEDIA BLACKOUT #767.506.134!
SIZZLING PLATTER OF THE WEEK: KMFDM - TOHUVABOHU (Metropolis) :: If you doubt that I have nothing but maximum respect for this band, Google my exclusive WWIII combat zone interview with KMFDM's Minister Of Excessive Force, Group Käptain Konietzko. But just because I voluntarily enlisted to support the cause doesn't mean that I have to own all their albums because, frankly, on some of them, KMFDM sucks. And although I gave Hau Ruck a busted rank dishonorable discharge for being AWOL, I'm pleased to report that TOHUVABOHU is a stunning triumphant return to witty, informed, front-line form that solidifies and summarizes the classic synth-soaked, guitar-shredded, self-referential and relentlessly bludgeoning sonic brutality of previous successful scorched mirth campaigns NIHIL, ANGST and XTORT.
So, when I tell you that KMFDM's industrial soundtrack to the holy wars continues unabated, that's not me projecting a wistful nostalgic assessment; that's me stating a cold hard fact-one made even more amazing when you consider that every band member from the turbulent TVT days is long gone. But that doesn't mean Sascha's new incarnation is aping the old crew. It means that the new crew has successfully encapsulated and enhanced the classic core KMFDM sound. And don't try to tell me that they've gone "pop," because previous mandatory mass inoculations like "A Drug Against War," "Juke Joint Jezebel" and "Son Of A Gun" were always intended to be subversive toe-tapping mission statements right from the very beginning.
I've said it before but just in case you weren't paying attention the first time I'll reiterate for ya: Sascha Konietzko is the new Paul Kantner, Lucia Cifarelli is the new Grace Slick, and KMFDM is the new and improved hyper-heavy socially conscious Jefferson Airplane of the 21st century. Stronger than never ever before, KMFDM is the superpower you can trust. So ask for TOHUVABOHU by name and take it as often as required whenever you need fast, fast relief from sub-sonic mediocrity.
Be seeing you!
Sat, January 23, 2021 | link
Saturday, January 16, 2021
JEFFREY MORGANíS MEDIA BLACKOUT #766
JEFFREY MORGAN'S MEDIA BLACKOUT #766.505.133!
SIZZLING REPRINT OF THE WEEK: Chester Gould - The Complete Chester Gould's Dick Tracy, Volumes I & 2, 1931-1935 (IDW Publishing) :: There's no denying that the world's greatest detective comic strip ever created was Chester Gould's relentless two-fisted marathon of crime-busting mayhem, Dick Tracy. Splattered out in unequal portions of one part heartfelt sensitive romance and three parts hardcore sadistic violence, Gould's 1931 creation was a radically new form of strip which reflected the real-life gangster era. Years before he introduced misshapen criminals like the legendary Flattop and futurist crimebusting tools like the decades-ahead-of-its-time two-way wrist radio, Gould had Tracy tossing lead with petty thugs, crime bosses-even the occasional corrupt City Hall official who would get perforated outside his office.
For his trouble, Tracy was routinely shot up, beat up and brutally tortured in a series of ambushes and death traps that always left him bloodily battered. Even Tracy's extended family wasn't immune to the big payback: His girlfriend Tess and adopted son Junior were kidnapped on more than one occasion-and once the kid was literally soldered into an empty residential hot water tank which was then heated up with a blow torch. Quentin Tarantino would blanch at portraying something like that today, yet graphic scenes like this took place in the comics section of family newspapers all across America in the 1930s.
Now-finally-IDW Publishing has begun printing a series of definitive chronological hardcover reprints of this seminal series, edited by respected crime author Max Allan Collins. The quality of the black and white reproductions is uniformly crisp, and a majority of the strips contained in these first two volumes have rarely been reprinted in other Tracy anthologies, if ever.
You'll be amazed at how fast-paced these exciting action-packed adventures are, thanks in part to Gould's unique overlapping writing style of beginning each new storyline a week before the current one ends. Trust me, these crimestopping textbooks are essential reading for any hard-boiled crime buff.
I'm on my way!
Sat, January 16, 2021 | link
Saturday, January 9, 2021
JEFFREY MORGANíS MEDIA BLACKOUT #765
JEFFREY MORGAN'S MEDIA BLACKOUT #765.504.132!
SIZZLING--geddit?--PLATTER OF THE WEEK: David Bowie - Blackstar (ISO) :: You'd think that suffering a heart attack after recording the less than holy holy Heathen would've warned him to resist the dark side, but nooooooooooooo.
Various Artists - Moogfest 2006 Live (MVD Visual DVD) :: When it comes to aural affection, Moog synthesizer adherents are the most avid. Jan Hammer hurts 'em with a solid set that spans his solo career, from his work with Steve Kindler and Jeff Beck to his Miami Vice days. Meanwhile, an unrecognizable Keith Emerson knifes away through a marathon performance of "Tarkus" using his trademark 15-foot-high patch board. Both lads still have their speed freak chops intact; close your eyes and you'll swear it was 1973. If you still delight in the classic Moog "bee-yow" synth sound, then this DVD's for you.
Rick Wakeman - Amazing Grace (MVD Visual DVD) :: Wherein the world's greatest rock 'n' roll keyboardist sits down at the grand piano for an acoustic interpretation of the world's greatest rock of ages hymns. This one features live and studio performances along with-don't laugh-some truly evocative scenes of nature. Rick also personally introduces each hymn with an educational historical overview. And since his speed freak chops are still just as fast as Emerson's, it's interesting to compare Rick's reverent rendition of "Jerusalem" with Keith's electronic one on Brain Salad Surgery.
Various Artists - San Francisco Rock: A Night At The Family Dog (Eagle Vision DVD) :: Ralph "Jazzbo" Gleason presented this February 1970 show, featuring "Che" Santana and the Grateful Airplane. Che's set features a sweat-soaked "Soul Sacrifice" which demolishes the Woodstock version, while the Airplane do strident takes of "The Ballad Of You And Me And Pooneil" and "Eskimo Blue Day." Major points deducted for Jorma's swastika pendant-kids, huh?-but even so, these bands never looked as good as they do here. Except for Grace "Does Anyone Have A Safety Pin?" Slick, who couldn't keep her dress on when I saw her front row center a month later at O'Keefe Center on the Volunteers tour. Back then it wasn't a "wardrobe malfunction"-it was called getting your six bucks' worth. Drool drool.
Bee-yowing you!
Sat, January 9, 2021 | link