Saturday, October 23, 2021
JEFFREY MORGANíS MEDIA BLACKOUT #806
JEFFREY MORGAN'S MEDIA BLACKOUT #806.545.176!
Attrition – The Eternity EP (MVD Audio/Two Gods) :: Julia Weller sings with a haunting voice that combines the best of Nico with Diamanda Galás; Martin Bowes plays psychotic electronics that make Eno sound positively sane; and Franck Dematteis plays viola that makes nut case John Cale sound like nuanced Pierre Fournier. Recorded in 1996, this timely reissue is a must for anyone who listens to music that's recorded out where the buses don't run.
HiLoTrons – Happymatic (Kelp) :: Not only is "And if you fall, I'll follow you" a witty enough pop lyric, it's entirely indicative of the buoyantly bouncy tenor of this album which sounds like a Euro-skewed version of Devo with a slap-dash dollop of English Beat and Talking Heads via Malcolm McLaren. But not Eno.
Mothergong – Amsterdam (MVD Audio/Voiceprint) :: This one's recorded live in you know where at—I kid you not—the 2006 Unconventional Gong Gathering by a trippy psychedelic fusion band that's fronted by a doozy of a chantoozie named Gilli Smyth who sounds just like the second coming of Lady June. Now just in case you don't know who Lady June is—and let's face it, why would you?—she once recorded an obscure art rock album with Eno and Kevin Ayers called Lady June's Linguistic Leprosy. Come to think of it, Gilli Smyth may even be Lady June for all I know—and I know a lot.
SIZZLING PLATTER OF THE WEEK: Peter Primamore – Grancia (MVD Audio/Blue Apples Music) :: "No synthesizers or samples were used and the ensemble was recorded live in the studio without a click track," says this non-Eno artiste in his egghead liner notes. He then proceeds to wax elaborate about the organic feeling of his work which, truth be told, is every bit as intriguing as he says it is—albeit in a gamut-spanning orchestral country fusion style which evokes a memory array that extends all the way from Cale's The Academy In Peril to Mahavishnu's Birds Of Fire to Miles' Aura. Impressive, I know.
Be seeing you!
Sat, October 23, 2021 | link
Saturday, October 16, 2021
JEFFREY MORGANíS MEDIA BLACKOUT #805
JEFFREY MORGAN'S MEDIA BLACKOUT #805.544.175!
David Wilcox – Boy In The Boat (Stony Plain) :: I still can't slog my noggin around the fact that the former frock-coated, long haired, handlebar mustachioed Teddy Bear who once had one of the most visually arresting looks in all of rock 'n' roll is now a generic cue ball blooze man. But he is, and the pull-quote hypester in me wants to say: "Whether he's layin' pipe or shuckin' sugar, David Wilcox still has what it takes to go the blues bustin' distance!" But the truth-tellin' rock critic in me has to admit: "Toss this anemic album overboard!"
Astralasia – Volumes 1 & 2 (MVD Audio/Voiceprint) :: Originally released on two separate cassettes, this is well-done long-format hypnotic prog rock that fuses early guitar-based Tangerine Dream pop atmospherics with an ambient marching band loop-sampled drone acid aesthetic.
The Great Kat – Beethoven On Speed (Metal Mind) :: I'd say that this overrated B-cup devil worshipper with a grue dress on could've been the female Buckethead, but that would be an insult to chicken chewers everywhere.
The Great Kat – Worship Me Or Die! (Metal Mind) :: Sorry, I don't do requests.
Jas Obrecht – Young Buckethead, Volumes 1 & 2 (MVD Visual DVD) These two discs of rare 1990-91 performances are a must see cautionary tale for any guitarist who ever hoped to make it big. Wearing a KFC bucket on his head and armed with more God-given talent than anyone ever wished for, Bucky plies his craft with jaw-dropping ease—ultimately all to no avail.
Plastic Crimewave Sound – No Wonderland (MVD Audio/Prophase) :: 78 trippy mind-bending minutes of freak-out destorto thrash rock that'll leave your bloody forehead demented and your bedroom wall royally dented
SIZZLING PLATTER OF THE WEEK: The Reasoning – Awakening (MVD Audio/Comet) :: Astonishingly excellent high quality prog rock from a band that manages to merge the classic soaring Jefferson Airplane tag team vocals of Grace Slick and Marty Balin with the heavy dexterous sound of Yes at their live in concert heaviest.
Be seeing you!
Sat, October 16, 2021 | link
Saturday, October 9, 2021
JEFFREY MORGANíS MEDIA BLACKOUT #804
JEFFREY MORGAN'S MEDIA BLACKOUT #804.543.174!
Head Of Femur – Great Plains (Greyday) :: Wouldn't it be nice if these Mod-decked dudes from the Windy City recorded a psychedelic smiley smile of an album that sounds just like what the Beach Boys would've sounded like had Randy Newman formed them instead of Brian Wilson?
SBB – The Rock (MVD Audio/Metal Mind) :: Straight outta Poland comes this slab of prog metal that's alternately guitar-heavy and synth-airy with an epic ode called "Sunny Day" that's bent outta Love It To Death. Do you hear what The Rock is cookin'?
Shakura S'Aida – Blueprint (self-released) :: Soulful street-smart singin' from a stridently strong sistah who belts out dem honky tonk hoodoo blues like there ain't no tomorrow. Thirty years ago, she would've been one of Leon Russell's Shelter People; she's that good.
Various Artists – The Gift: A Tribute To Ian Tyson (Stony Plain) :: Everyone from Gordon Lightfoot to Ramblin' Jack Elliott pitch in to hoist this long-overdue rock solid salute to one of Canada's greatest country songsmiths. Inspirational lyric: "If whiskey was his mistress, his true love was the West."
Dala – Who Do You Think You Are (Universal) :: "Marilyn Monroe" is the greatest Marilyn Monroe song since "Candle In The Wind." Which really isn't saying much if you stop and think about it.
Lori Yates – The Book Of Minerva (Laly) :: "The Cameron 1985" is a sullen smack-sodden song that evokes one of Toronto's most notorious watering holes, back in the days when Handsome Ned tore up the front room while the used syringes clogged up the toilets in the back.
SIZZLING PLATTER OF THE WEEK: Handsome Ned – The Ballad Of Handsome Ned (Virgin) :: I doubt that this 1989 release is still in print. But see if you can pick up a copy online somewhere because Robin D. Masyk was one of the greatest country rockers that Canada ever produced and this posthumous compilation still does him proud over three decades later.
Be seeing you!
Sat, October 9, 2021 | link
Saturday, October 2, 2021
JEFFREY MORGANíS MEDIA BLACKOUT #803
JEFFREY MORGAN'S MEDIA BLACKOUT #803.542.173!
Jethro Tull – Draculung (Chrysalis) :: They all laughed when Ian Anderson announced that he was going to write a progressive art rock opera about a rummy child molesting vampire. Well, they're not laughing now.
The Bangkok Five – We Love What Kills Us (Long Live Crime) :: This heavy duty mind meld of the Cult and the Beach Boys wails "You're takin' more shots than Muhammad Ali" while landing some pretty heavy deep tissue blows themselves.
Jann Klose – Reverie (3 Frames) :: This guy plays the kind of sensitive music that girls go ga-ga for, only with a Euro nightclub feel to it that reeks of cigarette smoke and broken hearts—and that makes all the difference.
Sean Ashby – Brass And Gold (Black Sparrow) :: The brass comes from the very first chord which apes the opening of "A Hard Day's Night." The gold comes from the pleasant pop that follows. And yes, I'm being charitable.
FIZZLING USA DOCUMENTARY OF THE WEEK: The Beatles – Destination Hamburg: The Early Years (Weinerworld DVD) :: Stop me if you've heard this one before, but retrospective music videos really are a dime a dozen these days and almost all of them do rely on know-nothing wankers spewing half-baked opinions over a slew of still photographs you've seen a million times before—especially this one which is at least honest enough to shamelessly proclaim that: "This program contains no Beatles music." Which isn't to say that Tony Sheridan is a know-nothing wanker; he's the only man on the planet to ever have the Fab Four serve as his own personal backing group, so his words of remembrance do count for something—even if they are spoken over the usual visual mung of blurry silent public domain footage. Even worse, the bonus 1968 audio interview with John, Paul and Ringo is played back at triple the normal speed in a processing error that would make David Seville proud. And you wonder why it says "Weinerworld" on the label.
Be seeing you!
Sat, October 2, 2021 | link
Saturday, September 25, 2021
JEFFREY MORGANíS MEDIA BLACKOUT #802
JEFFREY MORGAN'S MEDIA BLACKOUT #802.541.172!
SIZZLING USA DOCUMENTARIES OF THE WEEK: Tad – Busted Circuits And Ringing Ears (MVD Visual DVD) & Kurt Cobain – About A Son (Shout! Factory DVD) :: Here to hassle your hearing are Seattle's two favorite opposite ends of the Sub Pop spectrum. If anyone ever asks you what grunge was all about, screen 'em these two cautionary tales. Playing heavy, smoking heavy, drinking heavy and falling heaviest of all, the entire Tad offensive campaign is presented here in full unflinching detail with equally candid liner notes by Tad Doyle himself. But at least Tad's still alive, which is more than can be said for the star of our next show. Narrated entirely by Kurt himself from taped interviews for more than two hours over a series of surreal Cibachrome-soaked imagery, About A Son both looks and sounds like a spooky X-Files movie with Agent Cobain searching for his own long-lost abducted self. What he finds is both haunted and haunting, so buy it now.
SIZZLING U.K. DOCUMENTARY OF THE WEEK: Klaus Voorman – Composing The Beatles Songbook: Lennon And McCartney 1957-1965 (MVD Visual/Pride DVD) :: Retrospective music videos are a dime a dozen these days, and almost all of them rely on know-nothing wankers spewing half-baked opinions over a slew of still photographs you've seen a million times before—but not this time. Revolver album cover designer and Plastic Ono Band member Voorman is just one of many Fab Four friends and fans featured in this informative 80 minute exploration into who did what and why when it came to writing Beatle songs. It's all illustrated by a ream of rare licensed mint condition footage of the Fabs playing in Europe and Japan, as well as film of the contemporaries who influenced them. The bad news is that they don't include footage of Lennon's shameful spaz act from the unreleased Ed Sullivan dress rehearsal show in Miami. The good news is that they found another appalling live example of him doing it, filmed somewhere else!
Be seeing you!
Sat, September 25, 2021 | link
Saturday, September 18, 2021
JEFFREY MORGANíS MEDIA BLACKOUT #801
JEFFREY MORGAN'S MEDIA BLACKOUT #801.540.171!
Ted Nugent – Sweden Rocks (Eagle) :: This pre-Love Grenade live offering from 2006 sure ain't no Double Live Gonzo, but it's still a fun enough drool-cup listen. Even so, the perennial problem with Ted isn't his still-strident politics or his still-sharp playing, it's his still-selfish persistence in singing all of his songs by himself. With any luck, Derek St. Holmes will be back the next time around to keep Nugent's ego in check and provide a balancing Ying to Ted's rampant Yango Tango shtick.
Ted Nugent & The Amboy Dukes – Survival Of The Fittest (Polydor) :: It's got everything you could possibly want; it's got more than you could possibly need.
Jethro Tull – Jack In The Green: Live In Germany (Eagle Vision) :: Featuring 18 high-quality video excerpts from some of Tull's numerous Deutschland appearances over the decades covering the gamut from 1970 to 1993. Definitely worth the price of admission alone is the empty television studio version of "Nothing Is Easy" from 1970, which contains several false starts before Ian Anderson finally calls it quits and walks off mid-song due to a stomach ailment. Unlike Kurt Cobain, however, Ian didn't take a double-barreled dose of Terminalin to relieve the pain.
SNEERING PUTDOWN OF THE WEEK: Frank Miller & Jim Lee – All Star Batman & Robin The Boy Wonder (DC Comics) :: You all know Frank Miller as the creative meistermind behind Sin City and 300 who birthed an entire gloomy batgenre with The Dark Knight Returns before he tried to kill it dead with DK2 and DK3. This prematurely aborted brilliant iconoclastic deconstruction features an even grizzlier Batman infused with a decidedly unhealthy dose of Sin City Marv attitude. How unhealthy? Look, pal, any comic book that has Batman calling Wonder Woman "the Wicked Witch of Lesbos Island" deserves to be in your collection, alright?
Be seeing you!
Sat, September 18, 2021 | link
Saturday, September 11, 2021
JEFFREY MORGANíS MEDIA BLACKOUT #800
JEFFREY MORGAN'S MEDIA BLACKOUT #800.539.170!
John Cena - The Marine (FOX DVD) :: Ditch your silly World Wrestling Federtainment bias and rent this one now for the delicious scenery-chewing performance of co-star Robert Patrick. Shredding his good guy X-Files image, Patrick reverts to malevolent Terminator 2 form with exasperated gallows humor that's so black it's ultraviolet. There's even an eerie insinuation that Patrick's bad guy character actually is the self-aware future template for the T-1000 series. Plus, the outrageous action sequences are right out of a Tex Avery cartoon.
Stephanie Martin - Shape, Line & Harmony (Sovereign Productions) :: Stephanie says in her liner notes that she aims to echo the music of her youth: Motown, Carol King, James Taylor, Eagles and Steely Dan. Amazingly enough, she actually manages to accomplish this with an astute selection of excellent airy brass-backed tunes. And as her young voice matures she's only gonna sound better with age. She's not a bad lyricist, either.
SIZZLING PLATTER OF THE WEEK: Anderson Bruford Wakeman Howe - An Evening of Yes Music Plus (MVD Audio/Voiceprint) :: A lot of my hard-earned bucks these days goes towards obsessively buying the stellar sonics wares of Voiceprint, a UK label that's exclusively distributed in America by MVD Music Distributors. Specializing in the best of progressive rock both past and present, Voiceprint continually releases an impressive array of vital prog rock releases, with this two disc reissue of a live double album from 1993 being no exception. And don't let the convoluted legalese band title fool you because this is Yes. I mean, with Jon on vocals, Bill on drums, Rick on synths and Steve on guitar-not to mention artwork by Roger Dean-how could it not be? Everyone gets an acoustic solo spot to begin with before the entire band unloads their trademark power and glory heavy metal thunder on crunge classics like "Close To The Edge," "Roundabout," "Heart Of The Sunrise," and "Starship Trooper."
Be seeing you!
Sat, September 11, 2021 | link
Saturday, September 4, 2021
JEFFREY MORGANíS MEDIA BLACKOUT #799
JEFFREY MORGAN'S MEDIA BLACKOUT #799.538.169!
Ladyhawk - Shots (Jagjaguwar) :: I'm deeply offended by the back cover photo that shows four naked guys in a shower spitting water at each other. Real men would have butch-slapped it on the front.
The Cansecos - Juices! (Upper Class) :: José, can you hear?
Bullet For My Valentine - Scream Aim Fire (Red Ink) :: This double-time thrash rock gets bonus points for having a singer not a screamer and guitars that pack a potent Bruce-Buxton punch.
The Exit Strategy - City Of Microphones (One Percent Press) :: Purebred punk playing with an art rock patina that sounds as if it came straight outta 1977.
Steve Dawson - Waiting For The Lights To Come Up (Black Hen) :: It's not every day that you hear a blues album which begins with eerie backwards sounds, but that just goes to show you how creative Steve is-and this smart new record of his cleans Dylan's Modern Times clock.
SIZZLING PLATTER OF THE WEEK: Cadence Weapon - Afterparty Babies (Upper Class) :: CW's second album features more urban speed-raps, all aligned against a percolating background of surgically sutured Euro synthesizer beats and Oswaldian altered samples. The last time I heard a pop song that was as surrealistically snappy as CW's "Real Estate" was on the unjustly much-maligned McCartney 2. And what's wrong with that? I'd like to know.
SIZZLING MAD PLATTER OF THE WEEK: Local H - 12 Angry Months (Shout! Factory) :: These guys are so royally pissed-off that they oughtta call themselves LOCO H instead. But who wouldn't be seriously burned over a love gone as hideously wrong as the one described in this 12-track, month-by-month diary? Listen in and you'll hear cautionary lyrics like: "Give me my Zeppelin CDs! You know you took 'em! I know you did! Where's all my Kyuss records? You never liked 'em until you met me!" And that's just January; wait until you get to October and "Machine Shred Wrestling." Hoo boy...
Be seeing you!
Sat, September 4, 2021 | link
Saturday, August 28, 2021
JEFFREY MORGANíS MEDIA BLACKOUT #798
JEFFREY MORGAN'S MEDIA BLACKOUT #798.537.168!
The Beat Poets - "Staring Stars Down" b/w "G.I." (self released) :: Don'tcha be lettin' the wee bit of a bongo name be foolin' ya because this ain't no Ginsberg-Corso daisy pull; this is poppy rock that hails all the way from the land o' the Irish springs. That's why it's strong enough for a man but gentle enough for a woman.
Anti-Flag - The Bright Lights Of America (Red Ink) :: I'm so bored with the U.S.A. Clash clones.
Joe Hill & Gabriel Rodriguez - Locke & Key (IDW Publishing) :: In case you missed it the first time around, the debut issue is titled "Welcome To Lovecraft" and it's a more than apt appellation for a spooky story that has its sights set on eerily evoking the best of old H.P. himself. After the Locke family is visited by two murderers, the surviving members begin their new lives in a Gothic home that goes by the Steranko-sounding name of Keyhouse. As it happens, there are doors in Keyhouse which are not meant to be opened-but they are anyway. Even worse, despite being locked up under heavy security in a juvenile detention center, one of the murderers is in contact with an ally that's on the outside. Way, way out on the outside.
Joe Hill's flashback-infused script is methodically paced for maximum effect, and Gabriel Rodriguez's clean and stylish artwork gives Locke & Key a unique look that easily stands apart from the rest of the cookie-cutter comics on display these days. Just look for the glowing skull-laden black onyx key on the front. You can't miss it.
SIZZLING PLATTER OF THE WEEK: Does It Offend You, Yeah? - You Have No Idea What You Are Getting Yourself Into (Red Ink) :: Sure you do! Viciously loud, heavy-duty, Theremin-fueled psychotronically retrosonic electro-retardo disco synth music that makes Death From Above and their synapse-snappin' ilk sound positively narcoleptic by comparison.
Be seeing you!
Sat, August 28, 2021 | link
Saturday, August 21, 2021
JEFFREY MORGANíS MEDIA BLACKOUT #797
JEFFREY MORGAN'S MEDIA BLACKOUT #797.536.167!
SIZZLING SERIES OF THE AGES: Jack Kirby - Jack Kirby's Fourth World Omnibus (DC Comics) :: I've said it before and I'll say it again: The greatest comic book creator in history was, and forever will be, Jack "King" Kirby! Jack Kirby's Fourth World Omnibus has been out for some time now and all four volumes are an essential must-read that you've just gotta have! Painted with broad bravura strokes, not only is this the greatest graphic novel Jack Kirby ever created, it's an enduring masterwork for the ages and an everlasting legacy which will never be equaled by anyone else!
F'rinstance, let's look at Volume Three of his mind-bending Fourth World saga which defines dynamism! What will happen when you enter the Mangle Machine? And should you survive, will your heart be able to withstand the pulse-pounding terror when you come face to face with the id entity known only as The Lump? Then, as if all that wasn't enough, the King adds the ever-livin' Deadman into the mix in what amounts to some extreme high stakes senses-shattering shenanigans with nothing less than the future fate of the entire free world at stake!
Presenting the King at his latter-day best, Jack Kirby's Fourth World Omnibus is the all-time absolute greatest non-stop action-packed adventure ever committed to pen and paper! Don't ask! Just buy it!
SIZZLING PLATTER OF THE WEEK: American Speedway - Ship Of Fools (MVD Audio/Prophase) :: The only thing that these unabashed Bullettheads care about is hammering out their hi-octane screem screeds. The guitars are heavily harsh, the drumming is moronically metronomic, the bass is brutally bludgeoning and the keyboards are the best of all BECAUSE THERE ARE NO KEYBOARDS. Whaddya think this is anyway, some kinda hoity-toity art fag fiesta? When these speed freaks brag that they've got "the nerves of Steve McQueen and a heart of steel," you'd best be bucklin' up. Lieutenant, where's my witness?
Be seeing you!
Sat, August 21, 2021 | link
Saturday, August 14, 2021
JEFFREY MORGANíS MEDIA BLACKOUT #796
JEFFREY MORGAN'S MEDIA BLACKOUT #796.535.166!
SIZZLING SERIES OF THE WEEK: The Mooney Suzuki and Terror and Toasters - CBGB/OMFUG Masters: The Bowery Collection (MVD Audio) :: Brace yourself because this is just the beginning of a multi-volume deluge of multi-track shows coming from the late Hilly Kristal's extensive archive. What we got here are three separate discs featuring three different full-length gigs by three different bands in three different years (Mooneys: 2001; Toasters: 2002; Terror: 2004)-plus historical liner notes by Handsome Dick Manitoba, which put everything into its proper historical context. As it happens, these particular editions contain a crazy cross-section selection of the kind of music that CBGB championed for more than 30 years, ranging from the Toasters' good-natured house-rockin' ska to Terror's aggro home-wreckin' thrash to the Mooney's infectious rent-party pop 'n' roll. If you don't faithfully scoop up this new CBGB series from MVD Audio, then OMg are you ever FUGed up!
Corb Lund - Horse Soldier! Horse Soldier! (Stony Plain) :: Gosh, I bet Pete Townshend wishes he'd recorded a country opera about the calvary.
SIZZLING PLATTER OF THE WEEK: Various Artists - Miles...From India (Times Square) :: You need schoolin', so, baby, I ain't foolin' when I say that if you only buy one Miles Davis tribute record in this lifetime, then make sure that it's this one. Producer Bob Belden has assembled an impressive array of primo Davis sidemen including John McLaughlin, Chick Corea, Ron Carter, Mike Stern, Jimmy Cobb and Marcus Miller-to name but only a few-who then essay ten pieces ranging from "So What" to "In A Silent Way" to "Miles Runs The Voodoo Down," all filtered through an Indian aesthetic that's authentically backed up by some two dozen Indian musicians; none of whom, I'm honest enough to admit, I've ever heard of. Then McLaughlin concludes the proceedings with the original title composition that's resonant reverence incarnate. Bonus points for having an airy album cover that expertly evokes the very best of Miles' classic Columbia years.
Be seeing you!
Sat, August 14, 2021 | link
Saturday, August 7, 2021
JEFFREY MORGANíS MEDIA BLACKOUT #795
JEFFREY MORGAN'S MEDIA BLACKOUT #795.534.165!
SIZZLING PLATTER OF THE WEEK: Nash The Slash - In-A-Gadda-Da-Nash (Cut-Throat) :: Elegantly tuxedoed like Cary Grant in George Cukor's Holiday and hideously bandaged like Claude Rains in James Whale's The Invisible Man, the revered and reviled serial sonic psychotron known as Nash The Slash has been No. 1 in a field of one ever since he first began creating his own insidious sound of music from deep within secreted studio walls located somewhere inside of an abandoned subway station miles beneath the filthy sidewalks of Toronto.
Armed only with a Strickfaden array of hyper-amped violins, mandolins, synths and drum machines, Nash proceeded to unleash upon an unsuspecting society a senses-shattering series of aural album assaults whose titles said it all: Bedside Companion. Dreams And Nightmares. Decomposing. Children Of The Night.
These unreasonably unrelenting records led to Nash being smuggled into Europe to work with the likes of Gary Numan and Bill Nelson, only to be abruptly expelled from the continent by the EU as "a deviant influence not only on humanity but on all life itself" after angry villagers caught a rare glimpse of his grisly ungauzed visage late one night in an iniquitous den of ill repute on the Rue Morgue.
Safely ensconced back home in his underground lair, Nash donned his stained leather apron and threw himself into his work with a renewed vengeance born of righteous anger that would ultimately be made manifest in the records to follow: the corrupt social commentary on And You Thought You Were Normal; the modern urban brutality of Thrash; the silent cinema soundtrack to Nosferatu; and his first ever album of cover versions, American BandAges.
Now the immortal Nash The Slash rises again with an album of covers that extends from the obvious ("Baba O'Riley" and "Astronomy Domine") to the obscure ("Follow The Leaders" and "Constantinople") to the omnipresent ("In-A-Gadda-Da-Vida" and "The Wreck Of The Edmund Fitzgerald"). So don't be an angry villager! Buy it now before Nash comes back to...
Be seeing you!
Sat, August 7, 2021 | link
Saturday, July 31, 2021
JEFFREY MORGANíS MEDIA BLACKOUT #794
JEFFREY MORGAN'S MEDIA BLACKOUT #794.533.164!
Bruce Timm & Lauren Montgomery & Brandon Vietti - Superman: Doomsday (DC Comics/Warner Premiere DVD) :: DC Comics claims that The Death Of Superman is the biggest selling graphic novel of all time and I have every reason to believe them. The biggest reason is that I actually went out and bought all of the various issues which contained the storyline as they came out decades ago-dozens upon dozens of them, month after month, at a time when I was buying absolutely no comic books whatsoever. So I give DC full credit for successfully managing to get my hard-earned nickels and dimes at a time when no other comic book company could. But although I ultimately ended up liking the cool new John Henry steel-drivin' version of Superman, I found the convoluted plot to be in overall need of some serious pruning back. That's where Bruce Timm and company's new animated version of the Doomsday saga comes in, which does just that while leaving all of the essential key elements in place.
Amazingly for a feature length animated cartoon, even one which is stickered PG-13, the level of violence is completely off the chart. Not only do folks get unexpectedly knocked off left, right and center; but the Metropolis fight scenes between Superman and Doomsday play harder and faster than the downtown dust-up in Superman II: The Richard Donner Cut. That's because the literal sense of gravity given the entire proceedings is right up there with the real world physics that the Fleischer brothers imbued their seminal Superman cartoon series with.
SIZZLING PLATTER OF THE WEEK: Ministry & Co-Conspirators - Cover Up (13th Planet) :: This is the absolute greatest album of cover versions since Bowie's crushed larynx curdled milk on Pinups. If you thought that Ministry's "Jesus Built My Hotrod" was heavy, then you haven't heard Jackie O. Jourgensen pulverize songs like "Radar Love," "Mississippi Queen," "Space Truckin' " and "Bang A Gong" into a puréed pulp pudding!
Be seeing you!
Sat, July 31, 2021 | link
Saturday, July 24, 2021
JEFFREY MORGANíS MEDIA BLACKOUT #793
JEFFREY MORGAN'S MEDIA BLACKOUT #793.532.163!
Eno - Taking Tiger Mountain (By Strategy) (Astralwerks) :: Old Uncle Een's first album may be noisier and his third one may be quieter, but it's his second one which is a true work of art whose understated depth and surreal resonance only gets richer with the passage of time. Neatly positioned between two extremes, Taking Tiger Mountain (By Strategy) isn't bawdily brawny like Here Come The Warm Jets, nor is it ambitiously ambient like Another Green World. Instead, it has a playful opulent majesty that confidently combines the best boisterous elements of the earlier album ("Third Uncle") while foreshadowing the peerless placid moments of the later one ("Taking Tiger Mountain").
From the typewriter percussion of "China My China" to the half-speed whistled "Colonel Bogey March" in the background of "Back In Judy's Jungle," each new listening reveals a hidden textural gem. That's why it's safe to say that Eno's Taking Tiger Mountain (By Strategy) is a unique masterpiece which will never ever be duplicated.
SIZZLING PLATTER OF THE WEEK: Doug Hilsinger & Caroleen Beatty - Taking Tiger Mountain (By Strategy): A Modern Recreation of Brian Eno's 1974 Masterpiece (DBK Works) :: Multi-instrumentalist Hilsinger has singlehandedly crafted a joyful note for note remake-remodel that's... Well, as Eno himself writes in his liner notes: "I don't often listen to my own records after they're finished, but hearing this one as though through someone else's ears and mind had a powerful effect on me. I thought 'How sweet! How touching! How sympathetically done! And actually...they aren't bad songs after all.' "
Indeed they're not-especially when you hear all ten of them sung in sequence with a woman's touch by Beatty. Admits Eno: "Caroline's beautiful singing-such an improvement on mine!" Reason enough to buy the one record that's earned the right to be filed with the rest of your Eno albums; that should give you its main point of reference.
Be seeing you!
Sat, July 24, 2021 | link
Saturday, July 17, 2021
JEFFREY MORGANíS MEDIA BLACKOUT #792
JEFFREY MORGAN'S MEDIA BLACKOUT #792.531.162!
Hells Angels - From Pool Cues To Miscues: The Failed 1969 Plot To Murder Mick Jagger (Altamonterey Flop) :: Sonny Bungler is more like it.
Ann Vriend - When We Were Spies (self-released) :: Infectiously cooed pop tunes by an April Dancer chanteuse stuffed into a tight trench coat fulla pseudo-THRUSH shenanigans. Open channel D!
Lenny Kravitz - It's Time For A Love Revolution (Virgin) :: He stole the riff of "Are You Gonna Go My Way" from Hendrix. He sucked the coolness outta "American Woman." He swiped this album's back cover from Dylan and its title track from his own "Are You Gonna Go My Way," thus making it twice stolen. Then he shamefully loots everybody else from Led Zeppelin to KISS. Thief.
Dengue Fever - Venus On Earth (M80) :: What starts out as a Klaus Schulze space-out miraculously mutates into a psychedelic Jefferson Starship bongo beat before ending up on a rice paddy with a finger-snappin' mini-skirted Cambodian chanteuse. Hey, Joe! You got gum?
Magic Mushroom Band - Singles And Rarities (MVD Audio/Voiceprint) :: Where else can a track like "Eight Miles High" frottage "Set the Controls for the Heart of the Sun" and have it all make sense in a solidly stoned hippie-dippy-trippy kinda cosmic way?
SIZZLING PLATTER OF THE WEEK - FRONT SIDE: Andi Sex Gang - Inventing New Destruction (MVD Audio/Pink Noise) :: One part Another Low World and one part Their Satanic Sex Pistols Request, this synth-soaked slice of purloined, fur-lined Germanic pop musik koncrète has the kind of hallucinatory hyper-spatial 3D mix that Unca Lou only dreamed of getting on Street Hassle but never did.
SIZZLING PLATTER OF THE WEEK - BACK SIDE: Ronnie Earl & The Broadcasters - Hope Radio (Stony Plain) :: A fully loaded and completely instrumental live blues-cum-jazz album that ecstatically evokes Booker T & The MGs and Santana with Jimi's Nine To The Universe hyper-space noodling-all in one multi-orgasmic roof-raisin' ear rush? Beulah, don't ask how: Just open that bottle of emotion lotion and start a-latherin'!
Be seeing you!
Sat, July 17, 2021 | link
Saturday, July 10, 2021
JEFFREY MORGANíS MEDIA BLACKOUT #791
JEFFREY MORGAN'S MEDIA BLACKOUT #791.530.161!
Satellite - Into The Night (MVD Audio/Metal Mind) :: Poland's answer to Phil Collins-era Genesis isn't nearly as dire a disc as you might think because the music is quantumly heavier-and that's always a good sign.
Enter The Haggis - Soapbox Heroes (UFO) :: With a band handle like "Enter The Haggis," you just know that it's got to be chockablock fulla the hottest and heaviest synth 'n' shredded guitar rock 'n' roll this side of Boiled In Lead.
Outlaw Social - Dry Bones (self-released) :: Cheerful funky fiddle folk music that sounds as if it was recorded in the Dust Bowl days of the great Depression.
Tamara Nile - At My Table (self-released) :: And this banjo-fueled feminine folk rock sounds like it was raised on the right acoustic side of Led Zeppelin III's tracks.
Rick Wakeman - Aspirant Sunshadows (MVD Audio/Music Fusion) :: Let one of rock's most spiritual adherents gently lull you into slumberland with these elegant and elegiac soothing soundscapezzzzzz.
Porkbelly Futures - Porkbelly Futures (self released) :: And you thought "The Beatles" was a stupid name for a group.
SIZZLING PLATTER OF THE WEEK: Duke Robillard - Duke Robillard's World Full Of Blues (Stony Plain) :: "All Killer! No Filler!" is the truthful tag on this enthusiastic and encyclopedic brass-backed double disc by one of the modern masters of the blues. Bonus points for covering obscure selections like Dylan's "Everything Is Broken" and making them sound even hipper!
SARCASTIC PLATTERS OF THE WEEK: Ed Sanders - Sanders' Truckstop & Beer Cans On The Moon (Collectors' Choice) :: Proving that there's just no justice in the rock 'n' roll world, Fugs founder Sanders failed to shake some chart action on these two early '70s satirical broadsides, which contain irreverent acerbic send-ups of every known socio-political sacred crow from here to infirmary. But don't blame Ed; instead blame an insensate society for not recognizing that insightful shit-stirrers like "Henry Kissinger" and "The Maple Court Tragedy" (aka "Polaroid Spread Shots") were just slightly ahead of their whine.
Be seeing you!
Sat, July 10, 2021 | link
Saturday, July 3, 2021
JEFFREY MORGANíS MEDIA BLACKOUT #790
JEFFREY MORGAN'S MEDIA BLACKOUT #790.529.160!
Jane Vain & The Dark Matter - Love Is Where The Smoke Is (Rectangle) :: Ponderously portentous primo percolating Portisheadish paeans of passion and penance.
SIZZLING ELECTRIC PLATTER OF THE WEEK: The Wagon - Match Made In Hell (Las Conchas) :: The Beach Boys meet Grand Funk meets Cheap Trick meets The Who on this heavier than Hebben crunge-rock extravagonzo that's too unfit to quit. If you don't like this record, then I'm afraid that you just don't like rock 'n' roll, son.
SIZZLING ACOUSTIC PLATTER OF THE WEEK -- LATE SHOW: The Kingston Trio - Once Upon A Time (Collectors' Choice) :: Thems that's in the know sure as heck know that the Kingston Trio are as big a slice of Americana pie as you can find this side of the Rat Pack. And on this long-overdue reissue, which was originally a double album recorded in July 1966 at the Sahara-Tahoe gamblin' den in Nevada, the perennially short-sleeved K3 ride again with their trademark style of good pickin' and good playin' in tow. Everything you want to hear is here, from the hang-'em-high melodrama of "Tom Dooley" to "Silicone Bust," which predated the Faces' own "Silicone Grown" by almost a decade.
Even better are the song introductions, which are liberally peppered with the Trio's own unique brand of humorous generation-gap rap: "There's a lot of great rock 'n' roll groups around now that we like very much. There's one group in L.A. in fact that is so wild, they make Hells Angels look like Robert Goulet. [audience laughter] This song is written by rock 'n' roll's pretender to the throne, Bob Dylan. [audience laughter]"
SIZZLING ACOUSTIC PLATTER OF THE WEEK -- EARLY SHOW: The Kingston Trio - Twice Upon A Time (Collectors' Choice) :: You'll want to go out and get this previously unreleased companion live album right now just to watch the bonus promo video of the Trio singing "Tomorrow Is A Long Time" by pretender to the throne Bob Dylan.
Be seeing you!
Sat, July 3, 2021 | link
Saturday, June 26, 2021
JEFFREY MORGANíS MEDIA BLACKOUT #789
JEFFREY MORGAN'S MEDIA BLACKOUT #789.528.159!
Beastie Boys - The Mix-Up (Capitol) :: I get the Zappa-influenced bargain basement cretin slop mentality, but these mushy instrumentals are strictly for 'luded out losers. A-heads prefer Teenage Fanclub's The King.
Lori Cullen - Buttercup Bugle (self-released) :: A bouquet of brass-backed melodies that are light and airy, just like windswept love is supposed to be. This clever Cupid's got a hammer and she's swingin' it all over this land.
The Grip Weeds - House Of Vibes Revisited (Ground Up) :: They're not the Beatles, but an incredible stimulation!
Nathan Lawr & The Minotaurs - A Sea Of Tiny Lights (Minotaur) :: Ever get the feeling that too many people are making too many records these days? I sure do.
Rasputina - A Radical Recital (Filthy Bonnet) :: Are you ready for two women playing cello versions of "Barracuda" and "Rock And Roll"? I sure am.
Raine Maida - The Hunters Lullaby (King Noise) :: For a second, I thought that "China Doll" was Iggy's Idiot song, but then I realized that even Bowie at his most cocked-out never wrote wretched lyrics like: "She's sweet like honey, sour like democracy."
Intodown - Brave New World (self-released) :: This mind-bending garage-surf art rock album whose hippie-trippy touchstone is the 13th Floor Elevators is going up so punch a higher floor!
Twilight Hotel - Highway Prayer (self-released) :: Producer Colin Linden has brought out the best in this sweet-pickin' guy 'n' gal duo, so how come they don't got no record label yet?
Kamera - Resurrection (Nettwerk) :: And you thought the '80s were dead.
SIZZLING PLATTER OF THE WEEK: Johnny Hollow - Dirty Hands (Orange) : "Scully, imagine Bernard Herrmann reincarnated as an aggregate of two gals and a guy and you'll have an idea of just how spooky this unbalanced album is." "What are you saying, Mulder? That this is the most haunted Goth-infested record ever?" "All I'm saying is that you'll want to file this one next to Siouxie & The Banshees' A Kiss In The Dream House; it's that good."
Be seeing you!
Sat, June 26, 2021 | link
Saturday, June 19, 2021
JEFFREY MORGANíS MEDIA BLACKOUT #788
JEFFREY MORGAN'S MEDIA BLACKOUT #788.527.157!
Jerry Bruckheimer - Quentin Tarantino Presents Roger Corman's Death Race 3000 (21st Century Film Corporation) :: Bruckheimer's always wanted to produce a big budget cult film in the worst way and he's finally succeeded. Half Easy Rider and half Americathon, this direct-to-download scenery-chewing sequel sees David Carradine and Sylvester Stallone back in harness as Frankenstein and Machine Gun Joe Viturbo for one last nationwide ride to save society. One hundred points scored for casting cravat king Peter Bogdanovich as gung-ho TV announcer Junior Senior!
Noctifria - Per Aspera (MVD Audio) :: Slovenia is a leading horror hothouse of dark dank metal and if you listen to this festering thick miasma that's chock a block full of clogged virtuoso majesty, you'll know why.
Oliver Future - Pax Futura (Fireproof) :: It's not often that such an endearing pop rock album sashays down the suave glam rock pike. Even better, it includes the hyper-kinetic "What Heart?" from their earlier Bear Chronicles V.2 extended player.
The Sonic Deli - Brown Bag Lunch (Sonic Deli) :: Shamefully, I just found this 18 track sampler of varied musical styles by 13 diverse artists at the back of my iFridge-way past its 2005 due date-but amazingly, it still sounds as fresh as the day it was served. My compliments to the chef!
Monster Island - Dream Tiger (MVD Audio) :: Take one part ethereal female cooing, add one part Kevin Ayers brooding, stir in two parts sparse tinkering oriental melodies, and garnish with a Weird Tales pulp aesthetic. Serve immediately.
Homo Iratus - Human Consumes Human (Arctic) :: Gurgling vocal Nine Inch Nonsense from a band whose translated name means: "Homo Irritates Us."
SIZZLING PLATTER OF THE WEEK: Destroy All Monsters - Live In Tokyo & Osaka 1996 (MVD Audio) :: The restless ghosts of Dave Thomas and Pere Ubu haunt this abusive atonal delight that combines Stockhausenian bloopy blorp short wave radio static with Electroluxian plugged hose whining. It's got no beat, you can't dance to it, I give it a yen.
Be seeing you!
Sat, June 19, 2021 | link
JEFFREY MORGAN'S ROCK 'N' ROLL PHOTOGRAPHS

While you're visiting, don't forget to view the dozens of essential selections from my vast archive of hundreds of extremely rare and previously unseen rock 'n' roll photographs from the 1970s and 1980s--all of which were taken by myself from my front row center seat at various venerable venues; vintage historical portraits which include the following rock stars caught in their youthful prime:

David Bowie (1976 Station To Station tour) :: Lou Reed (1974 Sally Can't Dance tour) :: Iggy Pop (1977 The Idiot tour) :: Bob Dylan (1978 Street Legaltour) :: George Harrison (1974 Dark Horse tour) :: Paul McCartney (1976 Wings Over America tour) :: Pete Townshend (1976 The Who By Numberstour) :: Johnny Winter (1976 Captured Live! tour) :: Jeff Beck (1975 Blow By Blow tour) :: KISS (1977 Love Gun tour) :: Alice Cooper (1975 Welcome To My Nightmare tour) :: Freddie Mercury (1977 News Of The World tour) :: Amanda Lear (1975 Sweet Revenge tour) :: Rod Stewart (1977 Foot Loose & Fancy Free tour) :: Mick Jagger (1975 It's Only Rock 'n Roll tour) :: New York Dolls (1975 Tokyo Dolls Live tour) :: Keith Richards (1975 It's Only Rock 'n Roll tour) :: Ian Hunter (1989 YUI Orta tour) :: Elton John (1974 Caribou tour) :: Mick Ronson (1989 YUI Orta tour) :: Steven Tyler (1977 Draw The Line tour) :: Sparks (1975 Indiscreet tour) :: James Brown (1986 Gravity tour) :: Miles Davis (1985 You're Under Arrest tour) :: Roger Daltrey (1976 The Who By Numbers tour) :: Bruce Springsteen & Clarence Clemons (1975 Born To Run tour) :: John Entwistle (1976 The Who By Numbers tour) :: Keith Moon (1976 The Who By Numbers tour) :: The Who(1976 The Who By Numbers tour) :: and more!

Ask any dealer and he'll tell you that the best way to get someone hooked on your product is to give them a free sample, so here's just a small taste of what's coming your way when you click on the eleven gallery links to your left: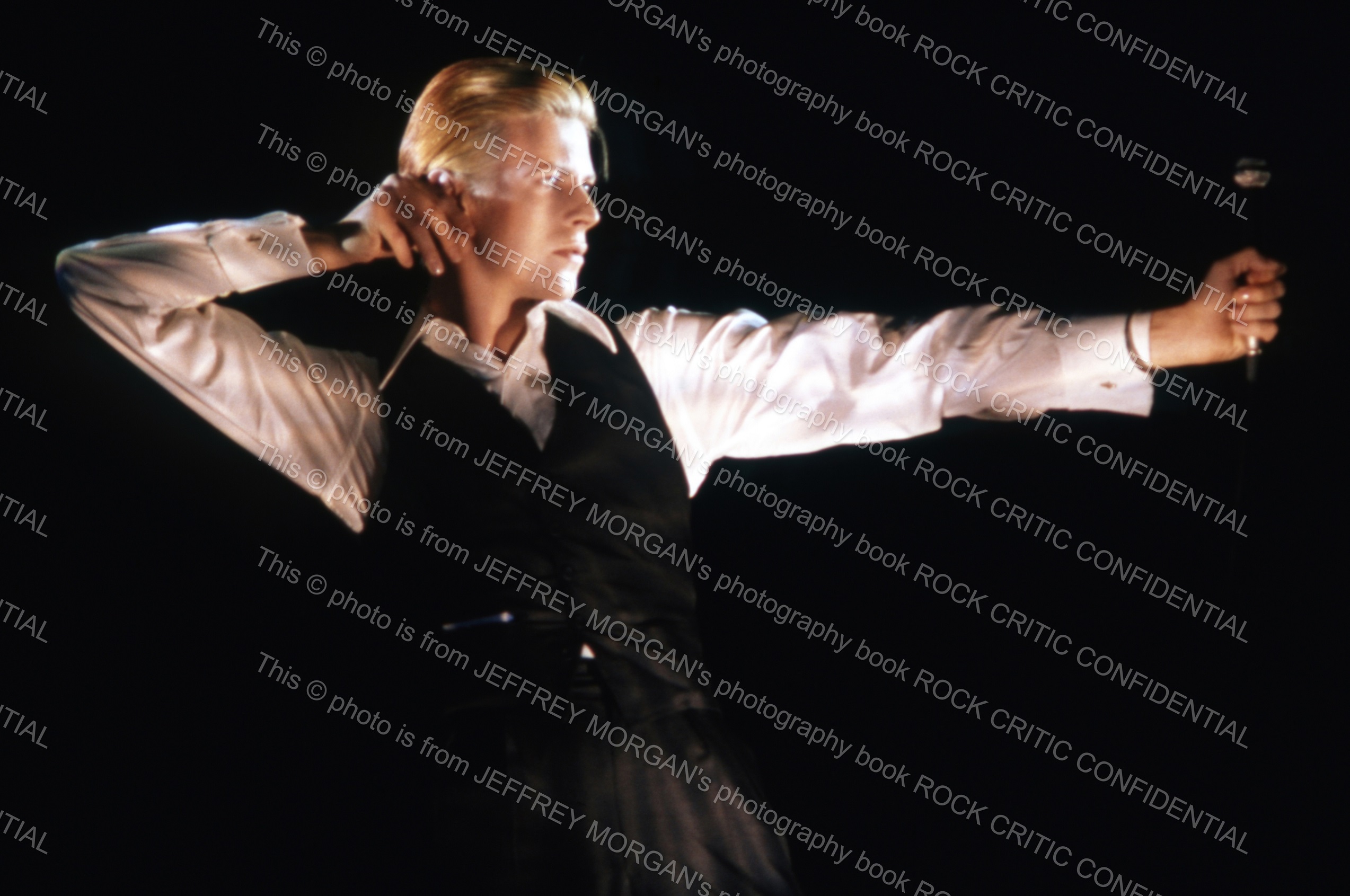 Sat, June 19, 2021 | link