Saturday, March 17, 2018
JEFFREY MORGANíS MEDIA BLACKOUT #617
JEFFREY MORGAN'S MEDIA BLACKOUT #617.258!
Various Artists – Sin-atra (Armoury) :: Not since fellow inmates Charles Manson and Phil Spector went into Corcoran State Prison's recording studio to record Evilis: A Burning Tribute To The King has there been such a cloven collection of cover versions! These twelve over the top metal permutations of every Old Screw Eyes classic ranging from "New York, New York" to "Strangers In The Night" are warbled by twelve over the top metal performers ranging from Twisted Sister's Dee Snider ("It Was A Very Good Year") to Cheap Trick's Robin Zander ("Fly Me To The Moon"). Take it from me, pallie: this is one platter that's sizzling whether you like it or not!
David Lee Roth – "That's Life" (Warner Bros.) :: Meanwhile, back in 1986, Diamond Dave was paving the way with this Sinatra single that hit number 85 on the Billboard Hot 100 chart.
Warm Ghost – Uncut Diamond (Partisan) :: I don't know which is the more amazing achievement: that this six track EP dares to merge the synth suaveness of Gary Numan via the mordant melodies of Trent Reznor and the arch artiness of David Sylvain via the doomed romanticism of Bryan Ferry—or that it all somehow actually manages to work.
The Jeff Healey Band – Get Me Some (Eagle Records) :: Sure this one's over a decade old now but, strangely believe it, it's still fresh enough to sound like it was recorded five minutes from now. Prepare to get deliriously giddy with delight as you listen to how Healy effortlessly switches gears from rock to blues to ballads with equal authoritative aplomb.
Marillion – Live From Cadogan Hall (Eagle Records) :: If you're one of those snooty prog rock adherents who always felt that Marillion died when Fish left, then it's time to undrape the crêpe and embrace the saving grace that this double disc offers. With a sound quality that's past pristine and a song selection that's practically pluperfect in every way, there's no reason why you should wait any longer at the window for your favorite former singer to reappear so douse that candle before you torch the curtains, kid.
SIZZLING PLATTER OF THE WEEK: Krissi Moses – Freak! (self released) :: She coos...just like a woman, yes she does. She chirps...just like a woman, yes she does. And she cajoles...just like a woman. But she breaks your balustrade into a puddle of oozing mush like a little girl with a sledgehammer in her vengeful mitts because this titanic tart isn't a super freak by any stretch of your feeble imagination: she's a super ultra mega freak who reeks with enough pouty 'n' perky vocal punk attitude to slaw your drooling slack-jawed visage a permanent skin peel while her band cranks out enough primo power pop to make you wanna grab her by the hand; track down a preacher man; and change her name so that you can be her next willing victim.
Be seeing you!
Sat, March 17, 2018 | link
Saturday, March 10, 2018
JEFFREY MORGANíS MEDIA BLACKOUT #616
JEFFREY MORGAN'S MEDIA BLACKOUT #616.257!
Third Place – Welcome To Lifeland (self released) :: Third place is second loser and this generic wad of angst rock doesn't do anything to change that. Welcome To Lifeless is more like it.
Mick Jagger & The Red Devils – Unreleased Blues Album (embargoed) :: Now lemme see if I got this straight: the guy spends the last quarter of a century hacking out lame Stones albums that should've been put to sleep before they ever saw the light of day and he keeps this superlative solo session from 1992 sitting on the shelf? Look, I'm all for selfless devotion to craft, but this is the most sincere music Jagger's made since Exile so do a search and download it now before you write the guy off entirely—assuming you haven't already done so.
The Rolling Stones – "Claudine" (embargoed) :: And if you have, you'd better likewise listen to this 1980 outtake from Emotional Rescue which is nothing less than the greatest track that the Rolling Stones weren't allowed to release. Not only do the withering lyrics about actress Claudine Longet and her involvement in the 1976 shooting death of her boyfriend, skier Vladimir "Spider" Sabich, go beyond black humor into an ultraviolet—and ultra-violent—vein, they redeem all of the singer's dodgy musical indiscretions for the past fifty years, they're that good: "She shot him once right through the head. She shot him twice right through the chest. The judges ruled it was an accident, Claudine. Accidents will happen!" Bonus points for having the drummer accentuate each "gunshot" with a rimshot.
Peter Green Splinter Group – Time Traders (Eagle Records) :: Ably augmented by harp 'n' horn, this tasty 2001 album from Fleetwood Mac founder Peter Green harkens back to the glory days of classic blues rock when gents like John Mayall and Eric Clapton used to rule the royal roost—which more than makes sense given Green's own Slowhand-supplanting stint in the Mayall's Bluesbreakers. And because it's still grievously unfortunate that Green's untimely departure split up Splinter in 2004, maybe it's about time that you revisited this overlooked gem and mourned along with the rest of us.
SIZZLING PLATTER OF THE WEEK: The River Junction Band – Limited Edition EP (self released) :: One of the things that I love best about attending Canadian Music Week each year is all the stray records that struggling musicians leave lying around for someone like me to pick up—which I do. This five track slice of hot toe-tappin' country honk one starts off a mite too slow for my liking but then the band wisely floors it to exceed the speed limit, which is where they always oughtta cruise 'cause that's where they do their best gitbox pickin' and violin pluckin'. Bonus points for having a dynamite he 'n' she dual duet combo and inspirational lyrics like: "Born country, it ain't hard to tell: my Mama was a Christian and my Papa was Hell."
Be seeing you!
Sat, March 10, 2018 | link
Saturday, February 24, 2018
JEFFREY MORGANíS MEDIA BLACKOUT #615
JEFFREY MORGAN'S MEDIA BLACKOUT #615.255!
Alessandra Comini – Egon Schiele's Portraits (University Of California Press) :: Back in the '70s, legendary British mime David Bowie was tagged in various rock rags to play early 20th century Austrian painter Schiele in a movie called The Wally that never materialized save for a photo of Bowie looking suitably wan with a book about Schiele casually strewn at his feet; but not this massive 500 page hardcover which would've been a tad too heavy for such a scrawny snow-snorter to heft.
It's too bad that the flick never got filmed because Schiele's seriously skewed life was just as deeply disturbing as his seriously skewed illustrations were—which is why I spent many a sleepless night kicking the gong around and wondering what the result would look like if some visionary with a brimming brainpan dared to use Schiele's herky-jerky artwork as a twisted template to create an iconoclastic landmark animated series.
Peter Chung – Æon Flux: The Complete Animated Collection (Paramount) :: It's been twenty long years since Peter Chung first transmogrified Egon's art into Æon's artifice and yet, as this definitive three disc set shows, the end results have never been more eerily ahead of their time than they are now—no mean feat in a world gone wacky. If you've never been exposed to Chung's uncanny covert environment, you can now make up for lost time by immersing yourself for hours in the deep end of the Æonetic pool where sixteen pretty much non-linear episodes await to indoctrinate you.
If it were easy to tell you what they're all about I would, but the best I can do to give you a hint of what awaits you is to quote that great poet Grace Slick, who once wrote about a time "when logic and proportion have fallen sloppy dead." Except that the crazy world of Peter Chung makes Lewis Carroll's looking glass landscapes seem like the very picture of photorealism; or as the phantom voice in Porky In Wackyland warns: "It can happen here!" And in this Æon paean, it most certainly does.
SIZZLING PLATTER OF THE WEEK: Drew Neumann – Eye Spy: Ears Only Confidential (Tone Casualties) :: Not since the great Carl Stalling gave Warner Bros. cartoons their own unique sonic personality has there been such a perfect melding of sound and vision as that applied to Chung's art by Neumann. This two disc instrumental soundtrack to the Æon Flux series is what Bowie's Low would've sounded like had he teamed up with The Equalizer's Stuart Copeland instead of Eno; or if id Software had hired Wendy Carlos to record Quake instead of Trent Reznor. But don't take my word for it: mosey over to Drew's website here where you can buy the enhanced three disc version directly from him and then decide for yourself.
Carl Stalling – The Carl Stalling Project: Music From Warner Bros. Cartoons 1936 – 1957 (Warner Bros.) :: Exactly!
Be seeing you!
Sat, February 24, 2018 | link
Saturday, February 17, 2018
JEFFREY MORGANíS MEDIA BLACKOUT #614
JEFFREY MORGAN'S MEDIA BLACKOUT #614.255!
George Harrison – "Awaiting On You All" (Apple) :: Leave it to a white guy from England to rhyme "Jesus" with "visas."
The Madison Square Gardeners – Teeth Of Champions (self released) :: From the guitars to the organ, the music is straight outta Dylan's Highway 61 Revisited but the vocals are strictly of the Elliott Murphy Aquashow ilk—and that's an inspirational combo that's hard to beat, especially when the songwriting is easily on par with both of those stellar songsmiths.
Ice Cube – "We Had To Tear This Mofo Up" (Priority) :: Leave it to a black guy from America to rhyme "Jesus" with "Adidas."
Ringo Starr – "The End" (Apple) :: Best drum solo ever?
Paul McCartney – "Kreen-Akore" (Capital) :: Best drum solo ever?
Ron Bushy – "In-A-Gadda-Da-Vida" (Atco) :: Best drum solo ever?
Peter Criss – "100,000 Years" (Casablanca) :: Best drum solo ever?
John Bonham – "Moby Dick" (Atlantic) :: Best drum solo ever?
Cozy Cole – "Topsy Part Two" (Apex) :: A million-selling, certified gold, number one single from 1958 that's just a drum solo? Best drum solo ever!
SIZZLING PLATTER OF THE WEEK: De Staat – Machinery (Cool Green) :: It ain't often that an eclectic album scores high marks on the intelligent quotient test and then registers an even higher rating on the crunge-o-meter, but De Staat's funk-fuelled Machinery sho 'nuff does both: first by oozing out a surfeit of creative artistic brain-power-pop (ref. Roxy Music; Devo; Robin Scott's M); and then by reeking with an unreasonable overdose of snarky sonic style and amped-up attitude (ref. KMFDM; Prodigy; Living Color).
Where to begin? With the herky-jerky Morse code guitar-driven chunk rock of "Ah, I See" that sounds like a bouncing buzz saw skewering a sheet metal trampoline? Or with the James Brown drill sergeant depiction of animal meat by-product processing on "Old MacDonald Don't Have No Farm No More" that'll make you wanna chow down on a tasty Big Kahuna Burger?
What about the pec-pumpin' beats of "Sweatshop" that'll have you in sync while you sate your iron addiction? Would I be remiss in missing the crazy carnival whirligig of "Psycho Disco" that keeps on chooglin' until the sows come home? It really doesn't matter because, from the sporadic synth-stuttering stylistics served up on "Tumbling Down" to the real cool hand that "Keep Me Home" deals down with its spiritually soulful chain-gang wail, this is one radical record to be reckoned with!
The Who – Magic Bus: The Who On Tour (Decca) :: Best live album ever!
Be seeing you!
Sat, February 17, 2018 | link
Saturday, February 10, 2018
JEFFREY MORGANíS MEDIA BLACKOUT #613
JEFFREY MORGAN'S MEDIA BLACKOUT #613.254!
Bill Cosby – To Russell, My Brother, With Whom I Slept (Warner Bros.) :: Boy, I guess we'll never see anyone with enough guts to use a slyly-suggestive title like that these days, huh?
SIZZLING BOOK OF THE WEEK: Mickey Leigh with Legs McNeil – I Slept With Joey Ramone (Touchstone) :: Thankfully, this is the complete antithesis to Legs' earlier oral history of punk Please Kill Me, which was so direly depressing that even I couldn't bear to keep it around. But just like the above-noted Cosby comedy classic, I Slept With Joey Ramone is heartfelt to a fault in the way that it narrates how brothers relate to each other—in this case Mickey to Joey—with the big difference being that there's understandably nothing in Cos' tale about the wages of Mickey's monkey; the variances of being an iconic rock star; or the tragic too-tough-to-die trauma of terminal cancer. But don't let that stop you from reading one of the most compassionate rock books ever written because you could do a lot worse and, let's face it, you probably already have.
SIZZLING PLATTER OF THE WEEK: The Rolling Stones – Ladies And Gentlemen, The Rolling Stones (Eagle Vision) :: It goes without saying but I'll say it anyway: try as it might, this movie, which is the only officially Stones-sanctioned document of the Stones' legendary 1972 Tour Of The Americas, doesn't come even remotely close to capturing the unearthly Olympic Gods Walking The Earth essence of what it was like to actually be there, in the same room as them, to bear witness at what was arguably the Stones' greatest last live stand; the argument being that you can always find some snooty purist who will eagerly insist that it all went downhill after 1966, never mind '69.
That said, this isn't anywhere near the sad slice of cinema that I initially deemed it to be after I saw it during its initial theatrical run in 1974. Back then, I staggered away with a bad taste in my eyes and the distinct feeling that the whole thing was nothing but a bunch of self-indulgent, big-lipped, vanity close-ups of the singer. Then again, I did sit through two consecutive showings of the Beatles' Let It Be in May 1970 because I didn't think that I'd gotten my two dollars and fifty cents worth the first time around, so I'm a tough audience to begin with.
However, I've mellowed enough in my dotage to now see this for what it really is: a well-shot rollicking romp that displays every band member in equal dollops of drag and has a sonically superior soundtrack that's probably the best we're likely to hear in lieu of their oft-bootlegged Klein-cancelled live album—and if it's no Stones In Exile, well, what is these days?
Robert Frank – CS Blues (Embargoed) :: This is!
Be seeing you!
Sat, February 10, 2018 | link
Saturday, February 3, 2018
JEFFREY MORGANíS MEDIA BLACKOUT #612
JEFFREY MORGAN'S MEDIA BLACKOUT #612.253!
George Harrison assisted by Bernie Krause – Electronic Sound (Zapple) :: The last word in noise!
The Aquabats! – Hi-Five Soup! (Fearless) :: All music's stupid as a spud, but rare is the record that's worthy of being tagged stoopid—and just like Lou Reed's The Bells, the is one heckuva stoopid album that's so satirically smart it actually dares to be D-U-M-B. Some might even go so far as to say that there hasn't been such a peerless parody platter since the heyday of "Weird Stan" Freeberg!
Stan Freeberg – St. George And The Dragonet (Capitol) :: Except that Hi-Fi Stupe! won't sell a million copies in three weeks like Stan's seminal single did back in 1953—and that's just the facts, Ma'am.
Braids – Braids (Kanine) :: What if the Phaedra-era Tangerine Dream and the Bedside Companion-era Nash The Slash had pooled their considerable synth skills to wax a record that featured a chirpy chick's ethereal vocals? The result would've been this delightful disc that'll have your ten toes tapping and your seven synapses snapping!
Neil Young assisted by Crazy Horse – Arc (Reprise) :: The last word in noise!
Otis Redding – Live On The Sunset Strip (Stax) :: If you're ready for Star Time, then this two disc distillation of Redding's four night stint at the Whisky in 1966 is definitely ready for you. What's that you say? You've heard enough versions of "Respect" and "(I Can't Get No) Satisfaction" to last you a lifetime? Then may I suggest going directly to the second platter to play Otis' ten minute throwdown on "Papa's Got A Brand New Bag"? It'll make you get up offa that thing; dance and you'll feel better!
Ben Ottewell – Shapes & Shadows (ATO) :: Ben's got an original voice and he uses it to sing well-crafted songs that are about as heartfelt and literate as you're likely to hear these days. Toss in some tastefully sparse album cover art direction and you've got an entire package that's well worth perusing—so mebbe y'oughtta pick up a copy 'n' settle down to give it a spin. Nine tracks, no waiting.
SIZZLING PLATTER OF THE WEEK: Colin Stetson – New History Warfare Vol. 2: Judges (Constellation) :: On this astonishing new avant album, sax master Stetson somehow manages to make his instrument evoke everything from the watery mystique obsequies of Gavin Bryars and the echoic reverb distortion of Unca Lou's live work with Zeitkratzer to the surreal hypnotic sequential drones of Terry Riley and Steve Reich as channeled through the altered sonic states of Basil Kirchin—an uncanny aural achievement made all the more impressive by the fact that Stetson plays everything in one take without any overdubs. Bonus points for having Laurie Anderson occasionally chime in with arcane words of wisdom and Shara Worden for likewise haunting the proceedings with her plaintive singing.
Lou Reed assisted by Lou's speed – Metal Machine Music (RCA Quadradisc) :: The last word in noise!
Be seeing you!
Sat, February 3, 2018 | link
Saturday, January 27, 2018
JEFFREY MORGANíS MEDIA BLACKOUT #611
JEFFREY MORGAN'S MEDIA BLACKOUT #611.252!
Alice Cooper – Lay Down And Die, Goodbye (Straight) :: If lacquering his liver for years with Budweiser and Canadian Club didn't kill him, then nothing will. File under: Too Tough To Die.
Elton John – Someone Saved My Life Tonight (MCA) :: If Bernie hadn't pulled Reg's head out of that gas oven, we never would've have had the pleasure of hearing him subsequently shill: "Sassoon says so much"! Anyone got a match?
Frank Gallup – Got A Match? (Paramount) :: I beg your pardon!
Ozzy Osbourne – Suicide Solution (Epic) :: If the bat-bite rabies didn't kill him, then nothing will. File under: Too Tough To Die.
Metallica – Fade To Black (Elektra) :: What, they're still alive? Amateurs!
Prince – Sexual Suicide (NPG) :: File under: Freddie Mercury.
Freddie Mercury – Don't Try Suicide (Elektra) :: Ironic, innit?
Paul McCartney – Suicide (Capitol) :: You'd think that writing a song called "Suicide" at age fourteen would portend something dire, but daddy says nothing doing. File under: Too Tough To Die.
David Lee Roth – Jump (Warner Bros.) :: When he sings "Go ahead and jump!" what did you think he was talking about? Hopscotch?
Cheap Trick – Auf Wiedersehen (Epic) :: Need a push?
Sparks – Here In Heaven (Island) :: Only Ron Mael could write a song about a suicide pact in which the woman reneges—as sung from the point of view of the man who, having gone first, said goodbye cruel world: "Now I know why you let me take the lead."
The Mash – Suicide Is Painless (Columbia) :: Number one with a bullet!
Grand Funk Railroad – Born To Die (Capitol) :: What, they're still alive? Amateurs!
Woody Guthrie – So Long, It's been Good To Know Yuh (Elektra) :: Even Okies get the dust bowl blues.
Phil Ochs – Rehearsals For Retirement (A&M) :: Merely the greatest—and, regrettably, most prophetic—album cover ever.
Trent Reznor – Gave Up (Nothing) :: When the singer describes his music as being "an ultra fast chunk of death" and then repeatedly wails "I tried, I gave up" you'd think that he would've backed up his brag by now, but no. File under: Too Tough To Die.
Ramones – Too Tough To Die (Sire) :: Really?
Iggy & The Stooges – Death Trip (Columbia) :: What, they're still alive? Amateurs!
PRESCIENT PLATTER OF THE WEEK – SAD ONE: Michael Hutchence – Suicide Blonde (Mercury) :: Professional.
PRESCIENT PLATTER OF THE WEEK – SAD TWO: Kurt Cobain – I Hate Myself And I Want To Die (Geffen) :: To a fault.
Dorothy Parker

 – R

é

sum

é

 (Enough Rope) :: "Razors pain you; rivers are damp. Acids stain you; and drugs cause cramp. Guns aren't
                  lawful; nooses give. Gas smells awful; you might as well live."
Be seeing you!
Sat, January 27, 2018 | link
Saturday, January 20, 2018
JEFFREY MORGANíS MEDIA BLACKOUT #610
JEFFREY MORGAN'S MEDIA BLACKOUT #610.251!
The Franco Proietti Morph-Tet – Live! A Weekend At Centre St. Ambroise (Bongo Beat) :: With saxes a-wailin' and turntables a-twirlin' and Moog synths a-bloopin' and a-blorpin' these fourteen hipsters casually carve out a bluesy reggaefied swatch of decidedly distant retrophonic monophonic sound that'll send you soaring into a groove-approved altitude where the java is always piping hot and the jive is always pluperfectly cool.
The Green Hour Band – Coming Of Clockwise (Scratch) :: The gnarly destorto fuzz bomb beginning behooved me to believe that this might be some kinda Cobainish revival meeting, but the drawlin' adenoidal protesting vocal convinced me that this is nothing less than a hopped up and harped up high octane folkified version of Blue Cheer.
Alternative TV – Black And White: Live (Bongo Beat) :: The sound quality may rival the Velvet's Live At Max's Kansas City for sonic sludgery but that only adds to the authentic feel of this career-spanning work which was recorded all around the world during this century, yet uncannily sounds as fresh as if it was recorded in 1977 during punk rock's heyday—and I was around back then so I should know...and I most certainly do.
The Luke Mulholland Band – Further (self released) :: Growlin' blooze rock that occasionally gets elevated out of the ordinary by a gnarly guitarist who hails from the same loopy fretboard fraternity as Satriani and Beck. But why credit this to your "Band" on the outside when you don't list a single musician on the inside?
Paul Hyde – Peace Sign (Bongo Beat) :: Backed by sound production so crisp it never needs ironing, Paul expertly essays the kind of songs that Judas stopped slinging after he revisited Highway 61–and if you don't believe me, just listen to the acidly acerbic "Greaseball Town" and try tellin' me that I'm wrong.
Lee Dewyze – Slumberland (Wuli) :: The way I see it, this is nothing less than a trippy Donovan Harrison concept album about Winsor McCay's Little Nemo In Slumberland. Dewyze'll deny it of course but, with songs like "Princess" and "Another Sleep Song," he really shouldn't.
Graham Brown & The Prairie Dogs – Do What You Should (Bongo Beat) :: This is the kinda tub-thumpin' cawntry hawnk that'd go good from behind a bottle of beer that's in front of a chicken wire wall. Careful with that pool cue, Eugene!
SIZZLING PLATTER OF THE WEEK: The Savage Nomads – What The Angel Said (Alaska Sounds) :: When Mick Jones says: "I can't think of anyone better than the Savage Nomads to rock the whole world" it's kinda like the Beatles endorsing Badfinger. But that don't diminish the endorsement's impressiveness none because this five track extended player is one helluva Clash course in everything that I like about loud guitar-driven rock 'n' roll—especially when it's fuelled by a soulful saturation of heartfelt passion like this disc is. Had it been pressed in plastic, it'd be a magnificent seven.
Be seeing you!
Sat, January 20, 2018 | link
Saturday, January 13, 2018
JEFFREY MORGANíS MEDIA BLACKOUT #609
JEFFREY MORGAN'S MEDIA BLACKOUT #609.249!
Bruno Mars – Doo-Wops & Hooligans (Elektra) :: Music whores a vacuum which is why, now that Michael Jackson's gone, space has opened up for Bruno to moonwalk into his void with an album that merges an ace imitation of MJ's voice with Freddie Mercury's breathy archness, all sheathed in a synthesized swirl that's straight outta the '80s—and as we all know, nothing says the '80s better than Bruno!
Bruce Willis – The Return Of Bruno (Motown) :: That's right, Motown. What were you expecting? Stax?
Cybill Shepherd – Moonlighting (MCA) :: Stax, you idiot! Not stacked! Stax!
Miles Davis – The Man With The Horn (Columbia) :: It don't mean a thing if it ain't got that schwing!
Grace Kelly & Phil Woods – Man With The Hat (Pazz) :: Sometimes I think that you can't find a jazzier cat than big boppin' sax man Woods. As if studying with the great Lennie Tristano wasn't enough, he then married Bird's widow Chan and shuffled off to Paris. You'll probably know him best for his smooth solo on Billy Joel's syrupy single "Just The Way You Are" but don't hold that against him because he's more than made up for it by joining sax siren Kelly for this new album of smooth soundin' duets. Bonus points awarded if she calls her next album Dial S For Sax.
Grace Kelly – Dial M For Murder (Alfred Hitchcock) :: Geddit?
Dave Rave – Live With What You Know (Bongo Beat) :: What if The Who Sell Out-era Who and the Rubber Soul-era Beatles had recorded an album together? The result would've been this practically perfect in every way pop record, which is nothing less than Dave Rave's apex of auditory expression. In fact, it's so sonically stellar that it would've easily made my Village Voice 2010 Top Ten list had I heard it last year—so let that be a lesson to all you tardy publicists!
SIZZLING PLATTER OF THE WEEK: Jonny Burke – Distance & Fortune (Dreamcar) :: Jonny comes rockin' outta left field in 4/4 time with a voice that sounds like snarky Alice Cooper; lyrical skills that easily evoke Elvis Costello on a magnanimous day; and wiry Keith Richards riffs which simply reek with the sonic simplicity of Bowie's "Rebel Rebel." Then he unexpectedly detours into Elliott Murphy country-folk territory for a spell before blasting out the other side in full-bore rock mode again. If I didn't know any better, I'd say that this is the sound of someone who's completely confident in the knowledge that he can do just about anything he wants to in the studio—but I do and he can.
Be seeing you!
Sat, January 13, 2018 | link
Saturday, January 6, 2018
JEFFREY MORGANíS MEDIA BLACKOUT #608
JEFFREY MORGAN'S MEDIA BLACKOUT #608.248!
Ray Santilli – Alien Autopsy: Fact Or Fiction (FOX) :: No comment.
Discovery Networks International – Michael Jackson's Autopsy: What Really Killed Michael Jackson (Discovery Channel) :: No comment.
Daryl Hall & John Oates – Live At The Troubadour (Shout! Factory) :: One day, when I'm old and I can't stand listening to loud rock 'n' roll anymore, I'm gonna sit myself right down in a wicker rocking chair and mellow my mind with this smooth sounding triple disc audio-visual combo that touches almost every career base from their early days to their mega-platinum hits. But not today.
Big Star - #1 Record & Radio City (Fantasy) :: A twofer blend of generic up-tempo pop rockers and geriatric snoozak ballads, the latter of which would've sounded a whole lot better had they been done by Todd.
Arthur Nasson – Echo Garden (self released) :: And speaking of the Runt, multi-instrumentalist Nasson unleashes a charmingly naïve Rundgrenish crash course in pop music styles that begins with Brian Wilson, ends with Rick Wakeman, and has more than a few ambient stops along the way to whet your whistle for much more.
Paul Langlois – Fix This Head (Ching) :: Wherein the Tragically Hip's guitarist hunkers down to come up with one of the most moving debut albums I've heard since Johnny MacLeod redefined what it means to be a triple threat singin' songwritin' guitarist—and if you've ever heard any of Johnny's albums, you'll know that's mightly impressive praise indeed!
Johnny & The G-Rays – "Trying To Chew My Head" (Attic) :: Exactly!
The Homemade Jamz Blues Band – I Got Blues For You (Northern Blues) :: When he reviewed Grand Funk's On Time in Rolling Stone, Lester Bangs wrote that "the drumming is guaranteed to send you up the wall." I'm a Don Brewer fan so I didn't agree, but after hearing the brutal monotonous bashing on this album, I have to admit that I now know how he felt. I Got Bruise For You is more like it.
Arthur – Watch The Years Crawl By (Rock City Recording Company) :: I hate listening to whiny adenoidal singers but I gotta admit, after hearing this record, that if I had to listen to one whiny adenoidal singer as the years crawl by...I'd listen to Kurt Cobain.
SIZZLING PLATTER OF THE WEEK: Dave Koz – Hello Tomorrow (Concord) :: They may tag sax sessions like this as being "contemporary jazz" these days, but that sounds like some kinda condescending old fogey "Boots Randolph" label to me because where I hang out—on the corner of Coryell and Deodato—it smacks of nothing less than good old-fashioned "fusion" to me. Sure, the liner notes and track notations are strictly new age feel-good folderol, but that's more than offset by having Herb Alpert on trumpet and Sheila E. on vocals. Bonus points for resisting the temptation to call his album Koz And Effect.
Robert Plant – Now And Zen (Atlantic) :: Sheesh.
Be seeing you!
Sat, January 6, 2018 | link
Saturday, December 30, 2017
JEFFREY MORGANíS MEDIA BLACKOUT #607
JEFFREY MORGAN'S MEDIA BLACKOUT #607!
Presented for your needle-droppin' groove approval, in semi-strict random ethno-alpha-numerical order so as not to show any undue kickback payola favoritism, is Jeffrey Morgan's 2017 Top Ten List Of Records as they appear on my official ballot for this year's Village Voice rock critics poll, which I've been voting in annually ever since Robert Christgau was kind enough to give me the nod some five decades or so ago. In other words, and I've got a million of 'em, these are my Sizzling Platters Of The Year, all of which deserve repeated spins on your old grand-dad's Victrola. Don't ask why! Just buy them!
Various Artists – Make America Great Again (Greatest Songs Of The USA) (Curb) ● Obscured By Clouds – Thermospheric (Psycheclectic) ● James Williamson & Dennis Tek – Acoustic K.O. (Leopard Lady) ● Edward Sayers – Underdog / Overlord (self released) ● Stolen Apple – Trenches (Pagani) ● Plasmatics – Live! Rod Swenson's Lost Tapes 1978-81 (MVD) ● Jenna Nation – You Don't Know (self released) ● Iguana De Banda – Etiqueta Negra Del Lugo (Boca Del Rey Discos) ● Various Artists – 24 Classic Blues Songs From The 1920s Volume 14 (Blues Images) ● Donald Trump – Make America Great Again (Culture Factory)
Be seeing you!
Sat, December 30, 2017 | link
Saturday, December 23, 2017
JEFFREY MORGANíS MEDIA BLACKOUT #606
JEFFREY MORGAN'S MEDIA BLACKOUT #606.243!
Ronnie Earl & The Broadcasters – Living In The Light (Stony Plain) :: Exemplary axe execution elevates this one into the upper blues guitar echelon, but so-so singing drags it back down into the pedestrian part of town where side two of Jimmy Page's Outrider lives.
Ronnie Earl & The Broadcasters – Spread The Love (Stony Plain) :: Exemplary axe execution elevates this one into the upper blues guitar echelon and an utter lack of vocals keeps it there. Bonus points for covering "Cristo Redentor." Points deducted for including a liner note quote from a pulchritudinous Padre plugging your positive qualities as a human being. Ronnie, Ronnie, Ronnie. Next time, ditch the shameless self-promotional spiritual payola and let your God-given gift of music do the talkin' for you instead, alright? Oh my brother, testify!
Duke Robillard's Jumpin' Blues Revue – Stomp! The Blues Tonight (Stony Plain) :: Era-specific pastiches never work because the practitioners can never duplicate the primitive period sound that they're aping but boy does he ever do these rhythm 'n' blues to death and die tryin' in the process. The closest that the Duke comes to cliché is when he covers "Frankie And Johnny" and "Ain't Nobody's Business" but most everything else that he chooses to uncover is spot on, from Ike Turner's "Tore Up" to Helen Humes' "Million Dollar Secret." Clocking in at over an hour in length, this is one retro record that's an absolute must for your next rent party.
Duke Robillard – Passport To The Blues (Stony Plain) :: You might like this one better if you're a modern era maven but, as your physician, I'd advise you to take both of these and crawl to me in the morning. Your papers please!
Andy Kim – Happen Again (Iceworks) :: Whether you know it or not, you know Andy as the wunderkind singer-songwriter responsible for such infectious worldwide mega-hits as the Archies' "Sugar Sugar"—and admit it: your brainpan's jukebox is playing "Sugar Sugar" right now just by reading that song title, innit? Well, never one to rest on his considerable royalty checks, this tasteful new long player is everything that you'd expect from such a staunch pop stalwart as Andy. Smart singing, smart songwriting and smart playing all add up to Happen Again being the best solo album that John Lennon never lived to record. It's also the new album that Bryan Ferry wishes he'd recorded instead of Olympia.
SIZZLING PLATTER OF THE WEEK: Black Country Communion – Black Country Communion (J&R Adventures) :: The vocals are of the scotch-garglin' style that made Steve Marriott and Bon Scott benchmark wailers; the bass is a bowel-buffeting beast that'll massage your innards from stench to stern; the slick-swervin' guitar is straight outta mid '60s studio nirvana; and the pulse-pounding drums with their thick bludgeoning beats sound uncannily just like John Bonham of Led Zeppelin—which they oughtta since the skin-smashin' stick man is none other than Bonzo's son Jason. Toss in some synth-soaked atmoogspherics and you've got a recipe for the kind of good old-fashioned "Black Country Rock" that Mom used to hate!
Be seeing you!
Sat, December 23, 2017 | link
Saturday, December 16, 2017
JEFFREY MORGANíS MEDIA BLACKOUT #605
JEFFREY MORGAN'S MEDIA BLACKOUT #605.242!
Kristy Lee – Live At The Soul Kitchen (self released) :: All rise! Court is in session! The honorable Judge Kristy Lee presiding! Wielding an acoustic guitar like a gavel, this rightfully irate woman dispenses Alabama justice in the form of cautionary tales like the aptly-titled "45" in which an abused woman shoots her abuser in self-defense with Exhibit A. The female jury in the audience is solidly on Kristy's side because she's got too much soulful personality and heartfelt passion to be held back by the quivering likes of you, you worm, so stand up and take your medicine like a man. Guilty on all counts! Next case.
Immolate – Ruminate (MVD Audio) :: The album cover outside shows a skeleton awash in flames while the album music inside shows the vocalist buried alive in dense slabs of Spectorish sound; a sonic distinction that almost makes this the Exile On Aladdin Sane St. of death metal. Double bonus points for having a singer who actually sings instead of screams and for having a band that's smart enough to take their musical cues from Powerman 5000—not that they'd ever admit it.
Elizabeth And The Catapult – The Other Side Of Zero (Verve Forecast) :: From the label that gave you Billie Holiday comes another woman y'gotta watch out for, what with her woeful tales of doomed romance like "Go Away My Lover" on which she laments: "Darling won't you go? Leave me to my tower, leave me all alone." But it's not all Garboesque fun 'n' games because there's a dark Lynch-pin supporting these proceedings that'll make you nervously laugh at her insightful lyrics and then suddenly think: does she really mean it?
Jonas & The Massive Attraction – Big Slice (self released) :: Having studied such previous purveyors as Springsteen and Aerosmith, it's apparent that Jonas & The Massive Attraction want to prove it all night that they're the new modern masters of the Power Ballad; an aspiration which they admirably achieve on three quarters of Big Slice. But since man does not live on ballads alone, I'm pleased to say that the remainder of the record is a raucous romp of ramped up heavy duty rock 'n' roll that, with a little bit of dedication to the cause, could very end up reverberating all the way back to the sonic neighborhood where Buzz Shearman's legendary band Moxy used to live—and yes, that's a challenge.
FIZZLING PLATTER OF THE WEEK: Bryan Ferry – Olympia (Virgin) :: I was looking through my record collection for some rejects to give away as Christmas presents when I came across this prime candidate. The come-hither satin sheets cover photo may look like a Roxy Music throwback but this ballad-bloated album ain't no Stranded by a Country Life mile. Which only goes to show that you can lead Bryan Ferry, Eno, Phil Manzanera, Andy Mackay and Chris Spedding back to the fountain of rock, but you can't make them drink.
Be seeing you!
Sat, December 16, 2017 | link
Wednesday, December 13, 2017
JEFFREY MORGANíS ROCK íNí ROLL PHOTOGRAPHS

JEFFREY MORGAN'S ROCK 'N' ROLL PHOTOGRAPHS

While you're visiting, don't forget to view the dozens of essential selections from my vast archive of hundreds of extremely rare and previously unseen rock 'n' roll photographs from the 1970s and 1980s—all of which were taken by myself from my front row center seat at various venerable venues; vintage historical portraits which include the following rock stars caught in their youthful prime:

David Bowie (1976 Station To Station tour) :: Lou Reed (1974 Sally Can't Dance tour) :: Iggy Pop (1977 The Idiot tour) :: Bob Dylan (1978 Street Legal tour) :: George Harrison (1974 Dark Horse tour) :: Paul McCartney (1976 Wings Over America tour) :: Pete Townshend (1976 The Who By Numbers tour) :: Johnny Winter (1976 Captured Live! tour) :: Jeff Beck (1975 Blow By Blow tour) :: KISS (1977 Love Gun tour) :: Alice Cooper (1975 Welcome To My Nightmare tour) :: Freddie Mercury (1977 News Of The World tour) :: Amanda Lear (1975 Sweet Revenge tour) :: Rod Stewart (1977 Foot Loose & Fancy Free tour) :: Mick Jagger (1975 It's Only Rock 'n Roll tour) :: New York Dolls (1975 Tokyo Dolls Live tour) :: Keith Richards (1975 It's Only Rock 'n Roll tour) :: Ian Hunter (1989 YUI Orta tour) :: Elton John (1974 Caribou tour) :: Mick Ronson (1989 YUI Orta tour) :: Steven Tyler (1977 Draw The Line tour) :: Sparks (1975 Indiscreet tour) :: James Brown (1986 Gravity tour) :: Miles Davis (1985 You're Under Arrest tour) :: Roger Daltrey (1976 The Who By Numbers tour) :: Bruce Springsteen & Clarence Clemons (1975 Born To Run tour) :: John Entwistle (1976 The Who By Numbers tour) :: Keith Moon (1976 The Who By Numbers tour) :: The Who (1976 The Who By Numbers tour) :: and more!

Ask any dealer and he'll tell you that the best way to get someone hooked on your product is to give them a free sample, so here's just a small taste of what's coming your way when you click on the eleven gallery links to your left: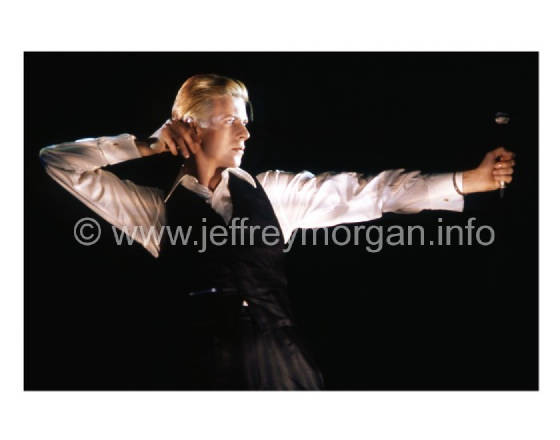 Wed, December 13, 2017 | link
Saturday, December 9, 2017
JEFFREY MORGANíS MEDIA BLACKOUT #604
JEFFREY MORGAN'S MEDIA BLACKOUT #604.241!
SIZZLING PLATTER OF THE WEEK – SIDE ONE: Betty Moon – Rollin Revolution (self released) :: Back in the '70s my all time fave femme singer was Wendy Herman of Angletrax so you can bet your bottom dollar that I'm pleased as punch to report that this here Moonage Babedream is a heavy hard rockin' revolutionary Hermanesque hellion who's got a slinky 'n' sly predatory eye on your danglin' prize. "I've got skin and know how to use it and I wanna lose it," she confidently declares on "I've Got This" so who are you to say nay? Bonus points for having the refreshingly good taste to salute her roots by covering Grace Slick, who was my all time fave femme singer back in the '60s don'tcha know. Points deducted if she doesn't call her next album Moonage Babedream.
Robert Plant – Band Of Joy (Rounder) :: Although I may listen to Manic Nirvana more than any other Plant platter, I know deep down in my heart of hearts that Fate Of Nations is his artistic apex. Luckily, Band Of Joy happily straddles the sonic fence somewhere between the two in that it's much less manic than Manic and far less fateful than Fate. In other words, it's a relaxed romp that's part honeydrippin' desire, part flower power posy, and part tremolo trouble.
SIZZLING PLATTER OF THE WEEK – SIDE TWO: Bachman Turner Overdrive – Bachman & Turner (Box Of Songs) :: So what if this album is technically credited to "Bachman & Turner"? I'm never afraid to call a spade a spade, which is why I'm tellin' ya that this is a BTO album as sure as the day is long—and the day'll never end as long as you've got this hot wax drippin' off your turntable on eternal auto-repeat. But don't take my word for it: just listen to the infectious "That's What It Is" with its thick hunka-chunka power chords and st-st-st-stuttering vocals 'cause in BTOland things ain't never gonna change.
Led Zeppelin – A Work In Progress: 15 Camera Mixed Edition – The O2 Arena, London, UK, 10th December 2007 (no label) :: If the heavy bludgeoning sound doesn't kill you, the band's preternatural performance will. You can't buy it in stores so download it now—and whatever you do, make sure that you get this two disc edition 'cause it cleans the clock of the officially released Celebration Day. So if you want to hear the drummer's spot-on impersonation of the singer wailing "I Can't Quit You Baby," this is the place to be, see?
SIZZLING PLATTER OF THE WEEK – SIDE THREE: Leon Russell & Elton John – The Union (Rocket) :: It's always admirable when a legendary rocker gives a helping hand up to another legendary rocker whose star has inexplicably and unjustly dimmed. Bowie did it for Lou and Iggy when they needed it and now Elton is doing likewise for Leon on this long player that proves you can go back home again—and for me personally, home is when I first saw them performing live: Leon in 1971 at O'Keefe Centre and Elton in 1974 at Maple Leaf Gardens. Bet you didn't think they knew how to rock 'n' roll but, back then, they sure as shootin' did.
I say did because, as is often the case with efforts of this ilk, there are no real out 'n' out rockers on The Union; that's what albums like Leon Live and Rock Of The Westies are for. Instead, there's a heartfelt poignancy that's never wistful because this is one helluva joyous celebration of two men's mutual musical respect. You can still pick out Leon's distinctive piano playing a country mile away, and if he doesn't sing in that fever pitch whoa-wailin' style that he used to do back when he was filling football stadiums, his voice still has as much soulful resonance as it ever did—especially on number like the archetypal tune "Hearts Have Turned To Stone," which sounds like a 1971 outtake from Leon Russell And The Shelter People during his "Holy Trinity" heyday.
Me, I'm more than happy to have a Leon-Elton-Neil Young duet on "Gone To Shiloh," not to mention "Snakey" Jim Keltner on drums; Bernie Taupin on lyrics; Brian Wilson on background vocals; and T Bone Burnett on guitar and production—not to mention heartfelt liner notes by Elton himself and a painterly 'old masters' cover photo by Annie Leibovitz. But most of all, I'm especially happy that in 2010 the world is once again getting to hear a man who was one of my main musical heroes back when there were musical heroes worth having.
Yeah, I miss Leon, too.
Be seeing you!
Sat, December 9, 2017 | link
Saturday, December 2, 2017
JEFFREY MORGANíS MEDIA BLACKOUT #603
JEFFREY MORGAN'S MEDIA BLACKOUT #603.240!
KMFDM – "Superpower" (Metropolis) :: What we need is a musical arms race!
Chromeo – Business Casual (Last Gang) :: The gleaming band logo and leggy album cover just reek of the late '70s and early '80s when syntho disco ruled the royal roost—and the septum-snortin' music within follows white suit. If you've ever had an unhealthy hankering to hear Bryan Ferry produced by Giorgio Moroder, then whip out that coke spoon and dig deep 'cause this album is nothing to sniff at.
Ice T – Live In Montreux (MVD Visual) :: Remember when this guy used to be relevant?
Parliament Funkadelic – Live 1976 (Shout! Factory) :: Proof positive that, back in the '70s, black folk dressed up just as silly as white folk did. File under: Space Riot.
Ice T – "Race Riot" (Priority) :: I do.
The Twisters – Come Out Swingin' (Northern Blues) :: Twelve rounds of kidney-crushing belts to your flabby midsection that'll leave you gasping for air. As your corner man, I advise you to pull a Liston and stay seated on your stool for the remainder of this jumpin' jive.
Nick Tosches – The Devil And Sonny Liston (Little, Brown) :: The best sports book ever written by a rock writer, period.
Sonny Liston – World Heavyweight Champion (Big Bear) :: Dive, schmive. He's on the cover of the Beatles' Sgt. Pepper and he slugs it out with Davy Jones in the Monkees' Head. That's good enough for me, Champ.
Tyler Kyte – Talking Pictures (Orange) :: Proficient pop songs performed by a Canadian who makes present day Burton Cummings sounds like latter day Lemmy Kilmister.
Tantric – Mind Control (Silent Majority Group) :: They may have a name that sounds like they're some kinda sexdrone band, but they come across instead as a Mensa version of Metallideth—which is definitely saying something since both Hetfield and Mustaine are no slouches in the smarts department.
Public Enemy – Revolution Tour: Australia 2003 (MVD Visual) :: Remember when these guys used to be relevant?
Miles Davis – That's What Happened: Live In Germany 1987 (Eagle Eye) :: How he had the appalling bad taste to think that tripe ballads like "Time After Time" and "Human Nature" were the modern equivalent of "My Funny Valentine" and "If I Were A Bell" I'll never know.
Public Enemy – Apocalypse 91: The Enemy Strikes Black (Def Jam) :: I do.
SIZZLING PLATTER OF THE WEEK: Kevin Eubanks – Zen Food (Mack Avenue) :: If all you know about Eubanks is his bandleader stint on the Tonight Show, then prepare to be very pleasantly surprised by this highly intelligent jazz album that starts out sounding like a cool classic cross between Stanley Clarke's School Days and Jan Hammer's Oh Yeah? before it veers into a vintage Prestige and Verve vein that alternates between being sensually spiritual and so seriously swingin' with funk as to be borderline heavy.
Nine Inch Nails – "Hyperpower!" (Interscope) :: What we need is a musical arms race!
Be seeing you!
Sat, December 2, 2017 | link
Saturday, November 25, 2017
JEFFREY MORGANíS MEDIA BLACKOUT #602
JEFFREY MORGAN'S MEDIA BLACKOUT #602.237.38!
Nushu – Hula (self released) :: Nushu is the band name of Hillary Burton and Lisa Mychols, the latter being the 'primo pop princess' responsible for one of my favorite all time brain-invadin' tunes, the aptly-titled "Out Of My Mind" which drove me just that. But even I'm sane enough to know that this beach blanket slice o'fun in the sun has enough chirpy chick vocals and jing-janglin' guitars to get you offa that thing and dancin' the strip-shake before you know it. Chirps up!
Chloe Charles – Little Green Bud (self released EP) :: Evocative soundscapes languidly swirl about like windswept snowflakes. Then Chloe's magnificent voice materializes in the middle of your mind with a warming timbre telling warning tales rife with the learned experience of one who knows. Meanwhile, her acoustic guitar proceeds to gently pluck away at your meager defenses until you finally capitulate.
The Hyena Dog Robbery – The Hyena Dog Robbery (self released) :: Kids, if you're gonna steal, make sure that you steal from the best like these sonic satirists do. When they aren't busy burgling guitar riffs from "Secret Agent Man" and "James Bond Theme" they're busy burgling vocals from the Cramps and My Life With The Thrill Kill Kult. Now that's what I call snatchin' the pooch!
Middle Class Rut – No Name No Color (Bright Antenna) :: Y'never know when something new's gonna come rocketing in outta left field to grab you by the ears and shake you wide awake—and you won't sleep for days after you hear this relentless amped-up guitar 'n' drum overdrive onslaught that wittily welds angst-ridden Trenton Reznor boo-hoo heaviness with angry Peter Townshend screw-you poppiness.
Pamela Des Barres – I'm With The Band: Confessions Of A Groupie (Chicago Review Press) :: She's my little douche coupe, you don't know what I caught.
Keith Richards – Life (Little, Brown) :: "That's life." "What's life?" "A book." "How much does it cost?" "Thirty bucks." "I only have a dollar." "That's life." "What's life?" "A book." "How much does it cost?" "Thirty bucks." "I only have a dollar."
Frank Sinatra – "That's Life" (Reprise) :: What's life?
Desi Arnaz – A Book (Buccaneer) :: Well, that was fun.
Bad Books – Bad Books (Razor & Tie) :: What if the David Bowie who recorded Hunky Dory and the Kevin Ayers who recorded whatevershebringswesing had teamed up to record a delightfully light album like this intelligent airy offering? Too bad the naïve cover art is so visually repulsive though. Style, boys. Whatever happened to style?
Franklin D. Roosevelt – The New Deal (1933) :: What rock 'n' roll needs is a Works Progress Administration!
The New Deal – Live: Toronto 7.16.2009 (SCI Fidelity) :: This synth, bass and drums aggregate is great at cranking out the trippy transcendental trance beats in a way that sounds like an intoxicated unification of prog rockers FM with trance rockers Tangerine Dream under the amped up aegis of hardhouse rocker Lisa Lashes. Then some maroon on stage has to break the mood by inanely yelling out: "All right Toronto! Let's take this one out! C'mon! Are you with me? Are you with me?" No kid, that's where you lost me. Next time, keep your mouth shut.
Motionless In White – Creatures (Fearless) :: At first scream, these guys seem to be the scare apparent to Pantera only a lot more melodic with an upped ante of atmospheric keyboard washes. Maybe they oughtta change their name to the Ozzy Osmonds.
Trent Reznor & Zack de la Rocha - Rage Against The Pretty Hate Machine (Polemic) :: I wish.
SIZZLING PLATTER OF THE WEEK: Randy Weston And His African Rhythms Sextet – The Storyteller: Live At Dizzy's Club Coca-Cola (Motéma) :: Man, if you think that's a mouthful to visually digest, then just wait until your ears get hip-addicted to one of the most slammin'ist live jazz albums to be released in many a moon 'cause this thick smoker sounds as if it came wafting outta some swingin' soiree where the ultra suave groove on ultra waves of sound.
When ivory-tinkler Weston isn't smearcasing Keith Jarrett at his own game on the Latin jazz pioneer tribute "Chano Pozo," he's hunkered down and hammering away on "Jus' Blues" like a seriously schizoid Mike Garson. Then the band comes roaring in straight outta Heavytown like they've been depth charging Dizzy's "Manteca" for breakfast with a four-sided Miles Dark Magus chaser.
And just when you think that your head is gonna explode from this overdose of sheer aural ecstasy, they lower the pace and let you take five before cranking it up all over again.
That's slammin'ist.
Be seeing you!
Sat, November 25, 2017 | link
Saturday, November 18, 2017
JEFFREY MORGANíS MEDIA BLACKOUT #601
JEFFREY MORGAN'S MEDIA BLACKOUT #601.237!
Jay Semko – Jay Semko (Busted Flat) :: Wherein Jay uses his emotive voice to ably express these eleven country cautionary tales of life's up and downs. Bonus points for writing the greatest cross-border breakup song ever, the humorously hurtin' "Before You Leave Canada."
Freeland – Cope (Marine Parade) :: The solid song structures of Nine Inch Nails solidly anchored by the squawky bloop 'n' blorpy synthesizer sounds of vintage Eno. If you liked the hyperkinetics of Pretty Hate Machine but hated the tepid languor of Another Day On Earth, then this one's for you.
Paul Oakenfold – Perfecto Vegas (Thrive) :: Lisa Lashes may be the heaviest hardcore DJ in the world and Jeff Mills may be the most psychotically hypnotic, but this double dose of mellow beats shows you why Oakenfold is the tranciest tripper of them all.
The Jezabels – Dark Storm (self released) :: A good EP will quickly make its mark and leave you reeling in its wake while a lesser full length album is just trying to get traction—and this EP is better than just good. From the elegantly beguiling water front cover of a water wading woman to the passionate music and literate lyrics within, it'll have you smitten with its heartfelt emotion and strength. Wordier than Patti Smith and whoopier than Lene Lovich, this is one teaser that has me eagerly anticipating the inevitable long player.
SIZZLING PLATTER OF THE WEEK: The Flowers Of Hell – "O" (Optical Sounds) :: The essence of all criticism can be boiled down to the one line that stranded spaceman David Bowie says at the end of The Man Who Fell To Earth. Having recorded an album of literally unearthly sounds that he hopes his wife will hear in outer space when it's played, a boozed-up Bowie is confronted by Rip Torn who says that he heard the alien-sounding record and didn't like it. Bowie's reply: "I didn't make it for you."
Well, the Flowers Of Hell made this album for me. I'm its target audience and you are too if you're addicted to dreamy minimalist drone music as expertly exemplified by such album as: Terry Riley's Persian Surgery Dervishes; Eno's Discreet Music; Gavin Bryars' The Sinking Of The Titanic; and Tony Conrad's Outside The Dream Syndicate, to name only a few of my own personal favorites.
During its languid 45 minute length, "O" will evoke all of these albums as treated guitars, violin, trumpet, cello, double bass, drums, percussion, flute, chimes, organ, and baritone sax coalesce to sculpt a seamless sonic soundscape that will transport your mind deep into an inner realm which records rarely seek to reach these days.
And, in the best value an ambient enthusiast is going to find these days, "O" is issued on a double layer disc whose flip side DVD includes a 5.1 mix, hour long concert film, plus bonus live performances.
Now that's what I call a sustained release.
Be seeing you!
Sat, November 18, 2017 | link
Saturday, November 11, 2017
JEFFREY MORGANíS MEDIA BLACKOUT #600
JEFFREY MORGAN'S MEDIA BLACKOUT #600.234!
Mudvayne – Mudvayne (Epic) :: Visually, the artwork appears blank unless seen under a black light. Musically, the disc should've been left blank too.
David Lee Roth – "Blacklight" (Wawazat!) :: You see?
Bill Dana – My Name...José Jiménez (Kapp) :: You see?
JW-Jones – Midnight Memphis Sun (Northern Blues) :: Did I hear a hint of Pat Boone in JW's voice on this bloozified country twanger? Lemme go play it again; I'll be right back.
Pat Boone – In A Metal Mood: No More Mr. Nice Guy (Hip-O) :: I bet Tony Bennett wishes he had Ronnie James Dio and Ritchie Blackmore sitting in on one of his swingin' sessions!
JW-Jones – Midnight Memphis Sun (Northern Blues) :: Indeed I did!
Dan Mangan – Nice, Nice, Very Nice (File Under: Music) :: As nice as this gentle romp is, wouldn't it be nicer if Canada's answer to Kevin Ayers could now find his Canucklehead counterparts to Cale, Nico, and Eno?
Kevin Ayers – "Falling In Love Again" (Island) :: Exactly!
Hadouken! – For The Masses (Surface Noise) :: The cover sticker claims that this one contains "The Prodigy's energy" but it's just a monotonous retread of Liam Howlett's brainchild without a single shred of originality. Now you know why the band's name translated into in English means: "Bland Theft Audio!"
Peter Bjorn – Living Thing (Sony) :: Track one is awash with a pale pallet of minimal synth sounds and handclaps. Track two introduces the drum machines. Track three, well, you get the idea.
Dusty Rhodes And The River Band – Palace And Stage (Side One Dummy) :: Don't let the band name fool you 'cause this ain't no country hoe-down, it's an ambitious aural production that's reminiscent of ELO-down.
Vienna Teng – Inland Territory (Zoë) :: Is this the richly complex imaginary soundtrack to a silent film or a foreign film? Either way, it'll provide you with a wealth of mental images that'll last a lifetime. Close your eyes and see for yourself.
Charles Mingus – Epitaph (Eagle Eye) :: This two hour excursion into the depths of tuxedoed symphonic avant jazz is boring to watch but an excellent aural delight if you pass on the visuals and just play it as an audio disc.
Billie Holiday – The Life And Artistry Of Lady Day (MVD Visual) :: Stacked & Smacked is more like it.
The Lovely Feathers – Fantasy Of The Lot (Sparks) :: Hysterically tinged melodrama that dresses like a New Wave queen but kicks like a '80s synthpop mule.
Geoff Berner – Klezmer Mongrels (Jericho Beach) :: If you can't say anything good about a song called "Half German Girlfriend" with lyrics like: "The Nazi and the Orthodox Jew would both be disgusted if they knew about the dirty things we do," then don't say anything at all.
Blue Ash – No More, No Less (Collectors' Choice) :: This debut album from 1973 interprets the mid-'60s Who, right down to the guitar and drums, with pop songs that are more tightly focused than most complete Who albums from that early era, along with a dash of Badfinger thrown in for good measure.
Emma-Lee – Never Just A Dream (Special Agent) :: This singing songstress does it all with a switch-hitting style that runs the gamut from languid piano blues to bouncing bossa nova to jazzy horned-up swing. She emotes earthily and wails wildly, but can she rock?
Batusis – Batusis (Smog Veil) :: Holy misunderstanding! At first I thought this was some kinda Adam "Batusi" West tribute album! Then I took another look and discovered that it's a four track EP by Cheetah "Dead Boy" Chrome and Sylvain "Sylvain" Sylvain that's gotta lotta grungy guitar! Holy overdose!
Kele Fleming – World In Reverse (Tin Forest) :: Don't let the ambiguous name fool ya 'cause Kele's a she and she's got the kind of powerful high ululating voice that, in my world, would be screamin' out maximum amped rock 'n' roll just like Grace Slick used to do—so you can imagine just how expressive and impressive Kele sounds singing her own insightfully sensitive songs from behind an acoustic guitar.
The Black Pacific – The Black Pacific (Side One Dummy) :: I dunno; sounds like a double time thrashmo version of Marilyn Manson, whadda you think?
The New Czars – Doomsday Revolution (Samson) :: Now that the Ramones are ancient history, these wannabe revolutionaries are D-U-M-B enuff to think that the coast is clear for them to steal the Gabba Four's patriotic American eagle logo without anyone noticing—which only proves that they've been snorting too much Carbona. At least they have the common decency to record an album of Steve Miller meets ZZ Top hard-edged power pop puds instead of the expected "1-2-3-4!" knock-offs, but still...
SIZZLING PLATTER OF THE WEEK: Kate Reid – I'm Just Warming Up (self released) :: With song titles like "The Only Dyke At The Open Mic" and "Emergency Dyke Project," you can probably guess which side of the swingin' gate country singin' Kate is straddling. She's got a brain as big as her heart and a good-natured sense of humor that's even bigger. But don't let her cheerful chirpy voice fool ya 'cause Kate's nobody's fool, nuh uh. That's why she prefaces each set of lyrics in the booklet with insightful little explanations and relevant bits of advice like: "In mainstream pop culture, lesbianism is becoming a marketing tool to reach male audiences. Not good."
Of course Kate's right but, what with me bein' a guy who still harbors eleventh hour Honor Blackman conversion fantasies, I'm not ashamed in the least to admit that talkin' tales like "Ex-Junkie Boyfriend" and "Truckdriver" made me fall head over heels for her.
Marlene Dietrich – "Falling In Love Again" (Decca) :: Can't help it.
Be seeing you!
Sat, November 11, 2017 | link
Saturday, November 4, 2017
JEFFREY MORGANíS MEDIA BLACKOUT #599
JEFFREY MORGAN'S MEDIA BLACKOUT #599.233!
SIZZLING SOUL PLATTER OF THE WEEK: Phil Collins – Going Back (Atlantic) :: I know good music when I hear it and on Going Back what I hear is Brother Phil skillfully interpreting a whole funky mess of Motown classics from "Jimmy Mack" to "Papa Was A Rolling Stone."
It's a welcome change of pace from the days when a scam artist like Mick Jagger could get away with hacking out inauthentic rubber soul covers like his mugging versions of "Going To A Go-Go" and "Harlem Shuffle"—and don't get me started on that leering violation of "Dancing In The Streets" that he committed with David Jones. Compared to such base vulgarities, it's obvious that Brother Phil's nuanced and righteously respectful vocals were just made for mature Motown material such as "(Love Is Like A) Heatwave" and the reverse parenthetical "Uptight (Everything's Alright)."
Granted, to the untrained ear, some of these inner city songs may sound pretty white. But so is Brother Phil; what can I tell you?
Davy Jones – "Daddy's Song" (Head) :: Exactly!
The Glass – At Swim Two Birds (Plant) :: This suavely smooth selection of synth-soaked songs initially evokes dissipated memories of latter day Japan ennui and Roxy languor before phase shifting into a solid electro barrage of modern day dance beats which sound like any day Telex whimsy. Bonus points for actually recording a song called "Heavy Disco" in 2010.
Telex – "Moskow Diskow" (Virgin) :: Exactly!
Katherine Wheatley – Landed (The Hoot Music Company) :: Not since Sparks' Indiscreet has there been such an amusing airplane crash album cover—landed, geddit?—but the yucks stop there because this is one country record that's no laughing matter. Inspirational verse: "I'm not the murdering kind, but killing you is on my mind. I'd have made a very fine wife, I'm good and ready to bury this knife."
Diamanda Galás – "Wild Women With Steak Knifes" (Mute) :: Exactly!
Ariana Gillis – To Make It Make Sense (self released) :: I'm sure Ariana would never agree that her sensitive socially-conscious acoustic music is of the neo-psychedelic ilk, but that's exactly what it is—and to make sense of that, all y'gotta do is listen to the first track "Blueberry Ocean" and then stick around for such additional under-the-influence excursions as the Dylanary "Be A Man" and the watery Badalamentistic atmospheric reflections of "Agent Orange."
Jadea Kelly – Eastbound Platform (self released) :: Jadea manages to whip up a good head of steam on the opening track "Never Coming Back" which musically has all the verve 'n' swerve of—I kid you not—a Zeppelin outtake circa 1969. Then she regretfully reverts to type by inexplicably settling down for the remainder of the record, thereby derailing the disc for its duration. Next time around, somebody oughtta tell her to play to her strengths and get the Led out.
Heart – Steamboat Annie (Mushroom) :: Not that much Led.
SIZZLING PLATTER OF THE WEEK: Marco Benevento – Between The Needles And Nightfall (Royal Potato Family) :: Aided and more than ably abetted by Reed Mathis on bass and Andre Barr on percussion, quirky keyboardist Marco serves up eleven excellent eclectically inventive electro acoustic instrumental essays which evoke aural ambient echoes of earlier like-minded albums, none more so than Paul McCartney's McCartney and Nash The Slash's Bedside Companion.
Jeffrey Morgan – Alliterative Run On Sentences (Media Blackout) :: I am the greatest!
Cassius Clay – I Am The Greatest (Columbia) :: Exactly!
The Cringe – The Cringe (Listen) :: Exceptionally intelligent power pop that oughtta be spinnin' on your turntable right now if you're half as smart as you think you are. The subtle glam rock underpinnings only reinforce my feeling that this one sounds as if it originally came out on vinyl in the mid-'70s—and if it had, I woulda worn out my copy in a week.
Meatdraw – fin du monophone (self released) :: Bonus points for coming up with a cool cross of '80s syntho Europop that gives lip-service to John Foxx's Ultravox and hip-service to the aforementioned U.S. Mael's Sparks. Points deducted for having an album title that's not in English.
Caracol – L'arbre Aux Parfums (Gross Maman) :: Doesn't anyone speak English anymore?
The Stranglers – "Sverige" (EMI Sweden) :: I guess not.
David Lee Roth – "Loco Del Calor!" (Warner Bros. Spain) :: Okay, you made your point.
The Rolling Stones – "Con Le Mie Lacrime" (Decca Italy) :: Alright, enough already.
The Beatles – "Komm, Gib Mir Deine Hand" (Parlophone Germany) :: Shut up!
Kraftwerk – "Die Mensch-Maschine" (Kling Klang) :: Oh, I give up.
SIZZLING SUPERSIZED PLATTER OF THE WEEK: Matt Anderson – Live From The Phoenix Theatre (Busted Flat) :: "What's all this about me being the Orson Welles of rock?" Meat Loaf once asked me, after I'd made the not-too-subtle suggestion to his songwriting foil Jim Steinman that, well, Meat Loaf was the Orson Welles of rock.
"The great thing about Orson Welles is the combination of power and brilliance," said Steinman, which is exactly how I feel about Matt Anderson's musical largess—and, as it turns out, so does Mr. Anderson, what with him singing self-deprecating songs like "One Size Never Fits" and having a website indelicately dubbed "Stubby Fingers."
Now it's no secret Matt's one hell of a barn-burnin' guitarist, but I gotta tell ya that it's his bravura vocals that steal the show from start to finish. F'rinstance, his unearthly wails on "I Play The Fool For You" are so utterly uncanny that he'll have you giving your speakers a well-deserved double take. But whether he's essaying ballads or blues, Matt always sings 'em with a deep-seated soulfulness and bottomless depth of emotion that's always backed up by his good-natured personality.
That's why, just like the man himself, Matt Anderson's Live From The Phoenix Theatre is larger than life and even harder to overlook. Now who you gonna believe: me or your own ears?
Stubby Kaye – The Ballad Of Cat Ballou (Capitol) :: Oh, what an episode!
Be seeing you!
Sat, November 4, 2017 | link