Saturday, December 4, 2021
JEFFREY MORGANíS MEDIA BLACKOUT #812
JEFFREY MORGAN'S MEDIA BLACKOUT #812.551.183!
Mel Tillis – Me And Pepper; Your Body Is An Outlaw; Southern Rain (Collectors' Choice) :: Wherein we have three timely reissues of Mel's 1979-1980 albums for Elektra. The first is a competent enough but slightly pop-skewed effort that's for completists only. The second, recorded with his band the Statesiders, is a much rootsier move in the right direction. It's the third, however, that hits all the right classic country notes from the record cover art right on down to the solid song selection. Now if only Collectors' Choice would also reprint the full album credits instead of leaving them in illegible miniaturized form on the original back cover reproductions…
Ben Jelen – Ex-Sensitive (Custard) :: If this weepy boo-hoo chickfest is what not being sensitive sounds like, then I'd sure hate to hear how emasculated he gets in sundress sensitive mode. Ben Dover is more like it.
Black Francis – sv n f ng rs (Cooling Vinyl) :: Are you ready for the crossbreeding of insane John Cale and droll Kevin Ayers? Or is that wonky Todd Rundgren and rural Neil Young? Either way, I sure am!
JW Jones – Bluelisted (Northern Blues) :: Three reasons why this pic-a-nic basket fulla blues is smarter than the average bear: (1) It has a great title; (2) It has liner notes by Big House harpmeister Elwood Blues; and (3) The music actually lives up to both (1) and (2). In other words, it doesn't make a single boo-boo.
SIZZLING PLATTER OF THE WEEK: Mike Garson – Conversations With My Family (Resonance) :: Most everyone's introduction to Mike Garson was when they heard his still-stunning schizo-schizero piano solo on Bowie's "Aladdin Sane," not to mention his subsequent noir noodlings on Mick Ronson's vastly underrated Slaughter On Tenth Avenue album. And although those heady days are long gone, he's still busy flexing his ample jazzbo chops on thoughtful solo excursions like this new one of his which is alternately brassy and orchestral.
Be seeing you!
Sat, December 4, 2021 | link
Saturday, November 27, 2021
JEFFREY MORGANíS MEDIA BLACKOUT #811
JEFFREY MORGAN'S MEDIA BLACKOUT #811.550.181.82!
Jan And Dean – The Complete Liberty Singles (Collectors' Choice) :: From "Surf City" and "Drag City" to "Dead Man's Curve" and "The Little Old Lady (From Pasadena)," each one of these Hemi hits is guaranteed to light up your Christmas tree every time. Red light! Brian Wilson of the Beach Boys helped Jan and Dean write some of their hits and he sung on them as well. Yellow light! Jan and Dean's original recording of "Bucket 'T'" smokes the Who's later Moon-equipped cover version. Green light! Jan and Dean wrote some of the hippest lyrics ever, as evidenced by this suave little gem from 1964: "They wear organdy dresses and high-button shoes, they read Playboy magazine and Hot Rod news."
Various Creators – Batman: Gotham Knight – Two-Disc Special Edition (DC Comics/Warner Premiere DVD) :: I recommend this Anime-infused series of six separate segments, penned in part by the pulp-pedigreed likes of Dark Knight author David S. Goyer (the truly trippy "In Darkness Dwells") and 100 Bullets co-creator Brian Azzarello (the spiritually somber "Working Through The Pain").
Reverend Peyton's Big Damn Band – The Whole Fam Damnily (Side One Dummy) :: Wherein the ragged but right Rev. rasps out a gnarly backwater batcha tub-stompin' songs o'protest 'n' faith, all wrapped 'round a seismic swath of tremeloed slide gitbox 'n' harp that'll turn you into a testifyin' witness givin' state's evidence that this here long-player sho 'nuff sounds like a stripped-down high-energy cross between High On The Hog and Led Zeppelin III.
SIZZLING PLATTER OF THE WEEK: New York Dolls – Live At The Fillmore East (Sony) :: Some wonky word wankers wrote that I was thoroughly Scrooged for viciously smearcasing the Dolls' reunion album as a too little too late pasty-faced pastiche that was nothing more than a David JoHandsome solo album in sell-out drag—but I was right, no matter how many other critics waxed blowjobian over it. So why do I heartily recommend this new ragged rehash? Because it's the energetic antithesis of its slick and soulless studio predecessor, that's why. It also helps that they dug deep into their solid songbook to run through a number of less obvious numbers, such as "Jet Boy" and "Pills" and "Puss 'n' Boots" before finally bringing down the curtain with a heartfelt tribute to El Thunderoso on "Lonely Planet Boy." As a matter of fact, this album is so good, you'll almost forgive the singer for foisting Buster Poindexter on us. Almost.
Be seeing you!
Sat, November 27, 2021 | link
Saturday, November 20, 2021
JEFFREY MORGANíS MEDIA BLACKOUT #810
JEFFREY MORGAN'S MEDIA BLACKOUT #810.549.180!
Alan Davey – Captured Rotation :: (MVD Audio/Hawkwind) :: Hawkwind meets power pop on this catchy pop rock meisterwack.
Astralasia – The Hawkwind Remixes (MVD Audio/Voiceprint) :: One good head deserves another and, boy howdy, do they ever find each other in spades on this celestial compendium that time travels from 1993 to 2002 and back again. Oddly enough, parts of it sorta sound like a discofied Nash The Slash's American BandAges album — but that only makes it all the more cooler in a Cosmic Supermarket kinda way.
Magic Mushroom Band – Feed Your Head: Live '89 (MVD Audio/Voiceprint) :: The album title is a gratefully dead giveaway that if Grace Slick and Donovan were singing together in the TransLove Airplane, then this would be their Bless Its Pointed Little Head. So turn off your mind, relax, and float downstream as the MMB cover everything from Zappa and Harrison to Ayers and Hendrix in one long luxuriously languid trip.
Jon Anderson – Live In La La Land (MVD Audio/Opio/Voiceprint) :: Devoid of the usual surrounding prog rock bombast, this minimal direct-to-DAT double live album of the Yes man's recent guitar-and-piano-only one-man show at the Roxy in Los Angeles is an excellent showcase for his distinctive voice which, eerily enough, still sounds exactly as it did way back in the early '70s—soaring high notes and all. I guess Anderson must have a painting of his larynx hanging in an attic somewhere.
SIZZLING PLATTER OF THE WEEK: Fish – Communion: Live At St. Mary's Church Haddington, East Lothian, August 27th 2006 (MVD Audio/Chocolate Frog) :: Just like those who perpetuate the Gabriel-Collins Genesis debate, there will always be those who will forever be of the opinion that Fish was Marillion; and those others who feel that any post-Fish incarnation of Marillion is equally legitimate. I happen to think that both camps are right, which means I have ample enough room in my ears for this twofer that's easily as excellent as anything Gabriel did during his first three solo albums.
Be seeing you!
Sat, November 20, 2021 | link
Saturday, November 13, 2021
JEFFREY MORGANíS MEDIA BLACKOUT #809
JEFFREY MORGAN'S MEDIA BLACKOUT #809.548.179!
Night Ranger – Hole In The Sun (VH1 Classic) :: This one starts out sounding like a Gary Numan album from 1979—but don't worry, Kyoto, 'cause it doesn't take long for the proceedings to kick into the kind of stereophonic dual-guitar speed-freak flights of fret-finaglin' fancy that, as much as I hate to admit it, is the very epitome of classic rock incarnate. ¡Mucho recomendado!
The Great Outdoors – Spring (DDG) :: This three-track EP evokes folksy blues in a simple Beggar's Banquet slide style that's sincere enough to make me want to hear a full-length album—and I hate folksy blues almost as much as I hate ballads.
Ndidi Onukwulu – The Contradictor (Jericho Beach) :: Unlike other Billie Holiday wannabes, this is what a real soulstress sounds like. Ndidi's brass-backed album bubbles with sharp-edged passion and smooth sensual singing that puts everyone else to shame shame shame.
Matthew Sweet – Sunshine Lies (Shout! Factory) :: Beginning with the ballsy backwardelic intro, this fuzzy Nazz-fueled album is pure pop incarnate, the likes of which you haven't heard since the heady heyday of the '60s and '70s. If you're in the market for a very cool aural amalgamation of Todd Rundgren, Brian Wilson, and Badfinger, then step right up 'cause this is one of the best pop albums you'll hear so far—and it's so good.
SIZZLING PLATTER OF THE WEEK: The Browns – The Complete Hits (Collectors' Choice) :: Lissen, bub, any country song from 1963 called "Looking Back To See" that contains the rhymin' line: "And the way that she was stacked, I wished I had a Cadillac" deserves to be stashed in your overendowed record rack, alright?
Be seeing you!
Sat, November 13, 2021 | link
Saturday, November 6, 2021
JEFFREY MORGANíS MEDIA BLACKOUT #808
JEFFREY MORGAN'S MEDIA BLACKOUT #808.547.178!
ZZ Top – Animalizer (Warner Bros.) :: Includes the hit single "Squirrel Necklace." (Lester Bangs was one of the great rock writers…)
Lydia Lunch – Video Hysterie: 1978-2006 (MVD Visual/Atavistic) :: Although the picture quality improves as the years progress, there's something truly horrific about the early multigeneration VHS footage—especially "Orphans" which is reprehensible for its inclusion of actual death scenes. But that's what punks did back in 1978.
The Comics Journal No. 209 – Who Speaks For Sparky? (Fantagraphics Books) :: David Michaelis' warty biography Schulz And Peanuts ignited a controversy which is examined here with 100 pages of in-depth debate, including an exhaustive 52-page rebuttal essay by Charles M. Schulz's son Monte. This issue is a milestone in comics journalism and essential reading for any Peanuts fan.
The Wedding – The Sound The Steel (Brave New World) :: The chugga-chugga good news is that this is one of the few new choo-choo albums released since Trans Europe Express and Station To Station. The shrugga-shrugga bad news is that it's just another snooze-snooze jangly generic angst album.
Lou Reed & Iggy Pop – The Last Spike (RCA Red Seal) :: Includes the hit single "Last Vein to Cocksville." (…but I was better.)
SIZZLING SHOW OF THE WEEK: ZZ Top – Live From Texas (Eagle Vision DVD) :: These jamokes can be pretty dead ass dull on stage at times but luckily this ain't one of those occasions; I guess being filmed by a multicam crew lubricated their level of gregariousness. Everything you wanna hear is here except for "Doubleback." But that's tres cool 'cause you'd be too exhausted for it anyway by the end of this hour-and-a-half greatest-hits romp. So crank up the bass to boost the most brutal drum sound on the planet and then stick around for the bonus features—one of which reveals what iconic '50s movie legend they stole their signature hand gesture from.
Lester Bangs – Psychotic Reactions And Carburetor Dung (Page 180) :: Geddit?
Be seeing you!
Sat, November 6, 2021 | link
Saturday, October 30, 2021
JEFFREY MORGANíS MEDIA BLACKOUT #807
JEFFREY MORGAN'S MEDIA BLACKOUT #807.546.177!
David Bullock – Justice League: The New Frontier (DC Universe/Warner Premiere DVD) :: Not only is this streamlined adaptation of Darwyn Cooke's epic graphic novel The New Frontier vastly entertaining, it's also extremely thought-provoking in how it expertly evokes both the '50s shadow of the McCarthy era and the '60s sunshine of the Kennedy era—but don't worry 'cause there are more than enough action scenes in this JLA origin story to keep your pulse pounding for all 75 minutes.
SIZZLING PLATTER OF THE WEEK: Ian McLagan & The Bump Band – Never Say Never (Maniac) :: Strength can manifest itself in many ways, but spiritual strength is the hardest and humblest strength of all to master—which is why Mac is a far better man than I for having the emotional wherewithal to dig deep and come up with a sensitive soul-searing album like this in light of the tragedy he's had to endure. Just listening to Never Say Never brings a tear to my eye, so I can't even begin to imagine how difficult it must be for Mac to actually sing these songs, especially the two poignant heartbreakers that bookend this album. But it's not all heartache, because sandwiched in between them are more than enough keyboard-driven Faces-style rockers and beer barrel bashes to make you grin 'n' bear it.
SIZZLING DOCUMENTARY OF THE WEEK: Murray Lerner – Amazing Journey: The Story Of The Who (Universal Studios Home Entertainment) :: The director of the Who's 1970 Isle Of Wight film is back with this definitive film in which battle-scarred survivors Townshend and Daltrey both bravely step in front of the camera and frankly come to grips with what was and what will never be again. Go out and buy this one now to (1) hear in their own words how they managed to come out of it alive; and (2) experience Lerner's revolutionary new visual vinyl-video verity.
Be seeing you!
Sat, October 30, 2021 | link
JEFFREY MORGAN'S ROCK 'N' ROLL PHOTOGRAPHS
JEFFREY MORGAN'S ROCK 'N' ROLL PHOTOGRAPHS

While you're visiting, don't forget to view the dozens of essential selections from my vast archive of hundreds of extremely rare and previously unseen rock 'n' roll photographs from the 1970s and 1980s--all of which were taken by myself from my front row center seat at various venerable venues; vintage historical portraits which include the following rock stars caught in their youthful prime:

David Bowie (1976 Station To Station tour) :: Lou Reed (1974 Sally Can't Dance tour) :: Iggy Pop (1977 The Idiot tour) :: Bob Dylan (1978 Street Legaltour) :: George Harrison (1974 Dark Horse tour) :: Paul McCartney (1976 Wings Over America tour) :: Pete Townshend (1976 The Who By Numberstour) :: Johnny Winter (1976 Captured Live! tour) :: Jeff Beck (1975 Blow By Blow tour) :: KISS (1977 Love Gun tour) :: Alice Cooper (1975 Welcome To My Nightmare tour) :: Freddie Mercury (1977 News Of The World tour) :: Amanda Lear (1975 Sweet Revenge tour) :: Rod Stewart (1977 Foot Loose & Fancy Free tour) :: Mick Jagger (1975 It's Only Rock 'n Roll tour) :: New York Dolls (1975 Tokyo Dolls Live tour) :: Keith Richards (1975 It's Only Rock 'n Roll tour) :: Ian Hunter (1989 YUI Orta tour) :: Elton John (1974 Caribou tour) :: Mick Ronson (1989 YUI Orta tour) :: Steven Tyler (1977 Draw The Line tour) :: Sparks (1975 Indiscreet tour) :: James Brown (1986 Gravity tour) :: Miles Davis (1985 You're Under Arrest tour) :: Roger Daltrey (1976 The Who By Numbers tour) :: Bruce Springsteen & Clarence Clemons (1975 Born To Run tour) :: John Entwistle (1976 The Who By Numbers tour) :: Keith Moon (1976 The Who By Numbers tour) :: The Who(1976 The Who By Numbers tour) :: and more!

Ask any dealer and he'll tell you that the best way to get someone hooked on your product is to give them a free sample, so here's just a small taste of what's coming your way when you click on the eleven gallery links to your left: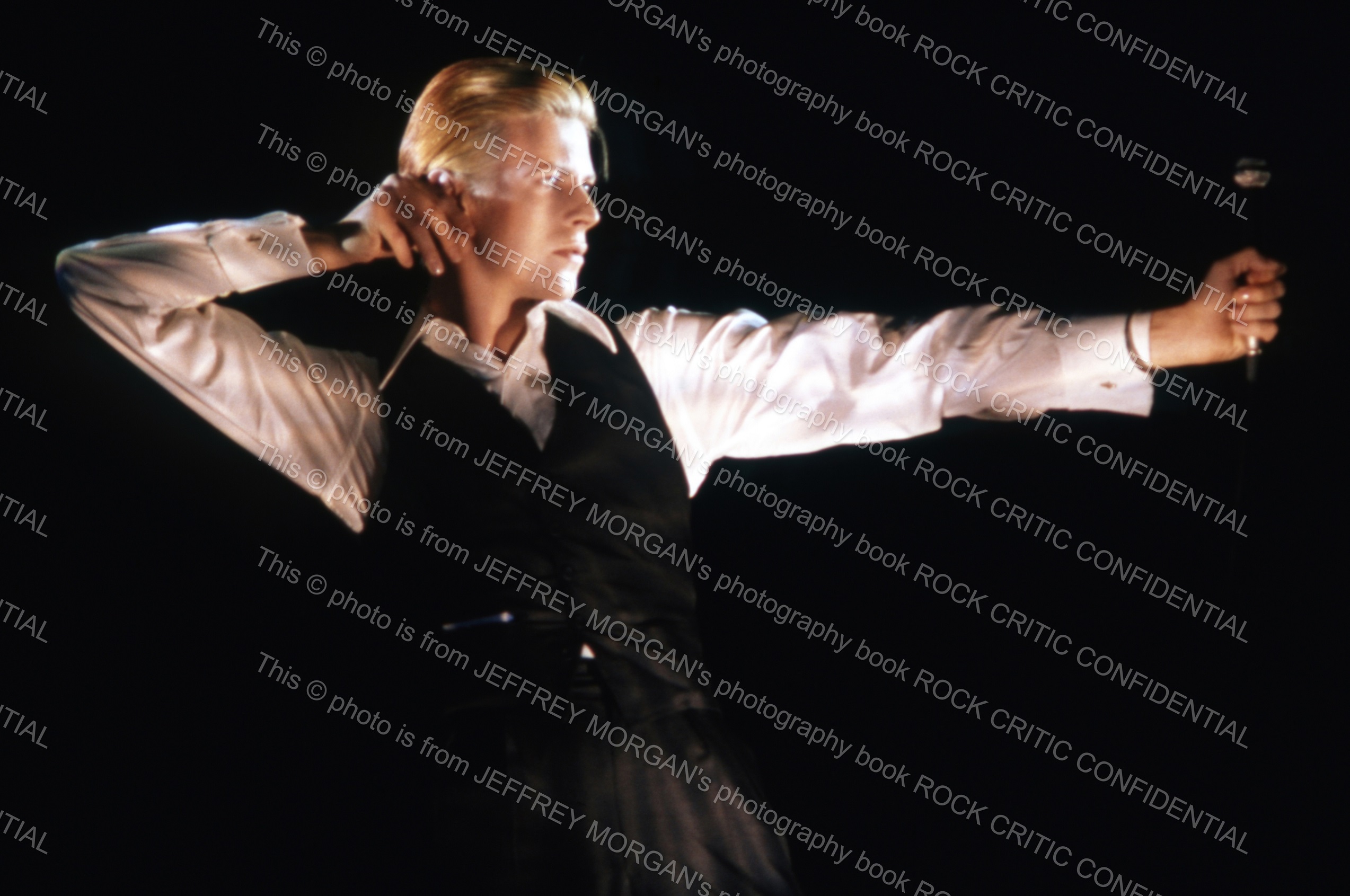 Sat, October 30, 2021 | link
Saturday, October 23, 2021
JEFFREY MORGANíS MEDIA BLACKOUT #806
JEFFREY MORGAN'S MEDIA BLACKOUT #806.545.176!
Attrition – The Eternity EP (MVD Audio/Two Gods) :: Julia Weller sings with a haunting voice that combines the best of Nico with Diamanda Galás; Martin Bowes plays psychotic electronics that make Eno sound positively sane; and Franck Dematteis plays viola that makes nut case John Cale sound like nuanced Pierre Fournier. Recorded in 1996, this timely reissue is a must for anyone who listens to music that's recorded out where the buses don't run.
HiLoTrons – Happymatic (Kelp) :: Not only is "And if you fall, I'll follow you" a witty enough pop lyric, it's entirely indicative of the buoyantly bouncy tenor of this album which sounds like a Euro-skewed version of Devo with a slap-dash dollop of English Beat and Talking Heads via Malcolm McLaren. But not Eno.
Mothergong – Amsterdam (MVD Audio/Voiceprint) :: This one's recorded live in you know where at—I kid you not—the 2006 Unconventional Gong Gathering by a trippy psychedelic fusion band that's fronted by a doozy of a chantoozie named Gilli Smyth who sounds just like the second coming of Lady June. Now just in case you don't know who Lady June is—and let's face it, why would you?—she once recorded an obscure art rock album with Eno and Kevin Ayers called Lady June's Linguistic Leprosy. Come to think of it, Gilli Smyth may even be Lady June for all I know—and I know a lot.
SIZZLING PLATTER OF THE WEEK: Peter Primamore – Grancia (MVD Audio/Blue Apples Music) :: "No synthesizers or samples were used and the ensemble was recorded live in the studio without a click track," says this non-Eno artiste in his egghead liner notes. He then proceeds to wax elaborate about the organic feeling of his work which, truth be told, is every bit as intriguing as he says it is—albeit in a gamut-spanning orchestral country fusion style which evokes a memory array that extends all the way from Cale's The Academy In Peril to Mahavishnu's Birds Of Fire to Miles' Aura. Impressive, I know.
Be seeing you!
Sat, October 23, 2021 | link
Saturday, October 16, 2021
JEFFREY MORGANíS MEDIA BLACKOUT #805
JEFFREY MORGAN'S MEDIA BLACKOUT #805.544.175!
David Wilcox – Boy In The Boat (Stony Plain) :: I still can't slog my noggin around the fact that the former frock-coated, long haired, handlebar mustachioed Teddy Bear who once had one of the most visually arresting looks in all of rock 'n' roll is now a generic cue ball blooze man. But he is, and the pull-quote hypester in me wants to say: "Whether he's layin' pipe or shuckin' sugar, David Wilcox still has what it takes to go the blues bustin' distance!" But the truth-tellin' rock critic in me has to admit: "Toss this anemic album overboard!"
Astralasia – Volumes 1 & 2 (MVD Audio/Voiceprint) :: Originally released on two separate cassettes, this is well-done long-format hypnotic prog rock that fuses early guitar-based Tangerine Dream pop atmospherics with an ambient marching band loop-sampled drone acid aesthetic.
The Great Kat – Beethoven On Speed (Metal Mind) :: I'd say that this overrated B-cup devil worshipper with a grue dress on could've been the female Buckethead, but that would be an insult to chicken chewers everywhere.
The Great Kat – Worship Me Or Die! (Metal Mind) :: Sorry, I don't do requests.
Jas Obrecht – Young Buckethead, Volumes 1 & 2 (MVD Visual DVD) These two discs of rare 1990-91 performances are a must see cautionary tale for any guitarist who ever hoped to make it big. Wearing a KFC bucket on his head and armed with more God-given talent than anyone ever wished for, Bucky plies his craft with jaw-dropping ease—ultimately all to no avail.
Plastic Crimewave Sound – No Wonderland (MVD Audio/Prophase) :: 78 trippy mind-bending minutes of freak-out destorto thrash rock that'll leave your bloody forehead demented and your bedroom wall royally dented
SIZZLING PLATTER OF THE WEEK: The Reasoning – Awakening (MVD Audio/Comet) :: Astonishingly excellent high quality prog rock from a band that manages to merge the classic soaring Jefferson Airplane tag team vocals of Grace Slick and Marty Balin with the heavy dexterous sound of Yes at their live in concert heaviest.
Be seeing you!
Sat, October 16, 2021 | link
Saturday, October 9, 2021
JEFFREY MORGANíS MEDIA BLACKOUT #804
JEFFREY MORGAN'S MEDIA BLACKOUT #804.543.174!
Head Of Femur – Great Plains (Greyday) :: Wouldn't it be nice if these Mod-decked dudes from the Windy City recorded a psychedelic smiley smile of an album that sounds just like what the Beach Boys would've sounded like had Randy Newman formed them instead of Brian Wilson?
SBB – The Rock (MVD Audio/Metal Mind) :: Straight outta Poland comes this slab of prog metal that's alternately guitar-heavy and synth-airy with an epic ode called "Sunny Day" that's bent outta Love It To Death. Do you hear what The Rock is cookin'?
Shakura S'Aida – Blueprint (self-released) :: Soulful street-smart singin' from a stridently strong sistah who belts out dem honky tonk hoodoo blues like there ain't no tomorrow. Thirty years ago, she would've been one of Leon Russell's Shelter People; she's that good.
Various Artists – The Gift: A Tribute To Ian Tyson (Stony Plain) :: Everyone from Gordon Lightfoot to Ramblin' Jack Elliott pitch in to hoist this long-overdue rock solid salute to one of Canada's greatest country songsmiths. Inspirational lyric: "If whiskey was his mistress, his true love was the West."
Dala – Who Do You Think You Are (Universal) :: "Marilyn Monroe" is the greatest Marilyn Monroe song since "Candle In The Wind." Which really isn't saying much if you stop and think about it.
Lori Yates – The Book Of Minerva (Laly) :: "The Cameron 1985" is a sullen smack-sodden song that evokes one of Toronto's most notorious watering holes, back in the days when Handsome Ned tore up the front room while the used syringes clogged up the toilets in the back.
SIZZLING PLATTER OF THE WEEK: Handsome Ned – The Ballad Of Handsome Ned (Virgin) :: I doubt that this 1989 release is still in print. But see if you can pick up a copy online somewhere because Robin D. Masyk was one of the greatest country rockers that Canada ever produced and this posthumous compilation still does him proud over three decades later.
Be seeing you!
Sat, October 9, 2021 | link
Saturday, October 2, 2021
JEFFREY MORGANíS MEDIA BLACKOUT #803
JEFFREY MORGAN'S MEDIA BLACKOUT #803.542.173!
Jethro Tull – Draculung (Chrysalis) :: They all laughed when Ian Anderson announced that he was going to write a progressive art rock opera about a rummy child molesting vampire. Well, they're not laughing now.
The Bangkok Five – We Love What Kills Us (Long Live Crime) :: This heavy duty mind meld of the Cult and the Beach Boys wails "You're takin' more shots than Muhammad Ali" while landing some pretty heavy deep tissue blows themselves.
Jann Klose – Reverie (3 Frames) :: This guy plays the kind of sensitive music that girls go ga-ga for, only with a Euro nightclub feel to it that reeks of cigarette smoke and broken hearts—and that makes all the difference.
Sean Ashby – Brass And Gold (Black Sparrow) :: The brass comes from the very first chord which apes the opening of "A Hard Day's Night." The gold comes from the pleasant pop that follows. And yes, I'm being charitable.
FIZZLING USA DOCUMENTARY OF THE WEEK: The Beatles – Destination Hamburg: The Early Years (Weinerworld DVD) :: Stop me if you've heard this one before, but retrospective music videos really are a dime a dozen these days and almost all of them do rely on know-nothing wankers spewing half-baked opinions over a slew of still photographs you've seen a million times before—especially this one which is at least honest enough to shamelessly proclaim that: "This program contains no Beatles music." Which isn't to say that Tony Sheridan is a know-nothing wanker; he's the only man on the planet to ever have the Fab Four serve as his own personal backing group, so his words of remembrance do count for something—even if they are spoken over the usual visual mung of blurry silent public domain footage. Even worse, the bonus 1968 audio interview with John, Paul and Ringo is played back at triple the normal speed in a processing error that would make David Seville proud. And you wonder why it says "Weinerworld" on the label.
Be seeing you!
Sat, October 2, 2021 | link
Saturday, September 25, 2021
JEFFREY MORGANíS MEDIA BLACKOUT #802
JEFFREY MORGAN'S MEDIA BLACKOUT #802.541.172!
SIZZLING USA DOCUMENTARIES OF THE WEEK: Tad – Busted Circuits And Ringing Ears (MVD Visual DVD) & Kurt Cobain – About A Son (Shout! Factory DVD) :: Here to hassle your hearing are Seattle's two favorite opposite ends of the Sub Pop spectrum. If anyone ever asks you what grunge was all about, screen 'em these two cautionary tales. Playing heavy, smoking heavy, drinking heavy and falling heaviest of all, the entire Tad offensive campaign is presented here in full unflinching detail with equally candid liner notes by Tad Doyle himself. But at least Tad's still alive, which is more than can be said for the star of our next show. Narrated entirely by Kurt himself from taped interviews for more than two hours over a series of surreal Cibachrome-soaked imagery, About A Son both looks and sounds like a spooky X-Files movie with Agent Cobain searching for his own long-lost abducted self. What he finds is both haunted and haunting, so buy it now.
SIZZLING U.K. DOCUMENTARY OF THE WEEK: Klaus Voorman – Composing The Beatles Songbook: Lennon And McCartney 1957-1965 (MVD Visual/Pride DVD) :: Retrospective music videos are a dime a dozen these days, and almost all of them rely on know-nothing wankers spewing half-baked opinions over a slew of still photographs you've seen a million times before—but not this time. Revolver album cover designer and Plastic Ono Band member Voorman is just one of many Fab Four friends and fans featured in this informative 80 minute exploration into who did what and why when it came to writing Beatle songs. It's all illustrated by a ream of rare licensed mint condition footage of the Fabs playing in Europe and Japan, as well as film of the contemporaries who influenced them. The bad news is that they don't include footage of Lennon's shameful spaz act from the unreleased Ed Sullivan dress rehearsal show in Miami. The good news is that they found another appalling live example of him doing it, filmed somewhere else!
Be seeing you!
Sat, September 25, 2021 | link
Saturday, September 18, 2021
JEFFREY MORGANíS MEDIA BLACKOUT #801
JEFFREY MORGAN'S MEDIA BLACKOUT #801.540.171!
Ted Nugent – Sweden Rocks (Eagle) :: This pre-Love Grenade live offering from 2006 sure ain't no Double Live Gonzo, but it's still a fun enough drool-cup listen. Even so, the perennial problem with Ted isn't his still-strident politics or his still-sharp playing, it's his still-selfish persistence in singing all of his songs by himself. With any luck, Derek St. Holmes will be back the next time around to keep Nugent's ego in check and provide a balancing Ying to Ted's rampant Yango Tango shtick.
Ted Nugent & The Amboy Dukes – Survival Of The Fittest (Polydor) :: It's got everything you could possibly want; it's got more than you could possibly need.
Jethro Tull – Jack In The Green: Live In Germany (Eagle Vision) :: Featuring 18 high-quality video excerpts from some of Tull's numerous Deutschland appearances over the decades covering the gamut from 1970 to 1993. Definitely worth the price of admission alone is the empty television studio version of "Nothing Is Easy" from 1970, which contains several false starts before Ian Anderson finally calls it quits and walks off mid-song due to a stomach ailment. Unlike Kurt Cobain, however, Ian didn't take a double-barreled dose of Terminalin to relieve the pain.
SNEERING PUTDOWN OF THE WEEK: Frank Miller & Jim Lee – All Star Batman & Robin The Boy Wonder (DC Comics) :: You all know Frank Miller as the creative meistermind behind Sin City and 300 who birthed an entire gloomy batgenre with The Dark Knight Returns before he tried to kill it dead with DK2 and DK3. This prematurely aborted brilliant iconoclastic deconstruction features an even grizzlier Batman infused with a decidedly unhealthy dose of Sin City Marv attitude. How unhealthy? Look, pal, any comic book that has Batman calling Wonder Woman "the Wicked Witch of Lesbos Island" deserves to be in your collection, alright?
Be seeing you!
Sat, September 18, 2021 | link
Saturday, September 11, 2021
JEFFREY MORGANíS MEDIA BLACKOUT #800
JEFFREY MORGAN'S MEDIA BLACKOUT #800.539.170!
John Cena - The Marine (FOX DVD) :: Ditch your silly World Wrestling Federtainment bias and rent this one now for the delicious scenery-chewing performance of co-star Robert Patrick. Shredding his good guy X-Files image, Patrick reverts to malevolent Terminator 2 form with exasperated gallows humor that's so black it's ultraviolet. There's even an eerie insinuation that Patrick's bad guy character actually is the self-aware future template for the T-1000 series. Plus, the outrageous action sequences are right out of a Tex Avery cartoon.
Stephanie Martin - Shape, Line & Harmony (Sovereign Productions) :: Stephanie says in her liner notes that she aims to echo the music of her youth: Motown, Carol King, James Taylor, Eagles and Steely Dan. Amazingly enough, she actually manages to accomplish this with an astute selection of excellent airy brass-backed tunes. And as her young voice matures she's only gonna sound better with age. She's not a bad lyricist, either.
SIZZLING PLATTER OF THE WEEK: Anderson Bruford Wakeman Howe - An Evening of Yes Music Plus (MVD Audio/Voiceprint) :: A lot of my hard-earned bucks these days goes towards obsessively buying the stellar sonics wares of Voiceprint, a UK label that's exclusively distributed in America by MVD Music Distributors. Specializing in the best of progressive rock both past and present, Voiceprint continually releases an impressive array of vital prog rock releases, with this two disc reissue of a live double album from 1993 being no exception. And don't let the convoluted legalese band title fool you because this is Yes. I mean, with Jon on vocals, Bill on drums, Rick on synths and Steve on guitar-not to mention artwork by Roger Dean-how could it not be? Everyone gets an acoustic solo spot to begin with before the entire band unloads their trademark power and glory heavy metal thunder on crunge classics like "Close To The Edge," "Roundabout," "Heart Of The Sunrise," and "Starship Trooper."
Be seeing you!
Sat, September 11, 2021 | link
Saturday, September 4, 2021
JEFFREY MORGANíS MEDIA BLACKOUT #799
JEFFREY MORGAN'S MEDIA BLACKOUT #799.538.169!
Ladyhawk - Shots (Jagjaguwar) :: I'm deeply offended by the back cover photo that shows four naked guys in a shower spitting water at each other. Real men would have butch-slapped it on the front.
The Cansecos - Juices! (Upper Class) :: José, can you hear?
Bullet For My Valentine - Scream Aim Fire (Red Ink) :: This double-time thrash rock gets bonus points for having a singer not a screamer and guitars that pack a potent Bruce-Buxton punch.
The Exit Strategy - City Of Microphones (One Percent Press) :: Purebred punk playing with an art rock patina that sounds as if it came straight outta 1977.
Steve Dawson - Waiting For The Lights To Come Up (Black Hen) :: It's not every day that you hear a blues album which begins with eerie backwards sounds, but that just goes to show you how creative Steve is-and this smart new record of his cleans Dylan's Modern Times clock.
SIZZLING PLATTER OF THE WEEK: Cadence Weapon - Afterparty Babies (Upper Class) :: CW's second album features more urban speed-raps, all aligned against a percolating background of surgically sutured Euro synthesizer beats and Oswaldian altered samples. The last time I heard a pop song that was as surrealistically snappy as CW's "Real Estate" was on the unjustly much-maligned McCartney 2. And what's wrong with that? I'd like to know.
SIZZLING MAD PLATTER OF THE WEEK: Local H - 12 Angry Months (Shout! Factory) :: These guys are so royally pissed-off that they oughtta call themselves LOCO H instead. But who wouldn't be seriously burned over a love gone as hideously wrong as the one described in this 12-track, month-by-month diary? Listen in and you'll hear cautionary lyrics like: "Give me my Zeppelin CDs! You know you took 'em! I know you did! Where's all my Kyuss records? You never liked 'em until you met me!" And that's just January; wait until you get to October and "Machine Shred Wrestling." Hoo boy...
Be seeing you!
Sat, September 4, 2021 | link
Saturday, August 28, 2021
JEFFREY MORGANíS MEDIA BLACKOUT #798
JEFFREY MORGAN'S MEDIA BLACKOUT #798.537.168!
The Beat Poets - "Staring Stars Down" b/w "G.I." (self released) :: Don'tcha be lettin' the wee bit of a bongo name be foolin' ya because this ain't no Ginsberg-Corso daisy pull; this is poppy rock that hails all the way from the land o' the Irish springs. That's why it's strong enough for a man but gentle enough for a woman.
Anti-Flag - The Bright Lights Of America (Red Ink) :: I'm so bored with the U.S.A. Clash clones.
Joe Hill & Gabriel Rodriguez - Locke & Key (IDW Publishing) :: In case you missed it the first time around, the debut issue is titled "Welcome To Lovecraft" and it's a more than apt appellation for a spooky story that has its sights set on eerily evoking the best of old H.P. himself. After the Locke family is visited by two murderers, the surviving members begin their new lives in a Gothic home that goes by the Steranko-sounding name of Keyhouse. As it happens, there are doors in Keyhouse which are not meant to be opened-but they are anyway. Even worse, despite being locked up under heavy security in a juvenile detention center, one of the murderers is in contact with an ally that's on the outside. Way, way out on the outside.
Joe Hill's flashback-infused script is methodically paced for maximum effect, and Gabriel Rodriguez's clean and stylish artwork gives Locke & Key a unique look that easily stands apart from the rest of the cookie-cutter comics on display these days. Just look for the glowing skull-laden black onyx key on the front. You can't miss it.
SIZZLING PLATTER OF THE WEEK: Does It Offend You, Yeah? - You Have No Idea What You Are Getting Yourself Into (Red Ink) :: Sure you do! Viciously loud, heavy-duty, Theremin-fueled psychotronically retrosonic electro-retardo disco synth music that makes Death From Above and their synapse-snappin' ilk sound positively narcoleptic by comparison.
Be seeing you!
Sat, August 28, 2021 | link
Saturday, August 21, 2021
JEFFREY MORGANíS MEDIA BLACKOUT #797
JEFFREY MORGAN'S MEDIA BLACKOUT #797.536.167!
SIZZLING SERIES OF THE AGES: Jack Kirby - Jack Kirby's Fourth World Omnibus (DC Comics) :: I've said it before and I'll say it again: The greatest comic book creator in history was, and forever will be, Jack "King" Kirby! Jack Kirby's Fourth World Omnibus has been out for some time now and all four volumes are an essential must-read that you've just gotta have! Painted with broad bravura strokes, not only is this the greatest graphic novel Jack Kirby ever created, it's an enduring masterwork for the ages and an everlasting legacy which will never be equaled by anyone else!
F'rinstance, let's look at Volume Three of his mind-bending Fourth World saga which defines dynamism! What will happen when you enter the Mangle Machine? And should you survive, will your heart be able to withstand the pulse-pounding terror when you come face to face with the id entity known only as The Lump? Then, as if all that wasn't enough, the King adds the ever-livin' Deadman into the mix in what amounts to some extreme high stakes senses-shattering shenanigans with nothing less than the future fate of the entire free world at stake!
Presenting the King at his latter-day best, Jack Kirby's Fourth World Omnibus is the all-time absolute greatest non-stop action-packed adventure ever committed to pen and paper! Don't ask! Just buy it!
SIZZLING PLATTER OF THE WEEK: American Speedway - Ship Of Fools (MVD Audio/Prophase) :: The only thing that these unabashed Bullettheads care about is hammering out their hi-octane screem screeds. The guitars are heavily harsh, the drumming is moronically metronomic, the bass is brutally bludgeoning and the keyboards are the best of all BECAUSE THERE ARE NO KEYBOARDS. Whaddya think this is anyway, some kinda hoity-toity art fag fiesta? When these speed freaks brag that they've got "the nerves of Steve McQueen and a heart of steel," you'd best be bucklin' up. Lieutenant, where's my witness?
Be seeing you!
Sat, August 21, 2021 | link
Saturday, August 14, 2021
JEFFREY MORGANíS MEDIA BLACKOUT #796
JEFFREY MORGAN'S MEDIA BLACKOUT #796.535.166!
SIZZLING SERIES OF THE WEEK: The Mooney Suzuki and Terror and Toasters - CBGB/OMFUG Masters: The Bowery Collection (MVD Audio) :: Brace yourself because this is just the beginning of a multi-volume deluge of multi-track shows coming from the late Hilly Kristal's extensive archive. What we got here are three separate discs featuring three different full-length gigs by three different bands in three different years (Mooneys: 2001; Toasters: 2002; Terror: 2004)-plus historical liner notes by Handsome Dick Manitoba, which put everything into its proper historical context. As it happens, these particular editions contain a crazy cross-section selection of the kind of music that CBGB championed for more than 30 years, ranging from the Toasters' good-natured house-rockin' ska to Terror's aggro home-wreckin' thrash to the Mooney's infectious rent-party pop 'n' roll. If you don't faithfully scoop up this new CBGB series from MVD Audio, then OMg are you ever FUGed up!
Corb Lund - Horse Soldier! Horse Soldier! (Stony Plain) :: Gosh, I bet Pete Townshend wishes he'd recorded a country opera about the calvary.
SIZZLING PLATTER OF THE WEEK: Various Artists - Miles...From India (Times Square) :: You need schoolin', so, baby, I ain't foolin' when I say that if you only buy one Miles Davis tribute record in this lifetime, then make sure that it's this one. Producer Bob Belden has assembled an impressive array of primo Davis sidemen including John McLaughlin, Chick Corea, Ron Carter, Mike Stern, Jimmy Cobb and Marcus Miller-to name but only a few-who then essay ten pieces ranging from "So What" to "In A Silent Way" to "Miles Runs The Voodoo Down," all filtered through an Indian aesthetic that's authentically backed up by some two dozen Indian musicians; none of whom, I'm honest enough to admit, I've ever heard of. Then McLaughlin concludes the proceedings with the original title composition that's resonant reverence incarnate. Bonus points for having an airy album cover that expertly evokes the very best of Miles' classic Columbia years.
Be seeing you!
Sat, August 14, 2021 | link
Saturday, August 7, 2021
JEFFREY MORGANíS MEDIA BLACKOUT #795
JEFFREY MORGAN'S MEDIA BLACKOUT #795.534.165!
SIZZLING PLATTER OF THE WEEK: Nash The Slash - In-A-Gadda-Da-Nash (Cut-Throat) :: Elegantly tuxedoed like Cary Grant in George Cukor's Holiday and hideously bandaged like Claude Rains in James Whale's The Invisible Man, the revered and reviled serial sonic psychotron known as Nash The Slash has been No. 1 in a field of one ever since he first began creating his own insidious sound of music from deep within secreted studio walls located somewhere inside of an abandoned subway station miles beneath the filthy sidewalks of Toronto.
Armed only with a Strickfaden array of hyper-amped violins, mandolins, synths and drum machines, Nash proceeded to unleash upon an unsuspecting society a senses-shattering series of aural album assaults whose titles said it all: Bedside Companion. Dreams And Nightmares. Decomposing. Children Of The Night.
These unreasonably unrelenting records led to Nash being smuggled into Europe to work with the likes of Gary Numan and Bill Nelson, only to be abruptly expelled from the continent by the EU as "a deviant influence not only on humanity but on all life itself" after angry villagers caught a rare glimpse of his grisly ungauzed visage late one night in an iniquitous den of ill repute on the Rue Morgue.
Safely ensconced back home in his underground lair, Nash donned his stained leather apron and threw himself into his work with a renewed vengeance born of righteous anger that would ultimately be made manifest in the records to follow: the corrupt social commentary on And You Thought You Were Normal; the modern urban brutality of Thrash; the silent cinema soundtrack to Nosferatu; and his first ever album of cover versions, American BandAges.
Now the immortal Nash The Slash rises again with an album of covers that extends from the obvious ("Baba O'Riley" and "Astronomy Domine") to the obscure ("Follow The Leaders" and "Constantinople") to the omnipresent ("In-A-Gadda-Da-Vida" and "The Wreck Of The Edmund Fitzgerald"). So don't be an angry villager! Buy it now before Nash comes back to...
Be seeing you!
Sat, August 7, 2021 | link
Saturday, July 31, 2021
JEFFREY MORGANíS MEDIA BLACKOUT #794
JEFFREY MORGAN'S MEDIA BLACKOUT #794.533.164!
Bruce Timm & Lauren Montgomery & Brandon Vietti - Superman: Doomsday (DC Comics/Warner Premiere DVD) :: DC Comics claims that The Death Of Superman is the biggest selling graphic novel of all time and I have every reason to believe them. The biggest reason is that I actually went out and bought all of the various issues which contained the storyline as they came out decades ago-dozens upon dozens of them, month after month, at a time when I was buying absolutely no comic books whatsoever. So I give DC full credit for successfully managing to get my hard-earned nickels and dimes at a time when no other comic book company could. But although I ultimately ended up liking the cool new John Henry steel-drivin' version of Superman, I found the convoluted plot to be in overall need of some serious pruning back. That's where Bruce Timm and company's new animated version of the Doomsday saga comes in, which does just that while leaving all of the essential key elements in place.
Amazingly for a feature length animated cartoon, even one which is stickered PG-13, the level of violence is completely off the chart. Not only do folks get unexpectedly knocked off left, right and center; but the Metropolis fight scenes between Superman and Doomsday play harder and faster than the downtown dust-up in Superman II: The Richard Donner Cut. That's because the literal sense of gravity given the entire proceedings is right up there with the real world physics that the Fleischer brothers imbued their seminal Superman cartoon series with.
SIZZLING PLATTER OF THE WEEK: Ministry & Co-Conspirators - Cover Up (13th Planet) :: This is the absolute greatest album of cover versions since Bowie's crushed larynx curdled milk on Pinups. If you thought that Ministry's "Jesus Built My Hotrod" was heavy, then you haven't heard Jackie O. Jourgensen pulverize songs like "Radar Love," "Mississippi Queen," "Space Truckin' " and "Bang A Gong" into a puréed pulp pudding!
Be seeing you!
Sat, July 31, 2021 | link