Sunday, September 24, 2023
JEFFREY MORGANíS MEDIA BLACKOUT #907
JEFFREY MORGAN'S MEDIA BLACKOUT #907.593.227!
Comic Book Heroes – Take A Seat (self released) :: I was gonna say something suitably snide like: "If real superheroes were as lame as these four Supersnipes, the world would be run by supervillains." But it turns out I'm only half wrong because, just like the Hawk, they got enough Whoish power chord trappings to wake me up. Unfortunately, just like the Dove, they also got enough Hagarish power ballad trimmings to snooze me down.
North Side Kings – Suburban Royalty (I Scream) :: These screamos write liner notes that brag: "This is the song Ice-T wishes he wrote in place of 'New Jack Hustler'." Yeah, right.
Ice-T – Home Invasion (Rhyme Syndicate) :: And this is the album the North Side Kings wish they'd made in place of Suburban Royalty. Yeah, right on.
Fear Nuttin Band – Yardcore (Bodog) :: Jahve nuttin d'feah bwah dis Korny wrekord widjil leeve fuh evva indie infuhmmy, mon.
The Notwist – The Devil, You & Me (Domino) :: Love their way, they're the new Psychedelic Furs!
Bad Luck Charms – Bad Luck Charms (I Scream) :: I scream, you scream, we all scream for this slovenly hard rock cross between the New York Dolls and Wild Man Fischer.
Keaton Simons – Can You Hear Me (CBS) :: You're breaking up.
Neil Sedaka – Breaking Up Is Hard To Do (Rocket) :: Can you hear me now?
Your Vegas – A Town And Two Cities (Universal Republic) :: It was the best of Hall & Oates, it was the worst of U2.
PSEUDO-SIZZLING PLATTER OF THE WEEK: John Oates – 100 Miles Of Life (Phunk Shui) :: Strangely believe it, this one sounds a whole lot like DaBo's Young Americans, which ain't no insult by a long shot when you consider that it's got a similar trifecta of breathy pseudo-soul lead vocals, smooth pseudo-soul background vocals, and slinky pseudo-soul strings—the only difference being that the erstwhile Mr. Jones never slipped into gritty pseudo-stud David Lee Roth vocal mode from time to time like pseudo-soul Oates does here.
Be seeing you!
Sun, September 24, 2023 | link
Saturday, September 16, 2023
JEFFREY MORGANíS MEDIA BLACKOUT #906
JEFFREY MORGAN'S MEDIA BLACKOUT #906.592.226!
Joe Cocker – Bird On A Wire (Eagle Rock DVD) :: Boy, what a difference a few decades can make, huh? Long after his 1970 Mad Dogs prime, we find the Rotating Rocker in Doucheland backed by a buncha lanky Eurodisco-dressing dudes 'n' dudettes. Luckily, his voice is in fine fettle and his hair still reasonably long, even if he doesn't paw at it once. Bonus points for belting out a boisterous "High Time We Went."
Chad Van Gaalen – Soft Airplane (Flemish Eye) :: When he's not using an effective falsetto similar to Bryan Ferry ("Willow Tree") or a droll mid-range that evokes Neil Young ("Bones Of Man"), he's using his own plaintive voice to front a series of oddball Eno-esque pop songs that remain upbeat, despite the mordant subject matter.
Obscured By Clouds – Psycheclectic (Psycheclectic) :: An ambitious prog rock album where surface-sutured layers of trippy textures and trances melt into ominous simmering swatches of deep-seated psychotronic sensations before slowly coalescing together again.
Palmyra Delran – She Digs The Ride (Apex East) :: She begins with a "Wipeout" riff and then shifts into third gear—it's all right—with a classic janglin' guitar-driven groove that manages to stuff a wild surfin' bird with a beach blanket bikini.
Tom Verlaine – Dreamtime & Words From The Front (Collectors' Choice) :: These '80s solo albums from Television's anchorman sound like early herky-jerky Talking Heads in places, but it's the wonky up-tempo tracks like "Mr. Blur" and "Present Arrived" that prove it all night like an analog TV set jammed between channels—and don't I miss that sound!
SIZZLING PLATTER OF THE WEEK: Family Force 5 – Dance Or Die (Tooth & Nail) :: Cheap Trick and Flavor Flav meet the Jacksons and KISS on this utterly charming album that dares to mix high energy power pop and low brow ghetto funk with a big heapin' helpin' of Teutonictronics lathered thick on top. I haven't had so much fun listening to an album in days, so ketchup!
Be seeing you!
Sat, September 16, 2023 | link
Saturday, September 9, 2023
JEFFREY MORGANíS MEDIA BLACKOUT #905
JEFFREY MORGAN'S MEDIA BLACKOUT #905.591.225!
SIZZLING PLATTERS OF THE WEEK: Phil Manzanera – The 801 Series (Expression/MVD Audio) :: 801 was the Plastic Ono Band of mid-'70s progressive supergroup rock ensembles, a nebulous ever-shifting central shaft around which revolved some of the greatest English art rock adherents ever: Roxy Music's Phil Manzanera, Eno, Andy Mackay, Paul Thompson and Eddie Jobson; 10cc's Lol Creme and Kevin Godley; Quiet Sun's Bill MacCormick; Curved Air's Francis Monkman; and many others ranging from Tim Finn to Simon Phillips. Now, for your pleasure, Manzanera has assembled his 801 tape archive into the following four separate live albums, all of which are on his Expression Records label in the UK which is distributed in the US by MVD Audio.
801 Live :: When it came out in 1976, 801 Live was immediately acclaimed as being one of the greatest sounding live rock albums ever released—and that goes double now that it's been reissued in this definitive new expanded dual disc edition. The first platter contains the original live album augmented by a few numbers, which were left off the original vinyl pressing due to space limitations. The highlights include blistering versions of songs from Eno's first three solo albums as well as Manzanera's own underrated Diamond Head record. The second disc finds the live album duplicated track for track, only this time in a studio setting during a rehearsal recorded a few days before the gig.
801 Manchester :: Shortly thereafter, 801 hit the road to support their new studio album—which explains why there's a surfeit of surefire songs from Listen Now performed, along with an unexpected Roxy cover that's literally out of the blue.
801 Live @ Hull :: Getting back to mono, this excellent audience recording captures the band in a form that's arguably even fiercer than on the above-noted sonically superior stereo Manchester tape—which was rabid enough to begin with.
801 Latino :: If it proves anything at all, this incongruous Latin throwdown proves that Manzanera does not live on art rock alone.
Be seeing you!
Sat, September 9, 2023 | link
Saturday, September 2, 2023
JEFFREY MORGANíS MEDIA BLACKOUT #904
JEFFREY MORGAN'S MEDIA BLACKOUT #904.590.224!
Caledonia – We Are America (self released) :: I know where this band of Canuckleheads is coming from when they kvetch about America culturally sucking Canada dry. Sure, they mean it as a protectionist slam, but I wouldn't have it any other way—besides, being a good Detroiter, I'm a Vernors man myself.
Snooks Eaglin – Baby, You Can Get Your Gun! (Hep Cat) :: Anyone widda moniker like "Snooks" has gotta be cool but, as you might've already guessed, that ain't his real handle: It's Fird, which is even cooler—just like the beyond butane blues-infused scorchers which ignite this reissued 1986 session.
Fanny Brice – The Baby Snooks Show (CBS) :: Geddit?
Odis – Feel (Miss Press) :: Miss Odis regrets how bands these days sound like everyone else. But here's an admirable exception with a pulse that's hard to put my finger on but I'll sure try: I hear a loud Living Color rock aesthetic at play here, ably augmented by a Southern sensibility with a playful underpinning of Prince. Too many slushball ballads, though.
Barbara Streisand – Funny Girl (Columbia) :: Oy vey, baby!
SIZZLING PLATTER OF THE WEEK: Chairlift – Does You Inspire You (Kanine/Columbia) :: I may hate ballads, but I bought this one nevertheless because the sticker on the front cover claimed that it contained "beguiling heroin ballads, nodding deeply to David Lynch's Angelo Badalamenti-scored oeuvre." Musically, that happens to be true. Vocally, it goes without saying that Caroline Polacheck is no Julee Cruise—which is understandable. She's more like a sonorous soporific pop suturing of Beth Gibbons and Eno—which is unmedicated.
Angelo Badalamenti – Music From Twin Peaks (Warner Bros.) :: Number one in a field of none.
Be seeing you!
Sat, September 2, 2023 | link
Saturday, August 26, 2023
JEFFREY MORGANíS MEDIA BLACKOUT #903
JEFFREY MORGAN'S MEDIA BLACKOUT #903.589.223!
Ray Charles – A Message From The People (Concord) :: I don't care if the sun don't shine—but if I hear this flamboyant, cloying, overwrought, terminally maudlin, tear-jerkin' melodramatic version of "America The Beautiful" one more time, I'm gonna kill something.
Chris Velan – Solidago (New Song Recordings) :: Looking to score? Then match a few candles and play these sensitive songs, which'll woo any weepy woman on the rebound. Works for me!
Dee Dee Ramone – History On My Arms (MVD Visual) :: You'll wanna buy this Dee-V-Dee for the three filmed documentaries but you're gonna keep it for the bonus home-recorded album Dee Dee Blues on which the man who gave us the speaker-shredding "Wart Hog" redefines abrasive with a monocaustic mind-numbing set that makes Unca Lou's overdrive antics on "I Heard Her Call My Name" sound like Jeanine Deckers plucking "Dominique" on downers. Then Dee Dee takes a well-deserved break to berate his cat while he skillets some eggs for breakfast.
SIZZLING MODERN PLATTER OF THE WEEK: Ray Charles – Modern Sounds In Country And Western Music: Volumes 1 & 2 (Concord) :: Half of these two dozen tracks sound like a Jackie Gleason string seduction session while the other half swings in kinetic "And away we go!" akimbo mode. Mercifully devoid of his usual annoying vocal mannerisms, this is Raymond's finest auditory hour.
SIZZLING POST-MODERN PLATTER OF THE WEEK: Big D And The Kids Table – Fluent In Stroll (Side One Dummy) :: Chirpy chicks chirpin' Linda McCartneyesque backing vocals against a horny horn backing while the suave Romeo upfront sells you the goods with a punky swagger worthy of a singin' Stooge in sidewinder Soldier mode. The first song is called "Doped Up Dollies On A One Way Ticket To Blood," which tells you all you need to know about how mentally stable these cool cats are. Add an overflowing side platter of ska slathered with a hot throbbing organ and you've got an album that's so fulla fun you'll plotz your pud.
Be seeing you!
Sat, August 26, 2023 | link
Saturday, August 19, 2023
JEFFREY MORGANíS MEDIA BLACKOUT #902
JEFFREY MORGAN'S MEDIA BLACKOUT #902.588.222!
SIZZLING ROCKUMENTARY OF THE WEEK: Bill Fishman – My Dinner With Jimi (Rhino Films) :: I'd say that this was the greatest rock 'n' roll movie ever made—except for the small fact that my name happens to be on the back cover of every copy of Mayor Of The Sunset Strip saying the exact same thing. What I can say, however, is that this is the greatest rock 'n' roll movie ever made about how the Turtles—aka Mark Volman and Howard Kaylan aka Flo & Eddie—hit it big in America with their 1967 Beatle-bashing mega-smash single "Happy Together," and then went to England where they hung out with George, Ringo, Paul, John, Charlie, Brian, Keith, Bill, Mick, Jim, Frank, Twiggy, Donovan and Hendrix. The screenplay's penned by Kaylan himself, so you can be sure that the factual accuracy is spot-on, insofar as drug-addled recollections go. It's a hell of a hoot and one of the essentials for anyone who ever had a rock 'n' roll heart.
SIZZLING PLATTER OF THE WEEK: Ted Nugent – Motor City Mayhem: The 6,000th Concert (Eagle) :: When I reviewed Love Grenade in Detroit's Metro Times, I wrote that "the only way Ted could've improved this album is if he'd hired Derek St. Holmes to sing half the songs." And when I reviewed Sweden Rocks in this column, I likewise opined that "with any luck, Derek St. Holmes will be back the next time around to keep Nugent's ego in check." So you can imagine my delight that Ted finally got off the pot and brought St. Holmes onstage to sing "Hey Baby" and "Stranglehold" for this live twofer, which is also available on video, and which was recorded in Detroit way back when during Theodore's 4th of July milestone 6,000th performance celebration. Even better, if you watch the companion video you can actually see Ted lower his wireless mic to give St. Holmes an unimpeded vocal spotlight. Best of all, they can still sing and play the high notes just like they did back in 1975 on Nugent's first solo album.
Be seeing you!
Sat, August 19, 2023 | link
Saturday, August 12, 2023
JEFFREY MORGANíS MEDIA BLACKOUT #901
JEFFREY MORGAN'S MEDIA BLACKOUT #901.587.220!
Broadway Calls – Good Views, Bad News (Side One Dummy) :: You know I've had my share. Well, my woman left home for a brown-eyed man who plays in a generic teenage angst rock band that should've closed out of town on opening night, but I still don't seem to care.
Lee Harvey Osmond – Quiet Evil (Latent) :: I guess "John Wilkes Partridge" was already taken, huh?
Manchester Orchestra – Mean Everything To Nothing (Favorite Gentlemen) :: Early prissy Bowie meets early pensive Reznor backed by early primo Page.
Charles E. Caine – The Mayor Of Hell (Warner Bros.) :: James Cagney may be the star of this 1933 prison flick, but who can deny that good old Charlie Caine steals the show as Tommy 'Stupe' Gorman?
23 Rainy Days – Wonderful Disaster (Radio Active) :: Their own website describes them as being "Dark Pop Synth Rock" so who am I to argue that they're wrong—especially when that happens to be an accurate assessment of this exemplary slice of arch '80s anxiety.
SIZZLING SHOMOE OF THE WEEK: Jesse James – Jesse James Is A Dead Man (Spike) :: And speaking of past blasts, here's one dead man who used to turn me on with a kinetic fury and oddly incongruous laconic Zen-ness that evoked memories of Raw Power and A Gift From A Flower To A Garden being played simultaneously at full volume. This linear ancestor to the pistol-packin' outlaw may look and sound like David Lynch but the death-defyin' stunts he pulls off are still worthy of Evel Knievel in his outta-mah-head prime. It also adds more fuel to the argumentative fire that Spike once was the greatest heavy metal television network casting broads, but not no more.
Be seeing you!
Sat, August 12, 2023 | link
Saturday, August 5, 2023
JEFFREY MORGANíS MEDIA BLACKOUT #900
JEFFREY MORGAN'S MEDIA BLACKOUT #900.586.219!
Bart Davenport – Palaces (Antenna Farm) :: Burt Bacharach is more like it and I like it, like it, yes, I do.
Bad Flirt – Virgin Talk (Kartel) :: What's to like? How about perky power pop fuelled by fun-filled female vocals, a wickedly witty sense of humor, an enclosed pamphlet with a suitable-for-autographing poster, and the words "THANK YOU" in huge type on the flip side.
Holly Golightly & The Brokeoffs – Dirt Don't Hurt (Transdreamer) :: Murder-in-the-makin' songs like "My 45" show why American slothic lives on this banjofied country hoedown which was recorded with the safety off. BLAM!
Deas Vail – White Lights (Brave New World) :: No! Psychedelic Furs meet Yes! Maybe?
The Wedding Present – El Rey (Manifesto) :: Heavily tremoloed contemporary '80s angst rock with a Europatina that says: re-gift.
Rae Spoon – Superior You Are Inferior (self released) :: A woman singing self-penned songs like "My Heart Is A Piece Of Garbage. Fight Seagulls! Fight!" and "Come On Forest Fire Burn The Disco Down"? Crazy, man, crazy. Roll over Leonard Cohen and tell Lewis Furey the news.
The Moody Blues – Live At The Isle Of Wight Festival 1970 (Eagle) :: Prog schlock.
SNIVELING PLATTER OF THE WEEK: Rhino Bucket – The Hardest Town (Acetate) :: Gee, you'd think that these callow mugs would be grievously ashamed of slavishly aping AC/DC so blatantly, right? Well, you'd be wrong. Dead wrong. I guess the name "Vomit Bucket" was already taken, huh?
SIZZLING PLATTER OF THE WEEK: Carlos del Junco – Steady Movin' (Northern Blues) :: The greatest harmonica player in the world is back with another album that only serves to further cement his already stellar reputation—and if you think what he does in the studio is jaw-dropping, then you just gotta see him live to get the full gist of his uncanny ability. Bonus points for writing a clever Canucklehead harp tribute to the GFOS called "Mashed Potatoes Canada" that loiters with intent on the corner of Good God Boulevard and Hit Me Drive.
Be seeing you!
Sat, August 5, 2023 | link
Saturday, July 29, 2023
JEFFREY MORGANíS MEDIA BLACKOUT #899
JEFFREY MORGAN'S MEDIA BLACKOUT #899.585.218!
The Black Crowes – Warpaint Live (Eagle Rock) :: I'd never heard these guys before but after listening to this one, I'm in no hurry to hear them caw again. The first track, "Goodbye Daughters Of The Revolution," is a great Exile On Main St. meets the Allman Brothers pastiche, but that's exactly why I ended up nodding off halfway through. Whereas Exile served up a surfeit of creative variety, this brash rehash is nothing but a monotonous one-trick phony that takes fawning sycophantic fanboyism and then shamefully runs it into the ground—and the fact that they actually stoop to cover "Torn And Frayed" only proves my point. It also makes me want to play Exile again and forget about this fraud on the run.
Zac Harmon – From The Root (Northern Blues) :: Avid octogenarian eaters like myself will be able to relate to a smooth snatch-suckin' song like "The Older Woman" because it's mmm-mmm, finger-licking good. And although Zac will no doubt declare that his song ain't about gettin' down and rootin' around in the underground, he'd be wrong because the cumstomer is always right!
SIZZLING PLATTER OF THE WEEK: Gary Lewis & The Playboys – The Complete Liberty Singles (Collectors' Choice) :: How cool is Gary Lewis? He's the son of Jerry Lewis. He looks like Supercar's Mike Mercury. An unreasonable chunk of the songs that he cut were co-written with producer Snuff Garrett and arranger Leon "Holy Trinity" Russell. He recorded a Kellogg's Corn Flakes song called "Doin' The Flake" that out-milks the Rolling Stones' Kellogg's Rice Krispies song, "Wake Up In The Morning." But coolest of all is the uncanny spot-on impersonation that Gary does of his dad when he savages the grisly ballad "Time Stands Still" by singing it in a nasally spastic-retardo voice that out-Jers Jer. Two discs? Forty-five tracks? All in mono? La la la, nice record!
Jerry Lewis – Jerry Lewis Just Sings (Decca) :: He's no Gary Lewis, but who is?
Be seeing you!
Sat, July 29, 2023 | link
Saturday, July 22, 2023
JEFFREY MORGANíS MEDIA BLACKOUT #898
JEFFREY MORGAN'S MEDIA BLACKOUT #898.584.217!
Dennis O'Neil & Curt Swan – DC Comics Classic Library: Superman — Kryptonite Nevermore (DC Comics) :: In 1971, definitive Supes artist Swan and definitive Green Lantern writer O'Neil teamed up to clean up a cluttered iconography by finally putting the kibosh on a multicolored crutch called Kryptonite. It's an exciting read that features Clark Kent during his TV reporter phase—a gig he definitely didn't dig, which only goes to show that even Superman once had a day job that really sucked.
FemBots – Calling Out (Weewerk) :: If Trent Reznor has formed the Velvet Underground, their first unbalanced album would've sounded just like this.
Harvey Kurtzman, Will Elder, Jack Davis, Al Jaffee, and Arnold Roth – Humbug (Fantagraphics Books) :: After they definitively defined satire for Bill Gaines' MAD but before they refined it for Hugh Hefner's Little Annie Fanny, unparallel parodists Kurtzman and Elder ran rampant for themselves when they published these 11 exceptional issues of comic art anarchy. This two-volume hardcover box set has been reproduced from the original art and digitally restored to make everything look even better than when it first came out in 1957. This long-overdue definitive edition of Humbug is an essential slice of satire from the masters of the genre.
Mother Mother – O My (Last Gang) :: And if Lou Reed had formed Blondie, their first unbalanced album would've sounded just like this.
Ross Andru and Mike Esposito – Get Lost! (Hermes Press) :: Andru and Esposito were no Kurtzman and Elder, but they sure gave it their best shot with this short-lived comic book from 1953 that provided some direct competition to MAD—so direct, in fact, that Bill Gaines tried to sue them out of existence. He lost, but by that time the damage had been done. Now see for yourself what got Gaines' goat in this gorgeously restored paperback that collects all three issues.
SATIRICAL PLATTER OF THE WEEK: Stan Freberg – "St. George And The Dragonet" (Capitol) :: Three million copies sold in three weeks in 1953? Hoo-hah, that's one sizzling single!
Be seeing you!
Sat, July 22, 2023 | link
Friday, July 21, 2023
JEFFREY MORGAN'S ROCK 'N' ROLL PHOTOGRAPHS
JEFFREY MORGAN'S ROCK 'N' ROLL PHOTOGRAPHS

While you're visiting, don't forget to view the dozens of essential selections from my vast archive of hundreds of extremely rare and previously unseen rock 'n' roll photographs from the 1970s and 1980s--all of which were taken by myself from my front row center seat at various venerable venues; vintage historical portraits which include the following rock stars caught in their youthful prime:

David Bowie (1976 Station To Station tour) :: Lou Reed (1974 Sally Can't Dance tour) :: Iggy Pop (1977 The Idiot tour) :: Bob Dylan (1978 Street Legaltour) :: George Harrison (1974 Dark Horse tour) :: Paul McCartney (1976 Wings Over America tour) :: Pete Townshend (1976 The Who By Numberstour) :: Johnny Winter (1976 Captured Live! tour) :: Jeff Beck (1975 Blow By Blow tour) :: KISS (1977 Love Gun tour) :: Alice Cooper (1975 Welcome To My Nightmare tour) :: Freddie Mercury (1977 News Of The World tour) :: Amanda Lear (1975 Sweet Revenge tour) :: Rod Stewart (1977 Foot Loose & Fancy Free tour) :: Mick Jagger (1975 It's Only Rock 'n Roll tour) :: New York Dolls (1975 Tokyo Dolls Live tour) :: Keith Richards (1975 It's Only Rock 'n Roll tour) :: Ian Hunter (1989 YUI Orta tour) :: Elton John (1974 Caribou tour) :: Mick Ronson (1989 YUI Orta tour) :: Steven Tyler (1977 Draw The Line tour) :: Sparks (1975 Indiscreet tour) :: James Brown (1986 Gravity tour) :: Miles Davis (1985 You're Under Arrest tour) :: Roger Daltrey (1976 The Who By Numbers tour) :: Bruce Springsteen & Clarence Clemons (1975 Born To Run tour) :: John Entwistle (1976 The Who By Numbers tour) :: Keith Moon (1976 The Who By Numbers tour) :: The Who(1976 The Who By Numbers tour) :: and more!

Ask any dealer and he'll tell you that the best way to get someone hooked on your product is to give them a free sample, so here's just a small taste of what's coming your way when you click on the eleven gallery links to your left: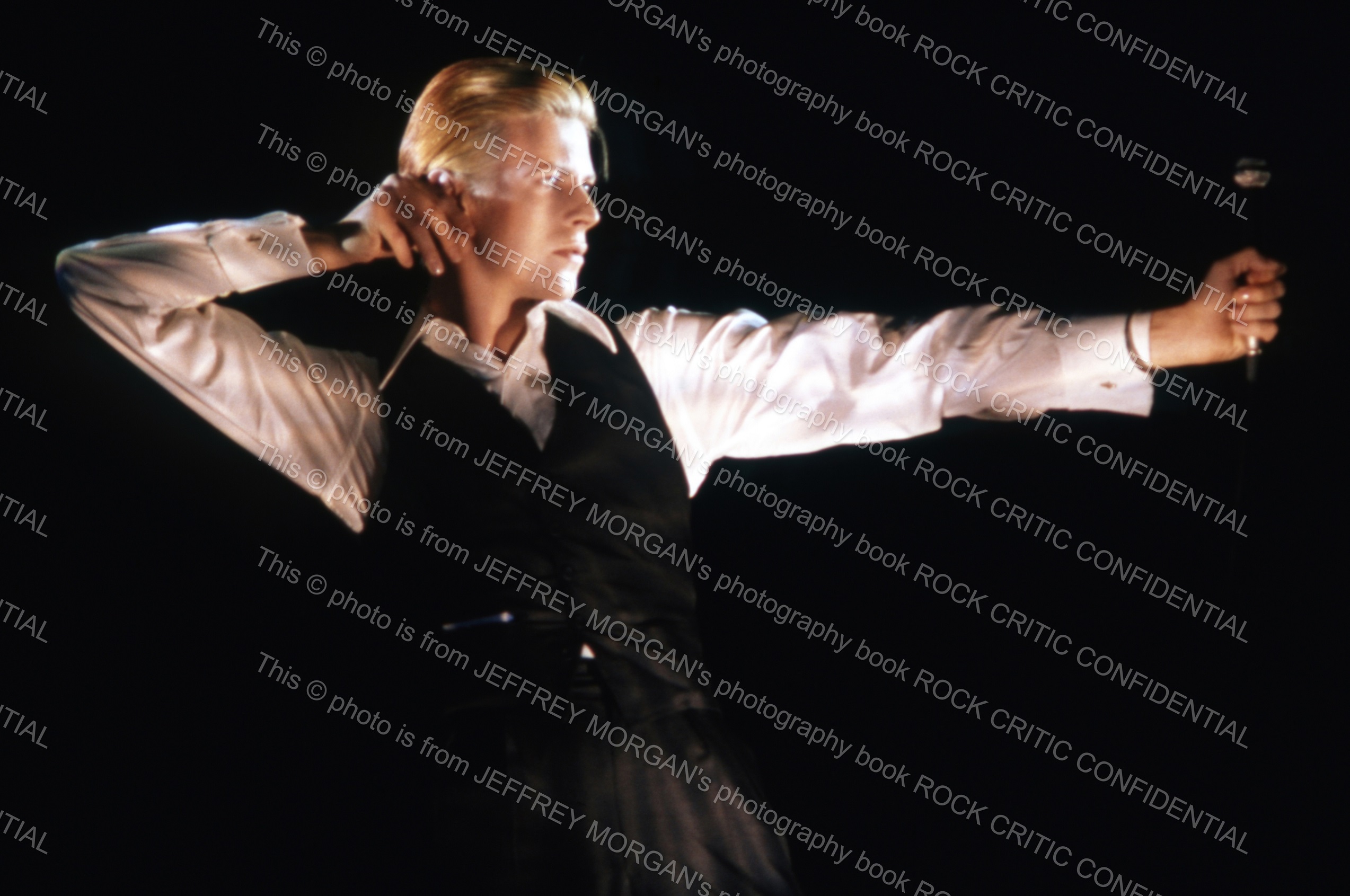 Fri, July 21, 2023 | link
Saturday, July 15, 2023
JEFFREY MORGANíS MEDIA BLACKOUT #897
JEFFREY MORGAN'S MEDIA BLACKOUT #897.583.216!
Little Stevie Wonder – Tribute To Sister Ray (Blowtown) :: I wish...
SIZZLING PLATTER OF THE WEEK: Isaac Hayes – Juicy Fruit (Disco Freak) (Hot Buttered Stax) :: Hello there, children! After the well-deserved reaming that I gave the mis-mastered Black Moses last week, I'm pleased to give this guilty pleasure from 1976 a resounding rave reissue review.
Did I say guilty pleasure? Well, maybe it's eternally embarrassing for you to admit but say it loud: I'm a disco freak and I'm proud! My favorite Bowie song? "John, I'm Only Dancing (Again)"! Roxy Music? "Dance Away"! Rolling Stones? "Miss You"! KISS? "I Was Made For Loving You"! Lou Reed? "Disco Mystic"! That's right, while you were sucking in the '70s to the plodding puds of Boston and Buffett, I was snortin' up the sexy sounds of Donna Summer, Pattie Brooks, Gloria Gaynor, Andrea True, and Amanda Lear.
Now when it came to canvassing the brother contingency, there's no denying that James Brown hit the apex of audaciousness when he asked: "Stevie Wonder, do you see those cakes? Brother Ray Charles, I know you see those cakes!" on his booty call anthem, "For Goodness Sakes, Look At Those Cakes." But guess who first laid the groundwork for such "cheekiness" years earlier with this ribald title track rap?
HAYES: Say, Miss, my partner wanna know somethin' here. He said that you had the mumps when you were a kid and both your jaw swoll up and they went down in your chest. Is that true?
MISS: Naw...them wasn't mumps, them was lumps.
HAYES: Well, I guess you're tryin' to tell me them watermelons in your back pockets too.
MISS: Yeah...y'wanna squeeze?
HAYES: Man, she's a juicy fruit.
MISS: Yeah ... anybody wanna stick o'this?
HAYES: Juicy fruit? She got fruits all over!
Supplemented by such smooth sonic seducers as "Music To Make Love By" and "Lady Of The Night," this is an ace album of aural arousers that'll have you pulling out your hatchet to cut that head until the juices run out!
Be seeing you!
Sat, July 15, 2023 | link
Saturday, July 8, 2023
JEFFREY MORGANíS MEDIA BLACKOUT #896
JEFFREY MORGAN'S MEDIA BLACKOUT #896.582.215!
Little Stevie Wonder – The 12 Year Old Genius (Tamla) :: Talent is an asset...
FIZZLING PLATTER OF THE WEEK: Isaac Hayes – Black Moses (Stax) :: The good news is that they diligently duplicated the original multi-flap album cover that unfolds into a cross showing Hayes in all his unchained glory. The bad news is that they also carelessly copied the double album's original vinyl configuration, which backed Side 1 with Side 4 and Side 2 with Side 3 so that both platters could be stacked on top of each other and played on a turntable in drop-automatic sequence. That's right, this negligent new reissue takes Sides 1, 4, 2, 3 and sloppily slaps them on the compact disc in that incorrect order—which means you're not hearing Black Moses in its original sequence as Hayes intended you to hear it back in 1971.
Little Stevie Wonder – Tribute To Uncle Ray (Tamla) :: ...and Little Stevie has it.
SIZZLING PLATTER OF THE WEEK: Ray Charles – Genius: The Ultimate Collection (Concord) :: Anyone who read the very first record review that I wrote in the inaugural edition of this column—you could look it up and I suggest that you do—might think that I don't like Ray Charles. What I don't like is record companies that ascribe marketing musical MENSA awards on dead musicians who aren't around anymore to humbly debunk them. And if Charles did come up with that ego-aggrandizing Genius Loves Company title himself, then he obviously needed to give his head a few more shakes before he hit the road to Heaven. I mean, if Ray Charles is a genius, then what does that make Stevie Wonder? As the great German philosopher Arthur Schopenhauer once said: "Talent hits a target no one else can hit. Genius hits a target no one else can see." Which makes this one hell of a talented compilation.
Stevie Wonder – Music Of My Mind, Talking Book, Innervisions, Fulfillingness' First Finale, Songs In The Key Of Life (Tamla/Motown) :: Genius.
Be seeing you!
Sat, July 8, 2023 | link
Saturday, July 1, 2023
JEFFREY MORGANíS MEDIA BLACKOUT #895
JEFFREY MORGAN'S MEDIA BLACKOUT #895.581.214!
Sum 41 – All the Good Sh**: 14 Solid Gold Hits 2000-2008 (Aquarius) :: I'll say what these smug dealers are too pussy to spell out on their album cover because they're afraid of losing valuable Wal-Mart sales: This juvenile generic angst rock is shit.
Johnny Winter And… – Live (Columbia) :: I tossed this one on the old Victrola and 30 seconds into the first paint-peeling track, "Good Morning Little School Girl," the graft-takers at Toronto's City Hall had passed a noise ordinance banning me from ever playing this album again. Can't say I blame 'em.
Doug Cox & Salil Bhatt – Slide To Freedom 2 (Northern Blues) :: A passel of peacenik paeans primarily played to power your interplanetary pud into place!
Synthetic Elements – Trashed Out Paradise (Filthy Beast) :: Anyone expecting a Moogster mash because of the band name will be surprised to find an ambitious pop-rock offering which has some early Alice aural theater lurking in the background. Next time, they should let their inner Coop out.
SIZZLING PLATTERS OF THE WEEK: Jeff Jarrett – King Of The Mountain (TNA Home Video) :: I hate monopolies, especially big bloated ones that ruthlessly swallow up the competition and then callously humiliate former employees by publicly blacklisting them from work on live television. So when professional wrestler Jeff Jarrett put his money when his mat is and bucked the odds by successfully forming his own competitive brand of Total Nonstop Action fifteen years ago, he ended up getting the best revenge. This whopping 12-hour, four-disc set which, unlike previous wrestling compilations, alternates every match with a lengthy in-depth interview segment that tells the entire story of Double J's guitar slingin' career from his early years of toil and turmoil in the regional promotions to now. Augmented by a wealth of rare archival footage, this veritable half-day history of the wrestling profession is essential viewing for anyone who's a champion of free enterprise—especially since Hall Of Famer JJ's back ruling the roost at AEW—which is why King Of The Mountain is the retro-wrestling DVD of the week.
Be seeing you!
Sat, July 1, 2023 | link
Saturday, June 24, 2023
JEFFREY MORGANíS MEDIA BLACKOUT #894
JEFFREY MORGAN'S MEDIA BLACKOUT #894.580.213!
Mark Olson & Gary Louris – Ready For The Flood (HackTone) :: I know you won't believe it, but this sounds just like McCartney & Lennon when they did their acoustic Everly Brothers bit during Let It Be—and that's definitely saying something, so believe it.
Tagaq – Auk/Blood (Jericho Beach) :: I've heard a few throat-singing albums in my time, but never one that reminded me of Nico's Janitor Of Lunacy until now. That is, if Nico had played her larynx instead of her harmonium.
Bleeding Through – The Complete Truth (Trustkill) :: This one sounds like Paul Stanley fronting a double-time thrash-screamo band. At least it does during the melodic singing parts. Of which there aren't many.
Matthew Sweet – Sunshine Lies (Shout! Factory) :: "Matthew Returns With a Power-Pop Stunner!" raves the cover sticker, which ain't a bad call. And although I wouldn't go so far as to call it a "kaleidoscopic masterwork," like the additional small print does, I'd certainly recommend it solely on the vintage anarcho-punk Donovan Rundgren vibe.
Mardeen – Read Less Minds (Collagen Rock) :: Proto-atypical teenage angst-rock that, inexplicably, has a late '70s early '80s jingle jangle post-punk patina. Maybe this is what Lodger shoulda sounded like. Maybe not.
SIZZLING PLATTER OF THE WEEK: Cameron Latimer – Fallen Apart (Black Hen) :: This may be a first: An album that just doesn't just includes a lyric sheet, but a lyric sheet that's notated with all the necessary chords needed to turn it into sheet music. And although it's usually at this point in the proceedings that I'd lambaste this record raw for not being nearly as smart as that bright idea, this is one country album that's actually even smarter—right down to the looping title track which, incongruously, sounds just like a high quality outtake from Paul and Linda's Ram.
Paul McCartney - "Ram On" (Capitol) :: Paul. Ram on. Paul Ramone. Geddit?
Be seeing you!
Sat, June 24, 2023 | link
Saturday, June 17, 2023
JEFFREY MORGANíS MEDIA BLACKOUT #893
JEFFREY MORGAN'S MEDIA BLACKOUT #893.579.212!
Alan Davey – Captured Rotation :: (MVD Audio/Hawkwind) :: Hawkwind meets power pop on this catchy pop rock meisterwack.
Astralasia – The Hawkwind Remixes (MVD Audio/Voiceprint) :: One good head deserves another and, boy oh boy howdy, do they ever find each other in spades on this celestial compendium that time travels from 1993 to 2002 and back again in a cool Cosmic Supermarket kinda way.
Magic Mushroom Band – Feed Your Head: Live '89 (MVD Audio/Voiceprint) :: The album title is a fully great dead giveaway that if Grace Slick and Donovan were singing together in the TransLove Airplane, then this would be their Bless Its Pointed Little Head. So turn off your mind, relax, and bloat downstream as the MMB cover everything from Zappa and Harrison to Ayers and Hendrix in one long luxuriously languid trip.
Jon Anderson – Live In La La Land (MVD Audio/Opio/Voiceprint) :: Devoid of the usual surrounding prog rock bombast, this minimal direct-to-DAT double live album of the Yes man's recent guitar-and-piano-only one-man solo show, at the Roxy in Los Angeles, is an excellent showcase for his distinctive voice which, eerily enough, still sounds exactly like it did way back in the early '70s—soaring high notes and all. I guess Anderson must have a painting of his larynx hanging in an attic somewhere.
SIZZLING PLATTER OF THE WEEK: Fish – Communion: Live At St. Mary's Church Haddington, East Lothian, August 27th, 2006 (MVD Audio/Chocolate Frog) :: Just like those who perpetuate the Gabriel-Collins Genesis debate, there will always be those who will forever be of the opinion that Fish was Marillion, and those others who feel that any post-Fish incarnation of Marillion is equally legitimate. I happen to think that both camps are right, which means I have ample enough room in my ears for this two-fer that's easily as excellent as anything Gabriel did during his first three solo albums.
Be seeing you!
Sat, June 17, 2023 | link
Saturday, June 10, 2023
JEFFREY MORGANíS MEDIA BLACKOUT #892
JEFFREY MORGAN'S MEDIA BLACKOUT #892.578.211!
Styrofoam – A Thousand Words (Nettwerk) :: Just what you always wanted: a lightweight bloopy blorp Casio-pop album with a perpetual half-life that'll never decompose.
Nash The Slash – Decomposing (Cut-Throat vinyl) :: A two-sided series (78) of electro-ambient instrumentals (45) which can be played at any (33) turntable speed (16).
SIZZLING PLATTER OF THE WEEK – FELONY COUNT ONE: A Thousand Knives Of Fire – The Last Train to Scornsville (Small Stone) :: Ah gots tuh be honest with yuh: I ain't never heerd no Small Stone record that I didn't like 'cause this here Deetroit label don't put nuthin' out but elpee after elpee of nonstop, purebred, fuzz-infested, primo heavy, thudaholic, crungefyin', pudknockin', hog-straddlin', pool cue-wieldin', booze-belchin', weed-snortin', speed-freakin', hard-humpin', babe-ballin' music. In other words: Small Stone is the greatest rock 'n' roll record company in America and this album is on Small Stone so you just know that it's got the gooshin' gonad goods splattered all over it. Bonus points for dividing their album into two sides. Extra points awarded for having a feelthy title track that makes bands like Blue Cheer and Kyuss sound like Simon & Gofunkle yo'self.
SIZZLING PLATTER OF THE WEEK – FELONY COUNT TWO: Gideon Smith & The Dixie Damned – South Side Of The Moon (Small Stone) :: It's obviously a given that I like this record, but lemme tell ya why the gol-durned South done gone 'n' rise again. Y'see, unlike the above-noted disc of the long Knives with its sludge-slammin' sound, these Dixie rebs play faster 'n' cleaner behind a growl-gnarlin' voice that sounds as if it wuz freshly dug up from some Civil War battlefield. Points deducted for having the bad sense to play too many heavy love ballads (ref: "Daughter Of The Moon") 'cause heavy love ballads, no matter how heavy, are still ballads—and ah hates ballads. Points reinstated with for having the good senses to follow up the heavy love ballads with tracks like the butane-blisterin' behind-squirtin' "Black Cat Road." Oh, yassss!
Be seeing you!
Sat, June 10, 2023 | link
Saturday, June 3, 2023
JEFFREY MORGANíS MEDIA BLACKOUT #891
JEFFREY MORGAN'S MEDIA BLACKOUT #891.577.210!
The Gaslight Anthem – The '59 Sound (Side One Dummy) :: This ain't no Johnny Horton nod, nor is it no Charles Boyer nod off. It's an angst-rock overdose that's lightly seasoned with a working-class twist of Bossteen. Bonus points for writing a song about the world's greatest Steve Miller fan entitled "Miles Davis & The Cool."
Steve Gammond – Down The Tracks: The Music That Influenced Bob Dylan (Eagle Media DVD) :: From Guthrie and Seeger to Ginsberg and Corso, all wrapped up in one neat little 90-minute educational package, just like the title says.
Walls Of Jericho – The American Dream (Trustkill) :: Welcome to their throbbo, pulsato, screamo nightmaro.
Simon Sykes & Tom Sykes – No Such Thing As A Free Ride? (Goose Lane Editions) :: Here's a book that contains riotous road tales recalled from the soft shoulder by the likes of David Peel, Jayne Country, Jello Biafra and Randy B-B-B-Bachman. Need a ride? Get in!
Steve Miller Band – Live From Chicago (Coming Home) :: Ever wonder why Miles Davis virulently hated Steve so much in his ghost-written autobiography? Mebbe he was kind of green with envy that he couldn't write the kind of popular hit songs or pull the kind of adoring audiences that Mr. Miller managed to do. If so, then it's a good thing that Miles can't see the jam-packed aisles that The Joker still fills on this recent triple CD-slash-DVD set. Bonus points for dedicating "Jungle Love" to Miles. Kind of kidding.
SIZZLING SALESMAN OF THE WEEK: Neil Diamond – Live 1976: The Thank You Australia Concert (Eagle Vision DVD) :: Leathered like Jimbo Morrison and posin' like Elvo Presley, Neil runs through all his hits here on this Oz televised romp—but it's the bonus segment featuring his live-from-the-stage commercials that'll make you want to buy this one. How cool is he? Cool enough to ignore the cheesy script dialogue he's handed and savagely rip into sponsors Cadbury and Pioneer with withering ad-libs worthy of Groucho Marx.
Be seeing you!
Sat, June 3, 2023 | link
Saturday, May 27, 2023
JEFFREY MORGANíS MEDIA BLACKOUT #890
JEFFREY MORGAN'S MEDIA BLACKOUT #890.576.208!
Cory Woodward – Princess Of The Skies (self-released) :: The first impression is of a guy expertly aping Springsteen, but then the subtle nuances in his voice filter through, exposing eerie elements of early Presley and Plant with a slight skein of horrorbilly.
The Funk Brothers – Live In Orlando (Eagle Vision DVD) :: Motown's unsung backing band comes out of the shadows to skillfully show off its still-silky smooth sonic stylings.
Delta Spirit – Ode To Sunshine (Rounder) :: The joyful piano-pumpin' "Trashcan" is the greatest song that Leon Russell never waxed during the height of his whoa-wailin' Holy Trinity heyday—and the rest of the album has a ruff 'n' tumble feel that ain't too shabby neither.
Zebra – The DVD (MVD Visual) :: A generic 30-year retrospective for the faithful, filmed live in Louisiana and New York, with the requisite historical interviews just in case, like me, you've never heard of them before.
Pär Lindh Project – Live In Poland (MVD Visual/Metal Mind DVD) :: After eight Tolkenish studio albums, Sweden's answer to ELP rips prog rock a new one on this voiceless virtuoso show.
Patrick Moraz – In Princeton (MVD Visual/Voiceprint DVD) :: The synthman on Yes' Relayer album goes acoustic and hits the Steinway—literally—by smackin' it silly with his hands almost as much as he fingers it feverishly with his rigid digits.
SIZZLING PLATTER OF THE WEEK: Iggy Pop – Where The Faces Shine, Volume 1: The Official Live Experience 1977-1982 (Easy Action) :: This exhaustively titled, Igg-authorized, six-disc box-set chronicles his solo live act, one disc per tour. But it's the riotously insane show from San Diego State University on the Lust For Life tour that's more than worth the price of admission alone. I mean, you just gotta hear it to believe it—and even then you'll doubt that your delicate little shell-like ears were telling you the auditory truth, 'cause it's the absolute best live solo Iggy show you'll ever hear. Do you feel that beat?
Be seeing you!
Sat, May 27, 2023 | link
Saturday, May 20, 2023
JEFFREY MORGANíS MEDIA BLACKOUT #889
JEFFREY MORGAN'S MEDIA BLACKOUT #889.575.316!
The Beatles – "Birthday" (Apple) :: Exactly!
SIZZLING PLATTER OF THE WEEK: Jethro Tull's Ian Anderson – TAAB2: Thick As A Brick 2: Whatever Happened To Gerald Bostock? (Chrysalis) :: This ain't no imaginary review, it's the real schlemiel. But first, how's about a brief except from an interview that Mr. Anderson and I did a while back:
JEFFREY: I don't suppose I could talk you into mounting a touring road show of A Passion Play to show those ABBA and Queen musicals what real rock theater would be like.
IAN: [laughs] Well...
JEFFREY: I mean, this is the ideal time.
IAN: I think you just hit on the problem with my objections to anything like that because of the words rock theatre. There was a time when the idea of a more theatrical form of rock music did seem as if it was quite fitting. And I suppose in 1972 and 1973 it seemed to me that it was possible to do. But the trouble was that, while we went down that route ourselves—in a humorous way, I mean, it was never meant to be sort of serious; it was always meant to be a bit tongue in cheek and a bit fun...
JEFFREY: Well, some of us got that.
IAN: Yeah! Well, this was the era of Monty Python and the Flying Circus and it was all that surrealistic British humor sort of finding an outlet.
*** *** ***
So why plug into Thick As A Brick again? As Ian explains in the TAAB2 booklet, 2012 marked both the factual 40th anniversary of the original TAAB album and the fictitious 50th birthday of the album's ten-year-old "lyricist," precocious prodigy Gerald Bostock. Which is more than reason enough for Anderson to create a new prog rock concept album that dares to posit half a dozen different possible alternate universe scenarios of what Gerald might have done with his life over the past 40 years—with several overt and oblique nods to such past Tullian triumphs as Aqualung and A Passion Play along the way.
Of course, the big tip off that the proceedings, although serious, aren't to be taken too seriously, is the album's official attribution to Jethro Tull's Ian Anderson which tags this ambitious effort as being neither a canonical Tull record nor an extra-curricular solo Anderson album.
Eschewing the unbanded single song cycle that defined both TAAB and APP, the new TAAB2 is divided into 17 separate songs, only one of which—"Gerald Goes Homeless: Adrift And Dumbfounded"—truly sounds as if it had been recorded back in 1972. Which only goes to show that Ian could easily have expertly aped his back catalogue had he wanted to. That he chose not to live in the past and come up instead with something that sounds thoroughly modern while still evoking echoes of the past, is a testament to the man's continual creativity.
Really don't mind if I sit this one in.
Be seeing you!
Sat, May 20, 2023 | link