Saturday, February 20, 2021
JEFFREY MORGANíS MEDIA BLACKOUT #771
JEFFREY MORGAN'S MEDIA BLACKOUT #771.510.138!
Various Artists - Wattstax (Stax) :: After my minimal Wattstax review ran two weeks ago, I received the following anonymous letter: "Dear Jeffrey Morgan. I was at Wattstax years ago and I was appalled at the short shrift you gave this new expanded version of the original album. You neglected to mention that this three-disc box set is a treasure trove of classic and unreleased tracks that brings the Wattstax experience to life. Or that virtually every Stax artist is represented doing their greatest secular, spiritual and soulful hits. Have you ever written any liner notes yourself, sir? I doubt it because if you had you would know that the musician interviews contained in Rob Bowman's excellent liner notes are a true revelation. Wattstax was much more than just the black Woodstock, it was a historical watershed moment and peaceful cultural uprising against The Man that still resonates to this day as the very embodiment of The Living Word! Not only is this new definitive version of Wattstax the greatest live album ever, in my opinion it is also the album of the year and if I had a weekly column like yours I would tell people to go out and buy it so they could hear for themselves what hope and faith sound like. You should be deeply ashamed of yourself for insulting an entire community by using this excellent Wattstax box set as a springboard for your cheap Charlie Wattstax joke." Cheap?
SIZZLING PLATTER OF THE WEEK: Tony Palmer - All My Loving (MVD Visual DVD) :: This essential late-'60s UK film about rock music and pop culture is the perfect visual companion to Revolt Into Style, George Melly's essential early '70s UK book about pop culture and rock music. All My Loving skewers rock 'n' roll with a savage unblinking eye that's both riveting and revealing. Everyone who is anyone is interviewed, from the Fabs and 'Oo to Donovan and Zappa. Too bad about the indefensible inclusion of Nazi concentration camp and Vietnam atrocity footage, though.
Be seeing you!
Sat, February 20, 2021 | link
Saturday, February 13, 2021
JEFFREY MORGANíS MEDIA BLACKOUT #770
JEFFREY MORGAN'S MEDIA BLACKOUT #770.509.137!
SIZZLING PLATTER OF THE WEEK: Zeitkratzer - Metal Machine Music: Live (Asphodel) :: Right from the very beginning, when it first came out in 1975, decades before the advent of such caffeine-laced drugs as Jolt Cola and Tylenol Ultra, I habitually used Lou Reed's Metal Machine Music as industrial strength therapeutic headache medication. I'd crank side one up to maximum volume and the grinding high-pitched feedback would lock in at the exact same neural frequency as my headache and neutralize it without fail, usually within five minutes. So when I had lunch with Unca Lou a year later in 1976, we confided as one dedicated user to another.
JEFFREY MORGAN: That album performs a service, at certain times. When you need it, it's there.
LOU REED: Metal Machine? When I need to get it out of my system so I don't kill somebody...it gets things out of my system. It's cathartic.
Over time, my avowed advocacy of the album became well known. One day in the early '90s, during the brainstorming session when I came up with the title Between Thought And Expression for Lou's RCA anthology-if you have a copy of the booklet, you could look it up-box set producer Rob Bowman asked me: "Be honest. When was the last time you listened to Metal Machine Music?" "Two weeks ago!" I replied and Rob laughed, knowing that I was telling him the truth.
And because I do have every sonic squeal and squelch of that album committed to memory, I can tell you with a fan addict's unabashed authority that Zeitkratzer's live version of Metal Machine Music is an astonishing absolute exact aural duplication of the original random-generated electronic studio recording, transcribed into sheet music and played on an unlikely array of instruments, ranging from accordion and tuba to violin and trumpet.
But the real payoff comes at the end, when Old Unca Lou himself takes the stage to pound out a solo guitar shriekfest that's even more scabrous than his synapse-snapper on "I Heard Her Call My Name."
Be seeing you!
Sat, February 13, 2021 | link
Saturday, February 6, 2021
JEFFREY MORGANíS MEDIA BLACKOUT #769
JEFFREY MORGAN'S MEDIA BLACKOUT #769.508.136!
Various Artists - Wattstax (Stax) :: The black Woodstock.
Various Artists - Charlie Wattstax (ABKCO) :: The black Altamont.
SIZZLING PLATTER OF THE WEEK: Spacekitti - Galaxy (Dart) :: So there I was, doing the seedy sidewalk shuffle late one night, when all of a sudden I hear this compelling cacophony of chaos detonating out the door of a corner bar. Instantly in love, I walk in and am I stunned to see this bodacious blond bombshell with a binary brain sitting all by her lonesome onstage with a guitar slung across her lap, hammering out cosmic coruscating sheets of rampant ambient drone, all mega-amped up to the nillionth hyperwatt degree like she's the new hard-wired industrial age Nico. Letting the amateurs stay safely ensconced at the back, I stood at the front of the stage and watched as this woman single-handedly sculpted an aural psychetecture that evoked everything from Edgar Froese and Klaus Schulze to Steve Reich and Terry Riley.
After I recovered, I scooped up a copy of her record Galaxy and took it home, fully expecting to wallow in a marathon drone session. Instead, I found a concise set of five pop songs primed to a percolating electropulse. How do I love it? Let me count the ways: "Fearless" is a whispering wash that evokes the best of early Ralf and Florian when they were still a duo; "High Strung" is a rapid-fire foggy mental breakdown; "Nobody Cares" is a deliriously disjointed herky-jerk that out-deadpans Annette Peacock; "Strung Out" is a minimal off-world space sitar recital; and "Ibizakitti" is a languid flow house drone.
But as great as Galaxy is, it's just a foretaste of what this woman is capable of doing. In her hands, the guitar is a time-spanning teleportation device through which all matter is made malleable as she spans the cosmos, traversing the space between the notes.
She is Spacekitti. Spacekitti is Jilli Dart. And Jilli Dart is the future of electronic sonic exotica.
Be seeing you!
Sat, February 6, 2021 | link
Saturday, January 30, 2021
JEFFREY MORGANíS MEDIA BLACKOUT #768
JEFFREY MORGAN'S MEDIA BLACKOUT #768.507.135!
The Mohawk Lodge - Wildfires (White Whale) :: Ugh.
Portico - Progeny Blues (Cooperspine) :: Had Kurt Cobain been born a woman, he would've stuck around to record this killer rock album.
Dana Gillespie - Weren't Born A Man (RCA) :: Too bad her record sales weren't as big as her tits.
Botch - America Nervoso (Hydra Head) :: But putting a pair on an album cover is still a good way to get my attention!
Mark Berube - What The River Gave The Boat (Kwalu) :: Why the reviewer gave the boot: Jobriath meets Tom Waits.
Okkervil River - The Stage Names (Jagjaguwar) :: This is the absolute best cabaret angst record I've ever heard. It's the only cabaret angst record I've ever heard, but it's the absolute best.
SIZZLING PLATTER OF THE WEEK: Various Artists - Vee-Jay: The Definitive Collection (Shout! Factory) :: The hip record company that first introduced The Beatles to America over 50 years ago is back with this comprehensive 86-track compendium of everything essential that's absolutely worth hearing, from gospel and blues to soul and doo-wop with a hot load of rude rudimentary rock squirted deep in between for good measure. Some of the stellar standouts include: Billy Boy Arnold's "I Wish You Would," Pricilla Bowman's "Hands Off," Elmore James' "It Hurts Me Too," Camille Howard's "Rock 'n' Roll Mama," Jimmy Reed's "Baby What You Want Me To Do," Christine Kittrell's "I'm A Woman," Frankie Valli & the Four Seasons' "Sherry," Betty Everett's "The Shoop Shoop Song (It's In His Kiss)," Gloria Jones' "Tainted Love" and-my fave-the Honeycombs' "Have I The Right." With an all-star lineup like that, it goes without saying that this ecstatically eclectic four-disc box set is the perfect nonstop soundtrack for your next swingin' soirée, whether it's a soda-sippin' sweetheart sock hop or an oiled up orgy-a-go-go.
Be seeing you!
Sat, January 30, 2021 | link
Saturday, January 23, 2021
JEFFREY MORGANíS MEDIA BLACKOUT #767
JEFFREY MORGAN'S MEDIA BLACKOUT #767.506.134!
SIZZLING PLATTER OF THE WEEK: KMFDM - TOHUVABOHU (Metropolis) :: If you doubt that I have nothing but maximum respect for this band, Google my exclusive WWIII combat zone interview with KMFDM's Minister Of Excessive Force, Group Käptain Konietzko. But just because I voluntarily enlisted to support the cause doesn't mean that I have to own all their albums because, frankly, on some of them, KMFDM sucks. And although I gave Hau Ruck a busted rank dishonorable discharge for being AWOL, I'm pleased to report that TOHUVABOHU is a stunning triumphant return to witty, informed, front-line form that solidifies and summarizes the classic synth-soaked, guitar-shredded, self-referential and relentlessly bludgeoning sonic brutality of previous successful scorched mirth campaigns NIHIL, ANGST and XTORT.
So, when I tell you that KMFDM's industrial soundtrack to the holy wars continues unabated, that's not me projecting a wistful nostalgic assessment; that's me stating a cold hard fact-one made even more amazing when you consider that every band member from the turbulent TVT days is long gone. But that doesn't mean Sascha's new incarnation is aping the old crew. It means that the new crew has successfully encapsulated and enhanced the classic core KMFDM sound. And don't try to tell me that they've gone "pop," because previous mandatory mass inoculations like "A Drug Against War," "Juke Joint Jezebel" and "Son Of A Gun" were always intended to be subversive toe-tapping mission statements right from the very beginning.
I've said it before but just in case you weren't paying attention the first time I'll reiterate for ya: Sascha Konietzko is the new Paul Kantner, Lucia Cifarelli is the new Grace Slick, and KMFDM is the new and improved hyper-heavy socially conscious Jefferson Airplane of the 21st century. Stronger than never ever before, KMFDM is the superpower you can trust. So ask for TOHUVABOHU by name and take it as often as required whenever you need fast, fast relief from sub-sonic mediocrity.
Be seeing you!
Sat, January 23, 2021 | link
Saturday, January 16, 2021
JEFFREY MORGANíS MEDIA BLACKOUT #766
JEFFREY MORGAN'S MEDIA BLACKOUT #766.505.133!
SIZZLING REPRINT OF THE WEEK: Chester Gould - The Complete Chester Gould's Dick Tracy, Volumes I & 2, 1931-1935 (IDW Publishing) :: There's no denying that the world's greatest detective comic strip ever created was Chester Gould's relentless two-fisted marathon of crime-busting mayhem, Dick Tracy. Splattered out in unequal portions of one part heartfelt sensitive romance and three parts hardcore sadistic violence, Gould's 1931 creation was a radically new form of strip which reflected the real-life gangster era. Years before he introduced misshapen criminals like the legendary Flattop and futurist crimebusting tools like the decades-ahead-of-its-time two-way wrist radio, Gould had Tracy tossing lead with petty thugs, crime bosses-even the occasional corrupt City Hall official who would get perforated outside his office.
For his trouble, Tracy was routinely shot up, beat up and brutally tortured in a series of ambushes and death traps that always left him bloodily battered. Even Tracy's extended family wasn't immune to the big payback: His girlfriend Tess and adopted son Junior were kidnapped on more than one occasion-and once the kid was literally soldered into an empty residential hot water tank which was then heated up with a blow torch. Quentin Tarantino would blanch at portraying something like that today, yet graphic scenes like this took place in the comics section of family newspapers all across America in the 1930s.
Now-finally-IDW Publishing has begun printing a series of definitive chronological hardcover reprints of this seminal series, edited by respected crime author Max Allan Collins. The quality of the black and white reproductions is uniformly crisp, and a majority of the strips contained in these first two volumes have rarely been reprinted in other Tracy anthologies, if ever.
You'll be amazed at how fast-paced these exciting action-packed adventures are, thanks in part to Gould's unique overlapping writing style of beginning each new storyline a week before the current one ends. Trust me, these crimestopping textbooks are essential reading for any hard-boiled crime buff.
I'm on my way!
Sat, January 16, 2021 | link
Saturday, January 9, 2021
JEFFREY MORGANíS MEDIA BLACKOUT #765
JEFFREY MORGAN'S MEDIA BLACKOUT #765.504.132!
SIZZLING--geddit?--PLATTER OF THE WEEK: David Bowie - Blackstar (ISO) :: You'd think that suffering a heart attack after recording the less than holy holy Heathen would've warned him to resist the dark side, but nooooooooooooo.
Various Artists - Moogfest 2006 Live (MVD Visual DVD) :: When it comes to aural affection, Moog synthesizer adherents are the most avid. Jan Hammer hurts 'em with a solid set that spans his solo career, from his work with Steve Kindler and Jeff Beck to his Miami Vice days. Meanwhile, an unrecognizable Keith Emerson knifes away through a marathon performance of "Tarkus" using his trademark 15-foot-high patch board. Both lads still have their speed freak chops intact; close your eyes and you'll swear it was 1973. If you still delight in the classic Moog "bee-yow" synth sound, then this DVD's for you.
Rick Wakeman - Amazing Grace (MVD Visual DVD) :: Wherein the world's greatest rock 'n' roll keyboardist sits down at the grand piano for an acoustic interpretation of the world's greatest rock of ages hymns. This one features live and studio performances along with-don't laugh-some truly evocative scenes of nature. Rick also personally introduces each hymn with an educational historical overview. And since his speed freak chops are still just as fast as Emerson's, it's interesting to compare Rick's reverent rendition of "Jerusalem" with Keith's electronic one on Brain Salad Surgery.
Various Artists - San Francisco Rock: A Night At The Family Dog (Eagle Vision DVD) :: Ralph "Jazzbo" Gleason presented this February 1970 show, featuring "Che" Santana and the Grateful Airplane. Che's set features a sweat-soaked "Soul Sacrifice" which demolishes the Woodstock version, while the Airplane do strident takes of "The Ballad Of You And Me And Pooneil" and "Eskimo Blue Day." Major points deducted for Jorma's swastika pendant-kids, huh?-but even so, these bands never looked as good as they do here. Except for Grace "Does Anyone Have A Safety Pin?" Slick, who couldn't keep her dress on when I saw her front row center a month later at O'Keefe Center on the Volunteers tour. Back then it wasn't a "wardrobe malfunction"-it was called getting your six bucks' worth. Drool drool.
Bee-yowing you!
Sat, January 9, 2021 | link
Saturday, January 2, 2021
JEFFREY MORGANíS MEDIA BLACKOUT #764
THE BEST OF JEFFREY MORGAN'S MEDIA BLACKOUT #764.503!
Presented for your approval, in semi-strict order so as not to show any undue payola favoritism, is Jeffrey Morgan's five year flashback from 2015 Top Ten List Of Records as they appear on my official ballot for this year's Village Voice rock critics poll, which I've been voting in annually ever since Robert Christgau was kind enough to give me the nod five decades ago. In other words, and I've got a million of 'em, these are my Sizzling Platters Of The Year, all of which deserve repeated spins on your Victrola.
01 :: Wendy James - The Price Of The Ticket (Pledge Music) :: The greatest supersonic offering yet by America's all-time greatest femme fatale-and I do mean female!
02 :: Sarah Jane Morris - Bloody Rain (Fallen Angel Records) :: The greatest supersonic offering yet by England's all-time greatest femme fatale-and I do mean fatal!
03 :: Room Full Of Strangers - Bad Vacation (self released) :: Perfectly primed with enough percolating primo punk attitude to do you through, Room Full Of Strangers crank out the kind of dirty distorto rock 'n' roll that Mother used to hate-and on their new album Bad Vacation they effortlessly exude enough verve and swerve to conjure up fond fun-filled fuzztone memories of Blue Cheer and The Amboy Dukes, all garnished with a snappy snooty side order of two tub Dictators via the sardonic Boy Howdy! satire of CREEM: America's Only Rock 'n' Roll Magazine!
04 :: Marco Minnemann - Celebration (Lazy Bones Recordings) :: Most regular readers of this column know who this dizbusting whizz kid is but I'll reiterate for ya: Marco Minnemann plays the drums like Jeff Beck plays the guitar, which pretty much tells you all you need to know about this unreasonably hypersonic session that sounds like a kinetic cross between Todd Rundgren and Frank Zappa performing their most visionary and volatile audio pyrotechnics!
05 :: The 24th Street Wailers - Where Evil Grows (LBM Records) :: Four on the floor supercharged rock 'n' roll fused with the power of the blues!
06 :: Leslie West - Soundcheck (Provogue Records) :: Leslie West? Enough said!
07 :: Left Lane Cruiser - Dirty Spliff Blues (Alive Records) :: Don't Bogart that track, my friend, spin it over to me!
08 :: Gregg Allman - Alive: Back To Macon, GA - January 14, 2014 (Rounder Records) :: Gregg Allman? More than enough said!
09 :: Retrocity - Mixtape (self released) :: If you missed their first album Totally 80s A Cappella back in 2006-or, for that matter, if you missed the entire decade known as the ever-lovin' blue-eyed Eighties-now's your chance to catch up on both!
10 :: Various Artists - 24 Classic Blues Songs From The 1920s Volume 12 (Blues Images) :: For over a decade I've been bending your ear about John Tefteller's annual Blues Images calendars, each one of which is accompanied by a long player of vintage historical 78 rpm tracks. Well, consider this a friendly reminder that it's high time you went to BluesImages.com and found out for yourself why the 2015 edition made this Top Ten list. Better yet, go there now and start the new year right by buying their 2016 wall calendar and getting a head start on hearing why the accompanying Volume 13 disc is bound to be glorified on next year's Top Ten list!
Be seeing you!
Sat, January 2, 2021 | link
Saturday, December 26, 2020
JEFFREY MORGANíS MEDIA BLACKOUT #763
JEFFREY MORGAN'S MEDIA BLACKOUT #763.502.131!
The Two Koreas - "Altruists" (Unfamiliar) :: The amphetamine gitbox style of Lou Reed + the hyperkinetic vox style of Pete Townshend = relentless rock 'n' roll.
Stamen & Pistils - Towns (Echelon Productions) :: Secret life plant music so ploddingly impenetrable it makes A Passion Play sound like Follow The Leader.
Korn - Unplugged (Virgin) :: Strip away the artificial angst and they begin to sound like Jethro Tull.
Little Aida - Mad Country (Second Shimmy) :: Acoustic mellotronian harmoniums.
Lighting Dust - Lightning Dust (Jagjaguwar) :: Armed with a mighty quim quivering voice that's part Grace Slick and part Tiny Tim, distressed songstress Amber Webber is the unstable female Neil Young.
Maps + Atlases - Tree, Swallow, Houses (Sargent House) :: Frippertronics on a hot tin roof.
Nurses - Hangin' Nothin' But Our Hands Down (Sargent House) :: Amateur hour goes on and on. Worst album of the year, hands down.
John Wort Hannam - Two Bit Suit (Black Hen) :: Competent generic country that ain't bad but nothin' new neither.
Klaxons - Myths Of The Near Future (Geffen) :: A-OO-GAH music for cokeheads. Make sure you remove the brass tube first before you sit down, Stevie.
Autons - Short-Term Manifesto (Zip) :: Rexian gitbox boogie + Roxite synth sonics = relentless rock 'n' roll.
SIZZLING STATEMENT OF THE WEEK: Jon Brooks - Ours And The Shepherds (Exile) :: I may be a "might makes right" kinda guy, but I sure know quality when I hear it-and this thoughtfully insightful low key concept album about warfare though the ages has lots of it. And although I don't agree with everything he says, I know his heart's in the right place. Besides, he's less obfuscating than Dylan and more sincere than Springsteen.
Be seeing you!
Sat, December 26, 2020 | link
Saturday, December 19, 2020
JEFFREY MORGANíS MEDIA BLACKOUT #762
JEFFREY MORGAN'S MEDIA BLACKOUT #762.501.130!
Telephone - Automatic (Cobra) :: Telephone is ringing, this exceptional rock solid rock, which sounds as if it came straight outta England's mid-'70s new wave movement, has got me on the run. I'd accept the charges if I were you, anticipating fun.
Dälek - Deadverse Massive Vol. 1 :: Dälek Rarities 1999-2006 (Hydra Head) :: Cascading shards of sound careen across an uncanny adventurous hip-hop terrain that alternates between easy-listening ambience and archetypal electro-synthscapes.
Portugal, The Man - Church Mouth (Fearless) :: The wondrously weird 'n' wonky solo album that Russell Mael never recorded but sure should've features falsetto songs that recall the early '70s at its quirky best.
Bryan Ferry - Dylanesque (Virgin) :: He may have done the self-destruct samba on The Bride Stripped Bare, but this genial gem is El Ferranti's best solo work since In Your Mind. And although he's not as vociferously vocal as he was when he belted out "Hard Rain" on his first solo foray, any Roxy-related album that has the classic alliterative credits "Farfisa :: Ferry" and "Electronics :: Eno" is definitely worth your while.
Bob Dylan - Ferryesque (Columbia) :: I wish.
SIZZLING PLATTERS OF THE WEEK :: Paranoids - Obsessions Delusions & Headtrips Volumes 1 & 2 (Gaff) :: Several years ago, the Paranoids released a four track EP that contained a truly grand glam rock song called "The Party's Over." Now come these two ambitious discs which showcase the full scope of their mature musical ability. Volume 1 came out in 2005 and was such a quantum evolution of their usual style that I couldn't get my head around what they were doing. But with the release of Volume 2, I finally realize (a) that the Paranoids can record pensive modern music right up there with the very best of them; and (b) that the Paranoids just might be the smart 'n' stylish new-fangled art rock messiahs we've all been waiting for.
Be seeing you!
Sat, December 19, 2020 | link
Saturday, December 12, 2020
JEFFREY MORGANíS MEDIA BLACKOUT #761
JEFFREY MORGAN'S MEDIA BLACKOUT #761.500.129!
The Stooges – "L.A. Blues" (Elektra) :: Song title of the century!
Chuck Berry – "You Never Can Tell" (Chess) :: Bonus points for actually singing: "They had a teenage weddin' and the old folks whooshed 'em well."
Parkas – Put Your Head In The Lion's Mouth (Savory) :: This exceptional album just might be the long-lost imaginary home-spun sequel to Exile On Main St. that the Rolling Stones were too outta their heads to record.
Datarock – Datarock (Nettwerk) :: These two guys say: "BMX is better than sex!" Jeffrey Morgan says: "Get a second opinion, you closeted pudknockers."
To The Lions – Baptism Of Fire (Goodfellow) :: The record company claims that this hardcore album is "chock full of sing-along vocals." That's a choke, son. Jeffrey Morgan claims that if they slowed down a little they could be Burlington, Ontario's answer to Mötörhead. Gag, that is.
The Doors – "L.A. Woman" (Elektra) :: Song title of the century!
Gary Moore – Close As You Get (Eagle Rock) :: Gary's corrosive and downright scabrously filthy guitar sound will tell you more about what real blues are than the actual songs themselves. Get any closer and you'll need to scrub down in a vat of lye.
David Bowie – "The Jean Genie" (June 16, 1974; 6:30 show) :: Bonus points for actually singing: "New Yooks a goo goo and everything tastes nice."
SIZZLING PLATTER OF THE WEEK: Doug Cox & Sail Bhatt – Slide To Freedom (Northern Blues) :: This pioneering East Indian-themed album admirably and definitively redefines what a "blues" album is in the same way that George Harrison's pioneering East Indian-themed Wonderwall Music admirably and definitively redefined what a "rock" album is.
Jimmy Page & Robert Plant – No Quarter (Atlantic) :: Amateurs.
Led Zeppelin – "L.A. Drone" (Atlantic) :: Song title of the century!
Be seeing you!
Sat, December 12, 2020 | link
Saturday, December 5, 2020
JEFFREY MORGANíS MEDIA BLACKOUT #760
JEFFREY MORGAN'S MEDIA BLACKOUT #760.499.128!
Metric – Grow Up And Blow Away (Last Gang) :: Canada's answer to Eurythmics are back with another breathy passel of passive 'n' pensive eletropulse paeans.
Paul Reddick – Review (Northern Blues) :: The superhype sticker stuck on the shrink-wrap embarrassingly brags: "Includes the song 'I'm A Criminal' from the Coca-Cola TV commercial!" As if that's something to be proud of. Have we really come to this?
Neil Young – "This Plug's For You" (Reprise) :: No shit, Ex-Lax.
SIZZLING PLATTER OF THE WEEK: The Alice Cooper Group – Pretties For You (Straight) :: When this impenetrable grate bomb first came out in 1969, I found it nigh on impossible to listen to all the way through. But now I hear it for what it really is: a hip demented psychedelic version of early period David Bowie ("Today Mueller"), middle period Todd Rundgren ("10 Minutes Before The Worm") and latter period Monkees ("Living") that also predicts the advent of missed period Sparks ("Earwigs To Eternity").
SULFURIC PLATTER OF THE WEEK: Danzig – The Lost Tracks Of Danzig (evilive) :: Two discs with 13 tracks per side—geddit?—that just might be Glenn Danzig's greatest album yet. These back catalogue outtakes cover a whole lotta ground ranging from T. Rex's "Buick McKane" to David Bowie's "Cat People." But the stellar standout is his sincere sold soul spiritual "Cold, Cold Rain" which is top of the pops on the Hit Parade Of Hell. 666,666,666 Danzig fans can't be wrong!
Be seeing you!
Sat, December 5, 2020 | link
Saturday, November 28, 2020
JEFFREY MORGANíS MEDIA BLACKOUT #759
JEFFREY MORGAN'S MEDIA BLACKOUT #759.498.127!
ATTENTION PUBLICISTS: Due to increased operating expenses, I will no longer be able to continue favorably reviewing your clients' records for the current sum of $15 per disc. Therefore, effective immediately, you are now required to enclose a $20 bill in each individual jewel case, payable in U.S. funds only. Global multinationals: Please inquire about my special bulk discount.
D.O.A. – The Singles (Sudden Death) :: Oops, looks like someone didn't get their rate increase notice! But even a million-buck bribe in gold bullion couldn't get me to say anything good about an alleged anti-racism song called "Nazi Training Camp."
Leian – No Going Back (Page) :: Boy meets girl. Boy plays all the instruments and produces. Girl writes all the lyrics and sings. Together they crank out enough hellacious guitar rock to make me think that their record company belongs to James Patrick.
Frog Eyes – Tears Of The Valedictorian (Scratch) :: A bad drawing of Howard Hughes on the front cover. A bad drawing of David Bowie on the back cover. A bad copy of Pere Ubu betwixt.
SIZZLING PLATTER OF THE WEEK: Grainne Ryan – All The Money (self-released) :: Grainne thanks Neil Young on the back cover for being an inspiration and then transcends him by transforming her multitracked voice into a one-woman Crosby, Stills & Nash. Somebody find this woman a record company, fast.
PAYOLA PLATTER OF THE WEEK: Bergraven – Dödsvisioner (Hydra Head) :: These bloodthirsty Swedes specialize in arch Goth theatrics that are torn from Diamanda Galás' Saint Of The Pit playbook and then duly immolated. Yet, despite the Drano-drinkin', dog-growlin' vocals, I really like them a lot. Private note to Bergraven: Thank you for the honor of allowing me to review your new record. I sincerely hope that my words will meet with your approval. Your cashier's check for 337.47 kronas is in the mail.
A. Wilford Brimley – John Carpenter's The Thing (Universal) :: "They're Norwegians, Mac."
Be seeing you!
Sat, November 28, 2020 | link
Saturday, November 21, 2020
JEFFREY MORGANíS MEDIA BLACKOUT #758
JEFFREY MORGAN'S MEDIA BLACKOUT #758.497.126!
Live In Your Way – Waking Giants (Solid State) :: I wonder if the singer could scream louder if he had a pair of jumper cables clamped to his balls. OK, try it now.
Michael Moore – Sicko (Dimension) :: Yeah, like I'm going to let a big fat slob lecture me about health care. Try losing 150 pounds first, tubby.
The Exies – A Modern Way Of Living With The Truth (Eleven Seven) :: Are these guys the modern masters of the power ballad? Beats me, I hate power ballads.
Witch's Hat – Mastery Of The Steel (Emergency Umbrella) :: When a record company tells me that a record is "undeniably epic, somewhere between Iron Maiden and Dance Punk," I immediately put it on. When I hear otherwise, I immediately take it off.
Pointed Sticks – Waiting For The Real Thing (Sudden Death) :: Two dozen thinly recorded 1980s new wave pop tunes from Vancouver that sound awfully dated now. I guess you had to be there.
Jen Paches And Friends – Pretty Little Stars (self released) :: A besotted babe version of Neil Young's Tonight's The Night with a beer chaser instead of a line of smack.
Cara Luft – The Light Fantastic (Black Hen) :: Cara is a founding member of the Wailin' Jennys, so it's no surprise that her first solo album is a buoyant babe version of Neil Young's Harvest and— surprise!—Led Zeppelin III.
Neil Young — Arc (Reprise) :: And you thought that no one would ever record a live version of Metal Machine Music.
SIZZLING PLATTER OF THE WEEK: Marillion – Somewhere Else (MVD Audio) :: Some say that the classic art rock concept album as defined by the likes of Pink Floyd and early Genesis is dead, but don't you believe it because lush state of the art sonics and high-end graphic design live on in Marillion's latest. Inspirational lyric: "He who dies with the most toys is still dead."
Be seeing you!
Sat, November 21, 2020 | link
Saturday, November 14, 2020
JEFFREY MORGANíS MEDIA BLACKOUT #757
JEFFREY MORGAN'S MEDIA BLACKOUT #757.496.123!
Marilyn Manson – Eat Me, Drink Me (Interscope) :: Marry Me, Dump Me is more like it.
Paul McCartney – Memory Almost Full (Hear) :: Not only does he sound like Roger Daltrey on the baroque power ballads, he can still out-yowl Little Richard on the too-few high-note rockers—and my memory is still scarred from his greatest solo screamo shriekfest, the mentally insane and completely indecipherable "Mumbo."
In Theory – This Is It (Adrenaline) :: In practice, no it ain't.
Richard X. Heyman – Actual Sighs (Turn-Up) :: Smart savvy pop that evokes Elliott Murphy at his Aquashow apex.
Big D & The Kids Table – Strictly Rude (Side One Dummy) :: Mirror in the bathroom, I'll talk free. This hip, hyperactive ska-fueled upgrade of the English Beat's for you and me.
Skull Time – Skull Time (Latest Flame) :: I don't usually agree with superhype promo blurbs, but "self-effacing classic rock lovers whose music requires the throwing of devil horns" sounds about right to me.
Bobnoxious – Rockaholics: The Fun Drinking Game (Wannabe) :: Just when you think you've heard it all, along comes this concept album about binge drinking.
Matt Mays – Matt Mays (Beachfire) :: Matt's got his Neil Young sound down cold, but Neil never veered down the Dylan meets Bolan alley that Matt does here on tracks like "Stand Down At Sundown" and "Move Your Mind."
Paul McCartney – The Russian Album; Unplugged; Run Devil Run (Capitol) :: Nobody out-rocks Mr. Helter Skelter when he screams out rock 'n' roll—and on these three albums he screams out rock 'n' roll.
SIZZLING PLATTER OF THE WEEK: Jayme Stone – The Utmost (self released) :: Remember the banjo fever that swept the nation after Bonnie And Clyde and Deliverance made pop stars out of Flatt & Scruggs and Eric Weisberg? Then relive those glory days of precision pickin' on this extraordinary new album.
Be seeing you!
Sat, November 14, 2020 | link
Saturday, November 7, 2020
JEFFREY MORGANíS MEDIA BLACKOUT #756
JEFFREY MORGAN'S MEDIA BLACKOUT #756.495.122!
The Young Gods – Super Ready / Fragmenté (Ipecac) :: A .44 Magnum on the front cover? That's not cool. A pile of coke on the back cover? That's not cool. A whole lotta snotty sleazoid electro-distorto rock in between? Now that's cool.
Watermelon Slim & The Workers – The Wheel Man (Northern Blues) :: If I were a less-than-handsome musician and someone callously drew a repellent cartoon of my facial deformities on the front cover of my new album—insensitively reproduced even larger on the actual disc—I'd sing the blues too.
Jim Bryson – When The Bungalows Roam (Kelp) :: I'm not saying this disc is a dire downer, but when I played it my copies of Berlin and Tonight's the Night committed vinylcide.
Dog Day – Night Group (Black Mountain) :: Pure pop for ponderous perky people.
The Neins Circa – Sleeves And Wigs (Cooper Spine) :: Stones meet Sparks? Elvis meets Dylan? Beats the hell outta me but, whatever this musical mishmash is, it sure sounds like they had a whole lotta fun recording it. Wish I could say the same thing after hearing it.
Jenn Grant – Orchestra For The Moon (Paris 1919) :: Jenn sounds just like a fragile Annette Peacock, which makes her a lot more endearing and a whole lot more warmer. Antarctica stops here.
John Cale – Paris 1919 (Reprise) :: Geddit?
Loudon Wainwright III – Strange Weirdos: Music From And Inspired By The Film 'Knocked Up' (Concord) :: Finally, the Original Motion Picture Soundtrack to "The Rusty Warren Story." Geddit?
SIZZLING PLATTER OF THE WEEK: The Dollyrots – Because I'm Awesome (Blackheart) :: Speaking of which, my fave rave living Dollys are back with another album of ball busting, ear bleeding, wazoo wetting, pudenda pounding pure punkette pop music that's louder than lust and just as gooey. Plus, the title track is the absolute best Rah! Rah! Sis-Boom-Bah! School's Out-take that Alice Cooper never wrote, but sure should've. Uh huh.
Be seeing you!
Sat, November 7, 2020 | link
Saturday, October 31, 2020
JEFFREY MORGANíS MEDIA BLACKOUT #755
JEFFREY MORGAN'S MEDIA BLACKOUT #755.494.120!
Gordon Davis – Shaft (Warner Bros.) :: Can you dig it?
Geoff Berner with Diona Davies and Wayne Adams – The Wedding Dance Of The Widow Bride (Jericho Beach) :: It's not every day you hear an album that begins: "I'm internationally recognized as a really, really lucky guy. Everybody knows that I'm the lucky goddamned Jew."
The Book Of Lists – The Book Of Lists (Scratch) :: I meant to type "shitfaced Brit psychedelia" but I'll honor my typo as a hidden intention and admit that "stiafes brit psychedcecia" is a much better way to describe this Jarvis Bowie meets Suede Floyd glam pop album.
Dustin Cole with The Specialest – Try And Love Me (Scratch) :: Crystal clear vocals on cavortin' cruise control drift languidly over a barren backwash of minimal and at times deeply distorted in the red instrumentals.
Isaac Hayes – "Theme From Shaft" (Stax) :: Right on.
Amplified Heat – Amplified Heat (Arclight) :: Feelthy mungified Texas rock that's stronger than dirt and sounds just like Lemmy fronting Blue Cheer. Bonus points for stealing the intro from Rush's "Any Way I Can" and reinverting it.
ALO – Roses & Clover (Brushfire) :: Track one on this professionally spit-polished platter is derivative enough of the Springsteen Allmans to get my attention and original enough to keep it until I start groovin' on the tasty Simon & Fabfunkle vibe.
The Bay-Kays – "Son Of Shaft" (Stax) :: Hot buttered jive turkeys.
SIZZLING PLATTER OF THE WEEK: Various Artists – Stax 50th Anniversary Celebration (Stax) :: Stax wax is bax to celebrate its 50th birthday with a snatch-smokin' bag of hot reefer releases that're both old and new. This twofer hit from the original box set is not just required listening, it's a 100 percent cumpulsory pussy-poundin' screw-e-delic delight. So ditch those effete Motown pansies and drop down for the real honey-humpin' happening. Oh yassss!
Be seeing you!
Sat, October 31, 2020 | link
Friday, October 30, 2020
JEFFREY MORGANíS ROCK íNí ROLL PHOTOGRAPHS

JEFFREY MORGAN'S ROCK 'N' ROLL PHOTOGRAPHS

While you're visiting, don't forget to view the dozens of essential selections from my vast archive of hundreds of extremely rare and previously unseen rock 'n' roll photographs from the 1970s and 1980s—all of which were taken by myself from my front row center seat at various venerable venues; vintage historical portraits which include the following rock stars caught in their youthful prime:

David Bowie (1976 Station To Station tour) :: Lou Reed (1974 Sally Can't Dance tour) :: Iggy Pop (1977 The Idiot tour) :: Bob Dylan (1978 Street Legal tour) :: George Harrison (1974 Dark Horse tour) :: Paul McCartney (1976 Wings Over America tour) :: Pete Townshend (1976 The Who By Numbers tour) :: Johnny Winter (1976 Captured Live! tour) :: Jeff Beck (1975 Blow By Blow tour) :: KISS (1977 Love Gun tour) :: Alice Cooper (1975 Welcome To My Nightmare tour) :: Freddie Mercury (1977 News Of The World tour) :: Amanda Lear (1975 Sweet Revenge tour) :: Rod Stewart (1977 Foot Loose & Fancy Free tour) :: Mick Jagger (1975 It's Only Rock 'n Roll tour) :: New York Dolls (1975 Tokyo Dolls Live tour) :: Keith Richards (1975 It's Only Rock 'n Roll tour) :: Ian Hunter (1989 YUI Orta tour) :: Elton John (1974 Caribou tour) :: Mick Ronson (1989 YUI Orta tour) :: Steven Tyler (1977 Draw The Line tour) :: Sparks (1975 Indiscreet tour) :: James Brown (1986 Gravity tour) :: Miles Davis (1985 You're Under Arrest tour) :: Roger Daltrey (1976 The Who By Numbers tour) :: Bruce Springsteen & Clarence Clemons (1975 Born To Run tour) :: John Entwistle (1976 The Who By Numbers tour) :: Keith Moon (1976 The Who By Numbers tour) :: The Who (1976 The Who By Numbers tour) :: and more!

Ask any dealer and he'll tell you that the best way to get someone hooked on your product is to give them a free sample, so here's just a small taste of what's coming your way when you click on the eleven gallery links to your left: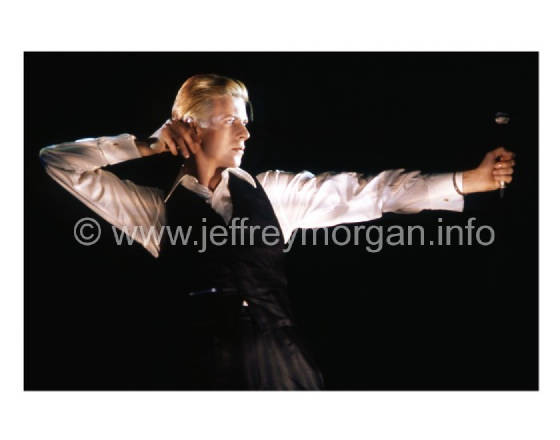 Fri, October 30, 2020 | link
Saturday, October 24, 2020
JEFFREY MORGANíS MEDIA BLACKOUT #754
JEFFREY MORGAN'S MEDIA BLACKOUT #754.493.117!
Elvis Presley – "Hey Jude" (RCA) :: Words can't even begin to describe the dire depths of this appalling aural indignity. Never has a major recording artist been more embarrassingly out of his league both vocally and aesthetically. When Elvis momentarily stops singing toward the end, rather than try and hit a high note, you want to stand up and cheer. No wonder RCA waited until he was dead before they released it.
Jeremy Fisher – Goodbye Blue Monday (Aquarius) :: Jeremy sounds so much like Paul Simon that you won't believe your delicate little shell-like ears. Except Simon never sang a line like: "She runs guns, everyone wants guns, there she goes." But he should have.
Paul Simon – "50 Ways To Leave Your Lover" (Columbia) :: Blow him away, Kay.
The Love Kills Theory – Happy Suicide Jim (Xemu) :: Catchy convulsive pop songs that take their quirky fuzztone cue from Pretties For You. The "Jim" in the album title refers to conniving cult crackpot Jim Jones. The red Kool-Aid pitcher on the album cover that's smiling and waving and looking so fine refers to an impending lawsuit by Kraft Foods.
Buck Brothers – Me (Back2Forward) :: Ron Mael writing for the Diodes? That's how schizoid this album is! Inspirational lyric: "My time has come, I'm gorgeously stupid, I can't remember my name. I'm gorgeously stupid and I think you're just the same."
Sparks – "Everybody's Stupid" (Columbia) :: That's for sure.
SIZZLING PLATTER OF THE WEEK: Neil Young – Massey Hall 1971 (Reprise) :: What's really interesting is how downright gabby the singer is between songs as he previews the yet to be released Harvest. And although I initially chalked such loquaciousness up to shy hometown nervousness, the torrent of piercing glass-shattering high notes he unleashes on "Down By The River" and "Ohio" proved me wrong.
Be seeing you!
Sat, October 24, 2020 | link
Saturday, October 17, 2020
JEFFREY MORGANíS MEDIA BLACKOUT #753
JEFFREY MORGAN'S MEDIA BLACKOUT #753.491.113!
Peeler – Evils Of The Modern Pleasure Dance (Angel Green) :: The boozy bozo "HEY YEAH! SO! COME ON! YEAH!" caterwaul which opens this album makes it pretty obvious that Craig Peeler has his Yo! Jimbo! shtick down pat, especially on heavy stonerdelic songs like "Half Past High."
The Doors – Absolutely Live (Elektra) :: Lout it, lout it, lout it out loud!
The Cinematics – Break EP (TVT) :: And you thought that skinny leather tie of yours from Japan would never come back in vogue.
The Darns – What It All Turns Into (self released) :: These guys sound like a '70s new wave version of the Tragically Hip, so you can expect a lot more in the way of unexpected variety.
Abernethy – College Grove (Spinning Gold) :: A voice that's a creepy cross between John Cale ("Going Home") and Eno ("Queer Bright") and mauve music that sounds like side three of This End Up.
Explosions In The Sky – All Of A Sudden I Miss Everyone (Temporary Residence) :: I'm a soft touch for instrumental art rock albums, even ones with an surfeit of bombastic Bonzo drumming. Must be all them explosions.
Arthur Dodge – The Perfect Face (Remedy) :: It says a lot about Arthur Dodge's songwriting ability that the only cover version he does on this tasteful country album—"San Diego Serenade" by Tom Waits—is the worst written one of the lot.
POLITICALLY NAÏVE PLATTER OF THE WEEK: Jen Militia – Berlin Boot Camp (Digilog) :: The bad news is that Canada's answer to Rage Against The Machine uses Maoist imagery from communist China to sell their tawdry wares. The good news is that they don't wear T-shirts featuring the face of mass murderer Ernesto "Che" Guevara. I guess they don't want to look like Carlos Santana.
Be seeing you!
Sat, October 17, 2020 | link