Saturday, August 27, 2016
JEFFREY MORGANíS MEDIA BLACKOUT #537
JEFFREY MORGAN'S MEDIA BLACKOUT #537.168!
The Beat Poets – "Staring Stars Down" b/w "G.I." (self released) :: Don'tcha be lettin' the wee bit of a bongo name be foolin' ya because this ain't no Ginsberg-Corso daisy pull; this is poppy rock that hails all the way from the land o' the Irish springs. That's why it's strong enough for a man but gentle enough for a woman.
Anti-Flag – The Bright Lights Of America (Red Ink) :: I'm so bored with the U.S.A. Clash clones.
Joe Hill & Gabriel Rodriguez – Locke & Key (IDW Publishing) :: In case you missed it the first time around, the debut issue is titled "Welcome To Lovecraft" and it's a more than apt appellation for a spooky story that has its sights set on eerily evoking the best of old H.P. himself. After the Locke family is visited by two murderers, the surviving members begin their new lives in a Gothic home that goes by the Steranko-sounding name of Keyhouse. As it happens, there are doors in Keyhouse which are not meant to be opened—but they are anyway. Even worse, despite being locked up under heavy security in a juvenile detention center, one of the murderers is in contact with an ally that's on the outside. Way, way out on the outside.
Joe Hill's flashback-infused script is methodically paced for maximum effect, and Gabriel Rodriguez's clean and stylish artwork gives Locke & Key a unique look that easily stands apart from the rest of the cookie-cutter comics on display these days. Just look for the glowing skull-laden black onyx key on the front. You can't miss it.
SIZZLING PLATTER OF THE WEEK: Does It Offend You, Yeah? – You Have No Idea What You Are Getting Yourself Into (Red Ink) :: Sure you do! Viciously loud, heavy-duty, Theremin-fueled psychotronically retrosonic electro-retardo disco synth music that makes Death From Above and their synapse-snappin' ilk sound positively narcoleptic by comparison.
Be seeing you!
Sat, August 27, 2016 | link
Saturday, August 20, 2016
JEFFREY MORGANíS MEDIA BLACKOUT #536
JEFFREY MORGAN'S MEDIA BLACKOUT #536.167!
SIZZLING SERIES OF THE AGES: Jack Kirby – Jack Kirby's Fourth World Omnibus (DC Comics) :: I've said it before and I'll say it again: The greatest comic book creator in history was, and forever will be, Jack "King" Kirby! Jack Kirby's Fourth World Omnibus has been out for some time now and all four volumes are an essential must-read that you've just gotta have! Painted with broad bravura strokes, not only is this the greatest graphic novel Jack Kirby ever created, it's an enduring masterwork for the ages and an everlasting legacy which will never be equaled by anyone else!
F'rinstance, let's look at Volume Three of his mind-bending Fourth World saga which defines dynamism! What will happen when you enter the Mangle Machine? And should you survive, will your heart be able to withstand the pulse-pounding terror when you come face to face with the id entity known only as The Lump? Then, as if all that wasn't enough, the King adds the ever-livin' Deadman into the mix in what amounts to some extreme high stakes senses-shattering shenanigans with nothing less than the future fate of the entire free world at stake!
Presenting the King at his latter-day best, Jack Kirby's Fourth World Omnibus is the all-time absolute greatest non-stop action-packed adventure ever committed to pen and paper! Don't ask! Just buy it!
SIZZLING PLATTER OF THE WEEK: American Speedway – Ship Of Fools (MVD Audio/Prophase) :: The only thing that these unabashed Bullettheads care about is hammering out their hi-octane screem screeds. The guitars are heavily harsh, the drumming is moronically metronomic, the bass is brutally bludgeoning and the keyboards are the best of all BECAUSE THERE ARE NO KEYBOARDS. Whaddya think this is anyway, some kinda hoity-toity art fag fiesta? When these speed freaks brag that they've got "the nerves of Steve McQueen and a heart of steel," you'd best be bucklin' up. Lieutenant, where's my witness?
Be seeing you!
Sat, August 20, 2016 | link
Saturday, August 13, 2016
JEFFREY MORGANíS MEDIA BLACKOUT #535
JEFFREY MORGAN'S MEDIA BLACKOUT #535.166!
SIZZLING SERIES OF THE WEEK: The Mooney Suzuki and Terror and Toasters – CBGB/OMFUG Masters: The Bowery Collection (MVD Audio) :: Brace yourself because this is just the beginning of a multi-volume deluge of multi-track shows coming from the late Hilly Kristal's extensive archive. What we got here are three separate discs featuring three different full-length gigs by three different bands in three different years (Mooneys: 2001; Toasters: 2002; Terror: 2004)—plus historical liner notes by Handsome Dick Manitoba, which put everything into its proper historical context. As it happens, these particular editions contain a crazy cross-section selection of the kind of music that CBGB championed for more than 30 years, ranging from the Toasters' good-natured house-rockin' ska to Terror's aggro home-wreckin' thrash to the Mooney's infectious rent-party pop 'n' roll. If you don't faithfully scoop up this new CBGB series from MVD Audio, then OMg are you ever FUGed up!
Corb Lund – Horse Soldier! Horse Soldier! (Stony Plain) :: Gosh, I bet Pete Townshend wishes he'd recorded a country opera about the calvary.
SIZZLING PLATTER OF THE WEEK: Various Artists – Miles…From India (Times Square) :: You need schoolin', so, baby, I ain't foolin' when I say that if you only buy one Miles Davis tribute record in this lifetime, then make sure that it's this one. Producer Bob Belden has assembled an impressive array of primo Davis sidemen including John McLaughlin, Chick Corea, Ron Carter, Mike Stern, Jimmy Cobb and Marcus Miller—to name but only a few—who then essay ten pieces ranging from "So What" to "In A Silent Way" to "Miles Runs The Voodoo Down," all filtered through an Indian aesthetic that's authentically backed up by some two dozen Indian musicians; none of whom, I'm honest enough to admit, I've ever heard of. Then McLaughlin concludes the proceedings with the original title composition that's resonant reverence incarnate. Bonus points for having an airy album cover that expertly evokes the very best of Miles' classic Columbia years.
Be seeing you!
Sat, August 13, 2016 | link
Saturday, August 6, 2016
JEFFREY MORGANíS MEDIA BLACKOUT #534
JEFFREY MORGAN'S MEDIA BLACKOUT #534.165!
SIZZLING PLATTER OF THE WEEK: Nash The Slash – In-A-Gadda-Da-Nash (Cut-Throat) :: Elegantly tuxedoed like Cary Grant in George Cukor's Holiday and hideously bandaged like Claude Rains in James Whale's The Invisible Man, the revered and reviled serial sonic psychotron known as Nash The Slash has been No. 1 in a field of one ever since he first began creating his own insidious sound of music from deep within secreted studio walls located somewhere inside of an abandoned subway station miles beneath the filthy sidewalks of Toronto.
Armed only with a Strickfaden array of hyper-amped violins, mandolins, synths and drum machines, Nash proceeded to unleash upon an unsuspecting society a senses-shattering series of aural album assaults whose titles said it all: Bedside Companion. Dreams And Nightmares. Decomposing. Children Of The Night.
These unreasonably unrelenting records led to Nash being smuggled into Europe to work with the likes of Gary Numan and Bill Nelson, only to be abruptly expelled from the continent by the EU as "a deviant influence not only on humanity but on all life itself" after angry villagers caught a rare glimpse of his grisly ungauzed visage late one night in an iniquitous den of ill repute on the Rue Morgue.
Safely ensconced back home in his underground lair, Nash donned his stained leather apron and threw himself into his work with a renewed vengeance born of righteous anger that would ultimately be made manifest in the records to follow: the corrupt social commentary on And You Thought You Were Normal; the modern urban brutality of Thrash; the silent cinema soundtrack to Nosferatu; and his first ever album of cover versions, American BandAges.
Now the immortal Nash The Slash rises again with an album of covers that extends from the obvious ("Baba O'Riley" and "Astronomy Domine") to the obscure ("Follow The Leaders" and "Constantinople") to the omnipresent ("In-A-Gadda-Da-Vida" and "The Wreck Of The Edmund Fitzgerald"). So don't be an angry villager! Buy it now before Nash comes back to…
Be seeing you!
Sat, August 6, 2016 | link
Saturday, July 30, 2016
JEFFREY MORGANíS MEDIA BLACKOUT #533
JEFFREY MORGAN'S MEDIA BLACKOUT #533.164!
Bruce Timm & Lauren Montgomery & Brandon Vietti – Superman: Doomsday (DC Comics/Warner Premiere DVD) :: DC Comics claims that The Death Of Superman is the biggest selling graphic novel of all time and I have every reason to believe them. The biggest reason is that I actually went out and bought all of the various issues which contained the storyline as they came out decades ago—dozens upon dozens of them, month after month, at a time when I was buying absolutely no comic books whatsoever. So I give DC full credit for successfully managing to get my hard-earned nickels and dimes at a time when no other comic book company could. But although I ultimately ended up liking the cool new John Henry steel-drivin' version of Superman, I found the convoluted plot to be in overall need of some serious pruning back. That's where Bruce Timm and company's new animated version of the Doomsday saga comes in, which does just that while leaving all of the essential key elements in place.
Amazingly for a feature length animated cartoon, even one which is stickered PG-13, the level of violence is completely off the chart. Not only do folks get unexpectedly knocked off left, right and center; but the Metropolis fight scenes between Superman and Doomsday play harder and faster than the downtown dust-up in Superman II: The Richard Donner Cut. That's because the literal sense of gravity given the entire proceedings is right up there with the real world physics that the Fleischer brothers imbued their seminal Superman cartoon series with.
SIZZLING PLATTER OF THE WEEK: Ministry & Co-Conspirators – Cover Up (13th Planet) :: This is the absolute greatest album of cover versions since Bowie's crushed larynx curdled milk on Pinups. If you thought that Ministry's "Jesus Built My Hotrod" was heavy, then you haven't heard Jackie O. Jourgensen pulverize songs like "Radar Love," "Mississippi Queen," "Space Truckin' " and "Bang A Gong" into a puréed pulp pudding!
Be seeing you!
Sat, July 30, 2016 | link
Friday, July 29, 2016
JEFFREY MORGANíS ROCK íNí ROLL PHOTOGRAPHS
JEFFREY MORGAN'S ROCK 'N' ROLL PHOTOGRAPHS

While you're visiting, don't forget to view the dozens of essential selections from my vast archive of
hundreds of extremely rare and previously unseen rock 'n' roll photographs from the 1970s and 1980s—all of which were taken by myself from my front row center seat at various venerable venues; vintage historical portraits which include the following rock stars caught in their youthful prime:


David Bowie
(1976 Station To Station tour) :: Lou Reed (1974 Sally Can't Dance tour) :: Iggy Pop (1977 The Idiot tour) :: Bob Dylan (1978 Street Legal tour) :: George Harrison (1974 Dark Horse tour) :: Paul McCartney (1976 Wings Over America tour) :: Pete Townshend (1976 The Who By Numbers tour) :: Johnny Winter (1976 Captured Live! tour) :: Jeff Beck (1975 Blow By Blow tour) :: KISS (1977 Love Gun tour) :: Alice Cooper (1975 Welcome To My Nightmare tour) :: Freddie Mercury (1977 News Of The World tour) :: Amanda Lear (1975 Sweet Revenge tour) :: Rod Stewart (1977 Foot Loose & Fancy Free tour) :: Mick Jagger (1975 It's Only Rock 'n Roll tour) :: New York Dolls (1975 Tokyo Dolls Live tour) :: Keith Richards (1975 It's Only Rock 'n Roll tour) :: Ian Hunter (1989 YUI Orta tour) :: Elton John (1974 Caribou tour) :: Mick Ronson (1989 YUI Orta tour) :: Steven Tyler (1977 Draw The Line tour) :: Sparks (1975 Indiscreet tour) :: James Brown (1986 Gravity tour) :: Miles Davis (1985 You're Under Arrest tour) :: Roger Daltrey (1976 The Who By Numbers tour) :: Bruce Springsteen & Clarence Clemons (1975 Born To Run tour) :: John Entwistle (1976 The Who By Numbers tour) :: Keith Moon (1976 The Who By Numbers tour) :: The Who (1976 The Who By Numbers tour) :: and more!

Ask any dealer and he'll tell you that the best way to get someone hooked on your product is to give them a free sample, so here's just a small taste of what's coming your way when you click on the eleven gallery links to your left: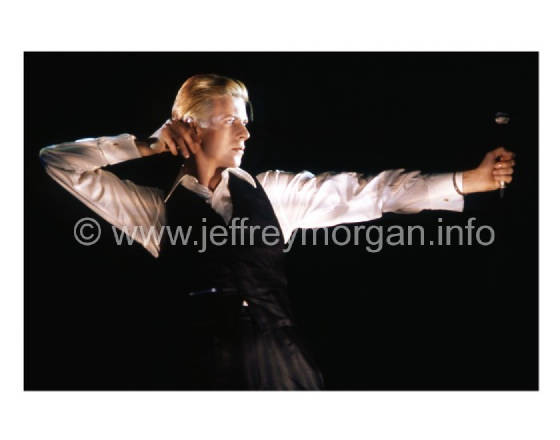 Fri, July 29, 2016 | link
Saturday, July 23, 2016
JEFFREY MORGANíS MEDIA BLACKOUT #532
JEFFREY MORGAN'S MEDIA BLACKOUT #532.163!
Eno – Taking Tiger Mountain (By Strategy) (Astralwerks) :: Old Uncle Een's first album may be noisier and his third one may be quieter, but it's his second one which is a true work of art whose understated depth and surreal resonance only gets richer with the passage of time. Neatly positioned between two extremes, Taking Tiger Mountain (By Strategy) isn't bawdily brawny like Here Come The Warm Jets, nor is it ambitiously ambient like Another Green World. Instead, it has a playful opulent majesty that confidently combines the best boisterous elements of the earlier album ("Third Uncle") while foreshadowing the peerless placid moments of the later one ("Taking Tiger Mountain").
From the typewriter percussion of "China My China" to the half-speed whistled "Colonel Bogey March" in the background of "Back In Judy's Jungle," each new listening reveals a hidden textural gem. That's why it's safe to say that Eno's Taking Tiger Mountain (By Strategy) is a unique masterpiece which will never ever be duplicated.
SIZZLING PLATTER OF THE WEEK: Doug Hilsinger & Caroleen Beatty – Taking Tiger Mountain (By Strategy): A Modern Recreation of Brian Eno's 1974 Masterpiece (DBK Works) :: Multi-instrumentalist Hilsinger has singlehandedly crafted a joyful note for note remake-remodel that's… Well, as Eno himself writes in his liner notes: "I don't often listen to my own records after they're finished, but hearing this one as though through someone else's ears and mind had a powerful effect on me. I thought 'How sweet! How touching! How sympathetically done! And actually…they aren't bad songs after all.' "
Indeed they're not—especially when you hear all ten of them sung in sequence with a woman's touch by Beatty. Admits Eno: "Caroline's beautiful singing—such an improvement on mine!" Reason enough to buy the one record that's earned the right to be filed with the rest of your Eno albums; that should give you its main point of reference.
Be seeing you!
Sat, July 23, 2016 | link
Saturday, July 16, 2016
JEFFREY MORGANíS MEDIA BLACKOUT #531
JEFFREY MORGAN'S MEDIA BLACKOUT #531.162!
Hells Angels – From Pool Cues To Miscues: The Failed 1969 Plot To Murder Mick Jagger (Altamonterey Flop) :: Sonny Bungler is more like it.
Ann Vriend – When We Were Spies (self-released) :: Infectiously cooed pop tunes by an April Dancer chanteuse stuffed into a tight trench coat fulla pseudo-THRUSH shenanigans. Open channel D!
Lenny Kravitz – It's Time For A Love Revolution (Virgin) :: He stole the riff of "Are You Gonna Go My Way" from Hendrix. He sucked the coolness outta "American Woman." He swiped this album's back cover from Dylan and its title track from his own "Are You Gonna Go My Way," thus making it twice stolen. Then he shamefully loots everybody else from Led Zeppelin to KISS. Thief.
Dengue Fever – Venus On Earth (M80) :: What starts out as a Klaus Schulze space-out miraculously mutates into a psychedelic Jefferson Starship bongo beat before ending up on a rice paddy with a finger-snappin' mini-skirted Cambodian chanteuse. Hey, Joe! You got gum?
Magic Mushroom Band – Singles And Rarities (MVD Audio/Voiceprint) :: Where else can a track like "Eight Miles High" frottage "Set the Controls for the Heart of the Sun" and have it all make sense in a solidly stoned hippie-dippy-trippy kinda cosmic way?
SIZZLING PLATTER OF THE WEEK – FRONT SIDE: Andi Sex Gang – Inventing New Destruction (MVD Audio/Pink Noise) :: One part Another Low World and one part Their Satanic Sex Pistols Request, this synth-soaked slice of purloined, fur-lined Germanic pop musik koncrète has the kind of hallucinatory hyper-spatial 3D mix that Unca Lou only dreamed of getting on Street Hassle but never did.
SIZZLING PLATTER OF THE WEEK – BACK SIDE: Ronnie Earl & The Broadcasters – Hope Radio (Stony Plain) :: A fully loaded and completely instrumental live blues-cum-jazz album that ecstatically evokes Booker T & The MGs and Santana with Jimi's Nine To The Universe hyper-space noodling—all in one multi-orgasmic roof-raisin' ear rush? Beulah, don't ask how: Just open that bottle of emotion lotion and start a-latherin'!
Be seeing you!
Sat, July 16, 2016 | link
Saturday, July 9, 2016
JEFFREY MORGANíS MEDIA BLACKOUT #530
JEFFREY MORGAN'S MEDIA BLACKOUT #530.161!
Satellite – Into The Night (MVD Audio/Metal Mind) :: Poland's answer to Phil Collins-era Genesis isn't nearly as dire a disc as you might think because the music is quantumly heavier—and that's always a good sign.
Enter The Haggis – Soapbox Heroes (UFO) :: With a band handle like "Enter The Haggis," you just know that it's got to be chockablock fulla the hottest and heaviest synth 'n' shredded guitar rock 'n' roll this side of Boiled In Lead.
Outlaw Social – Dry Bones (self-released) :: Cheerful funky fiddle folk music that sounds as if it was recorded in the Dust Bowl days of the great Depression.
Tamara Nile – At My Table (self-released) :: And this banjo-fueled feminine folk rock sounds like it was raised on the right acoustic side of Led Zeppelin III's tracks.
Rick Wakeman – Aspirant Sunshadows (MVD Audio/Music Fusion) :: Let one of rock's most spiritual adherents gently lull you into slumberland with these elegant and elegiac soothing soundscapezzzzzz.
Porkbelly Futures – Porkbelly Futures (self released) :: And you thought "The Beatles" was a stupid name for a group.
SIZZLING PLATTER OF THE WEEK: Duke Robillard – Duke Robillard's World Full Of Blues (Stony Plain) :: "All Killer! No Filler!" is the truthful tag on this enthusiastic and encyclopedic brass-backed double disc by one of the modern masters of the blues. Bonus points for covering obscure selections like Dylan's "Everything Is Broken" and making them sound even hipper!
SARCASTIC PLATTERS OF THE WEEK: Ed Sanders – Sanders' Truckstop & Beer Cans On The Moon (Collectors' Choice) :: Proving that there's just no justice in the rock 'n' roll world, Fugs founder Sanders failed to shake some chart action on these two early '70s satirical broadsides, which contain irreverent acerbic send-ups of every known socio-political sacred crow from here to infirmary. But don't blame Ed; instead blame an insensate society for not recognizing that insightful shit-stirrers like "Henry Kissinger" and "The Maple Court Tragedy" (aka "Polaroid Spread Shots") were just slightly ahead of their whine.
Be seeing you!
Sat, July 9, 2016 | link
Saturday, July 2, 2016
JEFFREY MORGANíS MEDIA BLACKOUT #529
JEFFREY MORGAN'S MEDIA BLACKOUT #529.160!
Jane Vain & The Dark Matter – Love Is Where The Smoke Is (Rectangle) :: Ponderously portentous primo percolating Portisheadish paeans of passion and penance.
SIZZLING ELECTRIC PLATTER OF THE WEEK: The Wagon — Match Made In Hell (Las Conchas) :: The Beach Boys meet Grand Funk meets Cheap Trick meets The Who on this heavier than Hebben crunge-rock extravagonzo that's too unfit to quit. If you don't like this record, then I'm afraid that you just don't like rock 'n' roll, son.
SIZZLING ACOUSTIC PLATTER OF THE WEEK -- LATE SHOW: The Kingston Trio – Once Upon A Time (Collectors' Choice) :: Thems that's in the know sure as heck know that the Kingston Trio are as big a slice of Americana pie as you can find this side of the Rat Pack. And on this long-overdue reissue, which was originally a double album recorded in July 1966 at the Sahara-Tahoe gamblin' den in Nevada, the perennially short-sleeved K3 ride again with their trademark style of good pickin' and good playin' in tow. Everything you want to hear is here, from the hang-'em-high melodrama of "Tom Dooley" to "Silicone Bust," which predated the Faces' own "Silicone Grown" by almost a decade.
Even better are the song introductions, which are liberally peppered with the Trio's own unique brand of humorous generation-gap rap: "There's a lot of great rock 'n' roll groups around now that we like very much. There's one group in L.A. in fact that is so wild, they make Hells Angels look like Robert Goulet. [audience laughter] This song is written by rock 'n' roll's pretender to the throne, Bob Dylan. [audience laughter]"
SIZZLING ACOUSTIC PLATTER OF THE WEEK -- EARLY SHOW: The Kingston Trio – Twice Upon A Time (Collectors' Choice) :: You'll want to go out and get this previously unreleased companion live album right now just to watch the bonus promo video of the Trio singing "Tomorrow Is A Long Time" by pretender to the throne Bob Dylan.
Be seeing you!
Sat, July 2, 2016 | link
Saturday, June 25, 2016
JEFFREY MORGANíS MEDIA BLACKOUT #528
JEFFREY MORGAN'S MEDIA BLACKOUT #528.159!
Beastie Boys – The Mix-Up (Capitol) :: I get the Zappa-influenced bargain basement cretin slop mentality, but these mushy instrumentals are strictly for 'luded out losers. A-heads prefer Teenage Fanclub's The King.
Lori Cullen – Buttercup Bugle (self-released) :: A bouquet of brass-backed melodies that are light and airy, just like windswept love is supposed to be. This clever Cupid's got a hammer and she's swingin' it all over this land.
The Grip Weeds – House Of Vibes Revisited (Ground Up) :: They're not the Beatles, but an incredible stimulation!
Nathan Lawr & The Minotaurs – A Sea Of Tiny Lights (Minotaur) :: Ever get the feeling that too many people are making too many records these days? I sure do.
Rasputina – A Radical Recital (Filthy Bonnet) :: Are you ready for two women playing cello versions of "Barracuda" and "Rock And Roll"? I sure am.
Raine Maida – The Hunters Lullaby (King Noise) :: For a second, I thought that "China Doll" was Iggy's Idiot song, but then I realized that even Bowie at his most cocked-out never wrote wretched lyrics like: "She's sweet like honey, sour like democracy."
Intodown – Brave New World (self-released) :: This mind-bending garage-surf art rock album whose hippie-trippy touchstone is the 13th Floor Elevators is going up so punch a higher floor!
Twilight Hotel – Highway Prayer (self-released) :: Producer Colin Linden has brought out the best in this sweet-pickin' guy 'n' gal duo, so how come they don't got no record label yet?
Kamera – Resurrection (Nettwerk) :: And you thought the '80s were dead.
SIZZLING PLATTER OF THE WEEK: Johnny Hollow – Dirty Hands (Orange) : "Scully, imagine Bernard Herrmann reincarnated as an aggregate of two gals and a guy and you'll have an idea of just how spooky this unbalanced album is." "What are you saying, Mulder? That this is the most haunted Goth-infested record ever?" "All I'm saying is that you'll want to file this one next to Siouxie & The Banshees' A Kiss In The Dream House; it's that good."
Be seeing you!
Sat, June 25, 2016 | link
Saturday, June 18, 2016
JEFFREY MORGANíS MEDIA BLACKOUT #527
JEFFREY MORGAN'S MEDIA BLACKOUT #527.157!
Jerry Bruckheimer – Quentin Tarantino Presents Roger Corman's Death Race 3000 (21st Century Film Corporation) :: Bruckheimer's always wanted to produce a big budget cult film in the worst way and he's finally succeeded. Half Easy Rider and half Americathon, this direct-to-download scenery-chewing sequel sees David Carradine and Sylvester Stallone back in harness as Frankenstein and Machine Gun Joe Viturbo for one last nationwide ride to save society. One hundred points scored for casting cravat king Peter Bogdanovich as gung-ho TV announcer Junior Senior!
Noctifria – Per Aspera (MVD Audio) :: Slovenia is a leading horror hothouse of dark dank metal and if you listen to this festering thick miasma that's chock a block full of clogged virtuoso majesty, you'll know why.
Oliver Future – Pax Futura (Fireproof) :: It's not often that such an endearing pop rock album sashays down the suave glam rock pike. Even better, it includes the hyper-kinetic "What Heart?" from their earlier Bear Chronicles V.2 extended player.
The Sonic Deli – Brown Bag Lunch (Sonic Deli) :: Shamefully, I just found this 18 track sampler of varied musical styles by 13 diverse artists at the back of my iFridge—way past its 2005 due date—but amazingly, it still sounds as fresh as the day it was served. My compliments to the chef!
Monster Island – Dream Tiger (MVD Audio) :: Take one part ethereal female cooing, add one part Kevin Ayers brooding, stir in two parts sparse tinkering oriental melodies, and garnish with a Weird Tales pulp aesthetic. Serve immediately.
Homo Iratus – Human Consumes Human (Arctic) :: Gurgling vocal Nine Inch Nonsense from a band whose translated name means: "Homo Irritates Us."
SIZZLING PLATTER OF THE WEEK: Destroy All Monsters – Live In Tokyo & Osaka 1996 (MVD Audio) :: The restless ghosts of Dave Thomas and Pere Ubu haunt this abusive atonal delight that combines Stockhausenian bloopy blorp short wave radio static with Electroluxian plugged hose whining. It's got no beat, you can't dance to it, I give it a yen.
Be seeing you!
Sat, June 18, 2016 | link
Saturday, June 11, 2016
JEFFREY MORGANíS MEDIA BLACKOUT #526
JEFFREY MORGAN'S MEDIA BLACKOUT #526.156!
Time Again – Darker Days (Hellcat) :: Imagine a double time version of the early Stranglers. It's easy if you listen to this hellacious half hour of hard rock.
The Bleeder Project – The Systematic Subversion Of Fear And Insecurity (self-released) :: Finally, the female version of Trent Reznor.
The Feminists – Can't Scream Loud Enough (Space Dog) :: Imagine a sensitive guy vaudevillian version of the Stranglers. I can't either.
Ann Wilson – Hope And Glory (Rounder) :: Finally, the female Percy Plant's balloon-lunged version of "Immigrant Song."
Seven Mary Three – Day & Night Driving (Bellum) :: Imagine a sensitive-guy powerballad version of Neil Diamond. Insulin not included.
Foxy Shazam – Introducing (New Weathermen) :: The back cover blurb says that this Mojo Nixon wannabe is "The Evel Knievel Of Rock 'N' Roll." Too bad Evel's dead.
Pawbox – Pawbox (self released) :: I'm a Ma box man.
Anna Kramer – The Rustic Contemporary Sounds Of Anna Kramer & The Lost Cause (International Hits) :: Femmefueled pop a-go-go that isn't afraid to bring out the brass and banjos to buff up the bop.
Horror Pops – Kiss Kiss Kill Kill (Hellcat) :: These rockabilly rebels are back with a hardboiled album about life on the wrong side of the tracks—and when they snarl "My fist…in the middle of your face" to the tune of "Our House," I know that Mickey Spillane is upstairs cracking open a Miller Lite and smiling.
SIZZLING PLATTER OF THE WEEK: Keali'I Reichel – Kukahi: Live In Concert (Punahele DVD) :: Aloha! If the only things you know about Hawaii are Don Ho, Steve McGarrett and the hippie hula end of the Beatles' "Hello Goodbye" video, then, boy, are you ever in for a seismic cross-cultural shock. Combining the best of authentic Hawaiian history and heritage, this two-hour concert by the master of both traditional and modern song and dance will fill you in on all you need to know about the land that Elvis' satellite special made famous—and a-Louie luau, oh, baby, you need to know.
Be seeing you!
Sat, June 11, 2016 | link
Saturday, June 4, 2016
JEFFREY MORGANíS MEDIA BLACKOUT #525
JEFFREY MORGAN'S MEDIA BLACKOUT #525.154!
Chase Frank – Midnight Manor (self released) :: This here Frank ain't no blank. She's one tough broad who's fully capable of kicking your retro ass into last week so shut up and listen to the lady sing her wiry songs of woe. Sure, you'll fall in love with her but she's used to that, ya sap. Now shove off.
Neurosonic – Drama Queen (Bodog) :: Jason Darr is Dr. Neurosonic and it's obviously apparent from this neumetal mosh-spit that the Doc wants to be the next Marilyn Reznor—or is that Prince Bowie? Either one would be a laughable ambition if he didn't have the snotty songs and ace attitude to back up his brag. Which he does, in spades. So maybe this guy will succeed where David Warner once failed.
ASG – Win Us Over (Volcom Entertainment) :: Todd Rundgren never envisioned recording a Utopia album that was heavier than his worst nightmare and featured two naked women on the cover clawing open their chests to expose their hovering hearts—but I sure did, and I'm here to tell you that this one is worth every second of that 30-year wait.
Daft Punk – Alive 2007 (Virgin) :: Meanwhile, while Ralf and Florian were sitting on their Düsselduffs watching the Tour de France, these two smart 'n' savvy successors to their Kraftwerk throne were actually in Paris recording this bowel-buffeting trance askance 27 track distillation of everything that's absolutely right with electronic dance music these days.
SIZZLING PLATTER OF THE WEEK: Black Mountain – In The Future (Jagjaguwar) :: All aboard for a record that's so full of heavy long-strokin' action that my turntable bent over and did the deep sonar splits as soon as I put it on. Dig past the trippy album cover and you'll find some primo dense stoner music with a melotron gilt-edging that'll keep you guessing as to what's next. Here's a hint: Whatever it is, it'll be good 'n' that's plenty for me. Choo choo ga choob!
Be seeing you!
Sat, June 4, 2016 | link
Saturday, May 28, 2016
JEFFREY MORGANíS MEDIA BLACKOUT #524
JEFFREY MORGAN'S MEDIA BLACKOUT #524.153!
Octoberman – Run From Safety (White Whale) :: This dire disc'll make you feel like leaping off a tall building in a single bound.
Architecture In Helsinki – Places Like These (Polyvinyl) :: Prince meets 808 State? Talking Heads meets B-52s? No matter how you slice it, this one's a real hoot.
Wintersleep – Welcome To The Night Sky (Labwork) :: Thoughtful ethereal pop music that ends with an ambitious eight-minute art rock epic called "Miasmal Smoke & The Yellow Bellied Freaks" that's well worth the price of admission.
Scorpions – Humanity Hour 1 (New Door) :: If you only buy one classic heavy guitar crunge rock album this week, this be the one. Of course, I could do without all the treacly power ballads. But, then again, I always have.
Kent McAlister & The Iron Choir – The Way It Rolls (self released) :: Capable country pickin' that's chock-a-block with tasty twang and a fine fiddle finesse.
Midtown Dickens – Oh Yell! (307 Knox) :: These here wacky wimmins pack a perky pedigree and strum smart 'n' sassy minimal folk rock with a wicked wit quotient that's half Sparks, half Dictators, and all theirs.
Two Hours Traffic – Little Jabs (Bumstead) :: "Nighthawks" is one charming little pop song, but it's the rest of the record that'll give you Dagwood!
Boys Noize – Oi Oi Oi (Last Gang) :: These relentlessly aggressive Enovative electronic soundscapes go far beyond anything Krautwerk ever envisioned.
SIZZLING PLATTER OF THE WEEK: Rockfour – Memories Of The Never Happened (Anova) :: Israel's newest hitmakers have come up with an album that blends the best of Tangerine Dream's ambient drones ("Glued Half & Half") with the Beatles' psychedelic rock 'n' roll ("Because Of Damaging Words"). And that's just the first two tracks. Stay tuned and you'll hear the marathon Harrisonic "Dear Truth" living side by side with the exhilarating Badfinger-steeped "It Ain't Easy (When You're Gone)." Inspirational lyric: "First thing that I thought of when I saw you walk away was, 'How could someone run so fast on high heels?'"
Be seeing you!
Sat, May 28, 2016 | link
Saturday, May 21, 2016
JEFFREY MORGANíS MEDIA BLACKOUT #523
JEFFREY MORGAN'S MEDIA BLACKOUT #523.152!
SIZZLING PLATTER OF THE WEEK: The Scenics – How Does It Feel To Be Loved: The Scenics Play The Velvet Underground (Dream Tower) :: Recorded live in a number of trashy Toronto punk dives between 1977 and 1981, it's the first album of Velvet Underground covers I've ever heard that actually manages to evoke the VU's classic cacophony of studio sound—something that latter day Doug Yule-infused live albums like Live At Max's Kansas City never seemed to attain.
But somehow the Scenics have managed to do just that with an edge-teetering fan-based fervor that doesn't seek to duplicate the Velvets' sound so much as it uses that primal distortion as a jumping off point to differentiate themselves from the masters while remaining true to the source. And the fact that all 10 numbers were recorded, in true live Velvets tradition, on a buncha crappy cassette tapes doesn't tarnish the Scenics' sonic patina—it only enhances their chances of making this the best VU tribute album ever.
First of all, there's their informed choice of song selection. Sure, they do a few obligatory standards like "I'm Waiting For The Man" and "I'll Be Your Mirror," but they also mine the less-obvious depths of Unca Lou's songbook to essay what are arguably some of his greatest songs: "New Age," "I'm Set Free," "What Goes On," "Here She Comes Now" and "I Heard Her Call My Name." Finally, it all culminates literally live in a basement with a twisted 10-minute Metal Machine Music meets Television version of "Sister Ray" that even John Cale never envisioned in his wildest nightmares.
So if the proceedings sound even more demented than you might expect, that's because the Scenics don't ape the Velvets, they enhance them—which only goes to show that sometimes between rot and depression there lies a lifeline.
Be seeing you!
Sat, May 21, 2016 | link
Saturday, May 14, 2016
JEFFREY MORGANíS MEDIA BLACKOUT #522
JEFFREY MORGAN'S MEDIA BLACKOUT #522.151!
The Cinematics – A Strange Education (TVT) :: For torching a Remington typewriter on the front cover, they get an E. But if it's only a Photoshop fire, then they get an F for fake.
Big Business – Here Come The Waterworks (Hydra Head) :: Led Zeppelin crashes into Black Sabbath. Oh, the inhumanity!
Eno – Here Come The Warm Jets (Island) :: Waterworks, geddit?
Deaf School – "Golden Showers" (Warner Bros.) :: Warm jets, geddit?
The Stranglers – "Golden Brown" (EMI) :: Ewwww, fergeddit.
Saosin – Saosin (Capitol) :: Memo to muggers: These whiny pushovers have VICTIM written all over them.
Wintersleep – Wintersleep (Labwork) :: So do these guyzzzzz.
The Cicadas – The Cicadas (Roble Rot) :: Huey Lewis goes country!
Sara Wendt – Weightless With Love (City Canyons) :: Buddhist rock is the Next Big Thing, so get on board before this llama leaves the Potala. Perfect listening for reading T. Lobsang Rampa or watching Lost Horizon.
Beatnik Beatch – Beatnik Beatch (Noble Rot) :: If you collect album covers with midgets on them, then this reissue's for you.
D.O.A. – Bloodied But Unbowed (Sudden Death) :: One of their songwriting credits is: "Vancouver Punk Trad." They wish.
Snatches Of Pink – Love Is Dead (8th House) :: Raucously rawer than the Stones on smack but too pussy to call themselves Pink Snatch.
The Rolling Stones – "Torn and Frayed" (Rolling Stones) :: Ever notice how the singer breaks up and laughs between the words "kick" and "it"?
Walter Carlos – Switched On Bach (Columbia) :: Say, whatever happened to seminal synthesizer pioneer Walter Carlos? I haven't seen his name on an album in decades.
SIZZLING ROCK GODDESS OF ANY CENTURY: Grace Slick – Period (Grunt) :: "White Rabbit." "rejoyce." "Two Heads." "Lather." "Bear Melt." "Hey Fredrick." "Eskimo Blue Day." "Mexico." "Law Man." She's the undisputed all-time greatest female singer-songwriter in the entire history of rock 'n' roll. And although it's true that she never recorded an album called Period, after waxing her Manhole, she sure should've.
Orson Welles – F For Fake (Elmyr de Hory) :: Geddit?
Be seeing you!
Sat, May 14, 2016 | link
Saturday, May 7, 2016
JEFFREY MORGANíS MEDIA BLACKOUT #521
JEFFREY MORGAN'S MEDIA BLACKOUT #521.149!
Jethro Tull – Tullicatessen (Chrysalis) :: Includes the hit single "Schwarma For One."
Demander – The Unkindness Of Ravens (self released) :: Wherein Karen Kanan Corrêa shows she has her Siouxie Sioux shtick down cold.
Mark Davis – Part One: Don't You Think We Should Be Closer? & Part Two: Mistakes I Meant To Make (self-released) :: I'd really like to say that this guy's the prolifically inventive multi-instrumentalist Todd Rundgren of country music, but I just can't. He does get an A for ambition, though.
Belinda Bruce & The Tawny Stars – The Good Life (self released) :: Capable country cuts that're elevated by the seven-minute-long "Blackout," which invents an entire new genre: ambient country art rock.
The First Time – Taking Breaking Down (Frontline) :: Snappy snarlin' songs with a proto-punk pop pedigree.
The Holloways – So This is Great Britain? (TVT) :: I bought The Clash's London Calling. The Clash's London Calling is in my record collection. Holloways, you're no London Calling.
Johnny Irion – Ex Tempore (Rising Son) :: I've heard Neil Young ape jobs, but the quavering vocal inflections on this stellar swipe-job are uncannily eerie, right down to the sparse After The Harvest musicianship. And your point is?
Tia Carrera – Heaven/Hell (Arclight) :: These clods steal Yes' classic song "Starship Trooper" and then rename it as their own composition, thinking that no one will notice. Well, I notice everything—and I hope Chris Squire sues their sorry, thieving asses off.
SIZZLING PLATTER OF THE WEEK: Kate Mann – Devil's Rope (Orange Dress) :: Kate's got a back tat that's the size of Oregon and a voice that's twice as big. Armed with a guitar and harp, she cranks out a chicken-wired wall of country rock that'll have your toes tappin' while you watch out for flying beer bottles.
Frank Zappa, Dolly Parton & Lou Reed – Mother, Jugs & Speed (Bizarre) :: Includes the hit single "I'm Waiting For My Mammary."
Be seeing you!
Sat, May 7, 2016 | link
Saturday, April 30, 2016
JEFFREY MORGANíS MEDIA BLACKOUT #520
JEFFREY MORGAN'S MEDIA BLACKOUT #520.148!
SIZZLING PLATTER OF THE WEEK: Lisa Lashes – Lisa Lashes (Lashed) :: To the uninitiated listener, most DJ mixes are nothing but inorganic 200 beat per minute ordeals of repetitious headache-inducing noise. But as a veteran disco aficionado and long time dissonance connoisseur who habitually uses Dr. Reed's Metal Machine Music to get rid of a headache, I know the difference between debilitating and therapeutic—which is why I'm qualified to tell you that, when it comes to prescribing the right overdose of medication, nobody fills a better sonic script than this veteran UK practitioner.
Lisa Lashes is the greatest DJ in the world because she knows that the true hardcore addict will settle for nothing less than an unrelenting big beat treatment that's been specifically engineered to make synapses spasm until they rewire themselves into crazy new configurations.
On previous direct injection diagnoses like Hard House Euphoria and Lashed Euphoria, she raised the brutality bar to an irrationally high level of unabated aural aggression. But as bludgeoning as those earlier lease-breakers were, they don't hold a decibel to the massive mainline which is her debut solo disc Lisa Lashes.
Just like the lady herself, this 77-minute marathon is super-stacked with 12 vicious vein melters, all of which are guaranteed to fry your nervous system to a smoldering crisp. Astutely avoiding the beat deficient ballads which have deep-sixed many a mediocre mix, Lisa immediately strips down to the Real O Grind and lets loose with a seriously shredded soundtrack of stereo smack that'll have you crawling across the floor for more—assuming you can still move after being pummeled into a pulp by tracks like "Red Admiral," her penultimate pulse-pounding speed freak rave-up with longtime Tidy Girl cohort Anne Savage.
The new-fangled future of hyper-heavy houserockin' hardcore is still here and her name remains the same so you know who to blame when your brain goes insane from the pleasurable pain.
Lisa Lashes rules, OK?
Be seeing you!
Sat, April 30, 2016 | link
Saturday, April 23, 2016
JEFFREY MORGANíS MEDIA BLACKOUT #519
JEFFREY MORGAN'S MEDIA BLACKOUT #519.314!
SIZZLING PLATTERS OF THE WEEK: Prince – The Work: 1976–2000 (Thunderball) :: This guy once put out an album called Musicology—an egghead handle with an edifying air to it that conjured up visions of Professor Prince holding class in his best zoot suited Cab Calloway mortarboard attire. But if you want a real musical history lesson in what Prince is up to every night while the rest of the world is sleeping, then I strongly suggest that you seek out a copy of this definitive 20 disc set.
That's right, spanning a quarter of a century, this astonishing set contains a whopping 20 discs of unreleased studio demos and outtakes. That's a grand total of 331 tracks, all presented in strict chronological order. Amazingly, there are no false starts, no incomplete songs, and no duplications with any officially released Prince albums or extended singles.
With each individual disc clocking in at a full eighty minutes in length, that's over 24 hours worth of music. And for those of you who would like an old school conversion, we're talking the equivalent of 40 full-length vinyl records, or 80 album sides. This mammoth monolith makes Keith Jarrett's original vinyl ten record Sun Bear Concerts box set look like a one-sided Ramones single.

And although some of these tracks have been available on various individual bootlegs for decades, more often than not their muffled tenth-generation sound quality was so inferior as to be almost unlistenable—but not this time around. As might be expected from a major undertaking like this, the sound is uniformly of a high studio quality.
Not only are we privy to outtakes and demos from all of Prince's own albums, we're also treated to an extensive array of unreleased songs from virtually every artist Prince has worked with over the years, from The Time and The Family to Jill Jones and Carmen Electra—including tracks from completed follow up albums which were never released. Indeed, after listening to all the myriad variations presented herein, it's not unreasonable to think that Prince routinely assembles several completely different versions of each album before he releases it.
Some of the stellar selections contained on The Work include: The original demo for The Time's "Chocolate" wherein Prince shows where Morris Day's 'ad libbed' conceited shtick really comes from, including his "Yessssss" catchphrase; the full unedited 12 minute version of "Computer Blue" that restores the missing six and a half minutes which were cut from the end of the version that's on Purple Rain; and a marathon 30 minute studio version of "I Would Die For You" that served as the arrangement template for Prince's live television version.
Folks, that's only three selections from the first three discs, so you can just imagine what's waiting for you on the remaining 17. In other words, school's in session, so you'd better take notes because there's going to be a final exam—and knowing Professor Prince, it'll be oral.
Be seeing you!
Sat, April 23, 2016 | link